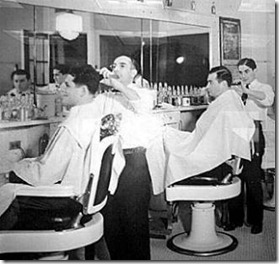 Are there blogs for haircuts? I am now aware of blogs for all sorts of things, such as painting and 'board-and-battens' and candles and dust ruffles and perhaps even silent butlers. But I don't know about blogs for haircuts or the experience of visiting a real barber shop.
For those of you who read and remember my contributions to Linda's most excellent blog – I don't know why you would, frankly – I wrote some time back about how I've been getting my hair cut at the same place in Wilmette, Illinois, for virtually forever. It's been around so long that my Uncle Norm used to gamble in the back room in the late '50s before the place got raided. I would have loved to see the suburban cops do a raid. It was likely rather politely done.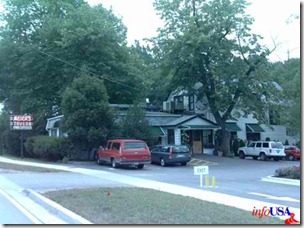 Unfortunately, a real barber shop is probably going the way of the typewriter. Jerry's, where I go, still smells vaguely the same as it did when I was young, and looks almost exactly the same.  My son, Sam, doesn't object much to going all the way up there to get his hair cut with me, possibly because the reward is lunch at another suburban Chicago institution, Meier's Tavern, a roadhouse that dates back to 1933.
We eat and watch baseball or football and play cards and talk. It's a nice trip back to my youth, and Sam has even told me he someday wants to bring his own kids there and have a similar experience.
That makes me smile, but I hope that won't happen for a few more years.  Get out of high school first, pally.