On Saturday Molly and I went ice skating. Sam and Linda said they didn't want to go, so it was just the two of us. I told her that she would probably do better than I would, as I had hardly ever skated since I was pretty young and my skates then were so mis-fitted that my ankles collapsed approximately every fifteen seconds.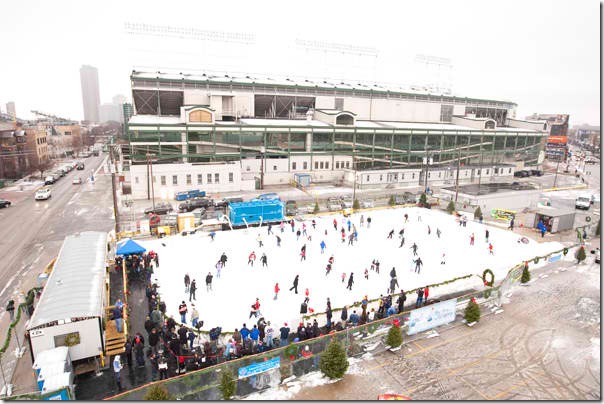 So we drove over to Wrigley Field, where they have set up a rink just outside the park, took a few difficult minutes to lace up our rented skates, and out we went! And 30 seconds after getting on the ice, my feet went straight out and up in front of me, and down I went, BANG on my coccyx! You might call it your tailbone. It's funny either way, unless it knocks your wind out and makes you look foolish as six-year-olds flash by on their skates. Moll fell a couple of times as well, which broke my heart more than I broke my pride when I fell. I gathered myself as best as I could and shuffled along with one hand on the boards, while Moll gathered her own strength and dignity and skated far better than I did.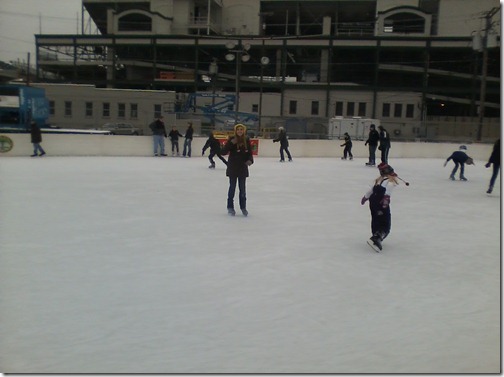 After a while, we went back to the warming trailer, switched out our skates for boots and enjoyed bland – but free! – popcorn before getting in the car to drive back home. Two days later, I am still sore, though a steady diet of Aleve and Budweiser seems to help.
My best friend Geoff is an avid skater, played a lot of hockey, and coaches his son's hockey team. I envy him for his ability on the ice. Still…Sam was right to stay on dry ground. As he most always is.
Happy New Year to all of you! And stay off your ass.