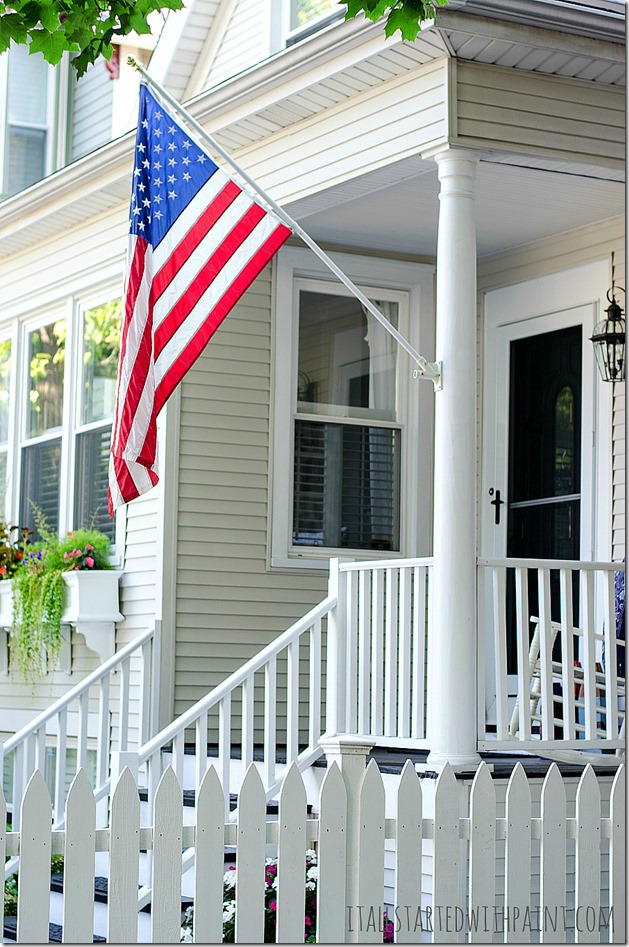 Have you missed me?
My sparkling personality.  My witty witticisms.  My poetic prose …
Okay, you got me there.  My prose is not typically poetic. I only have one poetic post under my belt.  Well, a kind of poetic post if you count Dr. Seuss a poet …
My absence was unplanned.  Unintentional.  A trip to a blogging conference. Followed by a slew of Etsy shop orders. Followed by a family vacation. Followed immediately by the start of a new school year meant I had to let something go.  The stress was overwhelming …
and, when it comes down to it, the stress of keeping up with the blog is a self-imposed stress.
And can I share something with you?  I think those Europeans are on to something with that whole shutting everything down for the month of August.  Seriously.  It was so refreshing …
freeing …

And it was refreshing and freeing right on up until the moment when I started to miss all of you …
Your comments. Your emails.  All the fun we have!
So I hope you're still out there …
and still reading.
Now, in an ideal world, I would burst back on the scene with my living room remodel reveal.  But all that blog conferencing and Etsy shop making and vacationing and back-to-schooling postponed that project as well.  But fear not, I'm just eight-envelope-style-pillow-slip-covers-to-sew away from that post …
Instead, I thought I'd share one of my favorite houses in the neighborhood.  It's just a stone's throw away …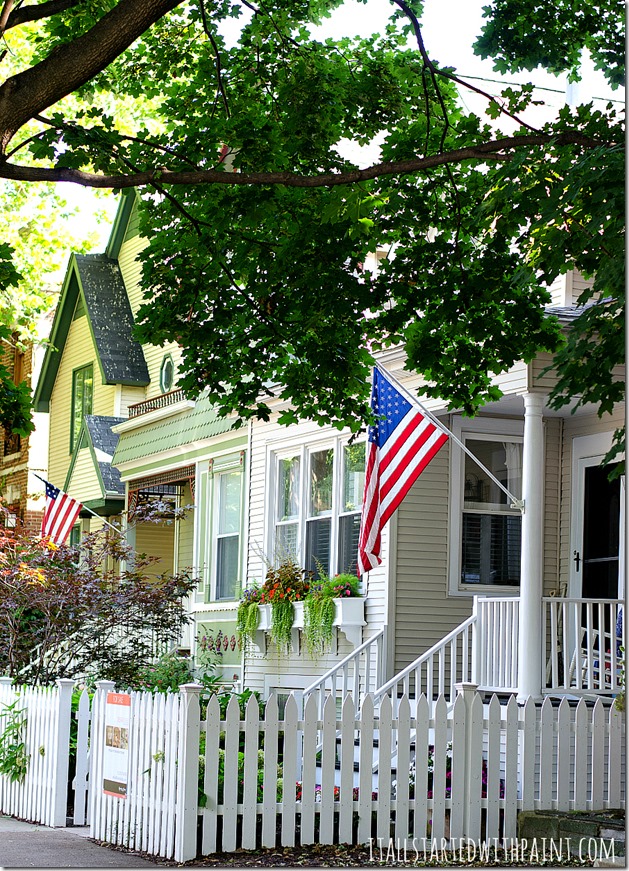 okay, more like a stone's lob away. My house is the wood frame one on the far left.

But it recently went on the market.
And the listing agent so kindly gave me permission to share a little house tour with you.
Let's start with that white picket fence …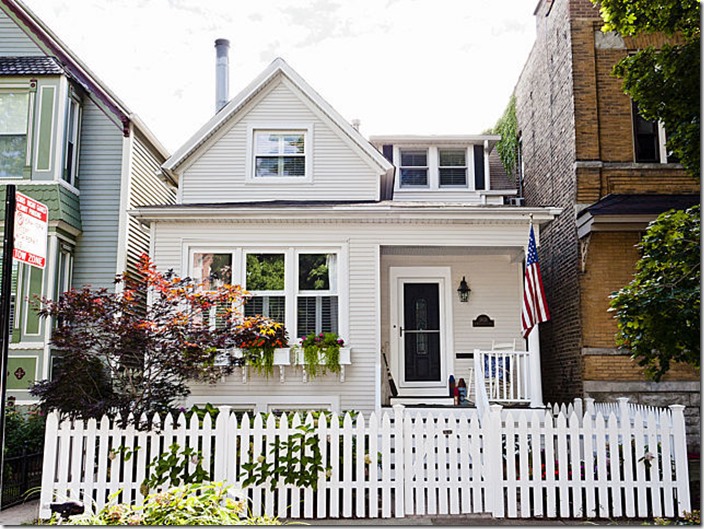 Photo: Erik Tallackson from Vis Home
*sigh*
I mean, what little girl doesn't dream of growing up and getting married and living in a house with a white picket fence?
The property has changed hands a few time over the course of the 18 years that we've lived on this block.  And each new owner has lovingly cared for this lovely home.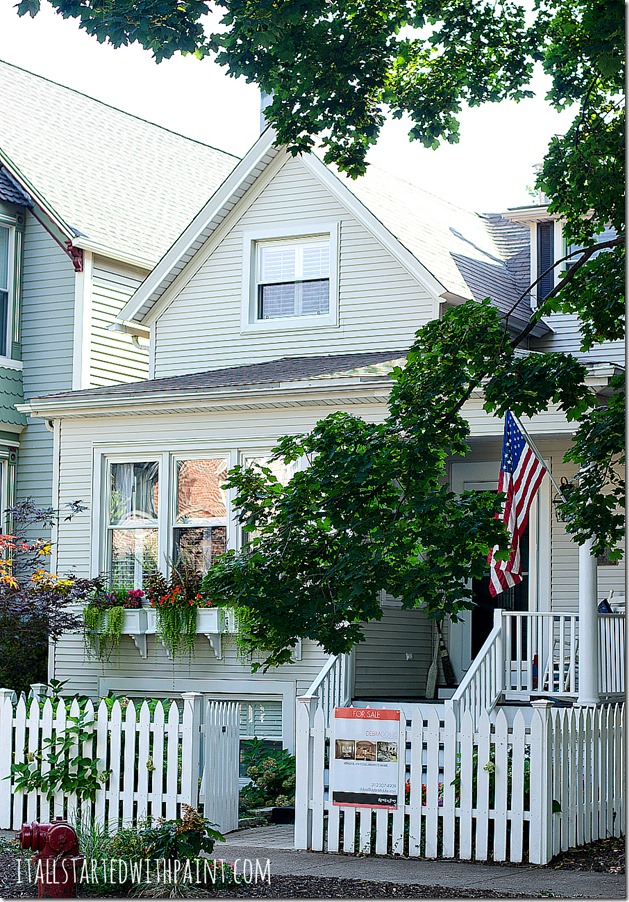 Putting their own personal stamp on it …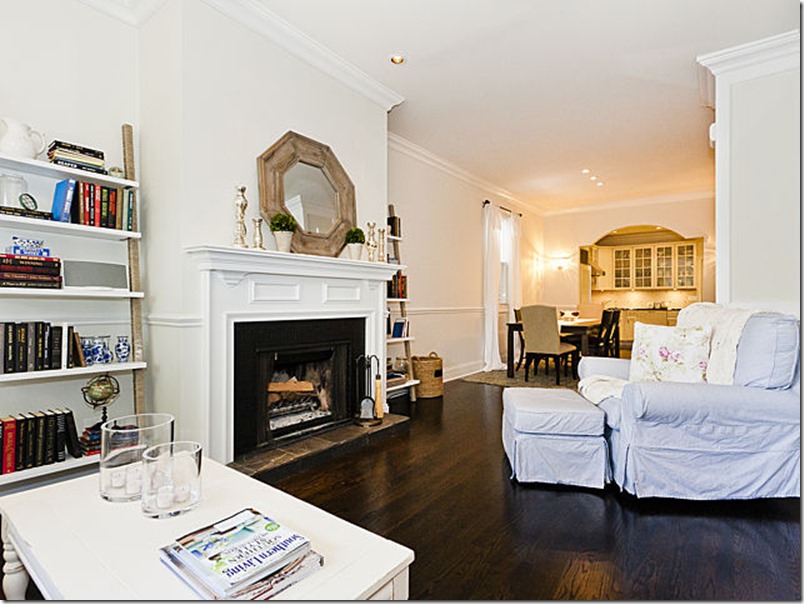 Like refinishing the floors in a rich, dark walnut …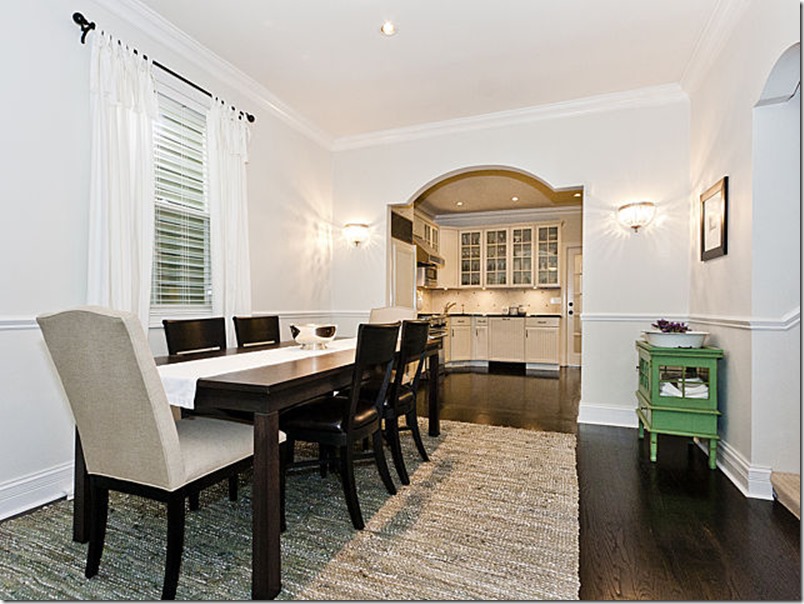 Photo: Erik Tallackson from Vis Home
And upgrading the kitchen …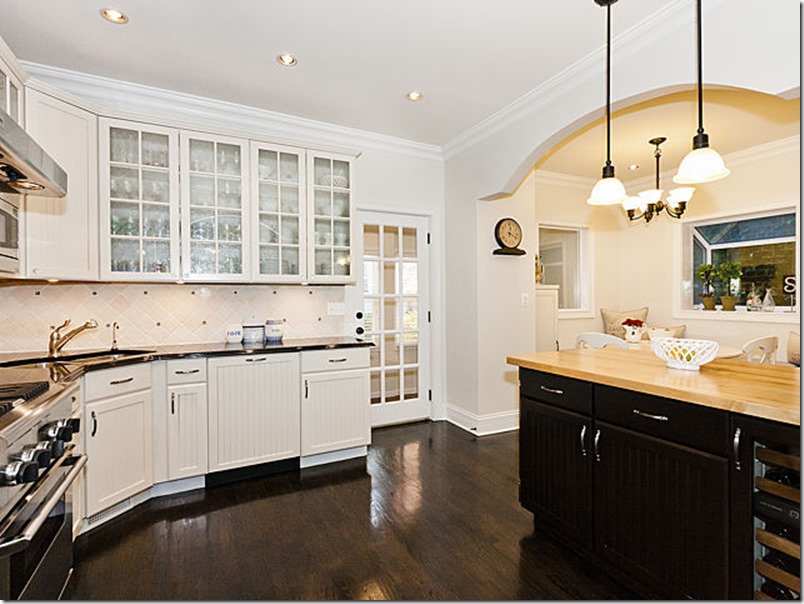 Photo: Erik Tallackson from Vis Home
adding a breakfast nook with cute and practical storage bench seating.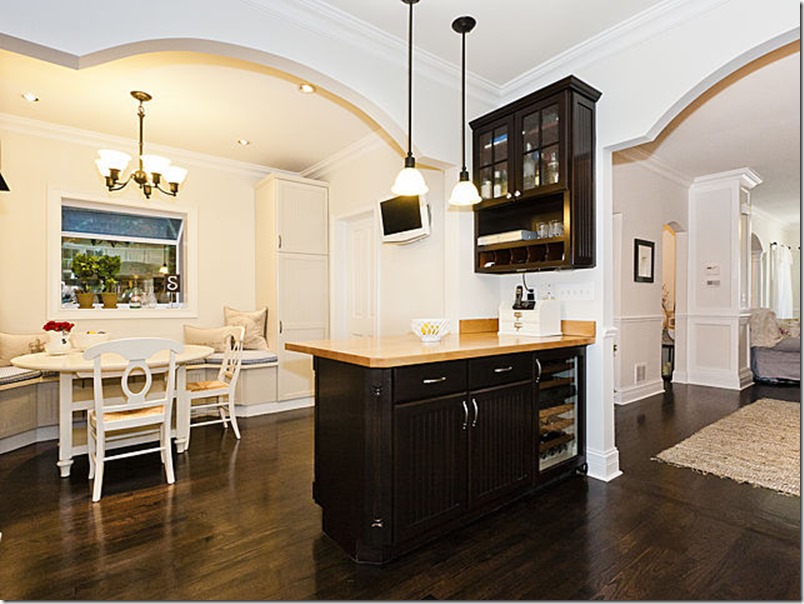 Photo: Erik Tallackson from Vis Home
I've never been upstairs, but their bathroom is so much more generous  than mine …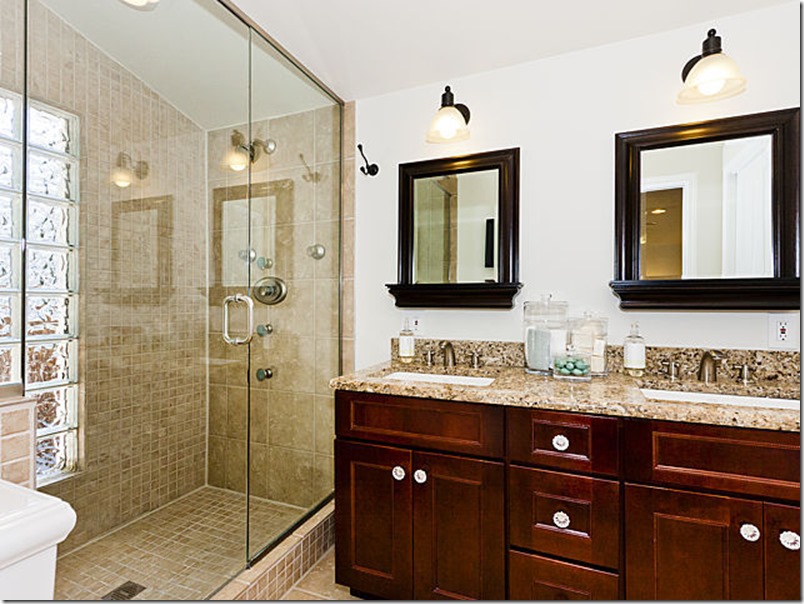 Photo: Erik Tallackson from Vis Home
… are you kidding me?  Double sinks!
The whole house is just so charming …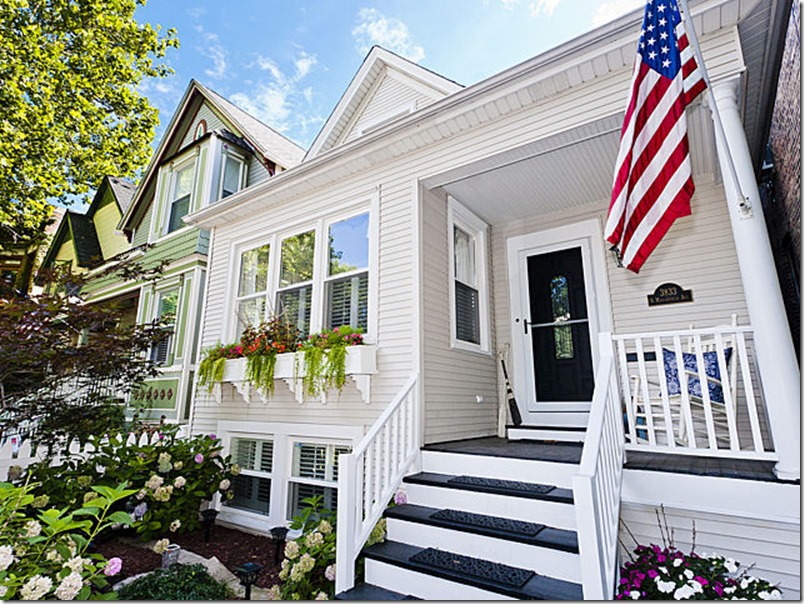 Photo: Erik Tallackson from Vis Home
… and loved!
My only fear – the same fear I have each time I see a "for sale" sign out in front of my favorite homes in the neighborhood – is that a developer will buy this adorable cottage …
and tear it down.  Just like they do to so many properties in my neighborhood.
And exactly what I expect to happen when we finally put our own home on the market.
But if you buy this charming Chicago cottage …
and become my almost next door neighbor …
I envision many an evening enjoying some wine together on this beautiful back porch …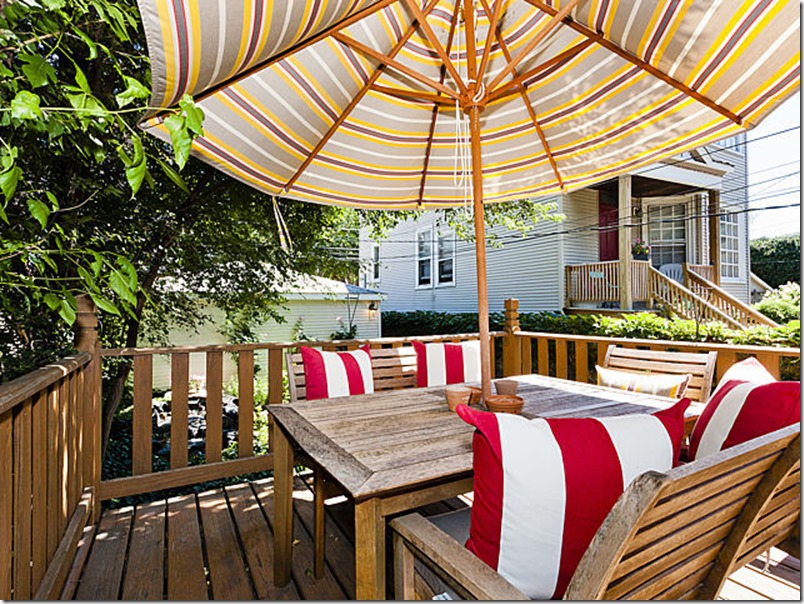 Photo: Erik Tallackson from Vis Home
So won't you be my neighbor … ?


You can find the full listing – and virtual tour — by clicking here …