Dear Secret Santa,
Can I come clean with you? I know you spent time last year picking out a special gift for the holiday grab bag. You were given the assignment to choose a favorite thing to gift to your Secret Santa recipient. And that's exactly what you did.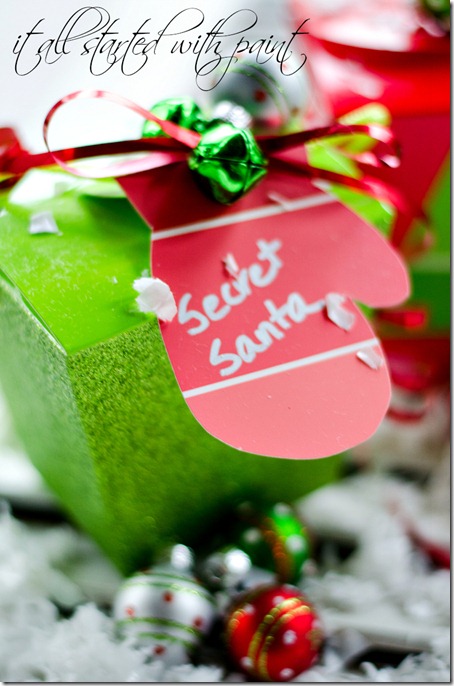 Your favorite thing came in the form of a gift card. And well — you see — I still have that gift card. Fully loaded. With absolutely no good reason as to why I never used it …
At first that gift card held a place of prominence on the kitchen countertop. Then it was shuffled from spot to spot and eventually found itself in a drawer, resting next to those partially used Target and Home Depot gift cards. You know the ones, right Secret Santa? Those gift cards with a $1.03 remaining here and 85 cents there. You can't bear to part with those few dollars and cents. But you can't seem to remember to take them with you on your shopping expeditions to Target and Home Depot.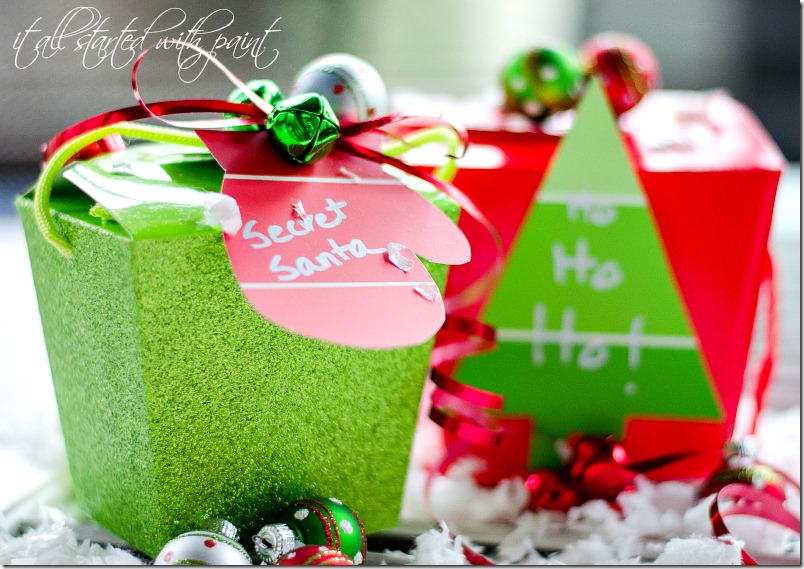 So, as I close in on 365 days with an unused gift card, a question comes to mind. A question about whether or not you'd be insulted if I re-gifted that gift card you gave me …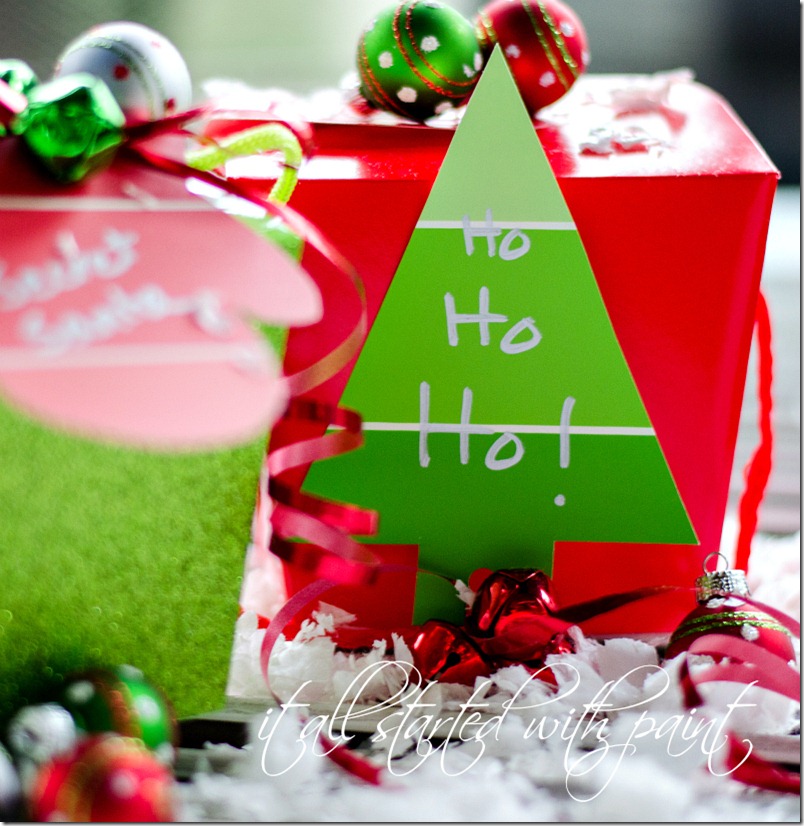 Would that be such a terrible thing, Secret Santa? Especially if I wrapped that gift card all pretty like in some festive dollar store Chinese take-out boxes …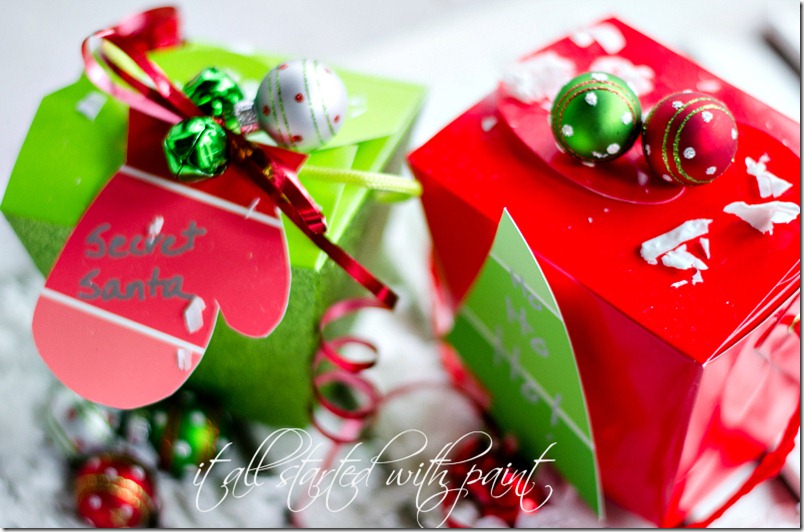 And used some paint chips cut into mittens and Christmas trees as gift tags …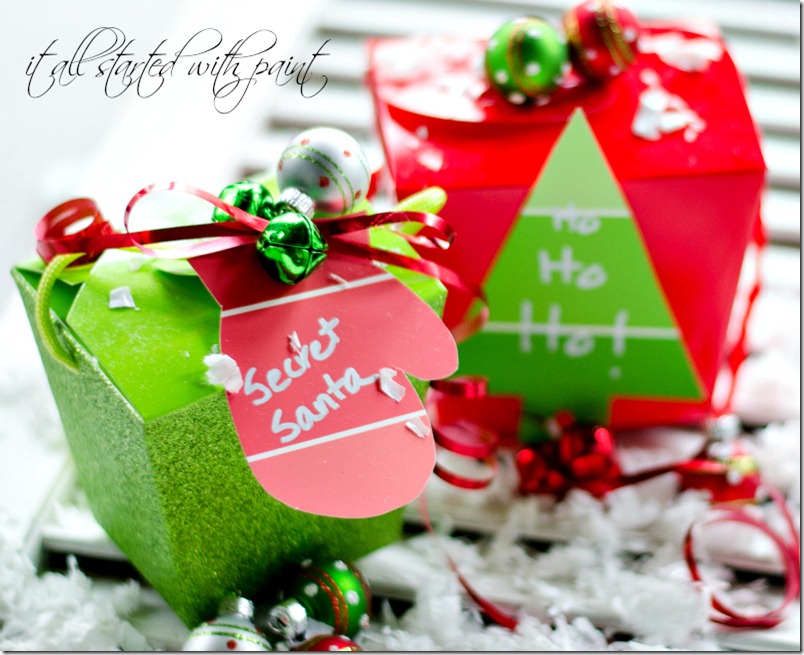 And then topped it all off with some jingle bells and bows and teeny tiny ornaments? All of which were dollar store scores.
And, Secret Santa, if this re-gift gift wrap idea using dollar store Chinese take out boxes and dollar store jingle bells and teeny tiny ornaments with paint chip gift tags doesn't work for you, my friends have some fun and creative options I can try …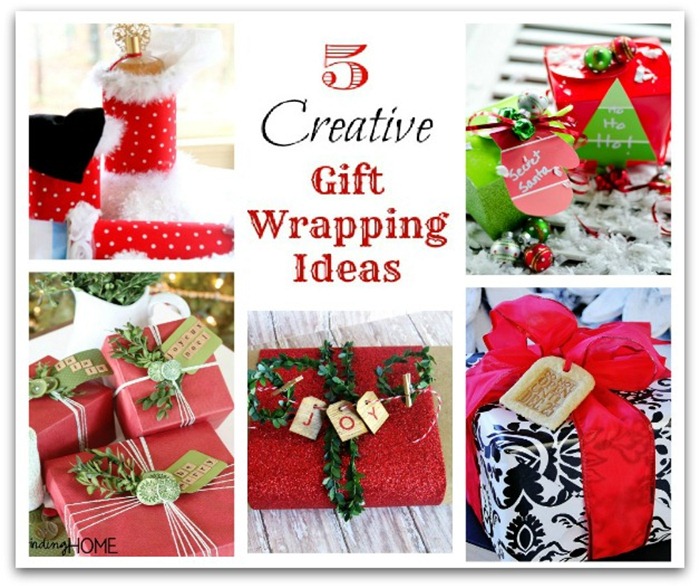 So, be sure to click on the images below to visit those fun and creative options featured above…
… and then, Secret Santa, get back to me about how you'd like that soon-to-be-re-gifted gift card wrapped.
Pin it!

P.S. Because you can find a printable for just about anything online – even something as simple as a triangle Christmas tree and mitten patter – I used the mitten printable I found here and the tree printable I found here.
You Might Also Like: