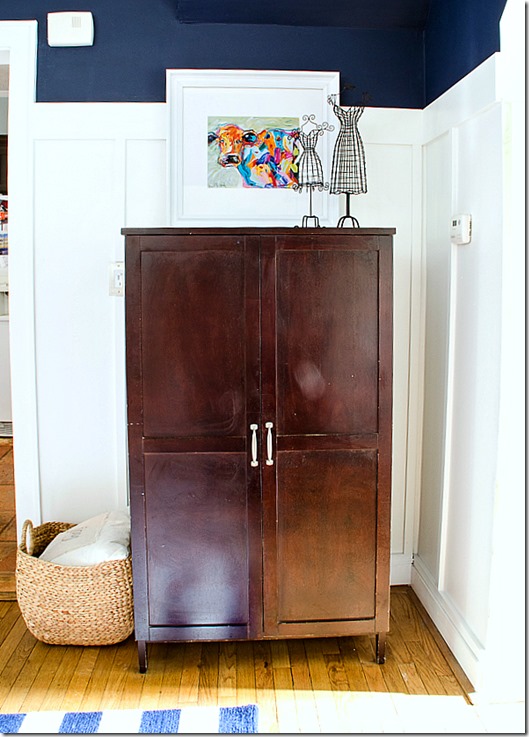 I need some help. Advice. Guidance.
Some might even call it an intervention …
But I've got all this chalkboard paint just itching to paint something. Well, not just something. It wants to paint my craft storage hutch …
I can hear its siren calls coming from the basement.  Beckoning me to the depths of our crusty 100-year-old foundation.  Pleading with me to rescue it from the basement storage cabinet that houses all those half- and quarter- … and sometimes even less than a quarter- … full cans of paint.
Who can blame me, though.  When cabinets and hutches and dressers painted with blackboard paint are springing up left and right all around me.  Teasing me. Taunting me. Challenging me to take the plunge …
Like this one.
And this one.
And then there's this one.  This is the one that started it all.  The one that woke up the gerbils in my head and got them churning the wheels of creativity …
So I toss it back at you, my readers.  What say you?  Should I take the plunge and paint my craft storage armoire with black chalkboard paint?  The piece wasn't expensive.  It's been hanging around the dining room since 1997 with it's ebony finish.  A finish that is not quite as shiny or red as the picture belies …
And if I do decide to take the plunge and slap some chalkboard paint on that craft cabinet, does that mean I need to write something brilliant and pithy and thought-provoking on the finished piece?
That's the worrisome part.  The part that's holding me back. Because the seductive siren calls of my chalkboard paint isn't powerful enough to quell those fears …

Get it all started with paint delivered to your email inbox:
Let's keep in touch: