HURRY UP!
That's my email screaming at me each day.
ONLY 5 DAYS LEFT!
It exclaimed on Saturday.  And the dreaded countdown began.
YOU BETTER MAKE A DECISION SOON OR YOU'LL MISS OUT ON THE 15% OFF OFFER!  ONLY 4 DAYS LEFT!
Doomsday is calling.  One screaming email at a time …
WHY CAN'T YOU JUST MAKE A DECISION ALREADY?!!!  JUST 3 DAYS REMAINING!!!!
Yikes.  I need to get my act in gear.  And get that order placed.
You see, I decided to go with a Pottery Barn sofa for my living room remodel.  Mostly because my sister pointed out that I would regret my decision if I went with the cheaper Walmart couch.  And she's right.
So at the prompting of my comrade in sofa indecision – who is also being taunted by those screaming countdown emails – I hit the Pottery Barn store yesterday.  I sat on the couches.  Touched the fabric samples.  Chatted with the sales manager.
A decision or two was made.  Twill fabric.  In the color Parchment.  A nice neutral.  It reads a bit darker in person than on the website.  But now?  Now I need to decide between a slipcover or no slipcover …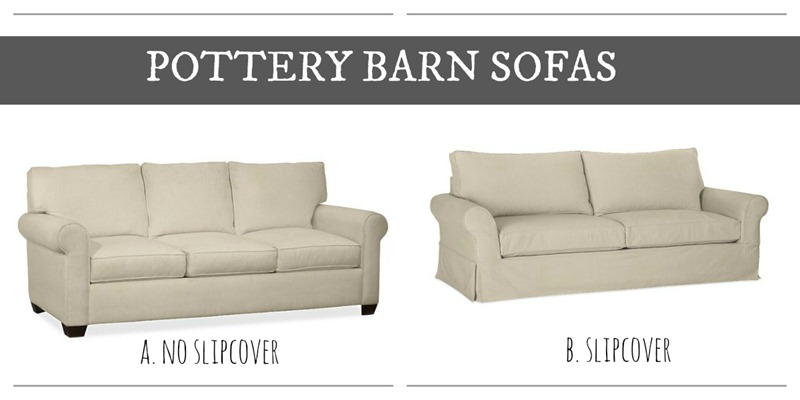 I like the tailored look of the no slipcover Buchanan sofa.  Clean lines.  And it has a whopping 3 1/2 inches on the slip-covered sofa …
I'm not a big fan of the skirt, but the slipcover PB Comfort sofa just seems so much more practical.  With kids.  And a dog who will claim this sofa as his own …
So please chime in.
AND HURRY!!!!  I ONLY HAVE 2 DAYS LEFT TO TAKE ADVANTAGE OF THE 15% OFF PROMO CODE!


Get it all started with paint delivered to your email: