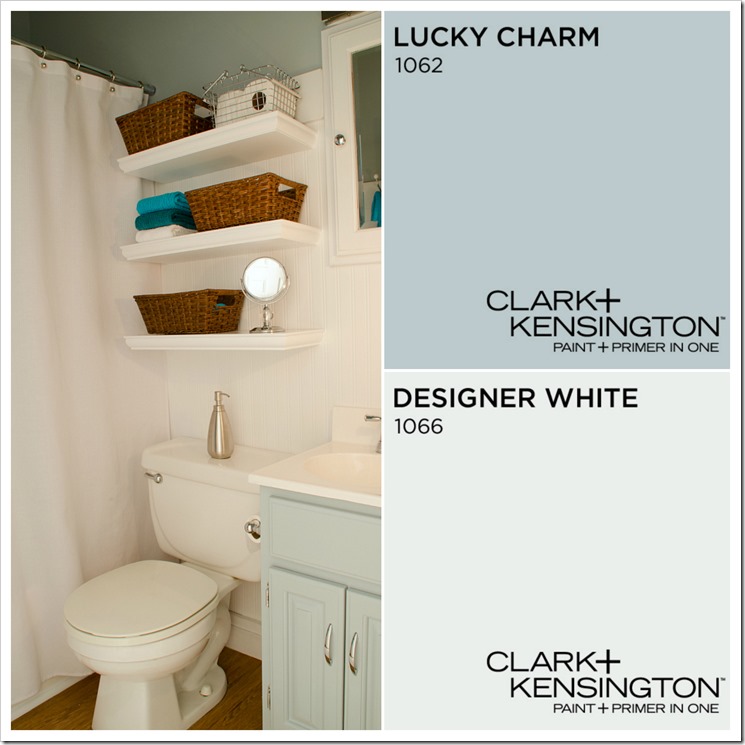 I'm sitting here shaking my head in disbelief …
sheer, utter, 100% mystified disbelief.
Do you remember my weekend project?  The one where I redid the kids bathroom with a huge helping hand from my neighbors at Ace Hardware?  This one …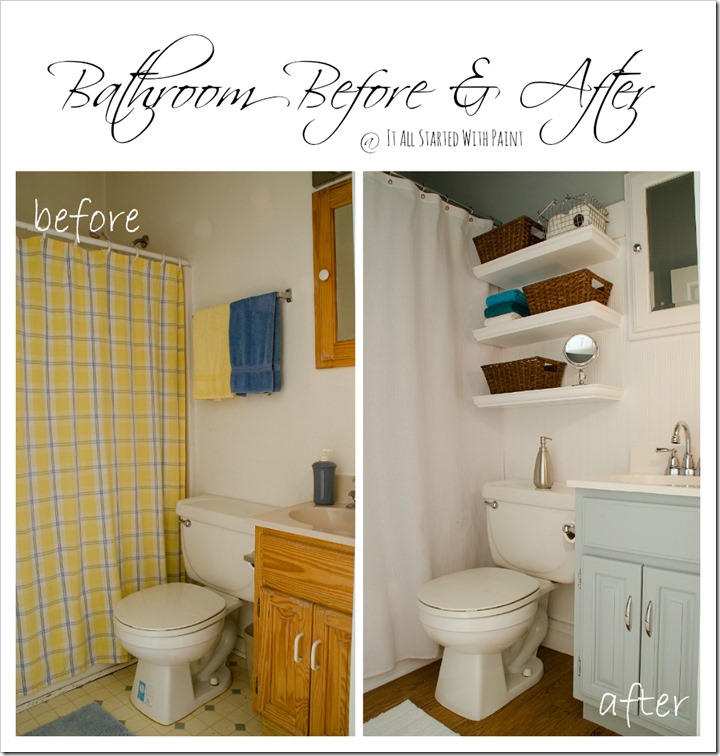 Well, the folks at Ace Hardware shared this with their Facebook fans.  And you know what?  There was more than one person who preferred the "before" over the "after" …
Huh?
Yep.  I'm shaking my head, questioning what exactly they love in the before?  Perhaps the orange oak cabinet?  The stained sheet vinyl floor?  The beige sink?  No, no, it must the plastic white handles on that orange oak cabinet …
And then I chuckled … and admonished myself for my snark.  Bad Linda.

To each his own.  Style and design is subjective.  And yet I can't help to think that if I had given them a personal and in-person tour of the before they might agree with me that the after is vastly  improved …
vastly so!
When I redid this bathroom – the bathroom shared by my teen son and teen daughter – I consulted closely with said daughter on the design and colors.  She is the one who spends the most time in this room.  Though, in all fairness, the son does take exceptionally long showers but I'm pretty sure his eyes are closed much of that time …

(okay, seriously, as I'm writing this post said son just walked down the stairs after taking a shower and fessed up that he mistakenly washed his hair with soap instead of shampoo and now it feels all weird and hard and stringy.  The sleep showering assumption has been confirmed).
But my daughter?  She is a bath lover.  A daily occurrence for her.  So I wanted the bathroom it to feel soft and soothing and relaxing to compliment her treasured bath time …
The first color we chose together didn't go over well.  Not because of the color.  It was lovely.  But it was much darker and bolder and, in this small window-less space, overwhelming.  So we went back to the drawing board and selected Clark + Kensington's Lucky Charm.  It's a blue-gray color that is much softer.  And it's a primer and paint in one, so it easily covered that rejected bolder color with two coats …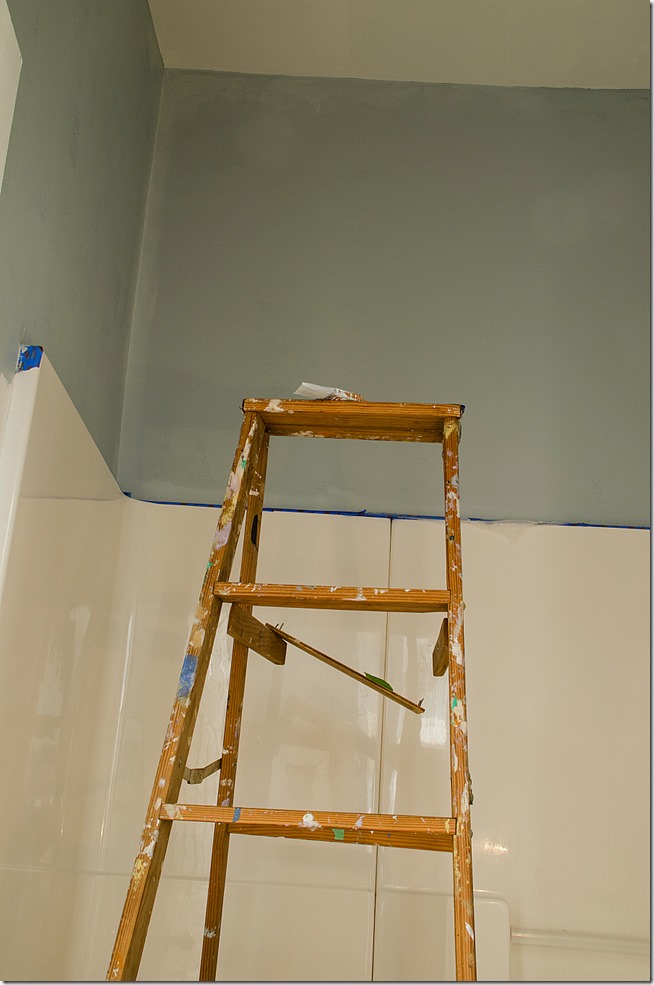 And then I did something crazy.  I took that very same flat paint and painted the beloved-by-some orange oak cabinet …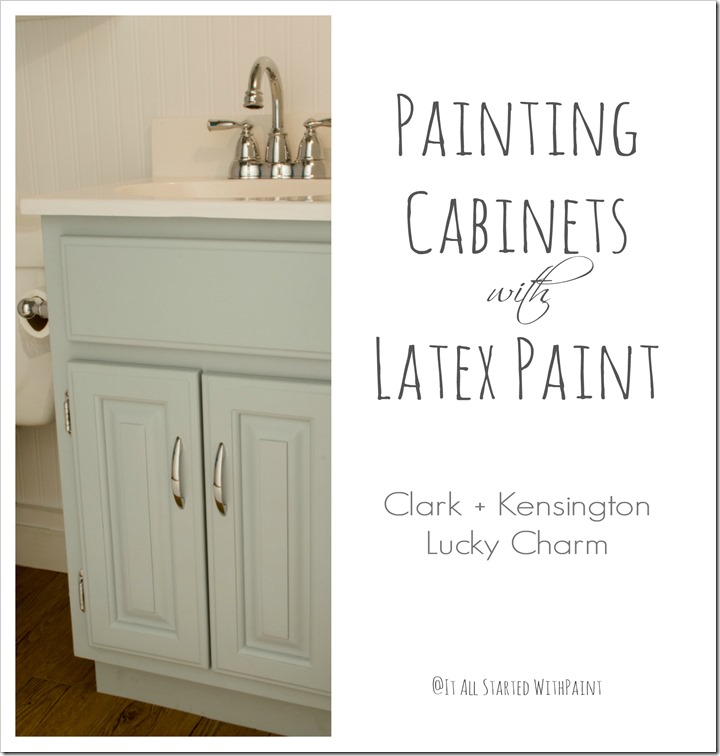 I gave it two coats of the flat latex in Lucky Charm.  And then I gave it two coats of clear wax (I used some Annie Sloan wax I had on hand, but any clear wax would work).
And can I tell you something?  I just love, love how it turned out.  No brush strokes and the wax has hardened nicely so this cabinet will stand up to two teens who can't seem to brush their teeth over the sink …
am I the only one with this problem?
The beadboard wallpaper (I really need to get that 'how to hang'  post written!), trim, baseboards, and door were all painted with Clark + Kensington's Designer White.
The medicine cabinet was painted with Ace's Cabinet, Door & Trim paint …
It's and Alkyd enamel paint so it's thick and self leveling and, in the end, the finish looks like it was sprayed on, not brushed on …
And can I just say how great it feels to have a room complete.  Top-to-bottom-cross-it-off-the-to-do-list-finished!  Even it it's not to everyone's taste, it makes me smile.  And my kids smile.  And that is the critique I value most …

P.S. Just in time for the New Year, I'm giving away a $100 gift card to Ace Hardware.  You know, to jump start your 2014 home improvement and paint projects …
a Rafflecopter giveaway
This post was written as part of my partnership with Ace Hardware as a member of the Ace Blogger Panel.  However, any and all opinions are my own.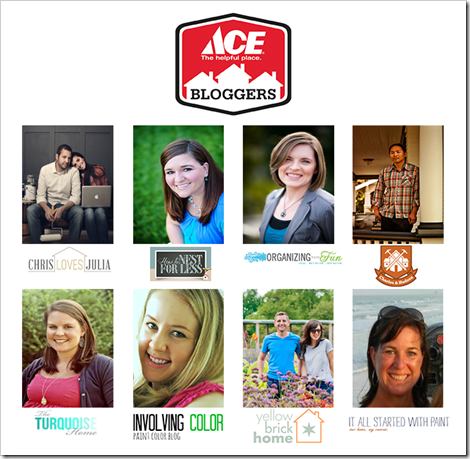 Sharing: