There's no denying the power of love at first sight …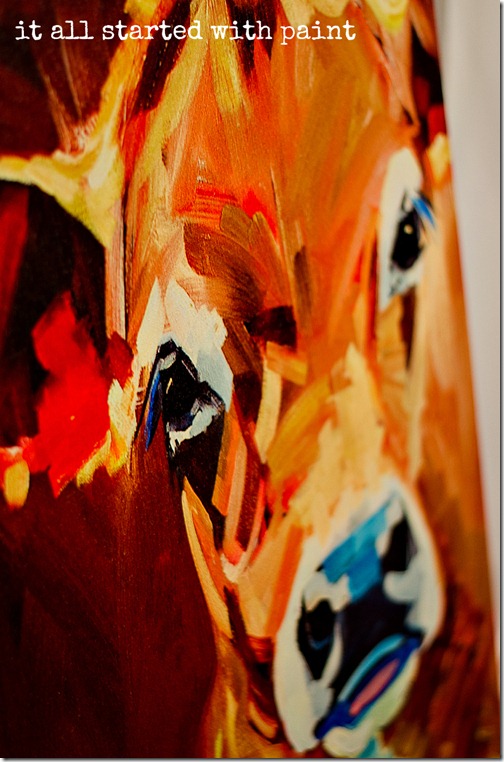 I fell head over heels in love with this cow art canvas when I first spotted it here.  Funny thing?  The blog post wasn't about cow art.  It was about a turquoise dresser.  Which, undeniably, is amazing.  But me?  I was completely distracted by that cow …
I took one look into those big brown eyes and my heart skipped a beat …
And all I could think about was getting my hands on one.  How my life could never be complete without one.  I emailed the blogger and she generously shared her source but … woe is me … they were sold out.
… and my heart broke.
But I wasn't ready to give up on true love.  So I started a search for an equally fabulous cow canvas.  I even started a cow art pin board ….
… and the canvases pinned there are fun. And fabulous. But my heart just couldn't forget it's first love.  No other cow print could measure up.  I mean, look at those bold colors. The oranges.  The blues.  And those brush strokes …
* Sigh *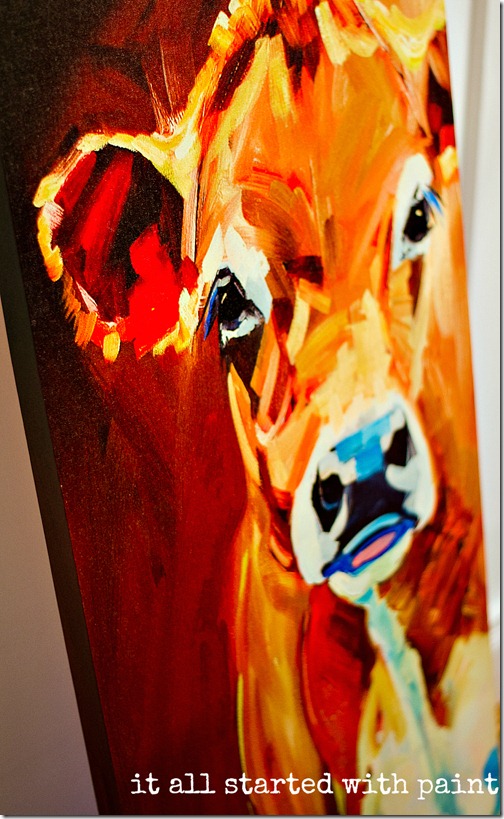 In my love sick craze, I even contemplating re-creating this canvas on my own. But I never pulled the trigger.  I know my limitations.  I knew I would never be happy in the end.  That it would turn out more Charles Shultz than Henri Matisse …
So I did what they say you should do when love is unrequited.  I let it go.
I set it free …
And I thought that was that.  I stopped dreaming the dream …
But you know what they say when you set something free, right?  How if it comes back to you it's meant to be? How it's really and truly yours?
This past weekend I had an opportunity to get together with bloggers from the Midwest.  I traveled beyond the comfort zone of my city zip code and ventured to the Western suburbs.  We gathered at an amazing shop in Naperville called Room 363.  And in-between hanging out with old friends …
… and making new, amazing friends …
… I spotted this …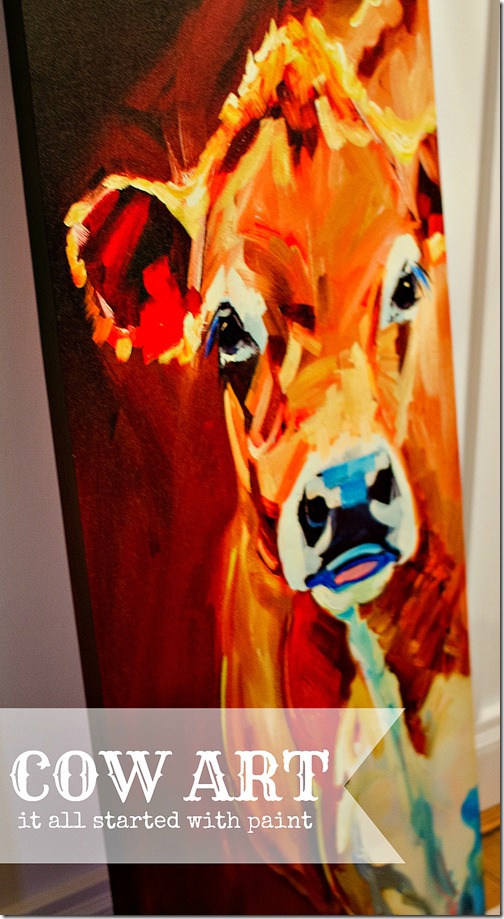 … on the shop's wall.
Be still my heart.
How could it be that my true love was here.  For sale.  And when I asked shop owner Mark the price, I held my breath.  My head was spinning.  My hands were shaking …
"Forty-five dollars," he said.  "Plus the special 20% discount for the Midwest Meet-up bloggers."
And my heart exploded with joy …
I grabbed that glorious cow print.  I paid my $38 including tax.  And I scurried it away to my car …
True love conquers all!

The cow painting was created by the very talented Diane Whitehead. You can find it — along with even more amazing original pieces of art — at dianewhitehead.com. Just click here …
Want to keep up with it all started with paint?
It's easy. Sign up here to get new posts delivered by email:
Let's keep in touch:
Sharing:
* Seven Thirty Three *  Stone Gable * Funky Junk *