Gold Bed Frame: How To Spray Paint A Bed Frame.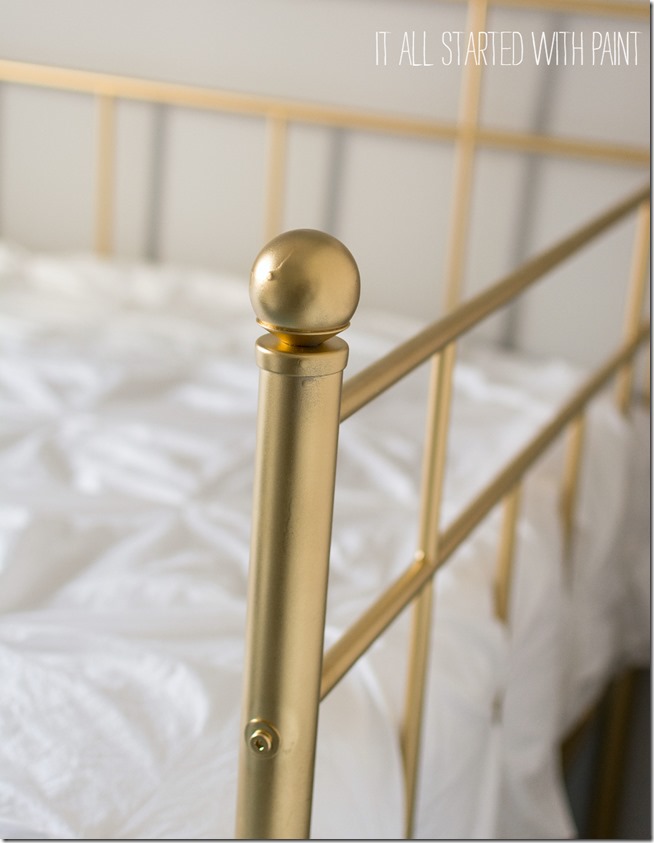 If you're ever in the middle of a project and run out of liquid nails, just use toothpaste.
That's right. Toothpaste.
Because toothpaste has some serious staying power. I know, first hand. Because this past weekend I ventured into the kid's bathroom …
armed with a chisel and a jackhammer. 😉
I don't know how the toothpaste got everywhere. And I mean everywhere. The sink and faucet, I understand. But the shower curtain? Not so much.
Are they brushing their teeth so vigorously that toothpaste is just flying off in every direction?
Mike took care of the de-toothpaste-ifying of kid's bathroom last time around. But I didn't feel it was fair to subject him to that horror story again. So I rolled up my sleeves and dug in.
Literally.
And what, you may be asking, does the kid's toothpaste-encrusted bathroom have to do with a gold bed frame? A bed frame that I spray painted with metallic gold paint …
Well, because I can typically avoid the kids bathroom for weeks on end. Months even. But while working on Molly's room redo this past month, there is was. Staring me down each time I walked out her door …
Especially during the assembly of her bed frame. Many trips in and out to bring up parts. And many trips up and down to look at the one illustration on the outside of the box offering a few clues as to how the bed frame should be assembled …
sigh …
because instructions were not included. And none could be found online.
But before embarking on the puzzle that was assembling, there first was the spray painting. With Rust-Oleum's Metallic Gold Spray paint.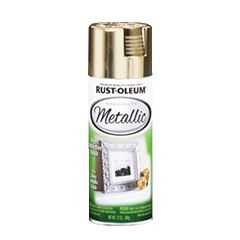 The bed frame before looked like this …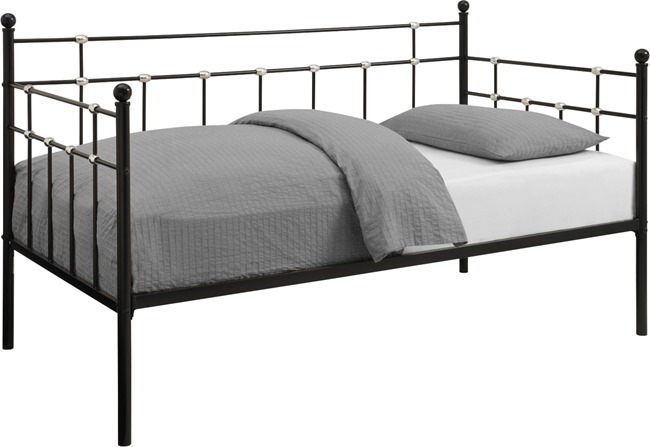 It's the DHP Hayley Metal Daybed that I found on Wayfair.
But now it looks like this …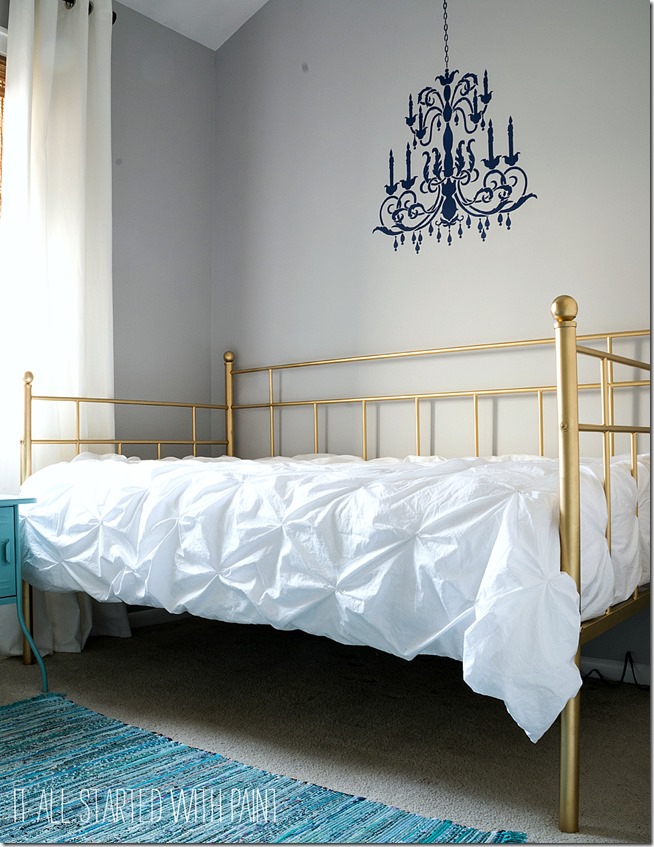 I know it may seem crazy to spray paint a brand new bed frame. Right out of the box. But when I spotted this gold bed frame online, I fell in love. As did my daughter. So I was on a mission to recreate that look …
Plus, the original new out-of-the-box black metal daybed was an affordable $114 (on sale). So I didn't feel too bad about taking a can (or four) of gold spray paint to it …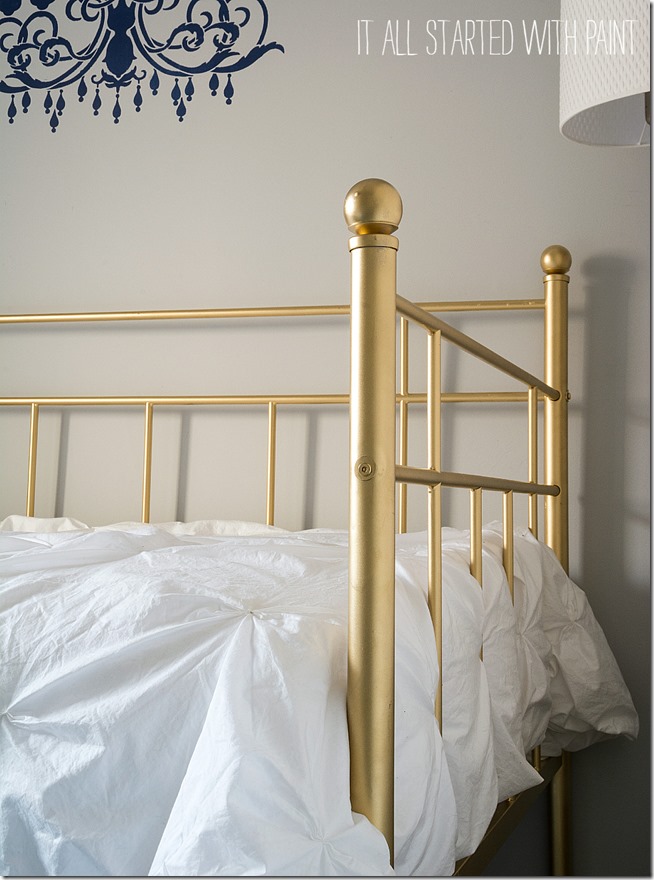 The trickiest part was the "how."
I debated between assembling the bed frame in the garage and spray painting it there, or just lying out the parts on cardboard and painting one side and then flipping to spray the other.
In the end, I opted for the spraying of the parts. I gave them 24-48 hours before flipping over. And then another 48 hours dry time before assembling. Oh, and I ended up using four cans of spray paint to get the job done.
The added bonus of this project? The kid's now have a sparkling clean bathroom …
free of toothpaste!
🙂
Linda
PIN IT!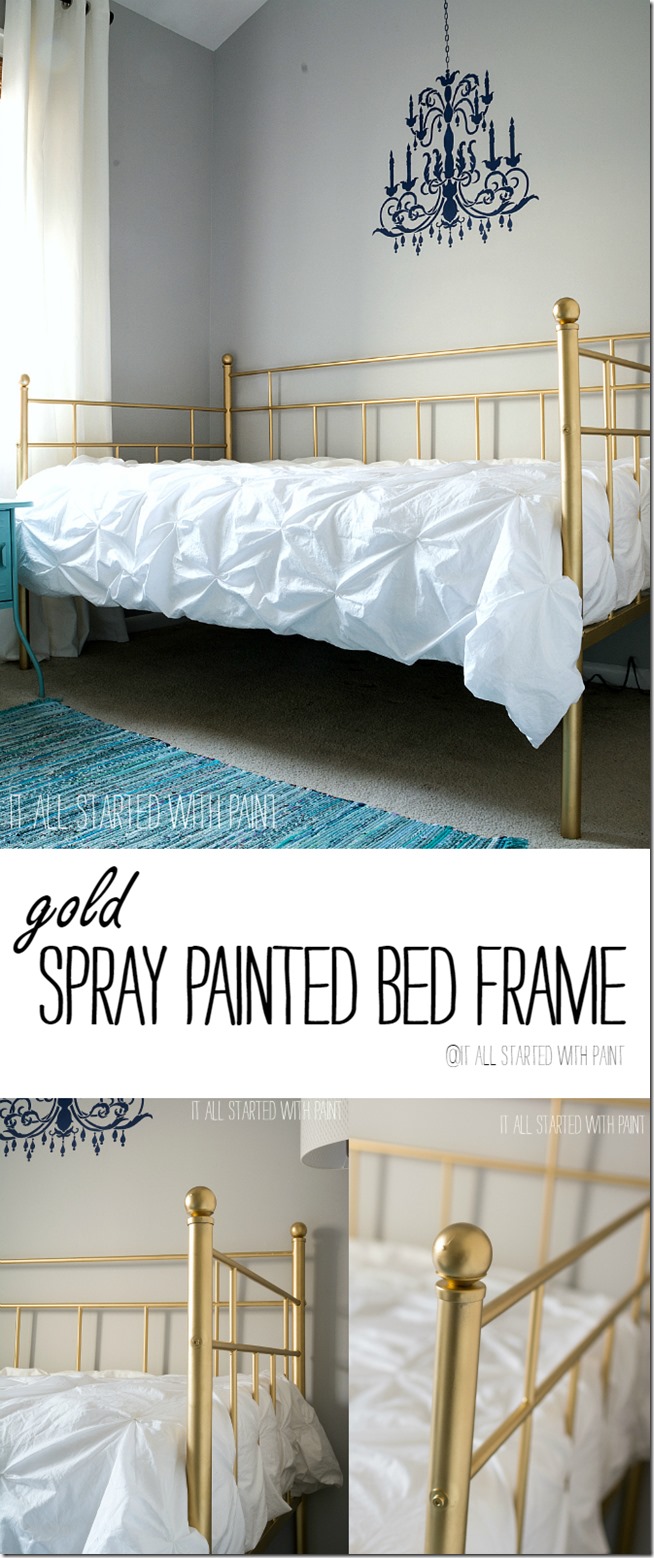 You Might Also Like: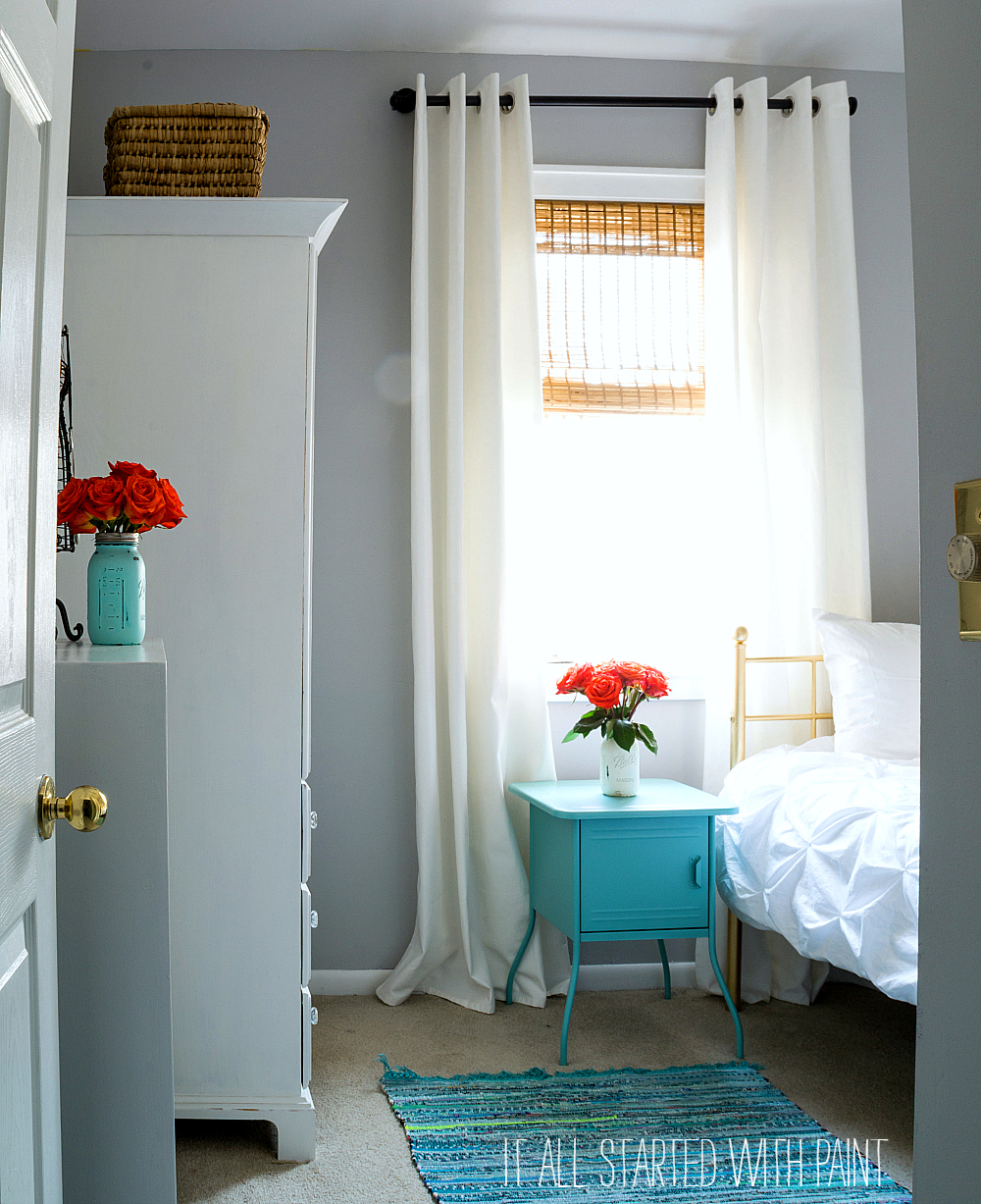 Teen Girl Room Makeover Reveal (click here)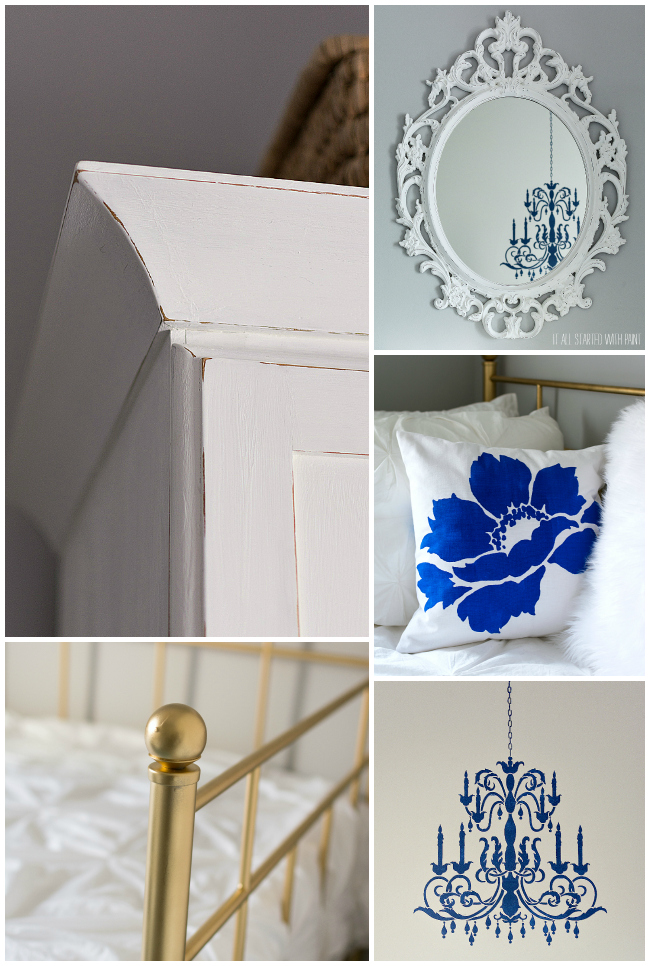 Teen Girl Bedroom Project Links:
Painted Armoire | Gold Spray Painted Bed Frame | Ikea Mirror Makeover | Paint-A-Pillow | Chandelier Wall Stencil
I would like to thank Rust-Oleum for providing me with the metallic gold spray paint needed for this project. However, any and all opinions about gold spray paint and Rust-Oleum and the potential use of toothpaste as a liquid nails substitute are 100% my own.