I'm all about the before and after.
I'm sucker for them.
And when I see something on Facebook or Twitter or Instagram with a claim about how you won't believe what this person did with this or that …
or to this or that …
I hightail it over there as fast as I can. I drop everything. The email I was composing or blog post I was writing or photo I was editing forgotten. Because life as I know it can't possibly go on if I don't see for myself the amazing after …
regardless if this is an on-the-cheap ugly builder grade kitchen transformation …
or that (according to a Facebook or Twitter or Instagram claim) is a jaw-dropping craft made from an empty toilet paper roll and a glue gun.
Because, let's face it, before and after transformations are sexy …
and effortless …
and amazing! 🙂
They give us hope for our ugly builder grade kitchens and pile of empty toilet paper rolls.
And with all that said, let me share with you my amazing-you-won't-believe-your-eyes growing grass from seeds before and after.
Drum roll please …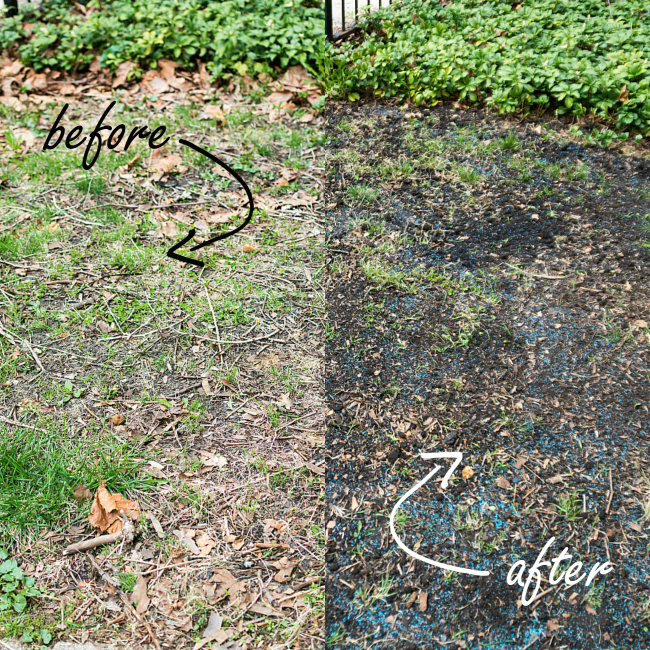 Sigh.
I know, I know.
Not sexy. Nor effortless.
But, in all fairness, this before and after can't easily be fixed with a can of paint or dab of hot glue. I'm at the mercy of Mother Nature (to whom I would be extremely grateful if she threw some rain my way this week).
I fear the draw-dropping-how-did-she-do-it-after may be a month or more away. So in the meanwhile, I thought I'd share the process …

… well, my process.
I have my fingers crossed it works.
(Between you and me, I don't have much of green thumb; hence the dismal 'before.')
On to the process: I started with my go-to Scotts products from my local Ace Hardware.  The staff there was really helpful in steering me to products that would work best. Like since I was starting with, basically, a blank slate they recommended the Scotts Turf Builder Lawn Soil as a base.
And since my front lawn is the size of a postage stamp, Ace recommended the Scotts Handy Green Hand Held Spreader for seeding.
Finally, once my grass starts to sprout, they suggested I use the Scotts Hand Held Spreader to, well, spread Scotts Halts Crabgrass Preventer. Because crabgrass growth thrives here in Chicago …
in fact, it seems to be my specialty! 😉
My first step was clean up.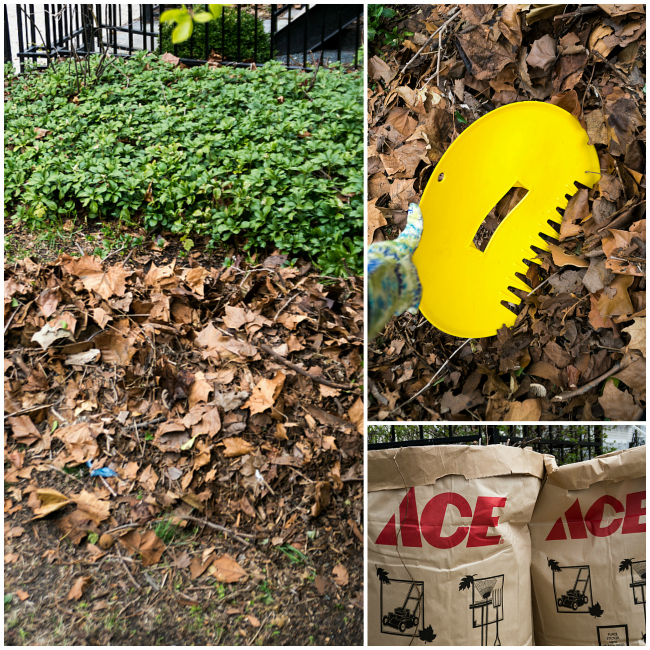 Turns out, we haven't raked leaves in a very long time. Oops! I filled three Ace lawn and leaf bags.
Oh, and as an aside, those yellow leaf scoopers are my new favorite tool. There come in a pair and cut my leaf-gathering clean up time in half.
Up next, I raked the soil and dug up more troublesome weeds. Followed by a thin layer of the Scotts top soil spread with a rake.
I used the handheld spreader to spread the seeds (I used Scotts Kentucky bluegrass blend because that's what Ace Hardware recommends for our region).
After a bit of watering, the waiting game begins …
And while I wait for my grass to grow, you can enter for a chance to win a $100 gift card from Ace Hardware. Enter here …
Good luck!
🙂
Today's post was written as part of my role as an Ace Hardware Blogger. I was compensated by Ace for this post and for the products used, but all opinions about the products, about growing grass from seeds, and about Ace Hardware are my own.