Jell-O Lemon Meringue Pie Recipe in Mason Jars – Easter Dessert Ideas in Mason Jars – Single Serve Lemon Meringue Pies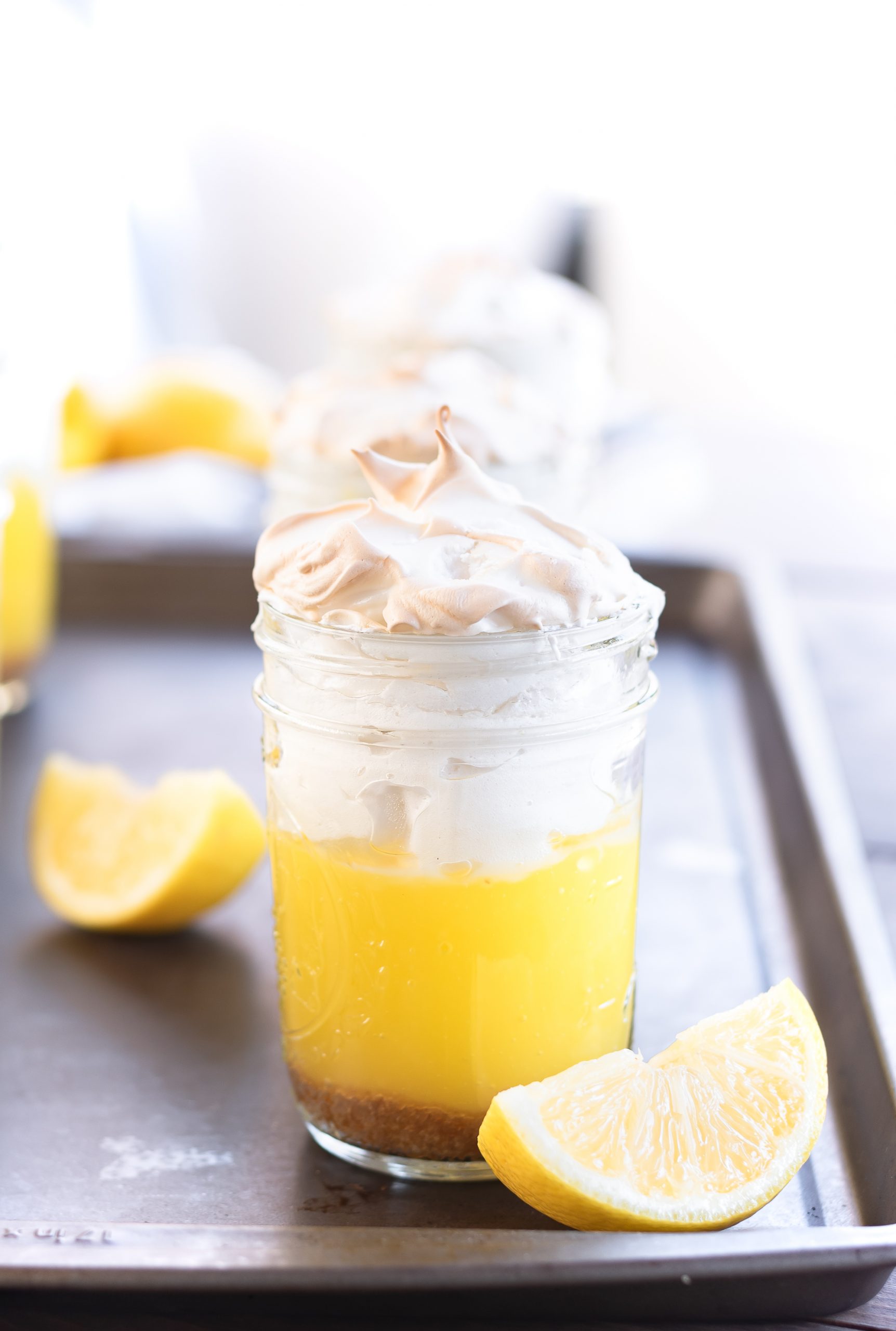 Way back in the beginning – the beginning of this blog, I mean – I stumbled across mason jars. Which wasn't all that hard to do since every home and craft blogger was doing something with mason jars.
They were all the rage back in the 10's and teens..
Naturally I joined in on the mason jar fun.
After a few hit-or-miss mason jar craft projects, I landed on the idea to make my favorite spring/Easter dessert in a mason jar.
And while the end product tasted delicious and the recipe itself garnered lots of blog traffic …
despite the over processed photography that makes me cringe today …
my biggest mess up was the recipe.
Or more like lack thereof!
Yikes!
The original post didn't have a formal recipe, much to the chagrin of the hundreds of people who left comments complaining about the lack of a formal recipe.
It went something like: make the pudding according to the Jell-O box. Whip up some meringue for the top. Bake in the oven until slightly brown.
Sigh.
After about the 50th complaint, I eventually amended the post with a PDF version of a thrown together recipe.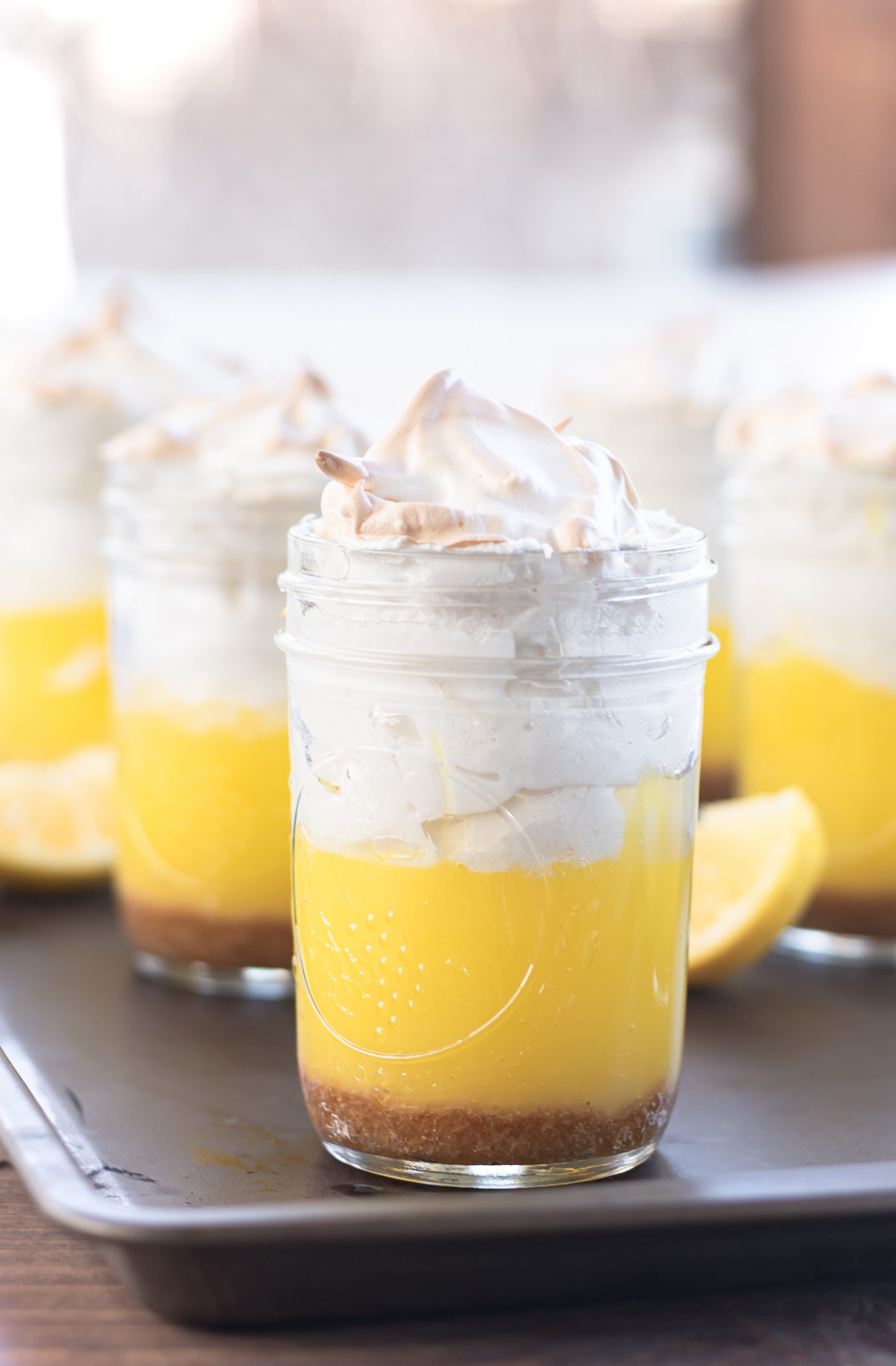 But today … today … I finally and officially make amends.
Today I have a formal recipe that can be easily printed out.
And today (hopefully) I can finally say goodbye to those cringe-worthy, over processed photos with (hopefully) something much prettier.
Enjoy!
Oh, and please feel free to leave any complaints in the comments! 😉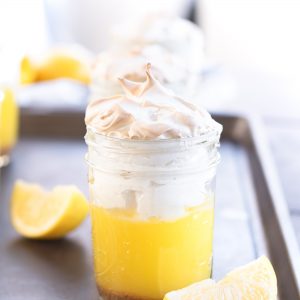 Print Recipe
Lemon Meringue Pies in Mason Jars
Ingredients
Graham Cracker Crust
1

package

graham crackers, crumbled

4

tbsp

butter, softened

⅓

cup

sugar
Lemon Pudding Filling
1

package

Jell-O Cook & Serve Lemon Pudding (2.9 oz)

½

cup

sugar

(per Jell-O package instructions)

2 ¼

cups

water

(per Jell-O package instructions)

2

egg yolks, beaten

(per Jell-O package instructions)
Instructions
Graham Cracker Crust
Crumble graham crackers in a large ziploc bag.

Add sugar and softened butter to crumbled graham crackers. Mix by hand.

Use hand to press mixture into bottom of six ½ pint glass mason jars (I used about ½ of a ¼ cup of mixture for each jar).
Lemon Pudding Filling (per Jell-O box instructions)
Stir pudding mix, sugar, ¼ cup of the water, and beaten egg yolks in a medium saucepan.

Stir in remaining 2 cups of water.

Bring to boil on medium heat, stirring constantly.

Once boiling, turn off heat.

Distribute evenly among the six ½ pint glass mason jars.
Meringue Topping
Beat together 4 egg whites in a mixing bowl.

After about a minute, slowly add in sugar.

Beat until firm peaks form.

Layer on top of lemon pudding mixture in jars (I used a small spatula).

Place jars on metal cookie sheet. Cook at 350 in the oven for 10 minutes.

Remove from oven. Let cool to room temperature before refrigerating for a few hours before serving.
Once again, I'm joining with my blogging friends (led by Marty @A Stroll Thru Life) to share our favorite budget-friendly recipes. Be sure to check out what they're sharing today …
Tammy @ Pink Peppermint Design Laura @ Decor To Adore
Jo-Anna @ A Pretty Life In The Suburbs Linda @ It All Started With Paint
Christy @ Our Southern Home Jennifer @ Clean & Scentisible
Marty @ A Stroll Thru Life
Pin It!