Contrary to popular belief, I'm not crafty.
I've been called crafty.  My blog has been described as a craft blog.  Heck, I've even been likened to Martha Stewart.  And my-non-crafty-self has never once contradicted those statements.
Until now.
I'm not sure what pushed me over the edge.  Perhaps it was the fact that my very own sister mentioned something about my "crafting" when we last spoke on the phone.  Or, perhaps it was the package that arrived on my doorstep last week.  The one containing stencils and foam brushes and craft paint and a letter enthusiastically thanking me for being part of the Plaid Enterprises stencil street team.
Uh oh.
That delivery sent me into a tailspin.  What in the world was I thinking when I signed up for this project?  Who did I think I was fooling by promising a company that creates cutting-edge craft products that I would be able to create a craft worthy of their products?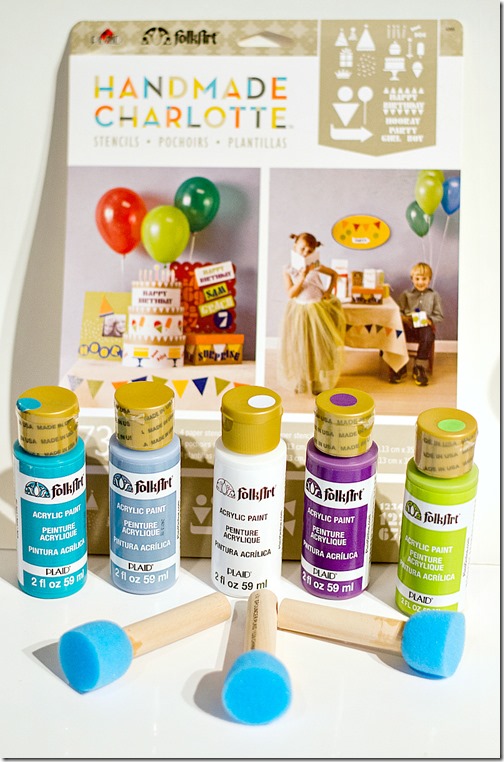 * Gulp *
When I think of true "crafters," I think of attention to detail.  Attention that typically requires patience … and precision … and perfect handwriting.  Three "p's" that I simply do not possess.
And stencils?  Stencils are the penultimate craft project.  Advanced crafting stuff.  And me?  I'm a novice.  A fake.  A fraud.  Hiding behind mason jars filled with sewing kit stuff and shiny locker baskets made to look vintage with a few squirts of spray paint …
And then I made a big mistake.  A huge no no.  I looked at the Handmade Charlotte stencils page at Plaid Crafts.   A page filled with patient, precise, and perfect projects using Handmade-Charlotte-creator-Rachel's stencils.
* Sigh *
So please bear with me as I reveal my project.  And remember, it's not nice to mock the craft-challenged …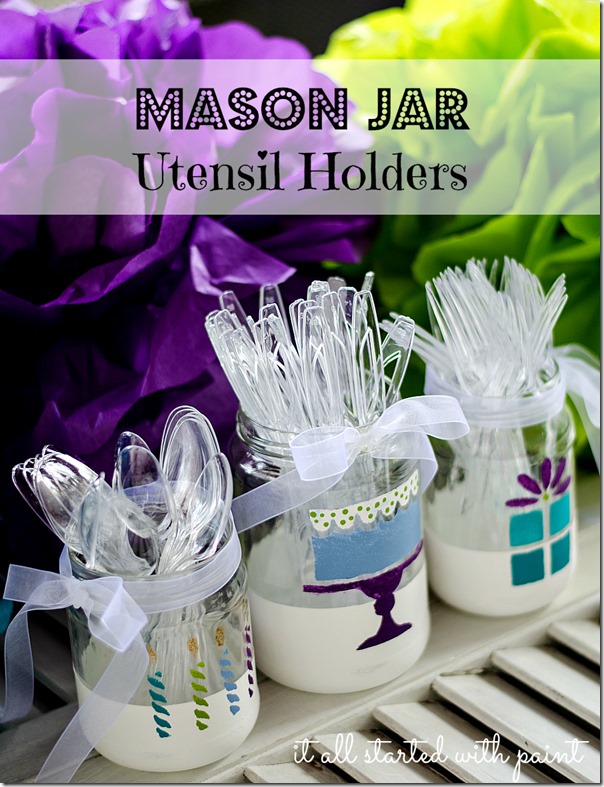 In keeping with my mason jar theme – a theme which undoubtedly is wearing thin on even my most loyal of my readers – I used the stencils on mason jars.  Okay, technically these aren't mason jars.  They're salsa, pickle, and sauerkraut jars. Respectively.
But they were free.  That's a crafty idea, right?  True crafters are masters of repurposing,aren't they?
I taped off the bottoms of the jars and gave them a few coats of white.  I'm not sure why.  It just seemed like they needed a little something something.  And Folk Art so graciously sent along the white paint.  Oh, and the fact that I've become a bit obsessed with those paint dip projects could've been an contributing factor.  So let's just call these "paint dipped" jars and call it a day …
I mean, it does sound much more crafty that way …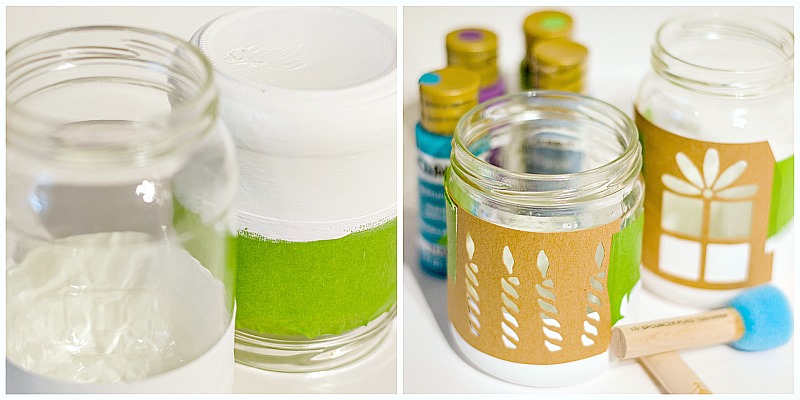 And here's where my lack of patience could've been my downfall.  I'm thinking that – technically — with stencils you should do one color at a time.  Let it dry.  And proceed.
Yeah, that didn't happen in my impatient need for immediate gratification …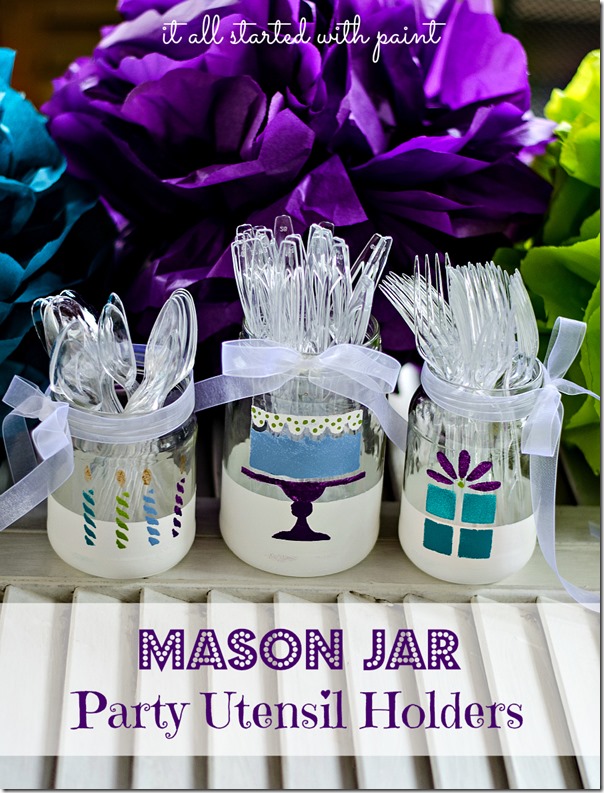 And while a true crafter would never play favoritism, I have to admit the stencil with the birthday candles is my favorite …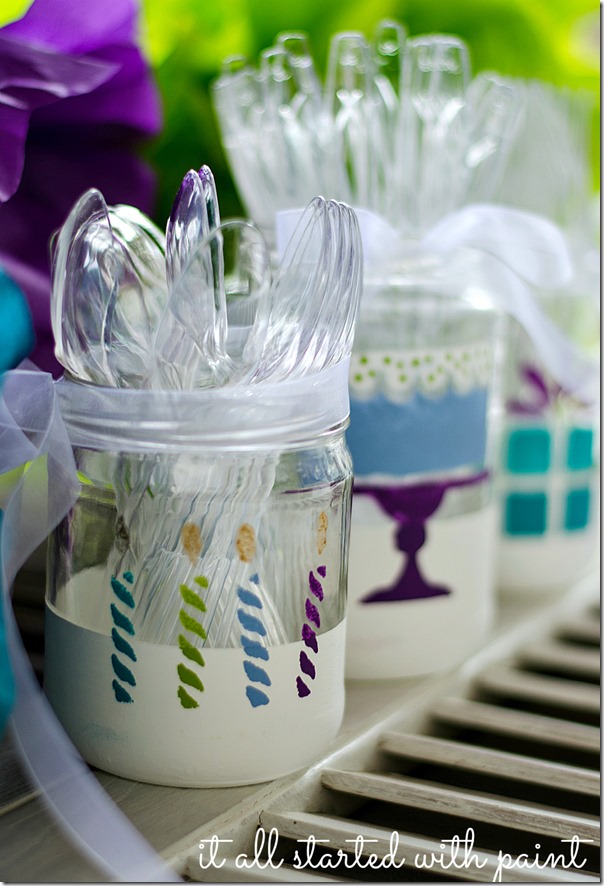 Shhhh. Don't tell the others.

Looking for mason jar ideas?  Check out my Mason Jar Gallery …
Want to keep up with my projects?
It's easy. Get it all started with paint delivered to your email inbox:
P.S. I wrote this post as part of a sponsored campaign with Plaid and The Blueprint Social. All opinions in this post are my own.
P.P. S. You can find FolkArt's Handmade Charlotte stencils and paints at select JoAnn craft stores or on JoAnn.com.
Sharing: