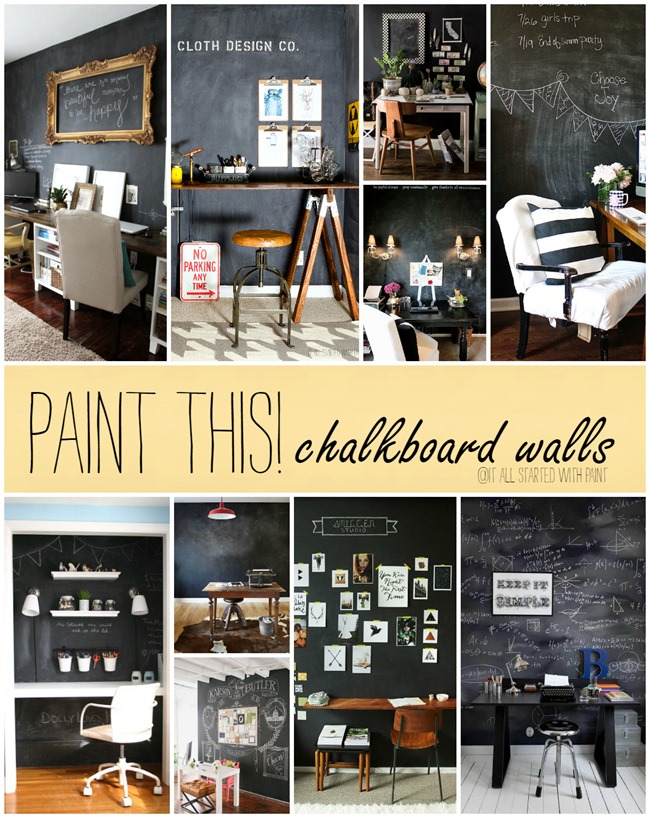 Sources (from top to bottom, left to right):
Icing on The Cake | It All Started With Paint | Design Sponge | Jones Design Company | House Seven | No. 29 Design | Country Living | Inspired By This | Smitten Studio | 1 Kind Design
I wonder if my love of chalkboard walls stems from my love of school.
Yes, I was that nerdy girl who truly loved to learn. Just call me Rory Gilmore. But not nearly as cute. Without the flawless skin. And single mom. And quick, witty, pop-culture-laden banter …
But I did love to learn. I sat in the front row. I took notes. I studied for every test.
And when I (gasp) received a B on a test, I panicked. Beat myself up. And made a promise that I would never, ever get another B.
So I moved my desk closer to the board. I took more notes. I studied harder. Every day.
And I graduated high school with a 4.0.
Yes, I was that nerdy girl in high school who loved to learn and refused anything less than an A+.
Now college? That's a different story. Maybe all that studying had taken it's toll. Maybe there was just too much freedom. Too many distractions.
Too many cute frat boys.
But chalkboard walls take me back to my straight-A-loved-to-learn high school heyday …
So I thought I'd share some of the inspiration I pinned and dreamed about before creating my very own chalkboard wall work space in a nook in the basement.
On a final note, I came across this genius idea for a chalk holder from Dimples & Tangles …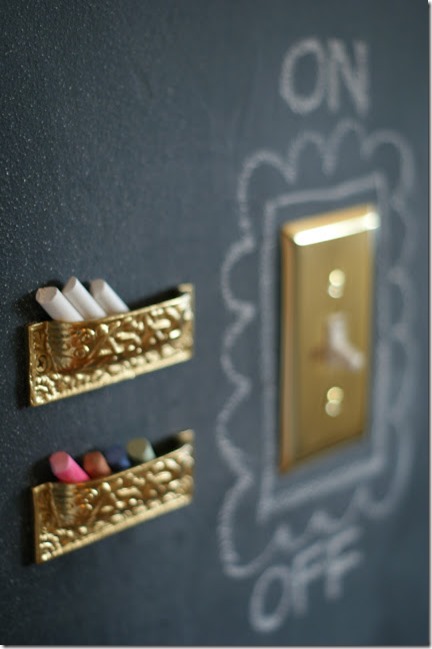 … but I'm not going to tell you what she used. You have to click here to find out for yourself!
And I am ABSOLUTELY going to duplicate her genius idea on my very own chalkboard wall!
Happy Friday!  The long weekend is just a few hours away …
and it would be the perfect time to create a chalkboard wall of your very own!

Linda