So, it's been quiet around here.  The blog, I mean …
not the house.
No, the house is a flurry of activity as I desperately play catch up to get my holiday decorations up.  I feel so terribly and dismally behind the proverbial eight ball.
And to add insult to injury, this past week the blogoverse  virtually EXPLODED with one amazing holiday home tour after another.  Seriously. You couldn't swing a dead cat without hitting one …
But for me, it was a constant in my face reminder that, no, my halls are not yet decked …
and that my bows of holly remain firmly tucked away in bins in the basement.
Sigh.
But don't get me wrong.  I am indeed jolly.  Very much so!  Holly and jolly and humming Christmas tunes as I shop and plot and plan.  You see, I'm taking our holiday décor in a whole new direction this year.  To better compliment our new living room and dining room 'canvasses' …
So it's not a matter of hauling up boxes from the basement.  I'm in full-on, hard-core, up-to-my-elbows-in-glitter creation mode …
cutting and gluing and folding and spray painting and sewing …
and 'suggesting' (strongly) to my husband that THIS weekend is the weekend we should get the real tree.  Not next weekend as he suggested …
But enough about me.  What about you?  What have you been up to this week?  Link it up and show me …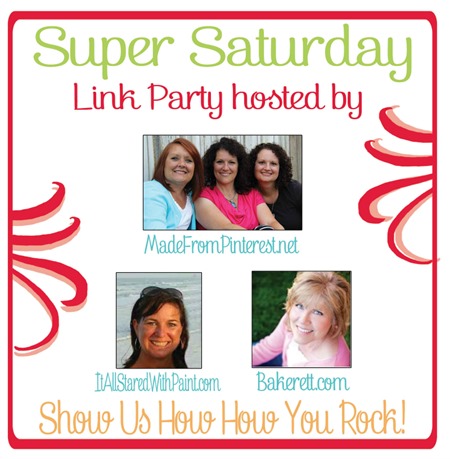 When you link up, you are giving us permission to feature your project on our blogs and social media with a link back to you.
Weekly favorites will also be pinned to our Link Party Favorites Board on Pinterest!
Be sure to come back Sunday to see the Fav's and the most viewed links from last week's shindig!