I worked with my first design client last month.
My daughter.
And let me tell you, she was one tough customer. Full of ideas. And strong opinions.
Which was a challenge for me. Because, up until last month, I was flying solo when it came to redesigning this house. Sure, I'd ask Mike and the kids their opinions here and there, but 99.9% of the time I was the primary planner, executor, and decision-maker.
Now, on the plus side, my full-of-ideas-and-strong-opinions client was quick to make design decisions. She knew right away what appealed to her, and what didn't. Which puts her one giant step ahead of me. Often times, I spend too much time over-thinking …
and not enough doing.
My full-of-ideas-and-strong-opinions daughter client had been pushing for a room remodel for over a year now. After she found inspiration following a sleep-over at a friend's home.
And, to be honest, she had outgrown her purple-people-eater room (here) long ago …
But I was holding out. Mostly because this summer is the big switcheroo. When her brother goes to college, I'll be moving her into her brother's larger bedroom. It only seems fair since she's been relegated to the teeniest tiniest bedroom of all time for last 14+ years.
And that whole big switcheroo is going to be a lot of work. A Lot. Of. Work.
But for now, I conceded to a mini redo. With a caveat: the wall color needed to be neutral enough to work for a young woman and a young man. Since, starting next fall, Sam would be living in the teeniest, tiniest bedroom of all time during holidays and breaks …
luckily he only uses his room for sleeping. And clothes storage. He's my resident couch dweller.
After throwing gender-neutral gray paint swatches up on the wall, we agreed on Clark+Kensington's Garden Stone …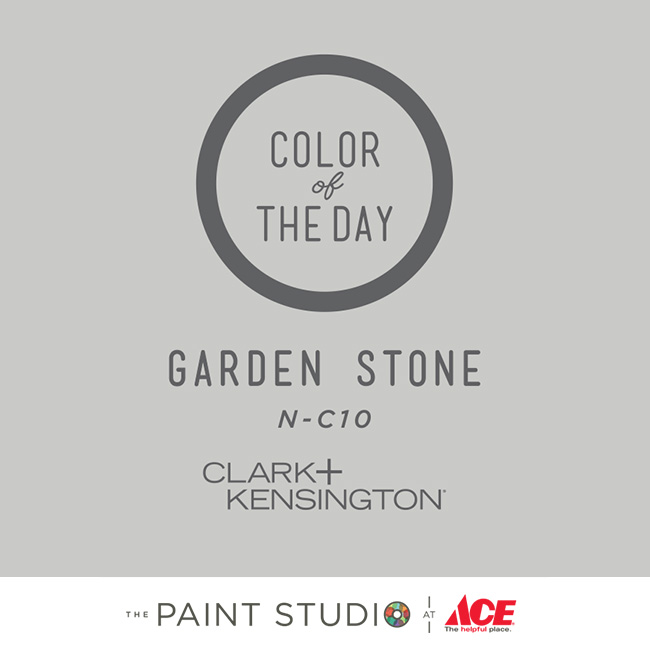 … which just so happens to be today's "Color of the Day" from Ace Hardware's 31 Days of Color event.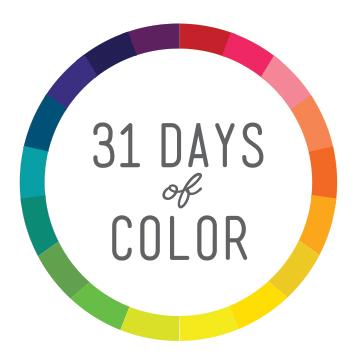 During the month of March, Ace Hardware has been helping people discover a new love of color with an interactive paint experience. Each day of the month, a different color from Ace's exclusive Valspar and Clark+Kensington paints lines has been featured at The PaintStudio.com, along with design tips and inspiration photo galleries. And (see below for more details) there's even an exciting sweepstakes component.
The best part thing about my full-of-ideas-and-strong-opinions daughter client was she wanted to stay involved. Participate. And she even rolled up her sleeves …
and picked up a paint roller.
Her first time ever painting a room.
Luckily, the Clark+Kensington paint+primer in one made this first experience a highly positive one.  We're both still shocked that we only needed one coat of paint to fully cover those purple-people-eater walls …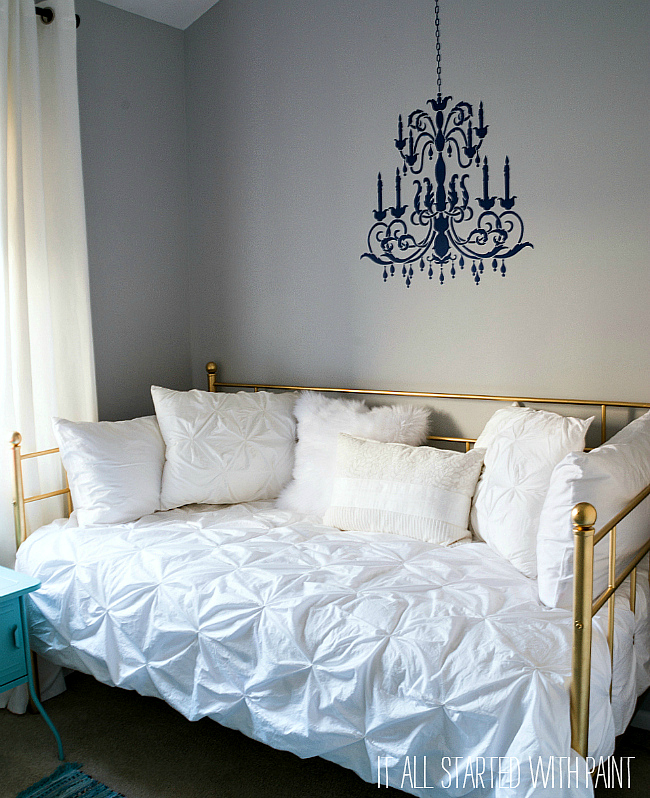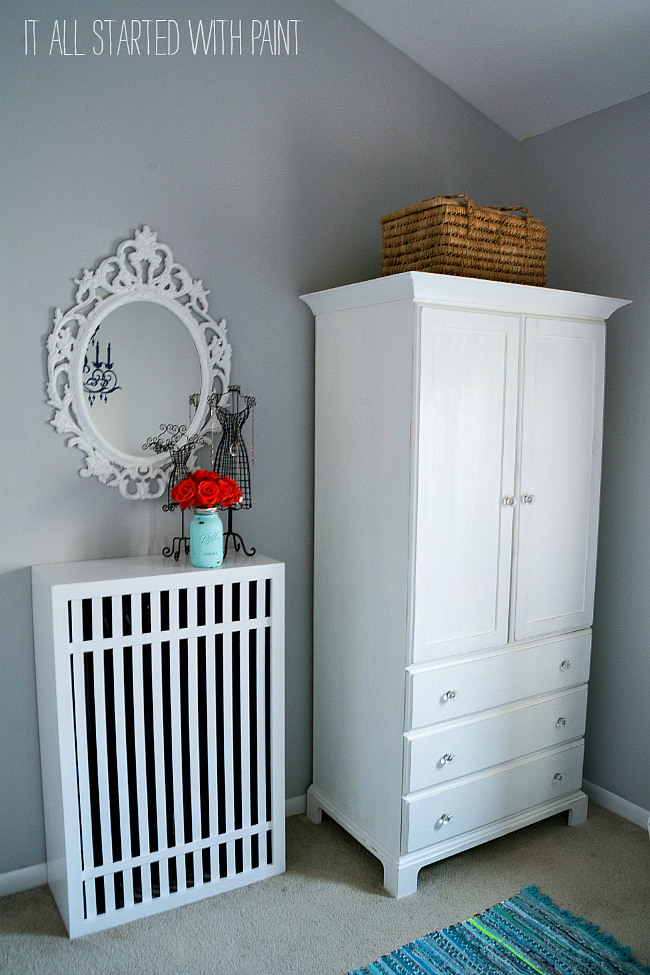 We were also glad of the low VOC formula, especially since we were working in a small space. With two paint trays and two rollers smothered in paint …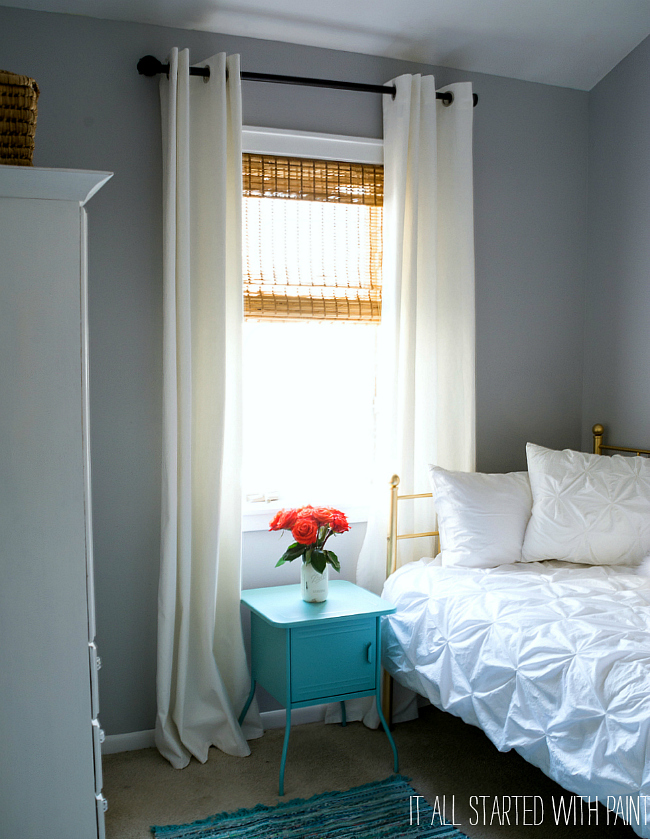 In the end, my full-of-ideas-and-strong-opinions daughter client is very happy with how her room turned out. And takes great pride in the role she played in designing – and working on – this space with me.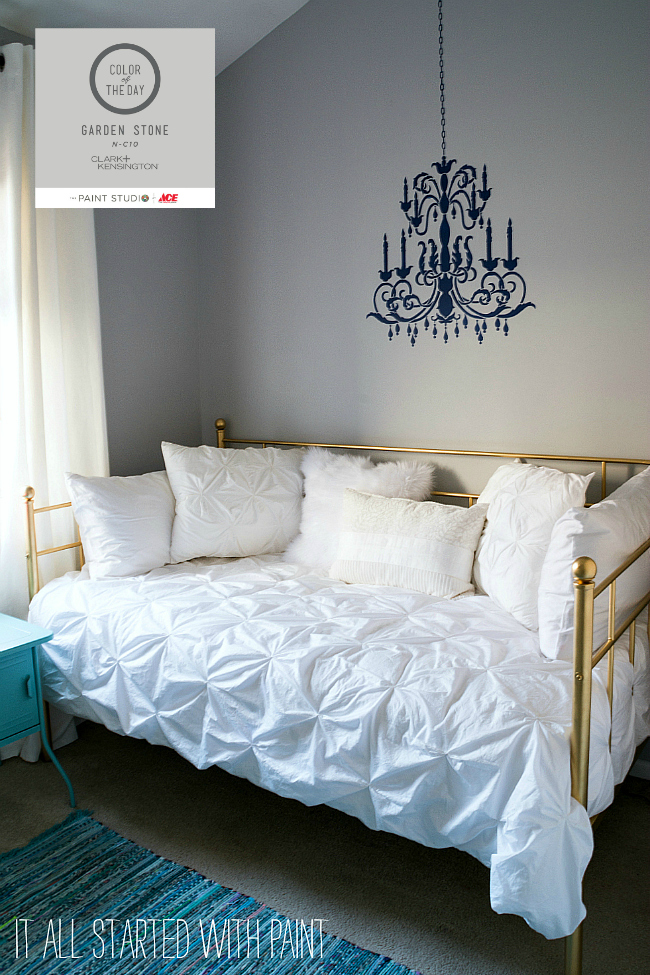 Which, in case you were wondering, she did a fabulous job!
You can find all 31 Colors of the Day (and more) at The Paint Studio at Ace. And, the first 1,000 visitors to the site at 12pm EST each day can register to receive a free sample of the Color of the Day. Just click here …
And now for the most exciting news: Ace Hardware is hosting a 31 Days of Color Sweepstakes on ThePaintStudio.com. One lucky winner will win a $10,000 home paint makeover! Plus, there will be daily $50 Ace Hardware gifts cards give away too. Just click here to enter …
Good luck!
🙂
This post was written as part of my participation on the Ace Blogger panel. However, any and all opinions about paint, paint colors, and Clark+Kensington's awesome Garden Stone paint+primer in one are my own.
Sharing: Between Naps on the Porch