I'm no foodie, though I like to think I am when I'm whipping up such exotic dishes as scrambled eggs and pork chops and capellini, though usually not at the same time or at least not in the same pan. But it's become commonplace for people who think of themselves as foodies to take pictures of their orders when they're in restaurants. I don't know why. And it seems to make some restaurateurs angry.
Today, food photography came to roost in our house. Linda made a most traditional dessert in a most unusual fashion – to me, anyway – and we were not allowed to eat it until it was properly posed and fully shot. The lemon meringue pies in Ball® Mason jars (Look – I used a register mark!) were as tempting as the Sirens themselves.
Fast forward to when it was ready for us to eat and it was DELICIOUS! The four of us stood in the kitchen eating it with Ernie T. Beagle sitting amidst the rough circle, wondering which of us would drop a bit, and sure enough, he got a little bit.
Were they delicious? Is the Pope from Buenos Aires?
I was such a good husband that after eating my serving in approximately 15 seconds, I went ahead and started washing out the jar – aren't you proud of me? – until Linda said STOP! She needed to take yet another photo of the empties to complete the blog post, a before-and-after effort to prove we all loved her dessert.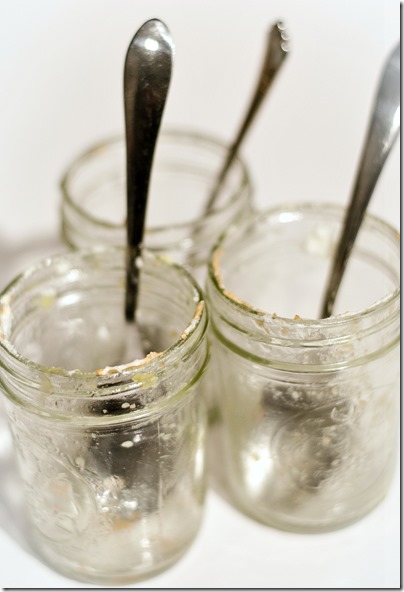 I can count on less than one hand how many times my grandmother did the same thing after we finished.
So, not to be outdone, I thought you'd enjoy seeing my own food photography from that night's dinner. Told you my cooking is exotic.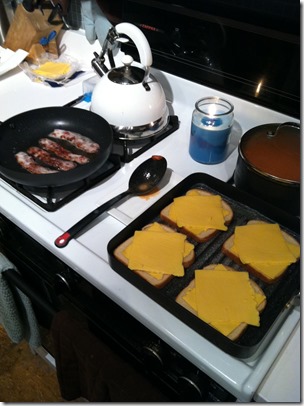 ~ Mike