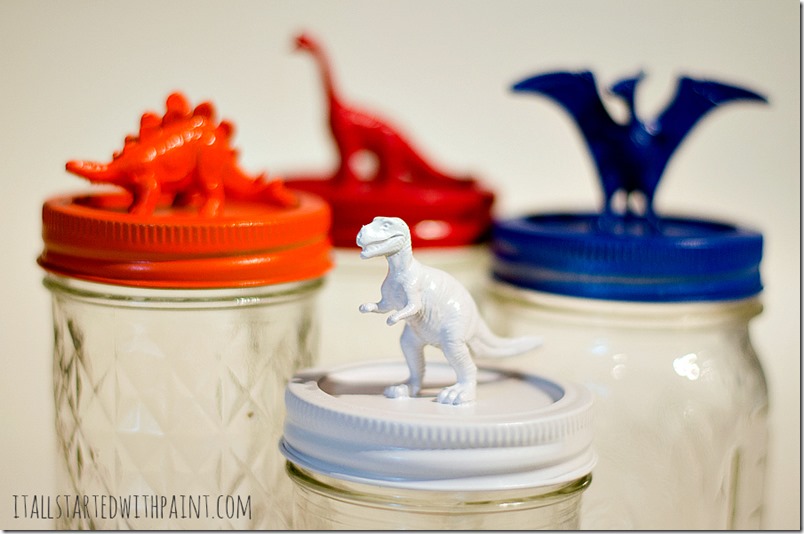 Chicago's ban on selling spray paint has reached epic proportions.  In fact, it's become downright dangerous …
Well, not dangerous to me.  Or you.  Unless, of course, you happen to work at Hobby Lobby in Mt. Prospect, Illinois.  Or were on the Kennedy last week around noon'ish and heading towards the toll booth and were cut off by a gray Ford Escape …
Sorry dude.
You see, spray paint is contraband within Chicago city limits.  So to pursue those elusive ozone-destroying cans of joy, we city dwellers are forced to steer our cars off our safe 30-mile-an-hour-limit streets and onto highway on ramps …
and highways.
Shudder.
So after paying my $1.50 toll, I was determined to make the 40-minute-with-traffic trip count.  So I'd like to start with an apology to the Hobby Lobby sales clerk who insisted that she must carry the 15 cans of spray paint I desired to the cashier herself.  I offered up a basket but you refused.  Remember?
And to the guy driving the pink taxi cab who I cut off on the expressway when I realized I was headed towards the I-Pass lane and the I-Pass transponder was in my husband's car and I needed to go the cashier lane.  Can I just say I'm so very, very sorry?   You see, as I was heading towards the toll booth I got completely distracted by the radio.  Bye Bye Miss American Pie had just started up.  And Don McLean and I were hitting our stride about Chevy's and levees and the day the music died when I cut you off.
Did I say I was so, so sorry?
And would it help if I told you the only reason I left the comfort of my 30-mile-an-hour Chicago city roads for the highway was in pursuit of spray paint to make some cute dinosaur topped mason jars for my great nephew?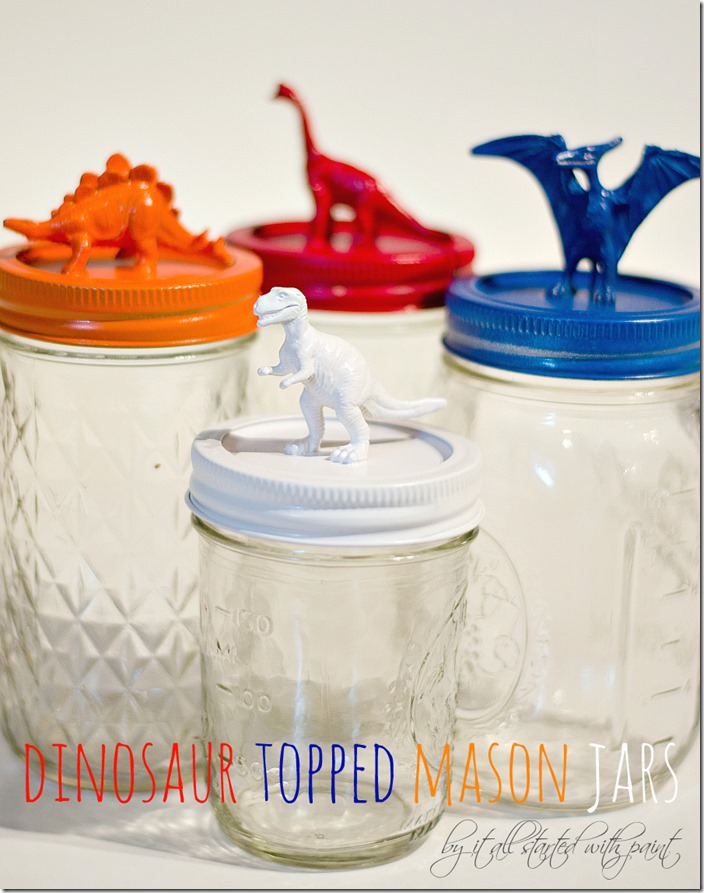 Who just so happens to be as cute as cute can be?
And would it help to know that these Chicago sports-color-themed dinosaur topped mason jars were super simple to make?  I just glued the mason jar lids to the bands.  Then glued the dinosaur feet to the lids …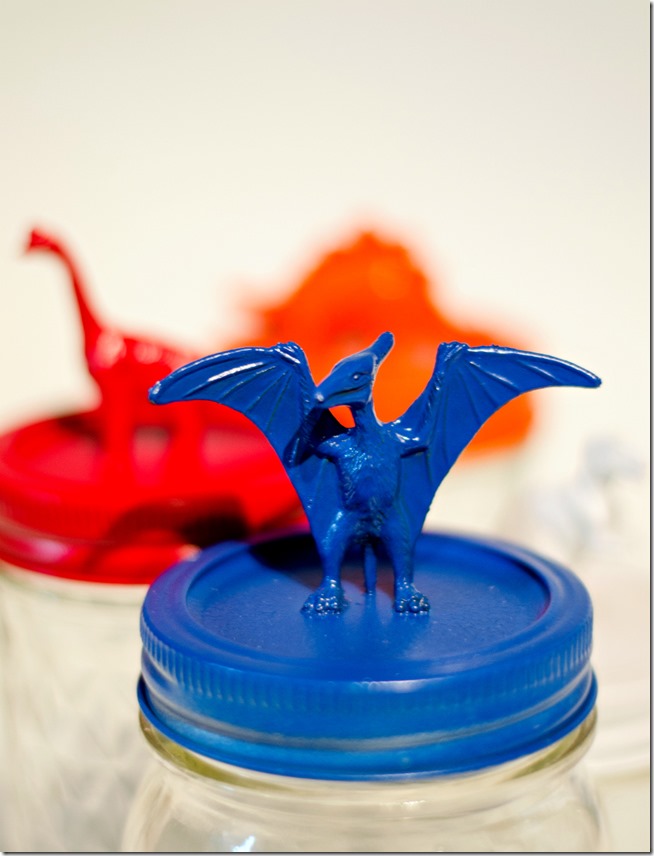 .. and sprayed with spray paint.
In various colors.  That required various cans.  That the Hobby Lobby clerk in Mt. Prospect carried in her arms to the cashier.  Sans basket.  Or cart …
And I didn't forget about the great nieces either.    You can see the cute animal topped mason jars I made for them over at the other blog here …
And, yes, the Hobby Lobby clerk in Mt. Prospect carried all those cans of spray paint in her arms as well …
Luckily I arrived on a day when there was a 30% off spray paint sale.  It was definitely worth that 40-minute-with-traffic drive …

Sharing: