I'm sitting here cutting up a Dollar Tree book for a holiday project, but my heart just isn't into it.  I'm confident the project will come out well.  I'm pretty certain the photos will look good; I've already styled it in my mind.  And yet, I'm moving like molasses.  Questioning.  Wavering.
Perhaps it's that Science Fair board staring me down from across the room?  Those three skeins of wool waiting to be turned into 20 hand-made pom poms and then sewn into the greatest pillow in the world?   The brings-tears-to-my-eyes-lump-in-my-throat feeling that bursts forth whenever I think of my straight-A son's struggles with Sophomore Honors English.  And trust me, it's top-of-mind.  Right along with the growing and evolving "to do" list of all the things I need to do to fulfill expectations I set forth for a real, live, paying freelance client …
Can you say stress?
So I turn my back on that book page project.  For now.
And I pull out the glue gun and help my daughter get that Science Fair board finished once and for all.
I put a conference call agenda together for a client.  Make edits on a bylined article.  Follow up with a reporter from the Wall Street Journal. Check off a few boxes on my "to do" list.
I get some pom poms made and trimmed while watching last week's Grey's Anatomy on-demand.
And I relinquish the laptop to my son so he can work on a big paper with some guidance from – and in-depth discussions with — his English-major father.  Followed by a mom-mandated hour of study.
Which leaves me with no project or tutorial to share.  No pretty pictures to show.
Oh, and not a single ornament or wreath or stocking hung …
*sigh*
But it will get done.  We haven't missed a Christmas yet.  And there have been quite a few crazy busy Christmases in the past …
In the meanwhile, I'm afraid you all will be subject to my miscellaneous rants and raves …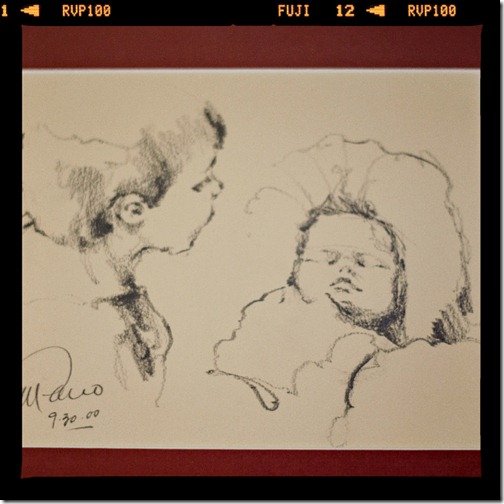 … and a miscellaneous photo.  Like this one.  My favorite piece of art created by a friend.  It's the first time our son saw his new baby sister.  And it fills my heart.
Cue the tears-in-my-eyes-and-lump-in-my-throat …