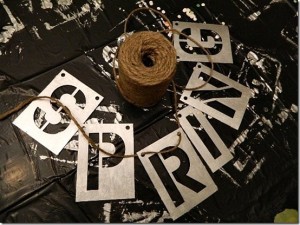 Easy …
…and peasy.
The two words I swore up and down and backwards and forwards would never, ever appear on my blog without …
… at a minimum …
… one word separating the two.
Because the minute I start proclaiming a project is easy with the word 'peasy' immediately following …
… it would mean I've been turned …
… the Kool-Aid consumed.
And you would soon find me at parks and grocery stores and outside elementary schools with a tambourine in hand …
… hoping to convert other mommies into the cult that is mommy bloggers.
So what does this say about me …
And what does it say about me that I actually suggested that 'easy' and that 'peasy' and put them right next to each other …
… and why am I humming "gypsies, tramps and thieves" and playing air tambourine as I type this …?
Unlike our "Imagine the Impossibilities" challenge this past January, this time around we're keeping it easy.  Easy peasy, if you will …
Like this idea that I pinned to my Pinterest board here a few weeks ago from Knick of Time Interiors blog here …
It's Angie's take on Restoration Hardware's vintage metal letters which retail for $16 a letter.
Here's what I did …
Yup.  Those are cardboard stencils, just like Knick of Time used. Angie spray painted hers.  I used a can of metallic paint and a paintbrush.
Then I punched some holes in the corners and grabbed some twine …
… and strung them up on my Spring mantel here …
… and they fooled both my son and my husband who both noticed them right away …
I did skip one step that Angie did to hers.   You see, she aged her letters with some glaze like so …
I skipped the glaze because (1) I'm lazy and; (2) unlike Knick of Time, I like shiny things.  I'm originally from New Jersey after all …
And to quote Knick of Time Interiors, this project was "Fast, Fun & Frugal!"
And to quote the mommy bloggers' newest cult member (me), this project was "Easy Peasy" …
Now this "It's a Cinch: Easy Peasy Tips & Projects" Mission: Possible challenge is part of something much, much bigger …
… a full year of themed challenges that take place every other month …
We'll post reminder announcements at the beginning of each challenge month …
… and then wrap it all up on the last Tuesday of those months with a big old multi-blog link party …
… that I'll be co-hosting with these lovely bloggers  …
P.S. Feel free to follow my Pinterest boards here …
P.P.S. If you feel compelled to pin Angie's photos, could you please do it from Knick of Times Interiors blog?  Just click on the photo and you will immediately be transported to the post …
P.P.P.S. Feel free to grab the Mission Possible "It's a Cinch" challenge button …
P.P.P.P.S. Feel free to grab the Mission Possible year-long "calendar" button too …
P.P.P.P.P.S. If you would like to receive our Mission Possible email reminders, let me know in the comments thread …
I'm linking up:
Sunday