Is it just me?  Or have you, too, noticed retailer's recent reluctance to hand over the paint sticks?  Seems the last few times I've walked out of a store with a gallon or quart or two I've found myself at home sans stir sticks.
Do they seem me coming and hide all the paint sticks?  Are they concerned that I have ulterior paint stir stick motives?  Could it be possible they caught wind of my "it started with paint sticks" Pinterest board featuring … you go it … paint stick projects?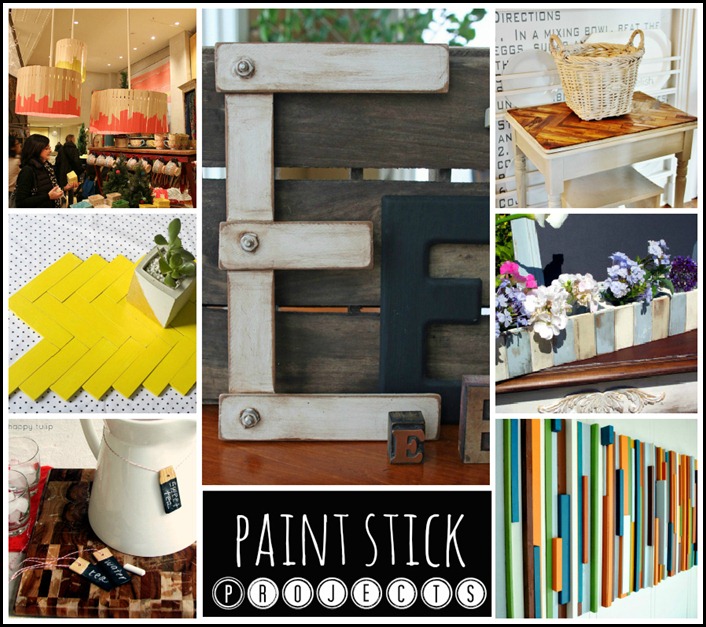 Sources: paint stick planter; paint stir stick letter; paint stick herringbone table top; paint stick drum shade; paint stick table runner; paint stick chalkboard tags; paint stick art
I'm pretty sure alarms go off in the paint department the minute my car pulls into the parking lot.  My every move as I traverse the aisles monitored.  Then panic sets in ..
"Dear Mother of God,she's heading to the paint department."
"Hurry. Move it.  Hide all the paint sticks."
"You know the drill, play dumb when she asks about the paint stirrers."
"Try to distract her with shiny things.  She's originally from Jersey, after all …"
You know how you always want what you can't have?  Yeah?  Well, the whole hiding-of-the-paint-sticks-from-me-strategy is backfiring.  Now I want to create a paint stir stick project even more than before.  I can't stop thinking about it.  There may very well we some paint stick art or a paint stick letter or, better yet, a paint stick table top in my living room remodel's future …

I'm just going to have to go in stealth mode.  Or maybe I could just send my husband in for me …

Want to follow along on my paint stick adventures?  It's easy.
Get it all started with paint delivered to your email inbox:
Let's keep in touch: