Do you remember the nail-biting, breath-holding anxiety of watching the Olympic gymnastics competition?  The U.S. women's team competition?
Two months ago we were glued to our television sets.  Sitting on the edge of our seats.  Fingers crossed.  Prayers issued. Our collective breaths held as we telepathically wished away the wobbles …
… the mistakes …
… the falls.
But I think the most anxiety-inducing part was the dismount.  Especially when that dismount came at the end of a perfect wobble-and-fall-free routine …
And there was that moment.  You know that moment.  The moment when she stood at the far end of the balance beam.  She stopped.  Oh so briefly.  She inhaled.  And exhaled …
… and then she was on the move …
Or when she was on the uneven bars and started to pick up speed.  Around and around she spun while we waited for that crucial moment.  That crucial moment when she would let go of the bar and release …
And as she flew through the air …
… flipping and twisting and rotating one, two, two-and-a-half times …
… you stopped breathing altogether.
Until she hit the mat.  Hard.  Feet together.  Arms thrown in the air over her head; elbows next to her ears …
… and then you waited …
Hoping and praying for no hops … or steps … or stumbles …
But she stuck it.  She stuck the landing.
SHE STUCK THE LANDING!
And you found yourself on your feet.  Jumping up and down.  Fist pumping the air.  Double high-fiving your daughter while jumping in the air …
… or maybe that was just me?
Now I bring up the Olympic gymnastics competition because the makeover of my $5.00 thrift store table this past week had me reliving many of those moments …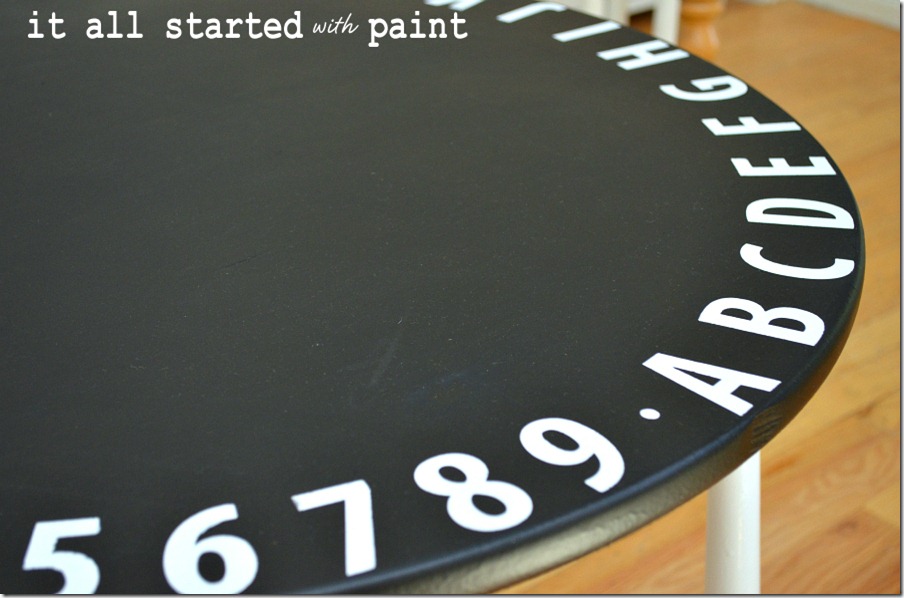 It felt like the equivalent of an Olympic-level gymnastics performance.  Complete with nail-biting …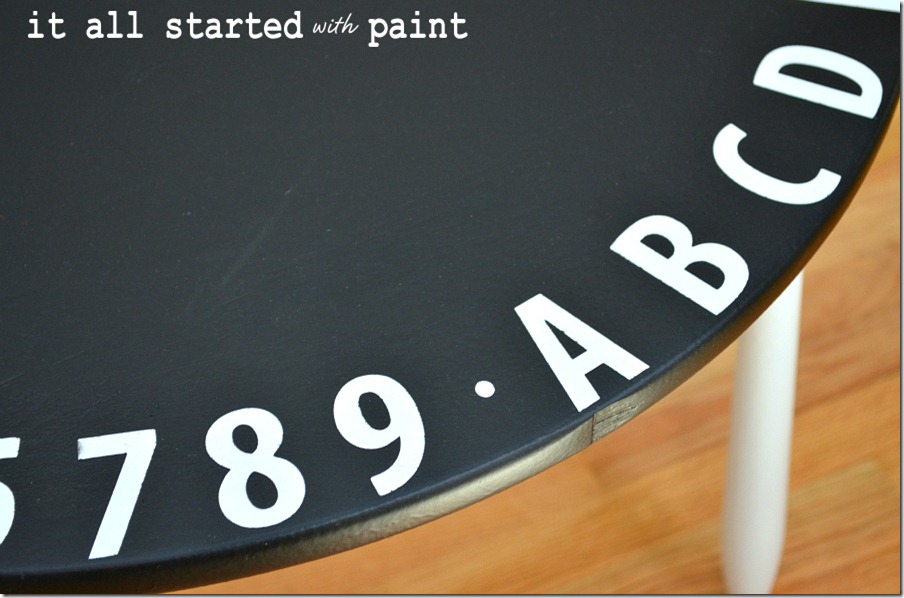 … and a fair share of breath-holding …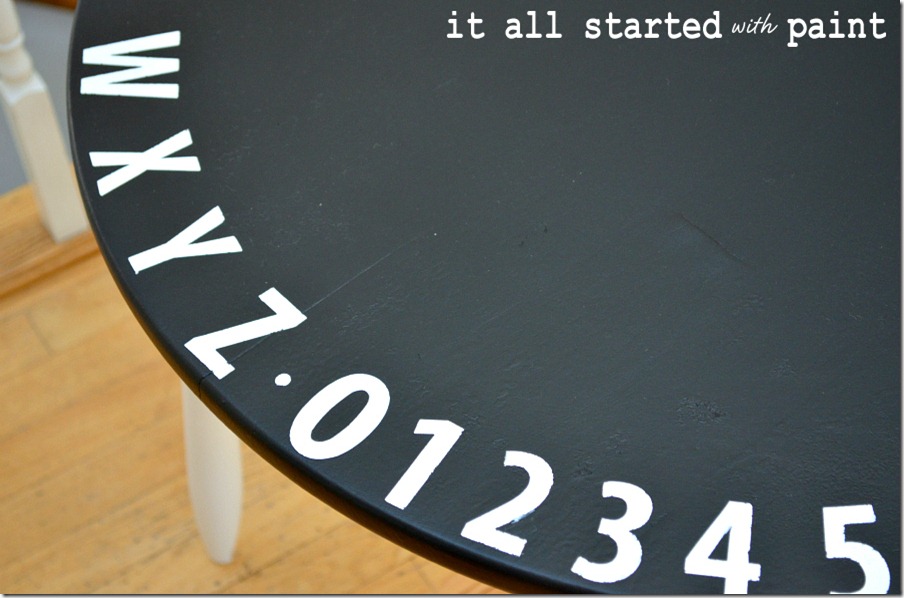 Though, to be fair, some of the breath-holding was to avoid inhaling spray paint fumes.
The biggest challenge was the unknown.  Would this performance end with a hop?  Or a step?  Or would I land on my butt …
So as I added 2" vinyl letters and numbers (that I found at the hardware store) around the edge of the table …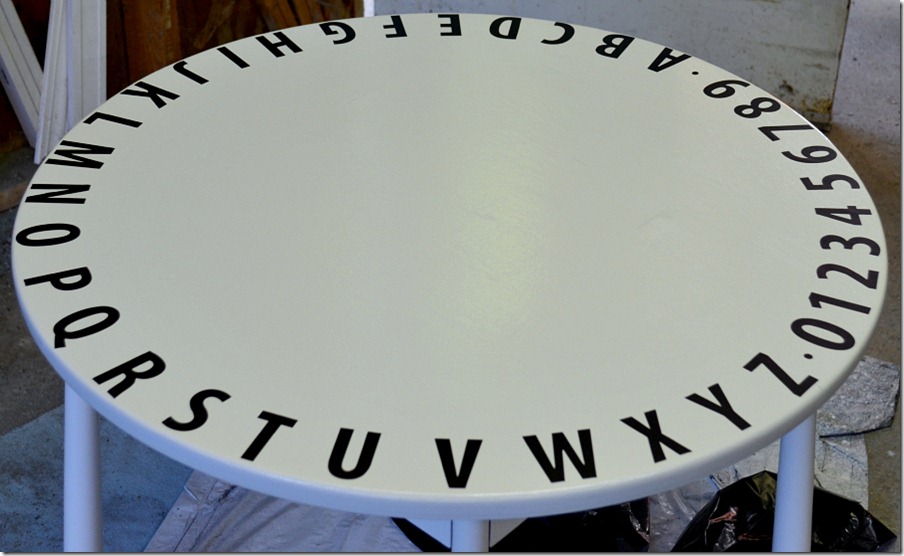 … a table that I cleaned and sanded and used nail polish remover to remove the sticky sticker goo …
… a table that I  gave a coat of primer and four coats of white gloss spray paint …
I took a risk and tried to execute a move way more advanced than my skill level:  I tossed aside the tape measure and just eyeballed the vinyl letter and number placement.  I know, a real nail biter …
And then this novice spray painter decided that chalkboard spray paint was the way to go …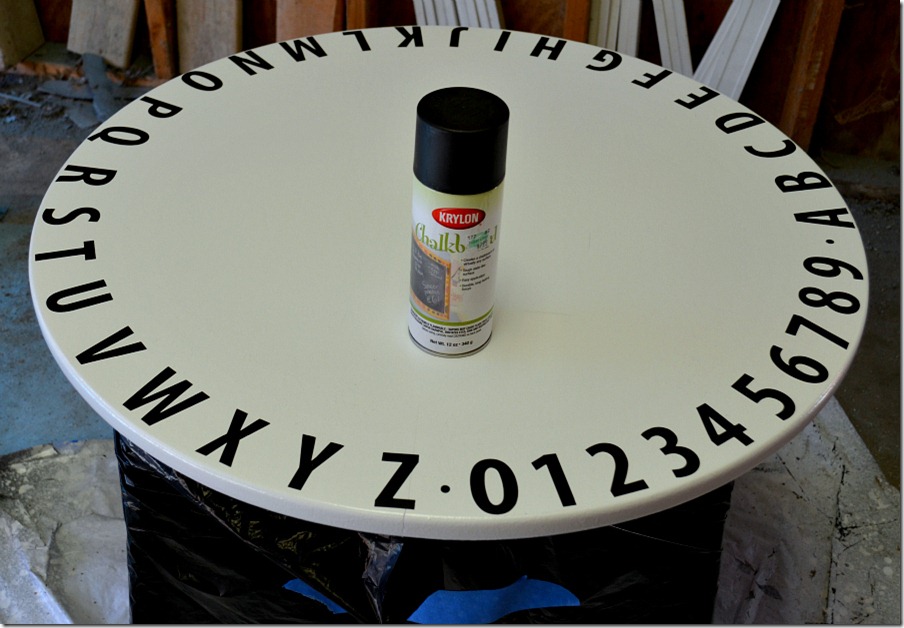 … go for the gold, that is.  So I gave it four coats.  Four light coats.  Just to be sure …
And after the last coat of chalkboard spray paint dried for 10-minutes or so, it was time for the dismount…
… the moment of truth …
I  literally held my breath as I very gently and very carefully peeled up those vinyl letters and numbers …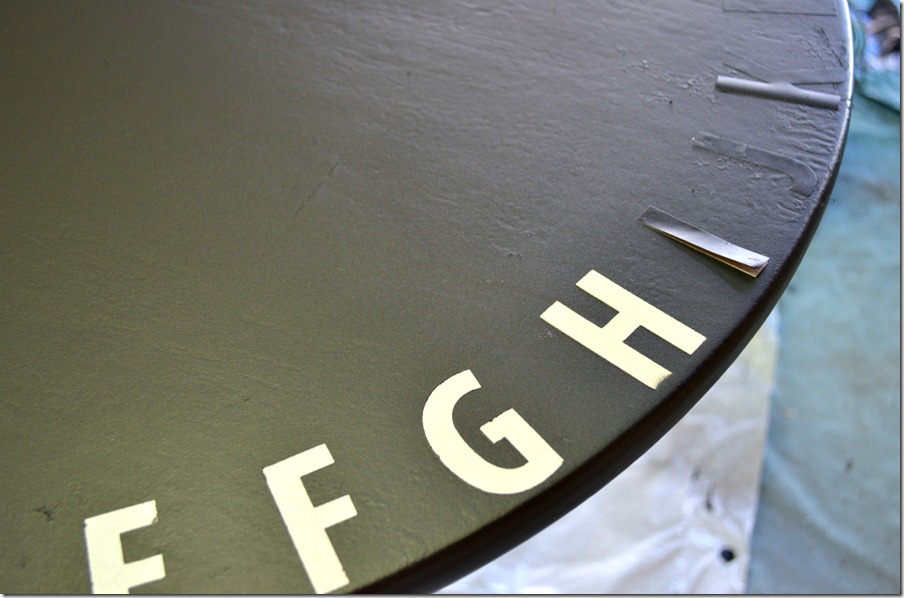 Sure there were a few wobbles here and there.  It's not perfect.  But there were no major hops.  Or steps …
And in the end, I stuck the landing.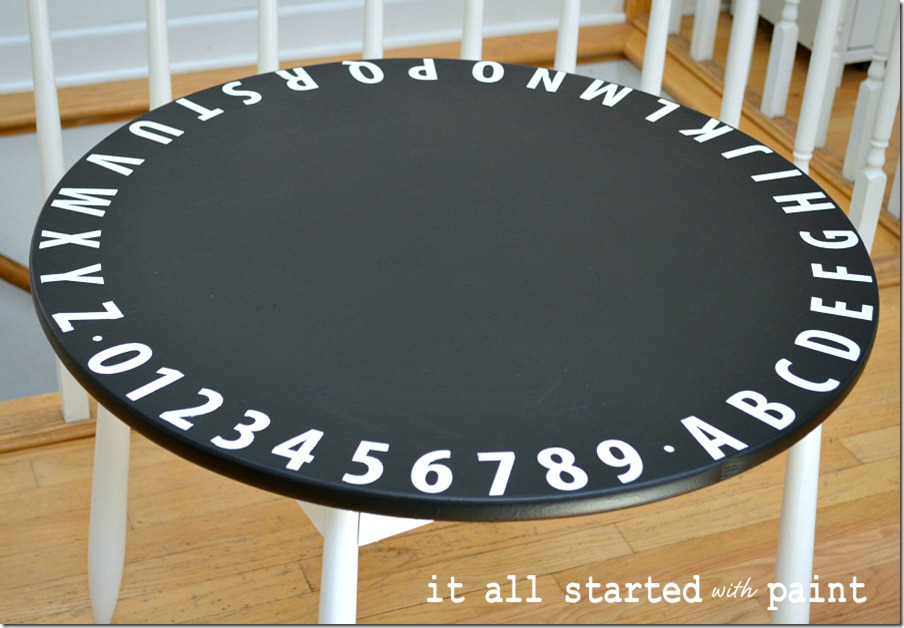 I mean really …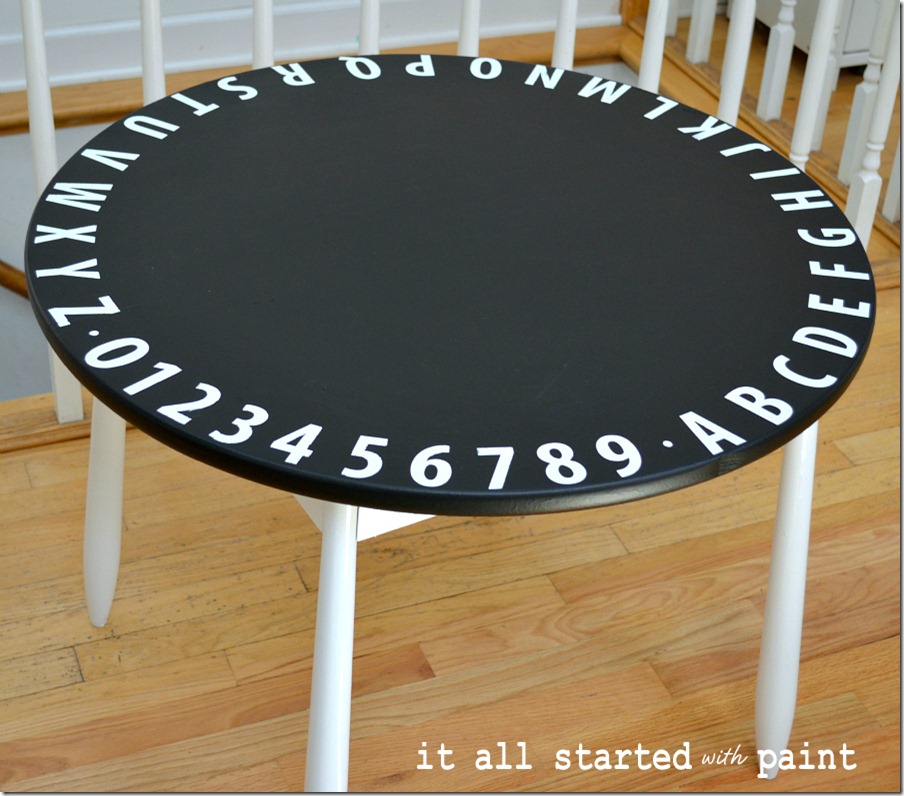 … isn't this $5.00 thrift store makeover so stinking cute?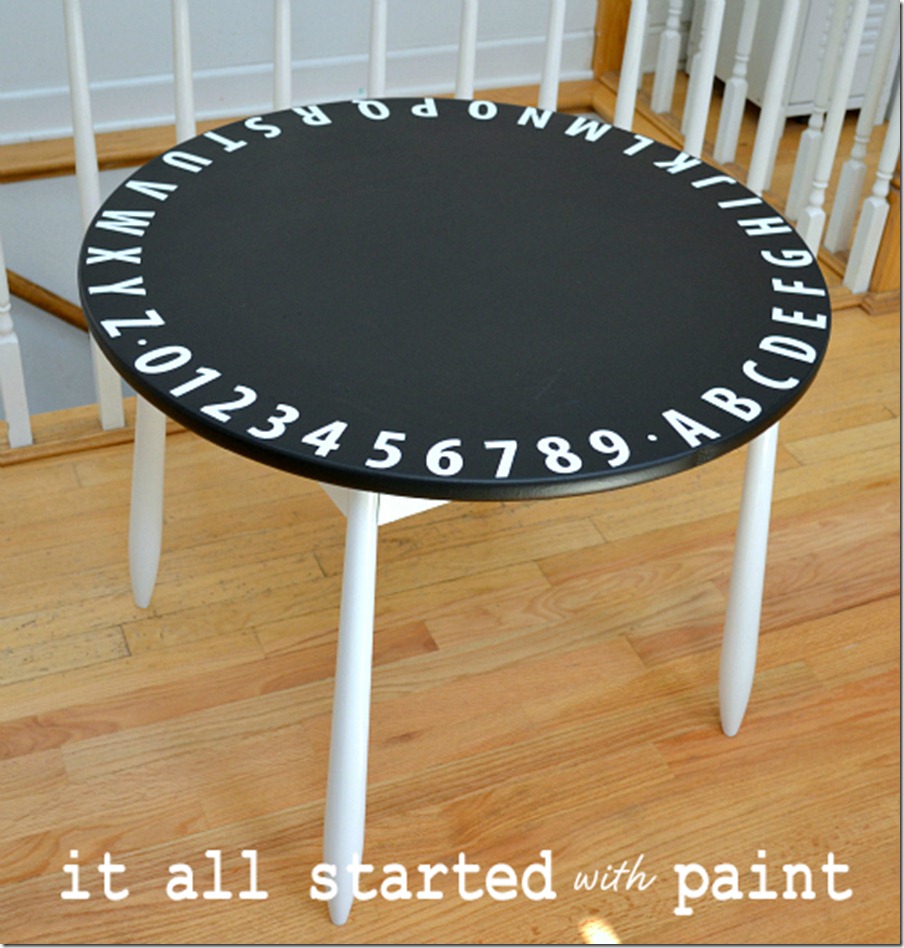 And if you need some convincing, how about a side-by-side before and after …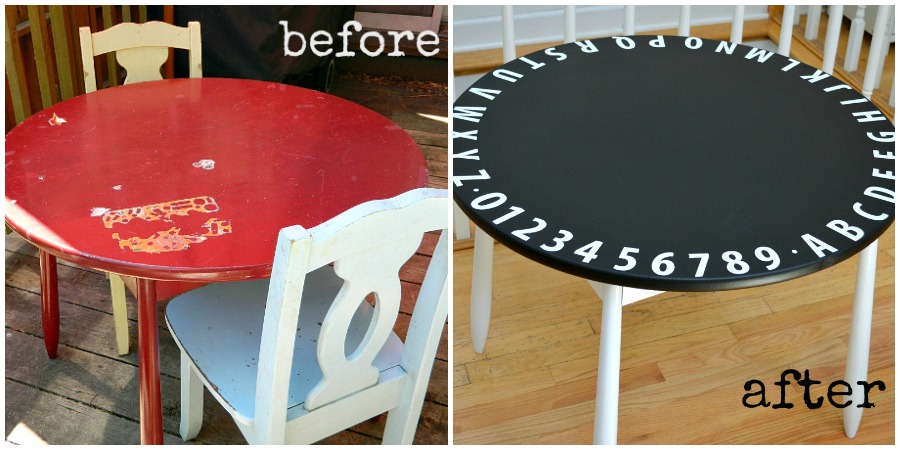 I think I hear our national anthem playing …

P.S.  If you're falling in love with spray paint … then be sure to check out our upcoming spray paint link party and contest here …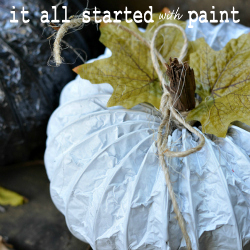 The party goes live on Friday, October 12 …
Sharing:
* The 36th Avenue *  House of Hepworths *  At the Picket Fence * Common Ground *  Serenity Now *  Crafty Scrappy Happy *  The Cottage Market *  Jennifer Rizzo *  Fox Hollow Cottage *  Funky Junk Interiors *  Southern Hospitality *  Savvy Southern Style * Domestically Speaking *  Miss Mustard Seed *  It's Overflowing *  The DIY Showoff *  Between Naps on The Porch *  Today's Creative Blog *  Home Stories A 2 Z *  My Uncommon Slice of Suburbia *  Sugar Bee Crafts *  Not Just A Housewife *  A Bowl Full of Lemons *  Primitive & Proper *