Do you know what happens when you (read: me) decides to tackle a bazillion mason jar projects while your (read: my) injured finger heals?
You catch the attention of the Ball brand people, that's what happens. And they send you a very nice email asking if you'd like to receive a case of their Heritage Collection 100th anniversary Ball brand mason jars to craft with …
Why yes. Yes indeed. I would love to receive a case of your Heritage Collection 100th anniversary Ball brand mason jars! Oh, and while you're at it, can you pinch me …?
And they didn't send me just any old mason jar that you can find at any old grocery store. They sent me a case of very special mason jars in a lovely hue of blue to commemorate 100 years …
And I can go on and on about how very lovely they are, but why don't I Iet the folks at Ball brands tell you more (from the Ball Fresh Preserving website) …
"2013 marks the 100th anniversary of the first series of jars designed by the Ball brothers, each jar intended to be better than the one before. 1913 saw the launch of the first true "Perfect Mason" jar. These limited edition blue Ball jars are a celebration of the heritage featuring period-correct blue color and embossed logos on the front and back. These vintage-inspired blue jars maintain all of our modern standards for quality and reliability. Perfect for all of your home canning needs… or as a collectible item!"
And then, to make things even more exciting, they say I can offer you ~ that's right, my dear readers, you ~ a chance to win a case of your own!
In fact, you have a chance to win one case from the very first certified 100 cases of the Heritage Collection produced to commemorate the 100th anniversary of the Ball brand Perfect Mason Jar!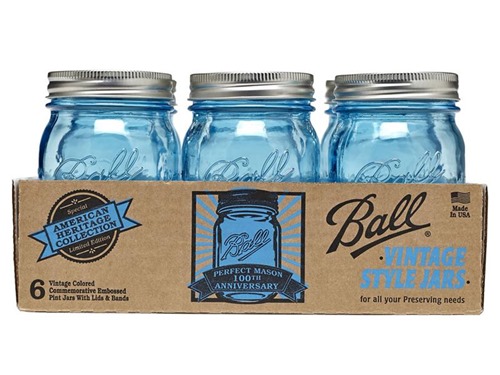 They even come with a certificate of authenticity! (And look at me with all the exclamation points! You know I'm excited when I use exclamation points!)
Now I was going to share a quick tutorial on how I made those sequin mason vases (trust me, it's not complicated) …
… but I then thought, "enough about me." This post is all about you and how you can enter to win your very own case of vintage style blue mason jars:
Good luck and I hope you win!!
🙂
Oh, and here's the link to the sequin mason jar how to {here} …
Sequin Mason Jar Tutorial (click here)
You Might Also Like: