Vintage Look Blue Mason Jars Tutorial Using Food Coloring.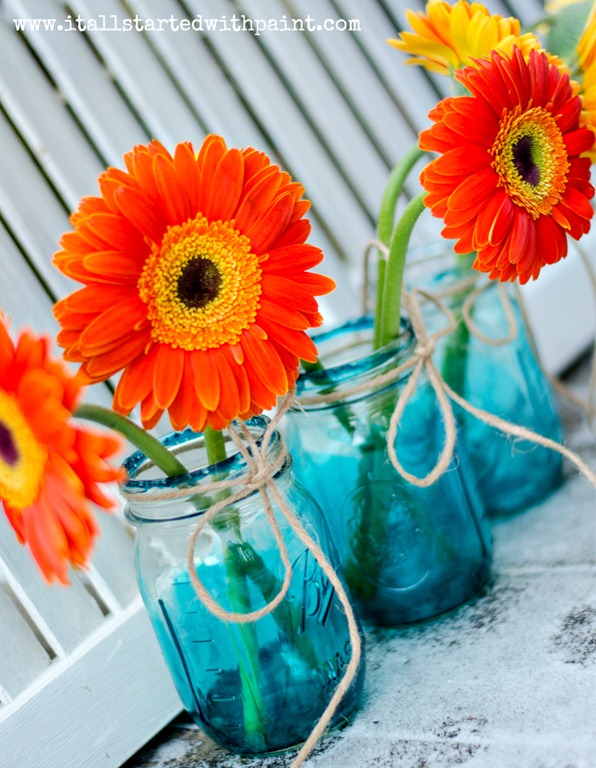 "Don't worry," she whispered to the window pane mirror resting on the floor against the dining room wall. "You'll be hung up again. She promised me. You'll be so pretty again. Don't worry. I'll take care of you."
"Nooooooooooooo," he wailed. Outstretching his arms to the sky – as if seeking divine intervention – when he spotted the bare walls in the living room.
Well, not quite bare. They were covered in blue painter's tape. Masking off where the boards and the battens will be installed.
"What about the art? The pictures?" he wanted to know. No. Demanded to know as he gesticulated to the picture frames leaning against the radiator. "They'll go back up, right? RIGHT?"
I think I heard his voice crack.
"Yes," I reassured. "There will be art. Not the same art, though. But the same frames. Okay, not really the same frames They'll be painted. Spray painted, I think. And the art … that will be new too. You know, to complement the new rug."
"Noooooooooooooooooooooooooooooooooooooooooooooooooooooooooooooo …….."
Uh oh.
My mistake. I shouldn't have mentioned the new rugs. That's what started this whole crazy uprising in the first place.
You see, while I've shared my design plans with you all for the living room and dining room remodels, turns out I've neglected to inform my family of the changes …
… okay, that whole innocent 'neglected' isn't quite so innocent. I know full well my family is not one to easily embrace change.
But he arrival of my amazing new rugs opened up a can of worms. A worm-infested can filled with too many questions about "why do we need new rugs" and "where are the old ones are going" (both children separately requested that I put the old rugs into storage for them. Um, no. I was thinking Craig's List.).
Then my daughter pointed out that the whole house is turning blue. The kitchen. The bathroom. The master bedroom. The entry (no, I corrected her, it's gray. Not blue). The odd little "in-between" space between the kitchen and the bathroom and the dining room and the family room (again, gray. Not blue).
But she does have a point. I'm trading in my circa 2000 jewel tones for various shades of blue and gray.
So, before I cover their beloved red wall (yes, they've been crying about the red wall too) with battens and navy paint, I thought we'd take some baby steps into the world of blue with a vintage-look blue mason jar diy …
How To Make Vintage-Look Blue Mason Jars
Using some Mod Podge and blue food dye …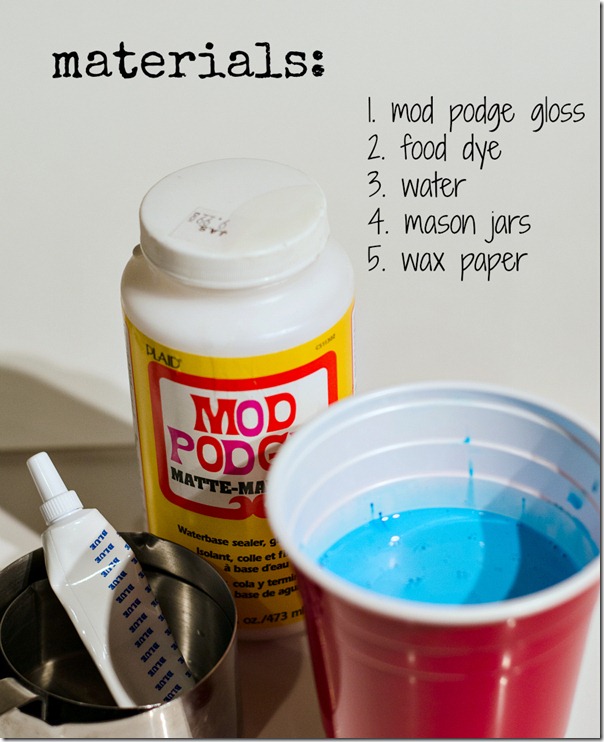 Do you see the Mod Podge "matte" in the picture? Yeah? You do? Well, don't use the matte product. You won't be happy. The finish will be dull and murky. You'll have to scrub them clean and try again. And on the second try? Yeah, you'll be equally unhappy. And as you scrub away the glue and dye with scorching hot water and soap – for a second time – you'll realize that you really do need to use the Mod Podge gloss.
1. Mix Mod Podge gloss with water and food dye. I used a 4 parts Mod Podge to 1 part water equation. I wanted a deep, rich blue color. If you want it more subtle, just add more water to the mix.
2. Pour into mason jar and swirl around.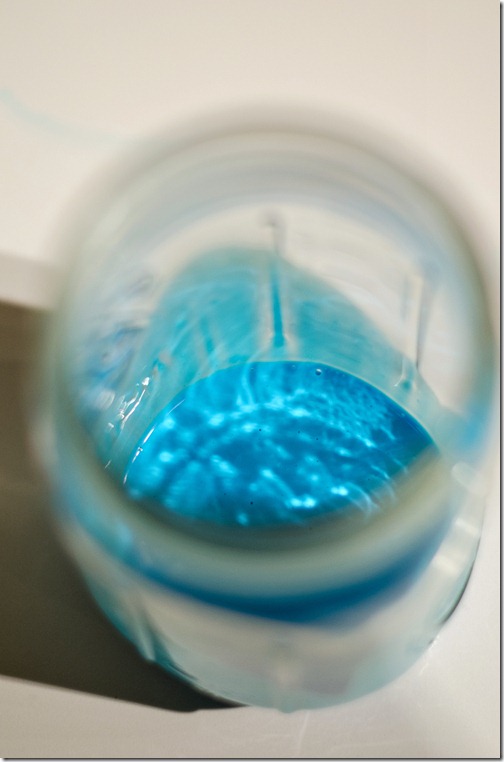 Pour the excess back into your plastic cup.
3. Dry upside down for an hour. Periodically, wipe away excess paint from top lip. You can make a little drying rack using popsicle sticks. I didn't have popsicle sticks, so I used some plastic forks.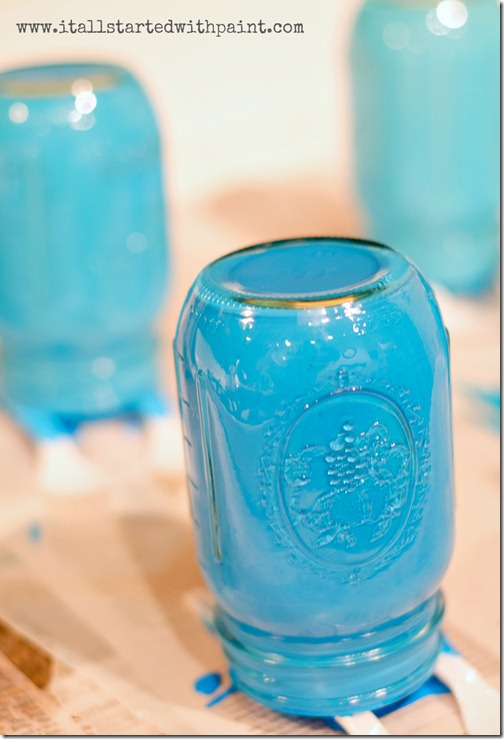 4. Bake in oven at 200 degrees for one hour. I let mine bake for 30 minutes upside down. Then I turned them right side up for another 30 minutes. After an hour, turn off the oven and let the glass cool down inside the oven. Oh, and you should gently wipe the excess paint from the lip at the 10-15 minute mark.
As you can see, I didn't follow that wipe the lip step …
Oh well. I still like my tinted blue mason jars. Especially after three tries …
And the kids approve too …
Although, I have yet to hear my daughter whisper sweet nothings to them …
🙂
PIN IT!

Vintage Look Blue Mason Jars
You Might Also Like: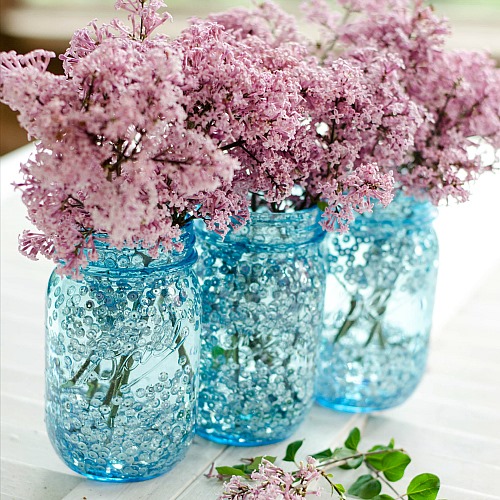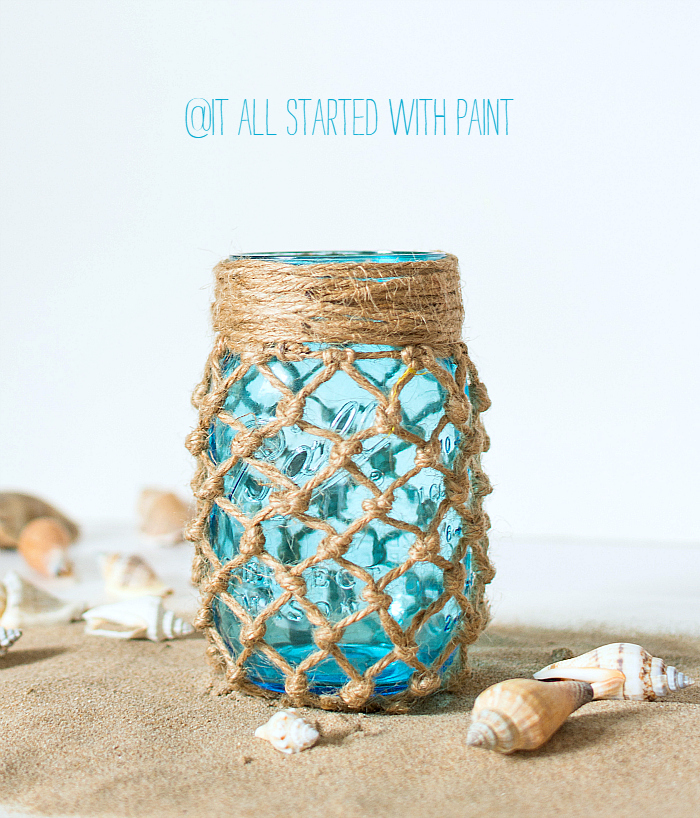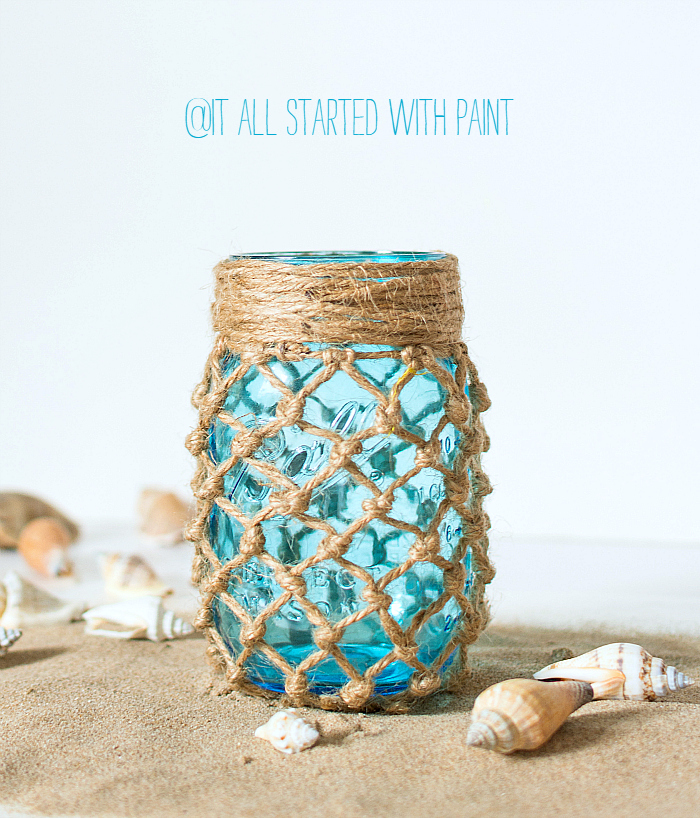 If you're looking for more mason jar project ideas, check out my gallery here …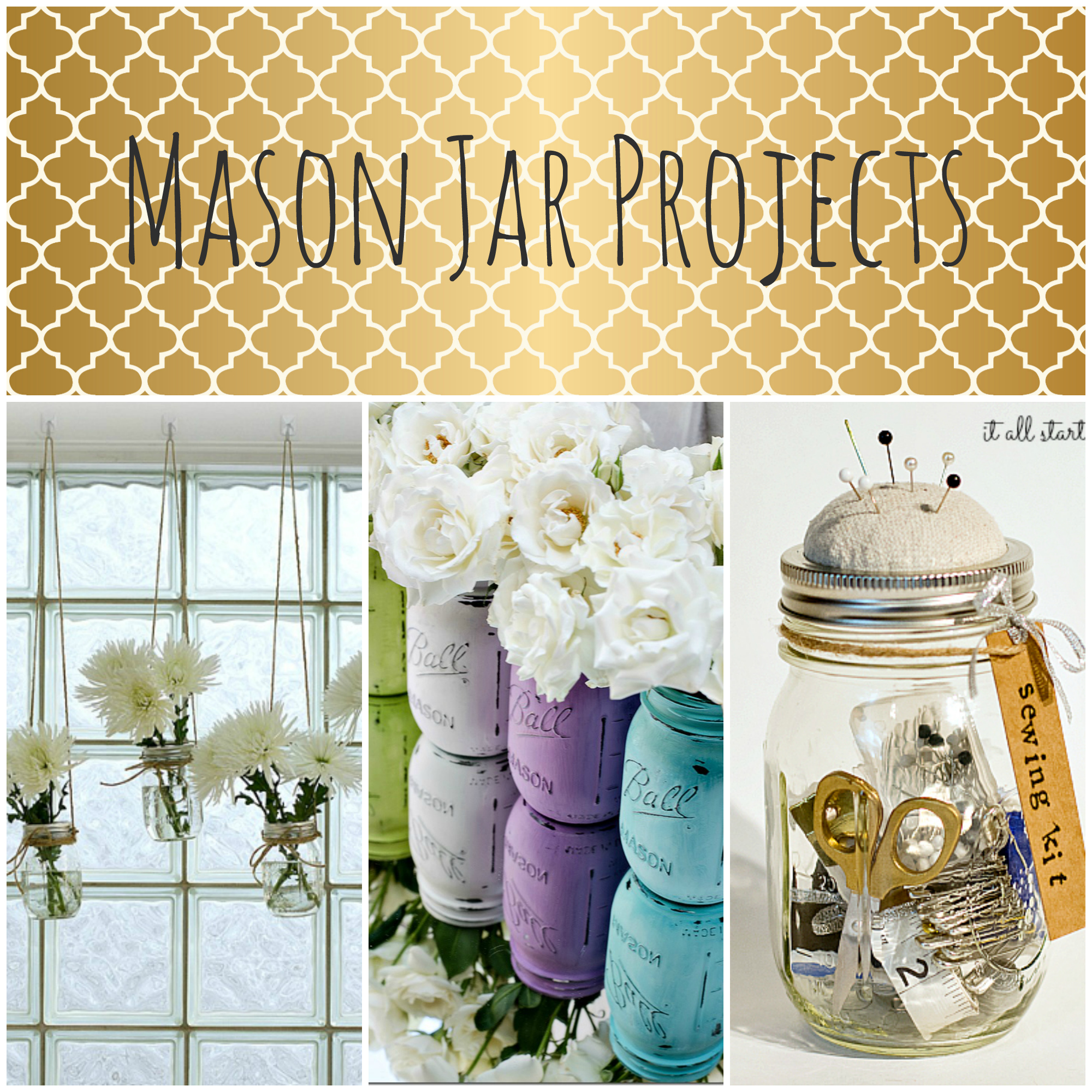 P.S. You can find the finished navy & white living room remodel here. And the navy & white dining room remodel here.