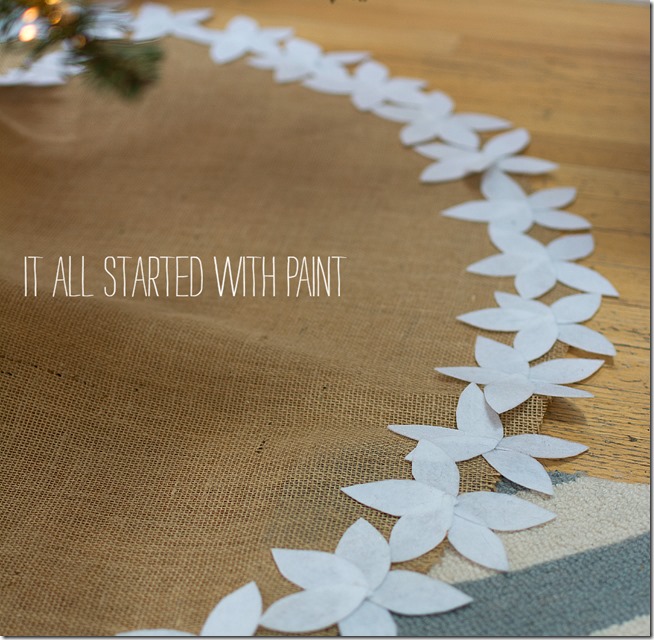 Each summer we make an annual pilgrimage to visit my parents in Florida. And each summer, it's a full-on-country-music immersion. We spend those 10 (or so) days in Florida listening to country music on the car radio. Something we never, ever do in Chicago.
Come to think of it, I don't even know where to find the country music station on the dial here!
And each summer one song stands out as the anthem of our trip. The one song that always seem to play when we get into the car to go to dinner or the beach or the airport and back. Like Parking Lot Party (a hands-down family favorite). And Not A Girl In A Country Song. And Drunk On A Plane.
Classics all.
This holiday season I've been in full-on holiday music immersion mode. Since the Friday before Thanksgiving, I've been exclusively listening to the 24-hour holiday music station in the car. And a 2014 holiday song anthem has emerged …
drum roll please …
Last Christmas. Mostly the Wham version. Sometimes the Taylor Swift version.
Ugh.
It's driving me crazy. It's stuck in my head. I wake up in the mornings humming the tune …
and envisioning the bad 80's hair and fashion.
I'm afraid to get into the car.
And all the while, I've been wishing this song was my 2014 holiday anthem.
Sigh.
Maybe in 2015?
And speaking of last Christmas … and I'm not talking about the one where I gave you my heart and you gave it away the very next day … but the real Christmas here last year. When I opted to go bold with color and fabric choices in Chartreuse and red. And I made a tree skirt that was a mix-up of all the bold fabrics in the house.
This year, I opted to tone it down a bit. So I needed a new tree skirt. I knew I wanted to use this burlap fabric. And that's where it my idea began …
and ended.
After sewing 20 new pillow covers, I couldn't face sitting down in front of the sewing machine again.
So off I went on Google image search looking for some n- sew burlap tree skirt ideas. And I landed on this one. Which seemed easy enough.
For the main part of the skirt, I folded the burlap in half. And then in half again. I tied a piece of string to a piece of chalk and placed the chalk-less end at the tip of the fold. And then I pulled tight and drew a semi circle. And cut along that chalk line. I created a smaller semi circle at the tip and cut that out too. Then I cut a straight line up one side. And I did not take pictures of these steps, but this blogger was much smarter than I and she did. Just click here …
Then I cut what felt like cutting thousands of petal shapes out of felt.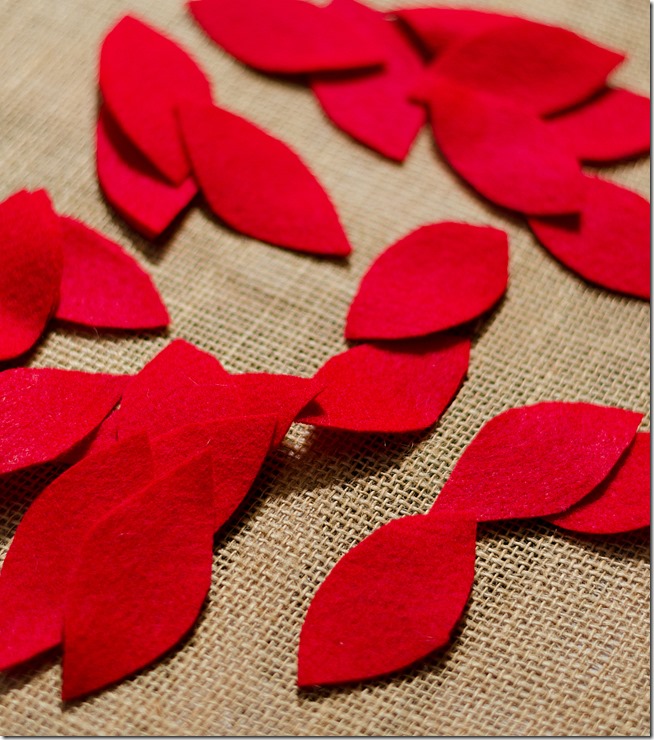 And then I glued …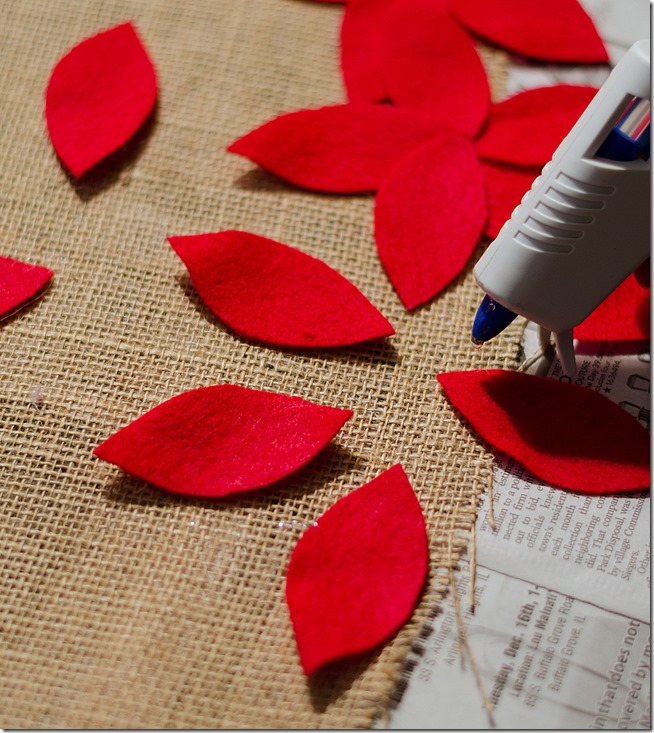 and glued …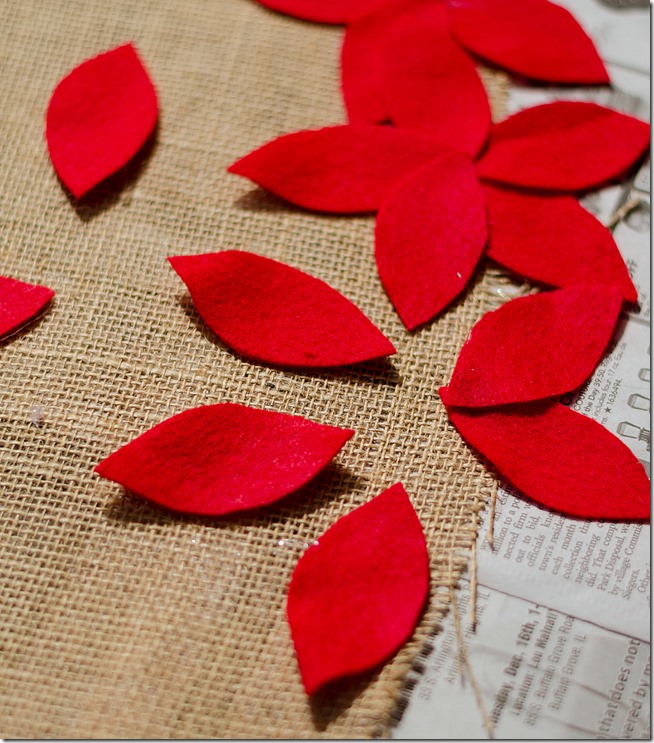 and glued …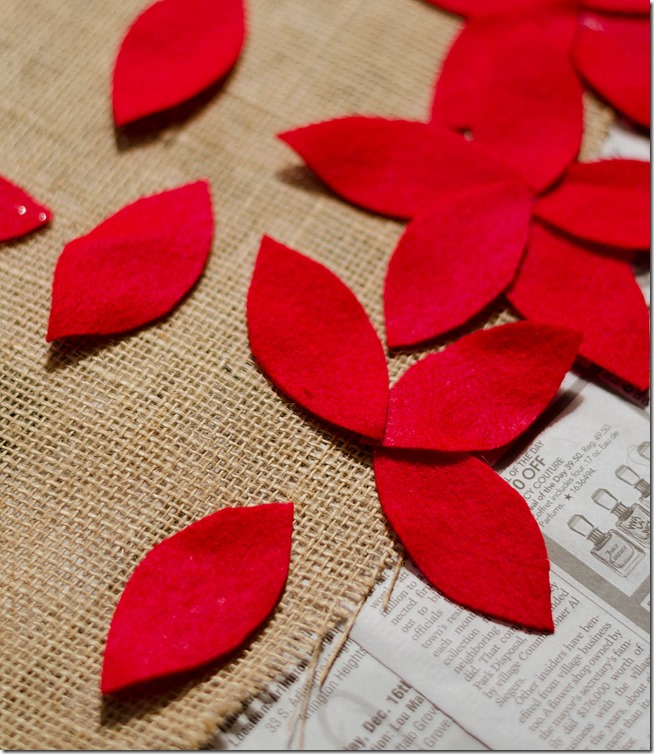 and glued …
Rinse and repeat.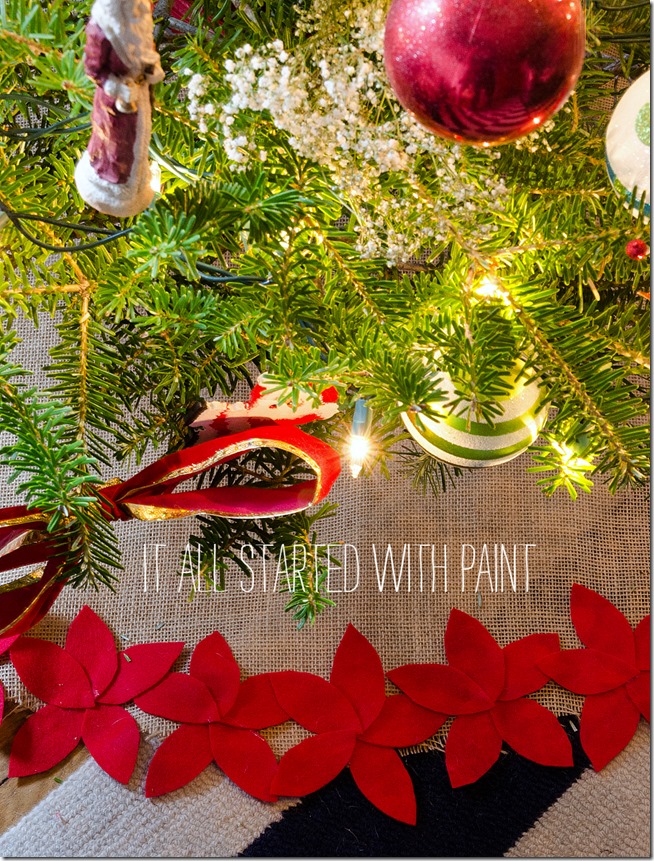 All that gluing took about an hour. So I had Fred Clause on in the background as I worked.
Now that movie is filled with great Christmas songs that I would have much preferred as my 2014 holiday anthem!
And being the glutton-for-punishment-person that I am, I made a second one for the second tree. This time with white petals …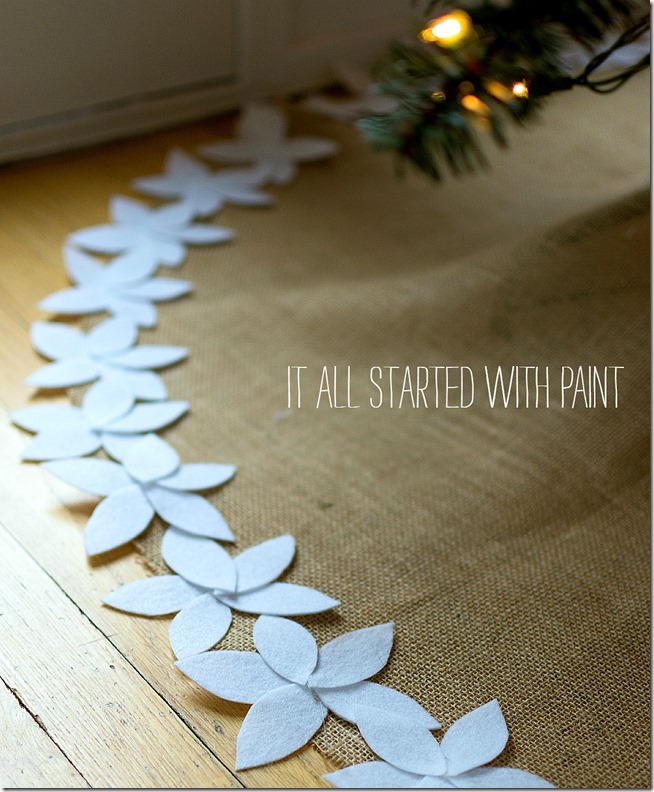 The inspiration tree skirt had a second row of flowers. Which is very pretty. But I was running out of time. So maybe I'll add that second row for my Christmas 2015 home tour post…
So tell me, what's your holiday song anthem this Christmas? Oh, that's another one I would have preferred over Last Christmas …

Linda
You can find my full 2014 Holiday Home tour by clicking here …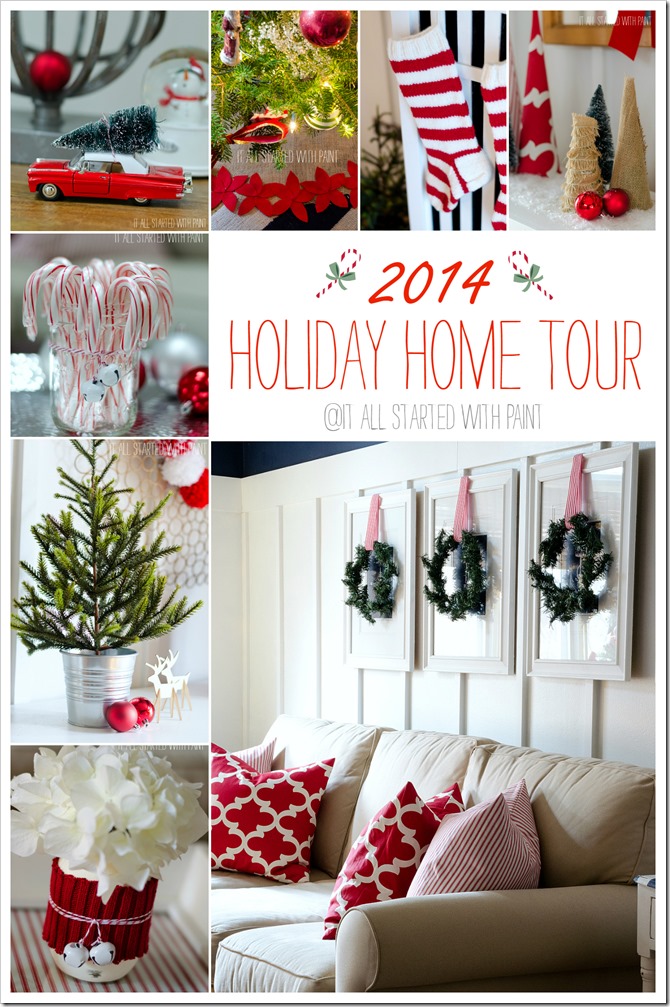 You Might Also Like: