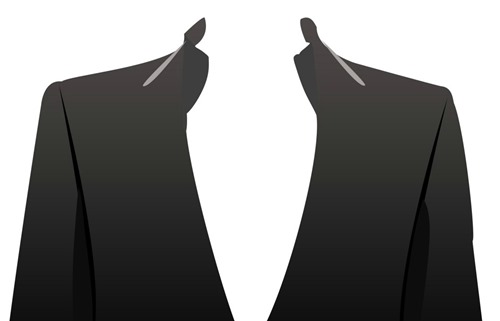 A few weeks ago, one of my Facebook friends posted a link to an article entitled, Women over 50 are invisible.  Sadly, as a woman who is staring down 50, it resonated with how I've been feeling of late.  So much so that I can't seem to shake the author's words …
"Invisibility is different (from aging). It's the feeling you are no longer vital or important or noticeable to others, a constant nagging pain you can neither avoid nor forget. It hits you in areas where you feel most vulnerable–a loss of attractiveness and sex appeal, the end of fertility, a glimpse of a slow, lingering decline."
The author's first moment of feeling invisible happened quietly.  While riding the bus.  Mine was not nearly  ~ nor mercifully ~ as silent …
Now let me preface my first invisible encounter with the reality that I know what I look like.  I know the lines.  The wrinkles.  The gray hairs.  I don't shy away from the mirror.
But it's one thing to see those lines, wrinkles, and gray hairs reflected back at you in a mirror.  It's quite another to see it reflected back at you in the eyes of five 20-something males.  Young men enjoying a perfect St. Patrick's Day in Chicago.  Responsible young men traveling from bar to bar via taxi.  On the prowl for like-minded 20-something girls who, too, were enjoying – and imbibing in – the day's festivities.
I'm in my car with my daughter.  Stopped at a traffic light.  The cab filled with those five young 20-something males pulls up in the left lane.  I glance to the left.  At the same time, ten eyes eagerly glance to the right …
and five 20-something young men issue a collective "WHOA …"
Ouch.
That "whoa" has been followed by a year where store clerks no longer look at my face to approve a liquor purchase.  Where an x-ray is no longer preceded with "can you be pregnant?"  Where Old Navy employees who once followed me around the store no longer inquire if they can help.
I can barely flag one down …
But the descent into invisibility is not just outward appearances.  Inside menopause is wreaking it's own quiet havoc.  It's so much more than hot flashes, brittle bones, and mood swings.  A choice has been taken away.  A fundamental function of being female is no longer fundamental.  Granted, I had no intention of having a late life birth.  But that was always my choice.  And nature has taken that choice away. With it comes a sense of sadness …
and loss.
It would be easy to just blame others … and society … for my invisibility.  But that wouldn't be fair …
or completely true.
You see, I shoulder my fair share of the blame.  I often drape that cloak of invisibility across my shoulders when I leave the house.  Errands take me from point A to point B with little or no eye contact in-between.  My make-up-less face and oversized sweatshirt screams "don't look at me."   And "you can't see me" as I hide in plain sight.
And hiding in plain sight has become more of the rule and less of the exception these days.
So this evening – in the time between when I started and when I finished this post – I ran to the grocery store. Only this time, I styled my hair.  Brushed on some mascara. And blush.  Dabbed some lip gloss on my lips …
and conducted my own little unscientific social experiment.
At the grocery store, I looked up.  I made eye contact.
I engaged.
And you know what?  I was visible.  Highly visible.
The recipient of "hellos" and smiles and "have a good night's" as I left …
and that left me with a feeling of hope.
I don't have to settle for invisibility.
I'm the one who hold the cards to make myself be seen …

Get it all started with paint delivered to your email inbox:
Let's keep in touch: