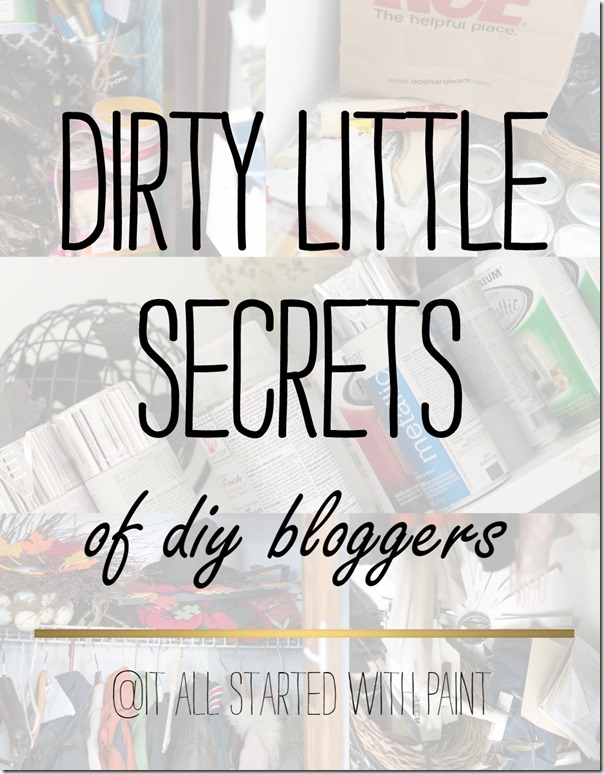 I realized, after the fact, that my graphic calls out all diy bloggers.
I didn't mean to.
And that it seems like I'm introducing some type of multi-blogger confessional.
I'm not.
The only dirty little secrets I'll be sharing here are my own. Though, I'm not the first diy blogger to make this confession …
and I'm pretty confident I won't be the last.
🙂
Here goes. I'm going to come clean …
an interesting word choice …
my house is a mess.
And it has been since I started blogging in October 2011.
In my quest to create, photograph, edit, write, and publish pieces here for you all, my home has suffered.
Not that I was a good housekeeper in the best of times …
sigh …
but since I hit publish on that very first post, my house has been the messiest it has ever been in its messy history. Even messier than when I had two active toddlers messing with it. And they were the master mess-makers.
Until now.
Turns out I've taken over that title. I have become the mix-master of messes.
🙁
But things need to change. The mess is messing with my creativity. My motivation. My mojo.
My sanity.
So I came up with a genius idea. I figured since all-things-blog take priority around this here house, I would blog about the messes. And the clean ups.
Brilliant, right?
My house thinks so. It's been busting at the seams to share with you what's behind closed doors …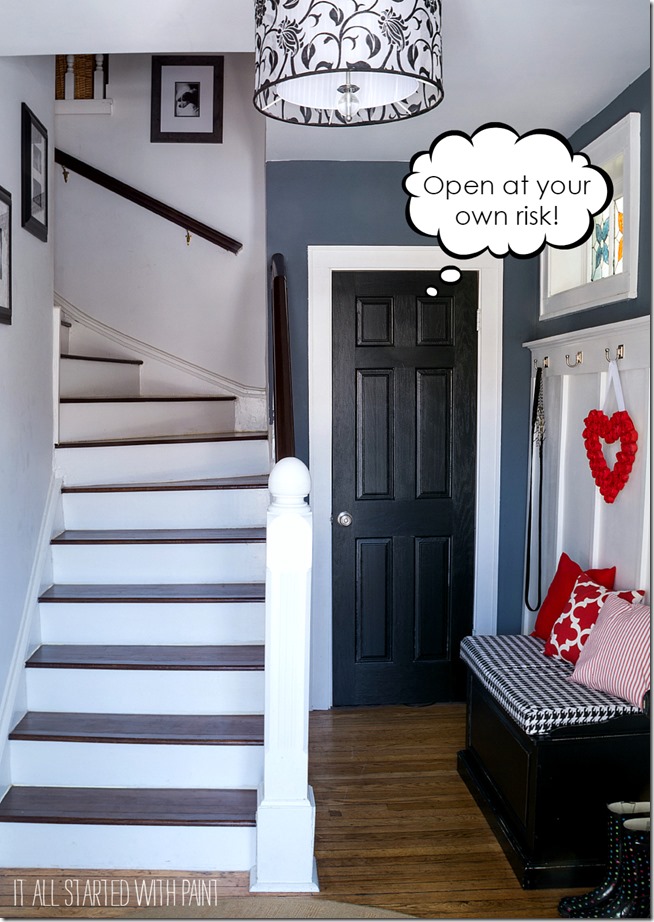 And hidden inside closed benches …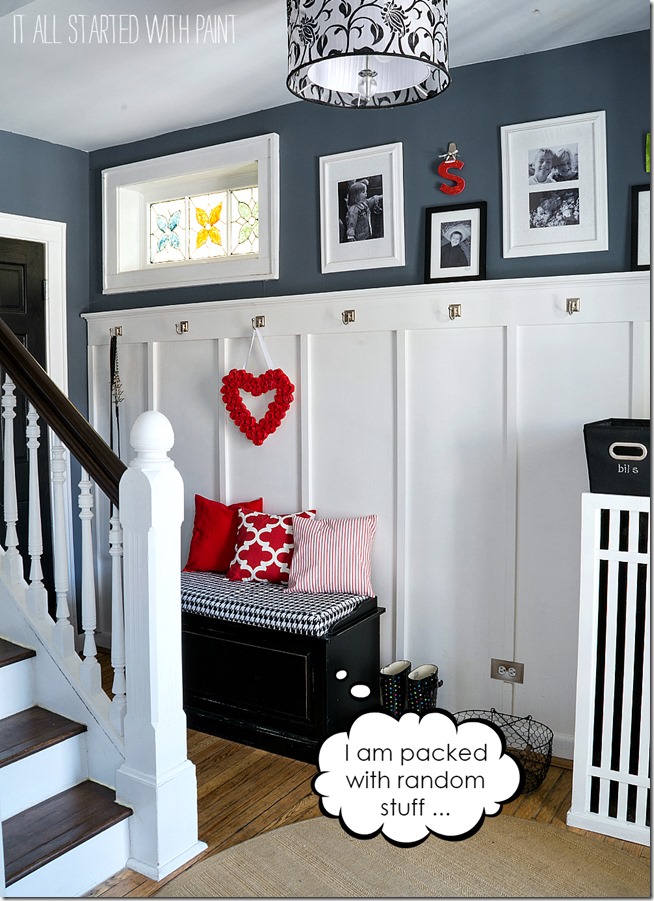 And lurking in seemingly orderly storage bins …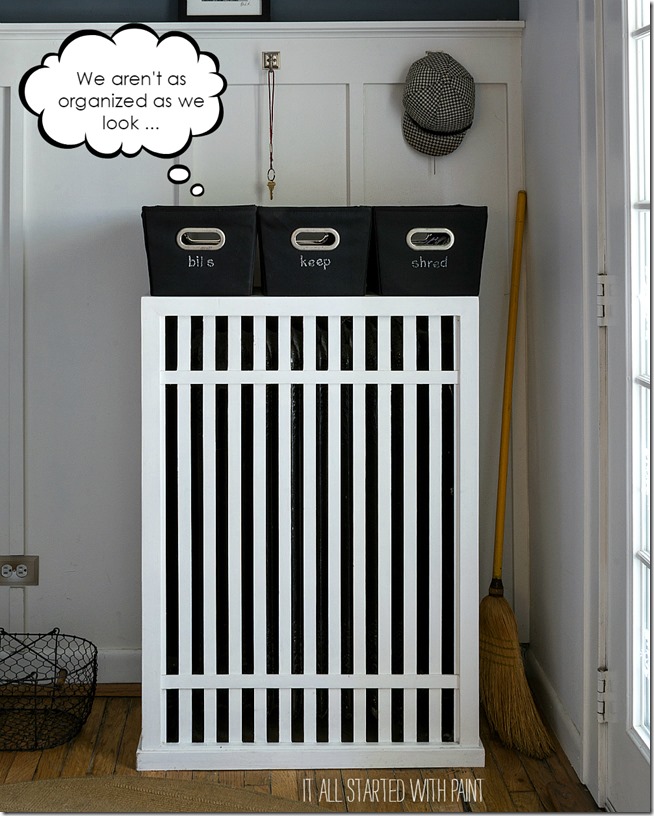 Each week, I'll take on one room in the house.  And spend one hour a day during that week giving it a deep dive clean …
and setting up organizational systems to keep it clean.
And then I'll report back. I'll share the messy befores and (fingers crossed) the beautifully organized afters. I'll also pass along any tips and hints that occur to me along the way. And share a printable check-list of my mess-wrangling plan-of-action for each room.
First up is the first room everyone sees.  The entry …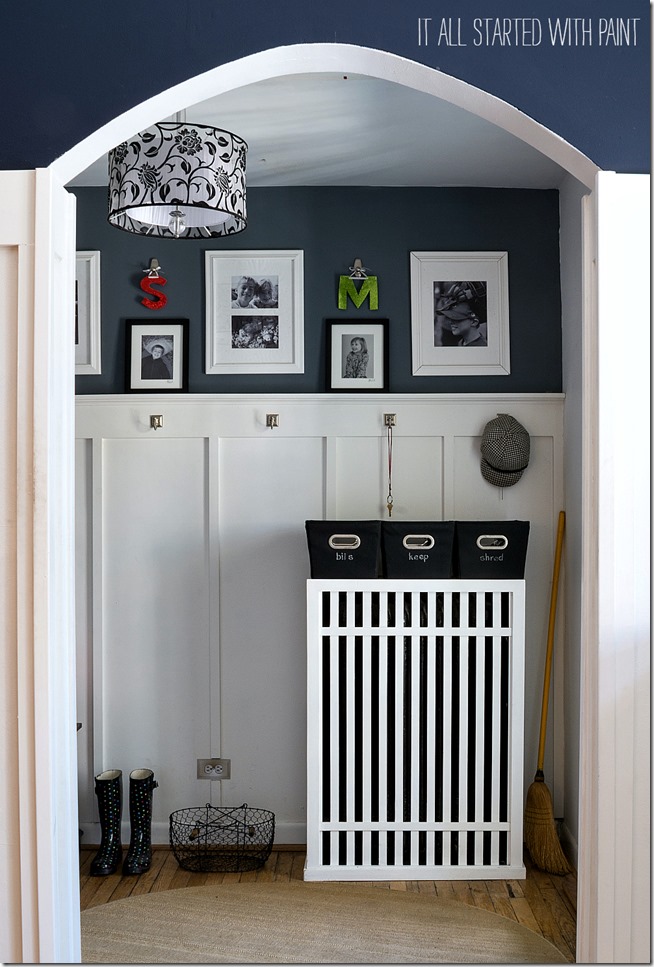 Sure, on the surface it appears fine. But there are dirty little secrets lurking about …
🙂
Linda
P.S. Yes, that is a Valentine's heart wreath still hanging in the entry.
P.P.S. Yes, those red pillows are from my Christmas decor …
sigh.