Greetings to all you wonderful readers of It All Started With Paint! We are excited to be guest posting here today and have something to share with you that we think you will love! DIY Anthropologie Bowls!
On our site, MadeFromPinterest, we test the pins that we pin from Pinterest and then share the results with our followers. Our readers have come to rely on our honest opinion about what works and what doesn't from Pinterest.
However when we guest post on someone else's site, we really take into consideration what will be a good fit for their blog. So when I was researching and thinking about what to share today, I kept thinking….paint. Paint. What can I do with paint?
I am not a good home decorator. I can cook and I can craft, but decorating and remodeling is not my thing. I need Linda to come to my house and help me redo EVERY room! Soooo…..when are you free Linda?
So then, what could I share with all of you lovely followers that has to do with paint?
BUT WAIT! I started surfing through…..would you be surprised if the next word I am going to say is…Pinterest? (Didn't think so) and I saw these DIY Anthropologie Bowls and thought…
I can do that! And it involves paint! Woot!
The inspiration for this project comes from Lolly Jane and I was excited get started.
I went to a local home decor store and bought these bowls on sale for $1.25 each.
Major score.
I liked them because they had a nice flat lip on the top.
Next came a run to Michael's to get this DecoArt Gloss Enamel paint. These can also come in a "writer" style dispenser but I chose to use the regular paint and use a paint brush. These come in solid colors and they also have some colors in a glitter paint.
Now for the designs. I pretty much just copied the designs from the bowls on the Anthropologie website and just did my "thang!" Here is a closeup to help you copy the design. Or be brave and make your own!
Be creative! Don't worry if the design isn't perfect. That just adds to the handpainted look and feel of these cute designer and decorator bowls.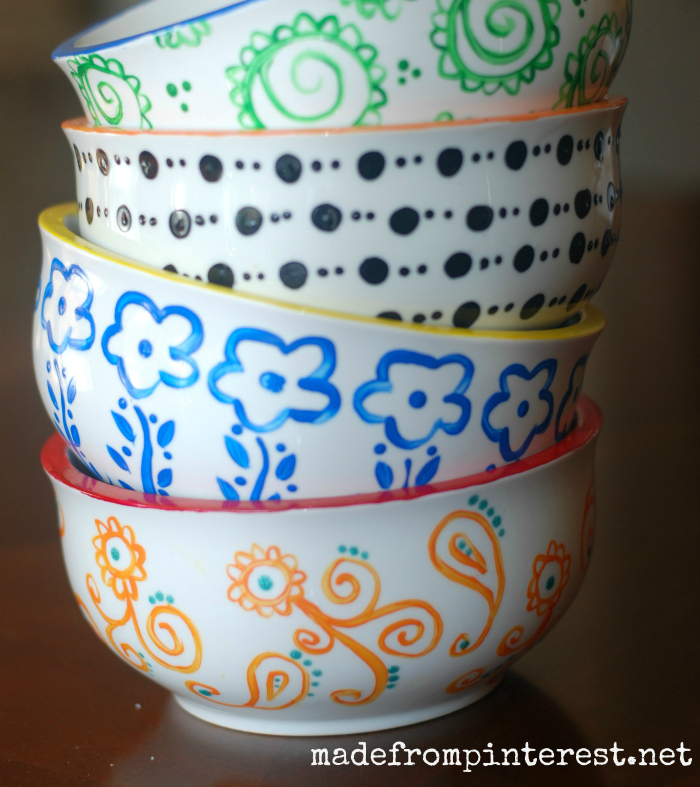 Now, just a word about these bowls. They are not for contact with food and are for decoration only. After you paint yours, here are the instructions straight from the DecoArt website: Allow painted project to dry 48 hours. Place in cold oven; set temperature at 325 degrees; bake 30 minutes; turn off oven and crack open door. Allow project to cool down before removing. NOTE: Not for direct contact with food.
But that's okay. I can find lots of uses for these cuties other than putting cereal in them! Plus, these are so easy that this method even works on the plain white Corelle bowls that I think every person on the face of this planet has somewhere in their cupboards.
If you don't have any, just call me.
I have a bajillion.
Pinky swear.
Linda, thanks so much for letting us come and play today! I loved making this project and hope your readers will too!
Come on over to Made From Pinterest and say hello.
You can also follow us on: Pinterest │ Facebook │ Twitter │ Instagram │ StumbleUpon │ Hometalk
Happy Painting!
Thank you Debbie for such a great project! How did you know I was a huge fan of Anthropologie knock-offs!