Sometimes I wish my kids were still little shrimps.  Back when I controlled their every move. I determined who they played with and when and where and how long.  I determined extracurricular activities like sports and music and art classes.  I knew every detail of their lives because I was the puppet master.  Pulling the strings of their lives.
Not so much anymore.  And while my kids do share a great deal of their days with me (and Mike) – both the highs and lows – I can't fool myself to know how deeply those highs and lows reach their inner selves.  Alas, as a retired puppet master, I can only take comfort in those things I know to be real and true about my teen and my tween …
I know, like clock work, my daughter will have some form of recess drama to share on our walks home from school …
I know, like clock work, my son will unwind from his day positioned in front of the Xbox with a laptop open on his left and a cell phone on his right.  It's like command central …
I know, like clock work, my daughter will put on my Old Navy half boots and practice her catwalk once a day – at a minimum.  Starting in the family room, walking a straight line through the dining room.  Stopping at the entrance of the living room.  A subtle shift to one hip.  A subtle shift to the other.  A turn with the flip of her hair and a kick of the leg.  And the return.  All with a very serious, fierce look on her face …
And I know, like clock work, any Chinese food order we place will include shrimp fried rice.  Lots and lots of shrimp fried rice.  The monster-sized carton of shrimp fried rice, as requested by my son and my daughter …
I've always wanted to try my hand at creating homemade shrimp fried rice, but I've been intimidated.  And I don't own a wok.  But all that changed when I discovered fried rice seasoning mix.  That's right.  A seasoning packet filled with all those mysterious spices that give fried rice it's impossible-to-recreate-at-home-on-your-own taste.  That is, until now.
Am I the last to know if this magical substance?
And, no, this is not a post paid for by the fried rice seasoning maker folks.  I was just excited to find this mix that I felt the need to share it with you all …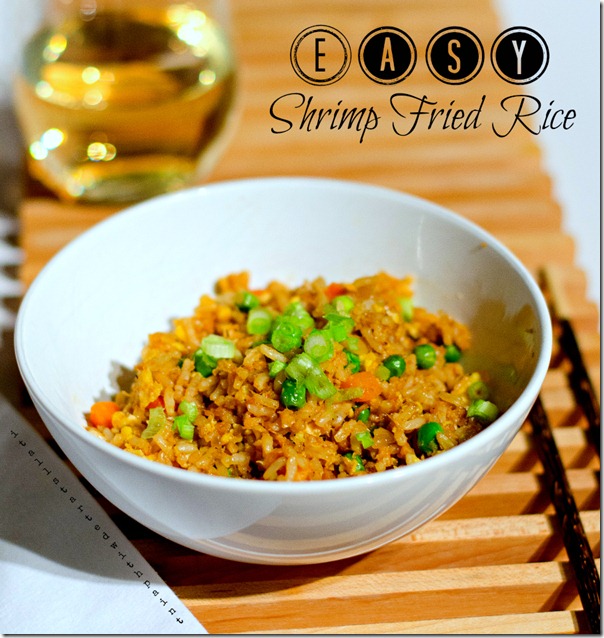 So I followed this recipe from the magical fried rice seasoning mix creators …
Shrimp Friend Rice Recipe
Ingredients:
  2 Tablespoons vegetable oil
  3 green onions, sliced
  3 Cups cooked rice, any style
  1 Package Sun-Bird Fried Rice
  2 Teaspoons soy sauce
  2 eggs, beaten
  1 Cup frozen peas and carrots, thawed
  1/3 Cup chopped, cooked chicken, pork or shrimp, optional

Preparation Instructions:
Heat oil in large skillet; add rice and green onions. Stir-fry until heated through. Add Sun-Bird Fried Rice Seasoning Mix and soy sauce; stir-fry 1 min.  Push rice mixture to side of skillet; add eggs to the center of the skillet and scramble. Stir egg into rice mixture. Stir in peas and carrots; stir-fry until heated through. Makes 5 servings.
Source:  Sun-Bird Seasonings
I may no longer be the puppet master, but I'm hoping this easy-to-prepare Chinese fried rice dish will entice those former shrimps to keep coming home …

Sharing:
* Stone Gable * Between Naps on the Porch * A Bowl Full of Lemons * Someday Crafts * DIY by Design * Thistlewood Farms * Funky Junk Interiors * i heart naptime *