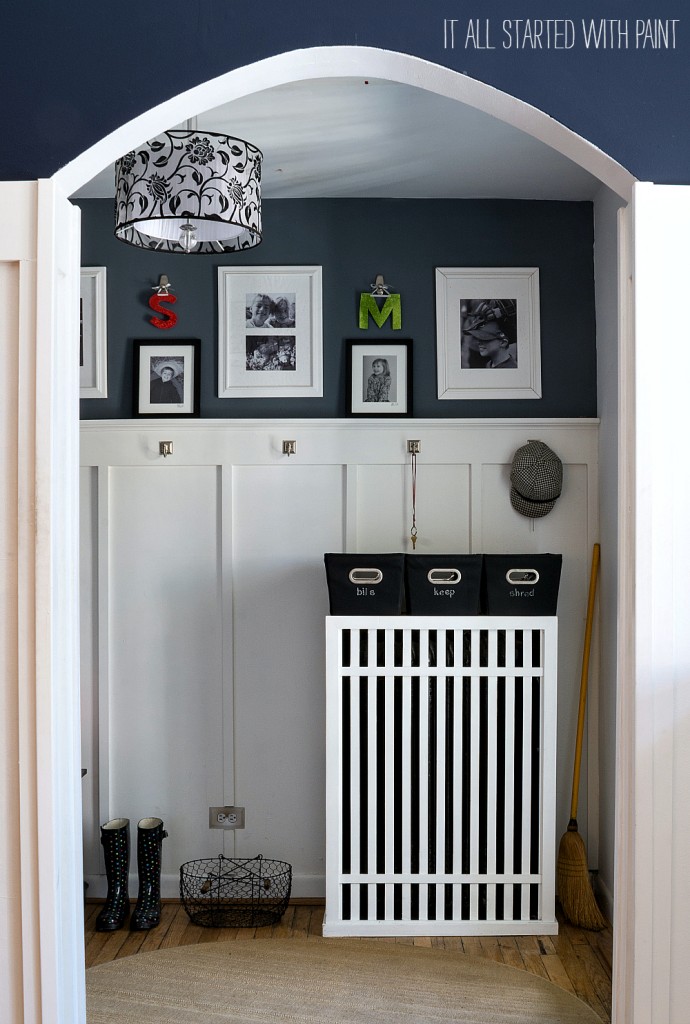 Imagine you arrive at our home and are greeted with this amazing (if I do say so myself) painted on porch rug …

… and then the door opens to this …
Truth be told, I finished the entry project last spring before moving outdoors to tackle the disaster that was the front porch (you can follow that story here).
I'm exceptionally proud of this project because it was 99% diy. The missing 1% goes to bringing in an electrician to hang the new chandelier. We learned early on that changing out light fixtures in our 100+ year old house requires the assistance of a licensed professional. There are some scary things going on inside our walls and ceilings …
… though I did play the role of the trusty assistant.
The before was pretty sad stuff. I hung a mirror over the radiator cover, used a cheap laminate left-over chest to catch toys …

… painted a blue 'accent wall,' made a faux stained glass window, and added some black & whites of our wedding photos to the wall leading up the stairs …

… and that was that. I'm embarrassed to say that's how it remained for 15 years …

The entry is the first impression of our home and it certainly wasn't making an impression that I was proud of …
… and once again I can't believe I'm airing our dirty laundry here for all to see …
Besides being ugly, the entry wasn't functional. We have limited storage in our square-foot-challenged city home.
It was in the planning stages for this project that I truly discovered the world of blog diy and became an ardent fan, true believer and an obsessive/compulsive follower. Pass the Kool Aid ladies and gentlemen …
The first major change came in the form of 'faux' board and batten …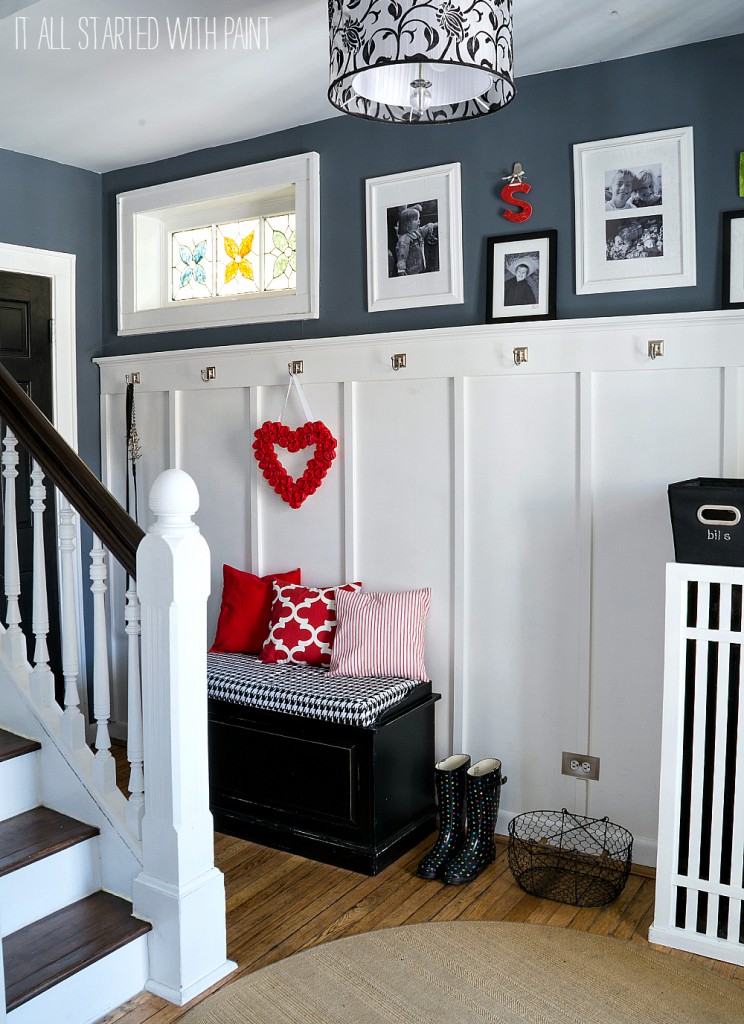 Mike was quite the trouper and we nailed each and every piece of lumber up by hand. Needless to say it was a long and noisy day. And a day that prompted me to rush out and purchase a nail gun of our own.


It's all over the blog world and was old news by the time I discovered it … but I can't get enough. There are big plans in the works to carry it through the entire first floor …
… but I first needed to convince my husband that this was a good idea because I couldn't hang board & batten on my own …
You can find my board & batten tutorial here …

The mail used to just pile up on the radiator cover, so I added some inexpensive bins from Target to sort it all out. You can read more about it here …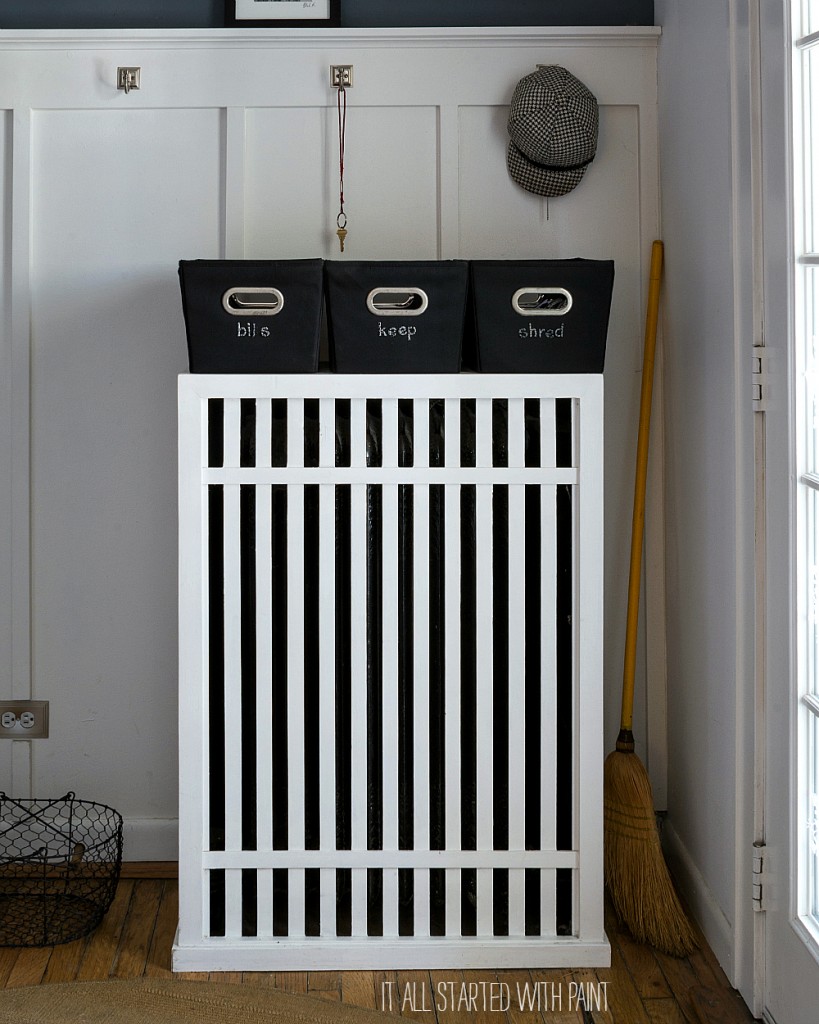 The staircase and wood floors on the first floor (oh, and the foundation and a weird closet in the master bedroom) are the only things original in our house. The molding and trim had to be torn out because it was painted with outdoor paint (most likely to cover up lead paint). Needless to say, I had more than a few trepidations about painting the original, 100+ year old newel and banister posts …


But in the end am confident in my choice. (You can find my tutorial on the staircase here). Oh, and I really do love the closet door painted black (and of course you can read more about that love here …)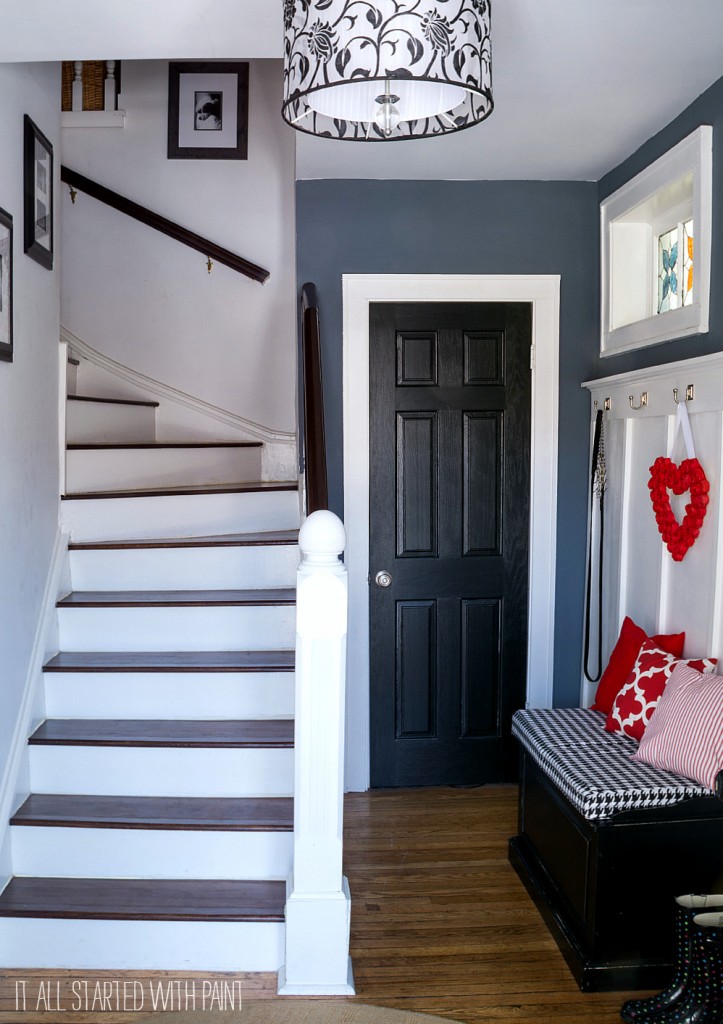 Centsational Girl was by far the greatest influence on my entry design … and execution. I followed her instructions about how to B&B and how to strip, stain, poly and paint a staircase to a tee. I even traveled out of the city to Lowes to track down the exact same hooks she used in her project. Centsational Girl's tutorials can be found here (board & batten) and here (strip, stain, poly, paint).


I just love the final results …

And, yes, that's the same bench as before. Just primed, painted black, distressed, and dressed up with a custom cushion and pillows …you can read more about that project here

This is the vibe/feel that I plan to bring into the rest of the house …
Links to Entry Projects: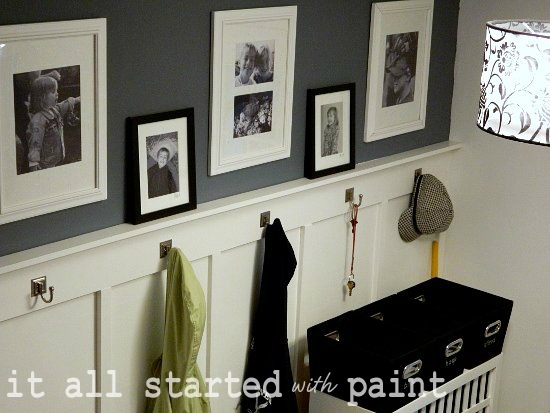 How to Strip, Stain & Paint Staircase
You Might Also Like: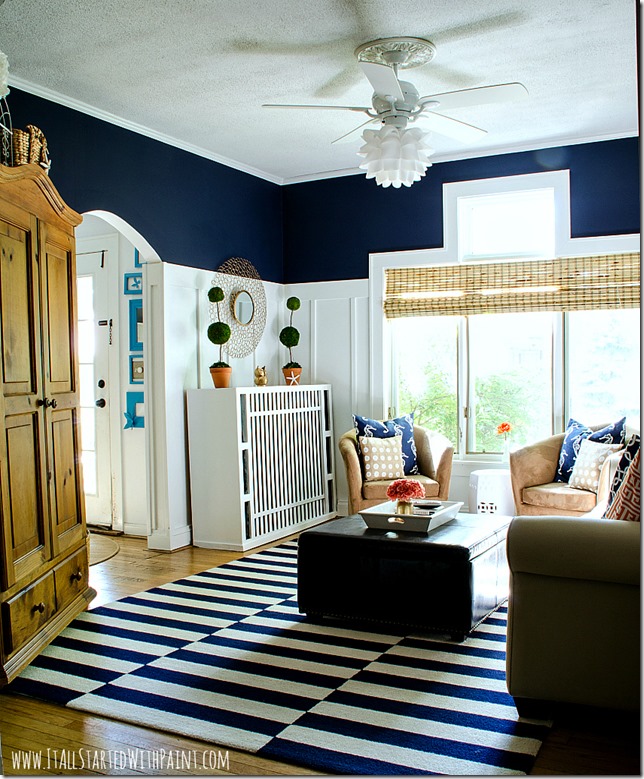 Board & Batten Living Room Makeover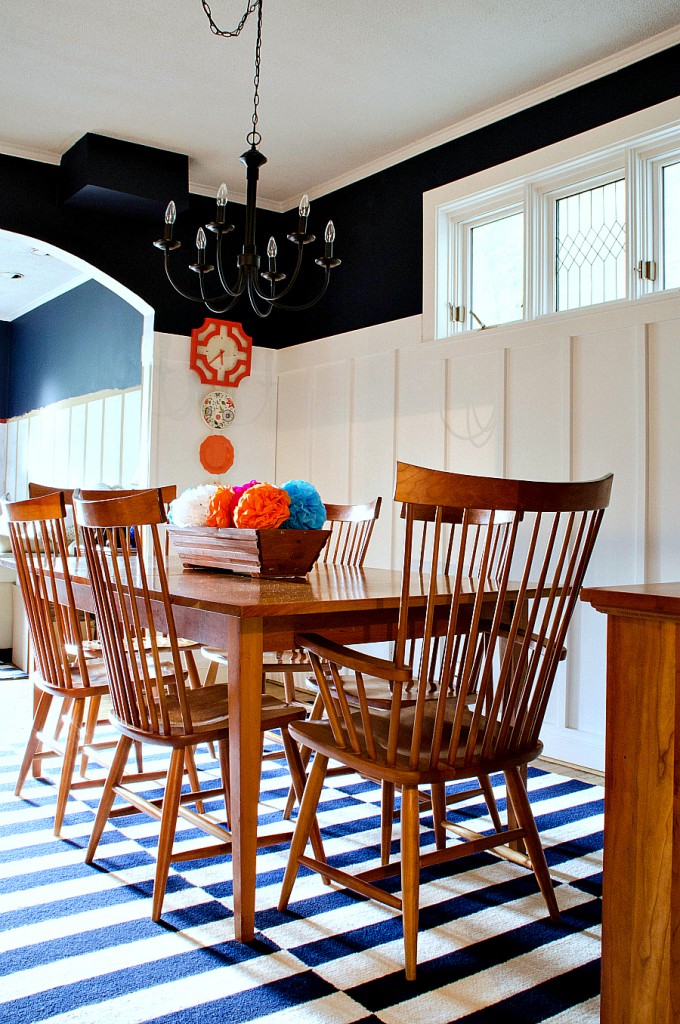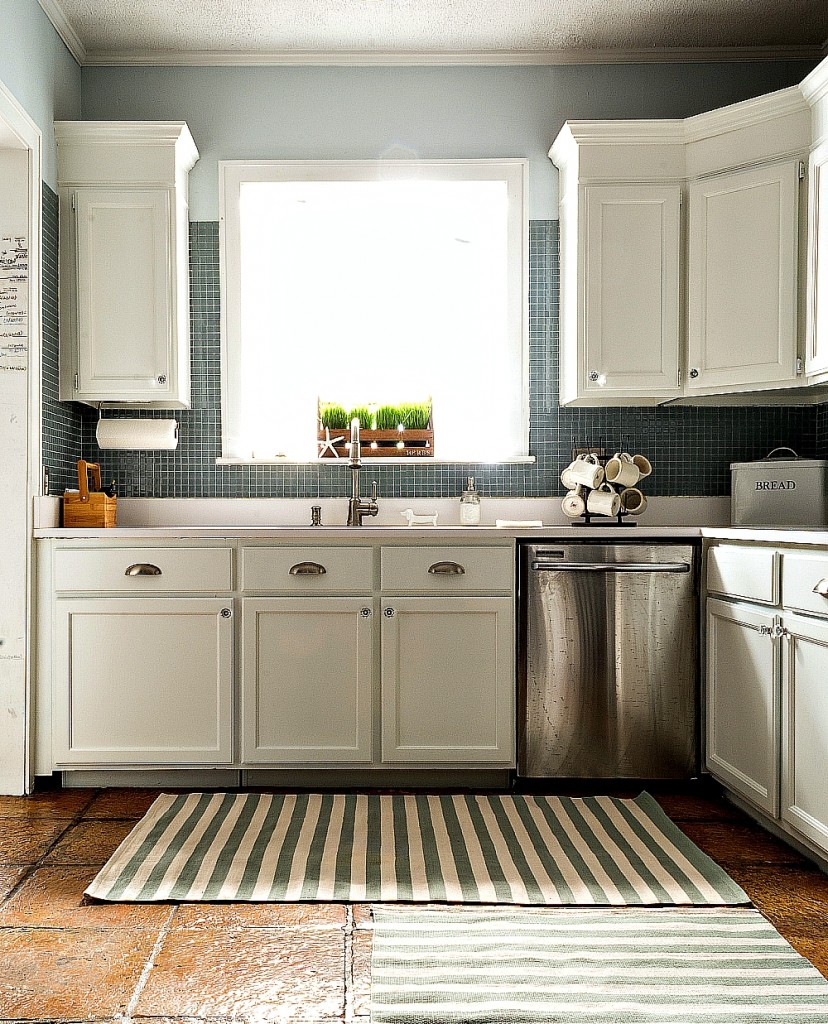 Builder Grade Kitchen DIY Remodel