Welcome to day 4 of Marty at A Stroll Thru Life's fall home tour event!
You know that hindsight is foresight saying?
Yeah?
Well, I had a whole hindsight-foresight epiphany yesterday. Late in the afternoon after I spent the day racing around like a chicken with its head cut off to get a big Etsy order out while also scrambling to promote day 3 home tours here on the blog and also across Facebook and Twitter and Pinterest and Instagram.
And as an aside, I was waaaaaaay off on the shipping estimate for that big Etsy order. So now my small business will just have to eat it. Ugh.
Back to the hindsight. Or is it foresight? Either way I had head-clunking epiphany when I realized I could have planned this week much, much better.
You see, I was all patting-myself-on-my-back for getting all the tour participants images and links and putting together all those little collages with links and getting everything out to everyone in a timely manner.
Everything was humming along smoothly …
until this week hit.
I forgot about the promoting of each blogger part of the hosting of a home tour series. Okay, not the actual promotion part. That was the plan all along. I just didn't realize how time consuming it can be to promote 5 to 6 bloggers a day across all social media platforms.
And then add in the Etsy business. Not to mention how I need to work on blog projects and posts for next week …
and suddenly a lot of time is consumed.
Especially when that time consumed eats into my enjoying a glass of wine time! Ha!
But my hindsight-foresight epiphany is that instead patting-myself-on-my-back and feeling oh-so-smug because I was feeling oh-so-organized last week …
I should have also spent last week writing up — or at least getting a head start on writing up — these daily fall home tour introduction posts.
Instead I'm tackling them in real time the day before.
Or, in today's case, the day of! 😉
It really would have made a world of difference with my time management. And wine enjoying.
So if I ever find myself in this situation again, I'll need to remember that little head-clunking-hindsight-foresight epiphany any time I start to pat myself on the back … 😉
As an aside, I'm not complaining at all! I'm truly enjoying all these tours and helping to share all these wonderful bloggers … and, most of all, supporting Marty! As the Brits like to say, I'm just being cheeky.
Now on to today's tours!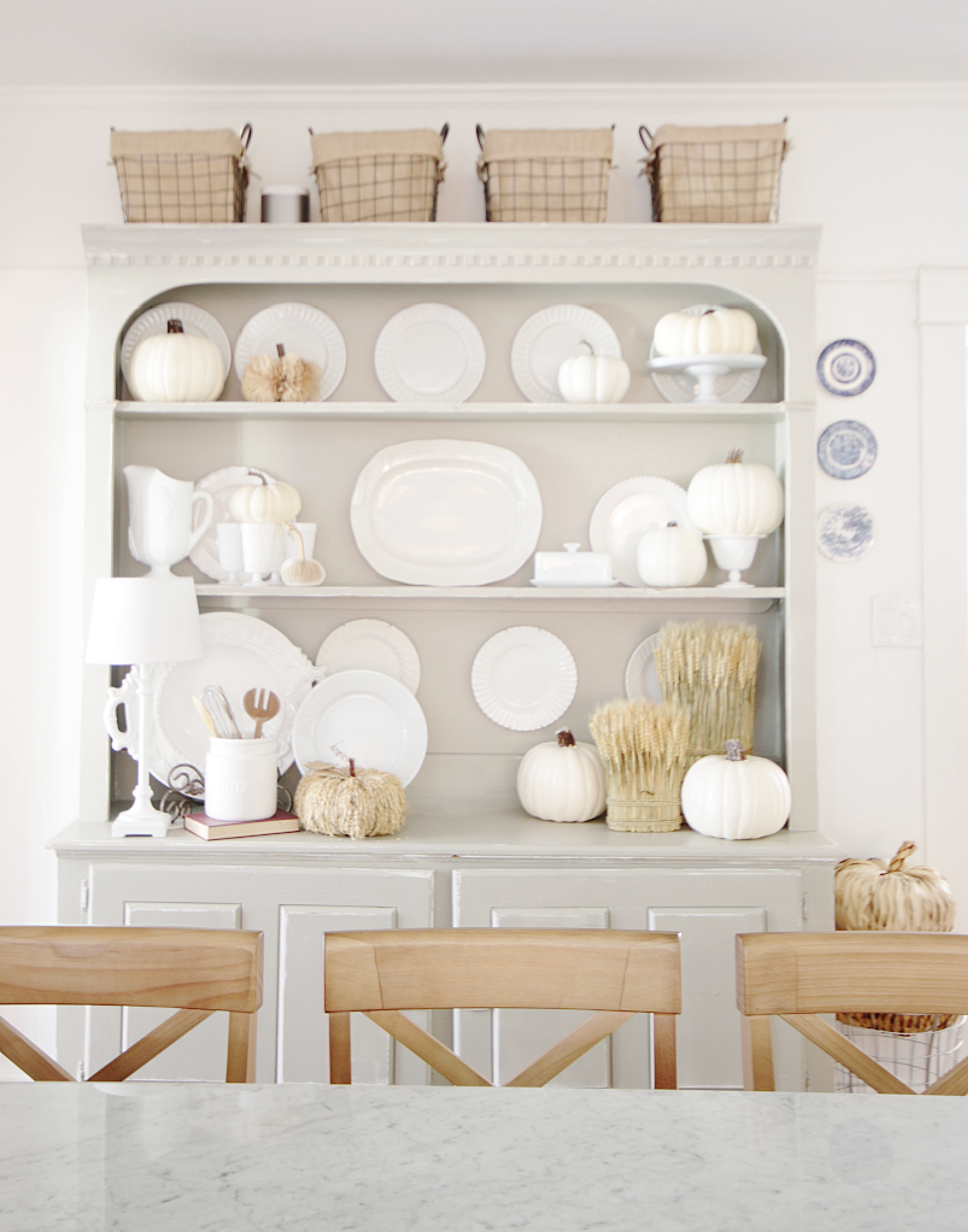 First up is Kari at Thistlewood Farms.
Here's a fun little fact: Kari and I started blogging at about the same time. I was immediately drawn to her blog because of (1) her gorgeous home; (2) her gorgeous photography; and (3) her amazing decorating resourcefulness, style and tips.
But I soon discovered that Kari is more than just pretty pictures. She's an amazing storyteller with a big, bold personality full of warmth … and humor.
Check it out for yourself at this link (and be sure to read her words. They don't disappoint!).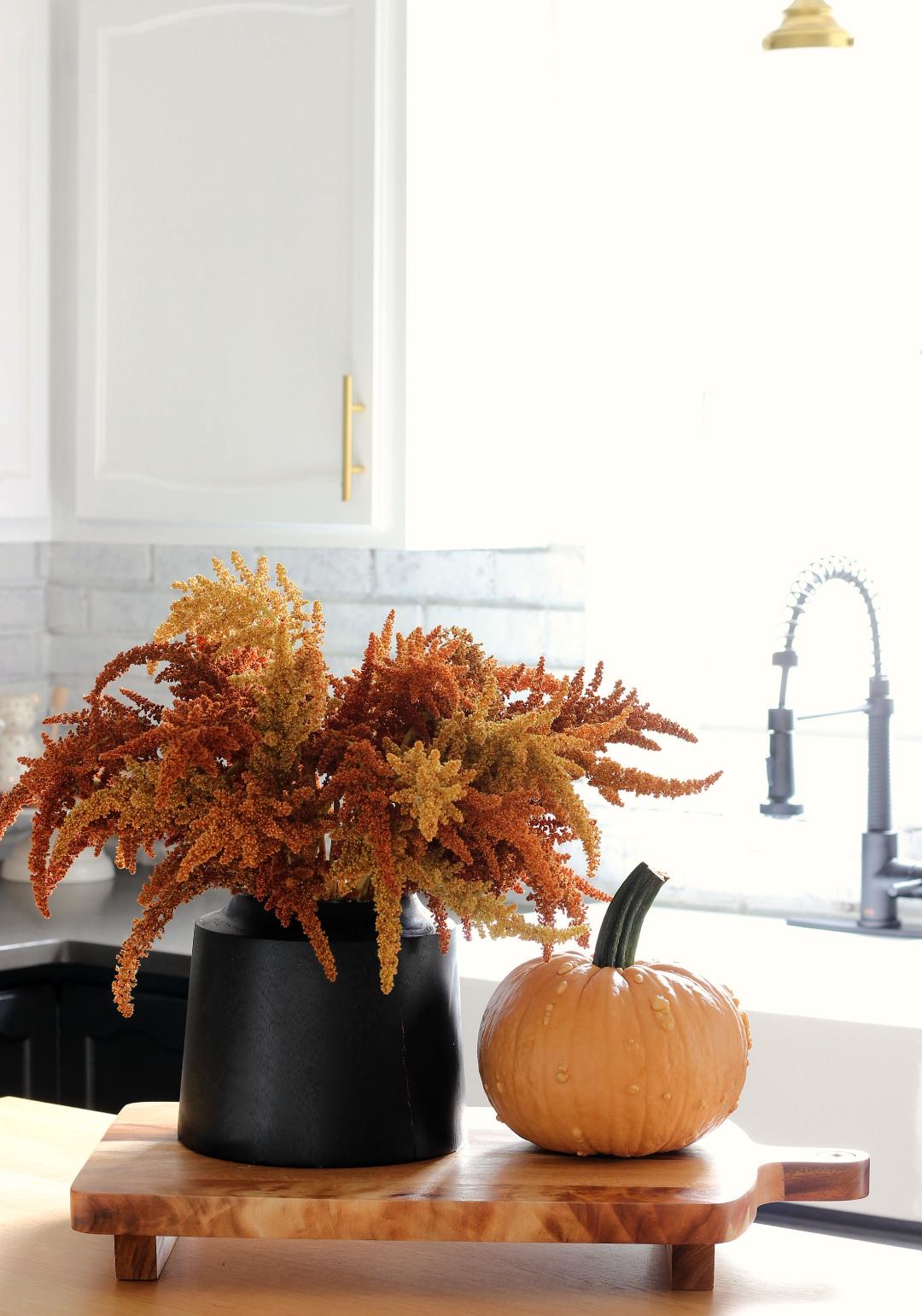 Up next is Doreen at Hymns and Versus.
Doreen has such a warm and welcoming style that I'm positive the warm and welcoming golden hues and muted oranges of fall will go perfectly with her decor.
And from that beautiful teaser picture, it looks like we'll be treated with a fall tour of her kitchen (loving that faucet! And back-splash! And gold pulls!). Click here for more …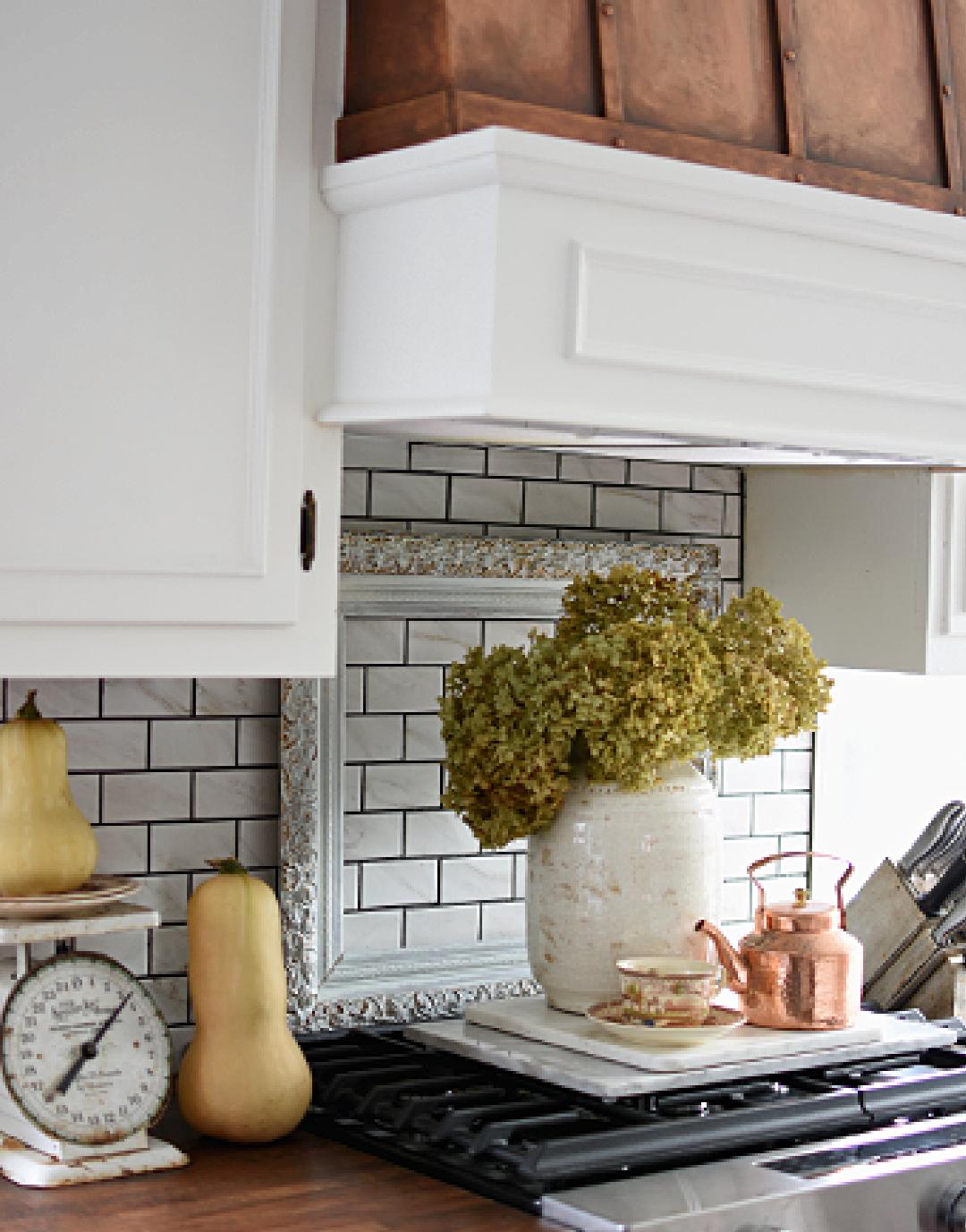 Next up is Amber at Follow the Yellow Brick Home.
Amber and her husband have been working hard on a diy kitchen renovation since March and today she's going to give us all a first reveal look at the progress. How exciting!
Can you tell I have a thing for kitchen tours? Whenever I find a new blog my first search term is "kitchen."
So I'm thrilled that Amber is giving us all this honor of a fall-decorated kitchen sneak peek! Check it out at this link …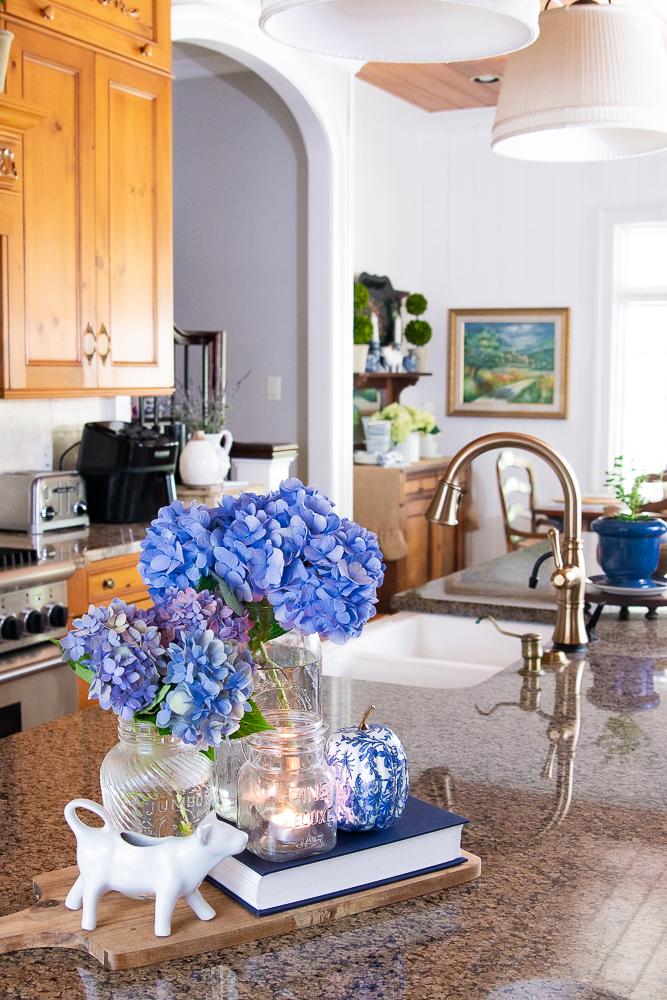 Christy at Our Southern Home is up next on the tour.
And when Christy says her home is Southern. It's Southern in a very traditional — and gorgeous — sense.
It looks like, among other spaces, we'll be getting a tour inside Christy's kitchen. I love how she (in this space at least) has eschewed the traditional oranges of the season, but instead is embracing a more subtle blue and white …
isn't it amazing how you can customize the look fall to suit your space with a just a little color change on a pumpkin?
Click here for Christy's fall home tour.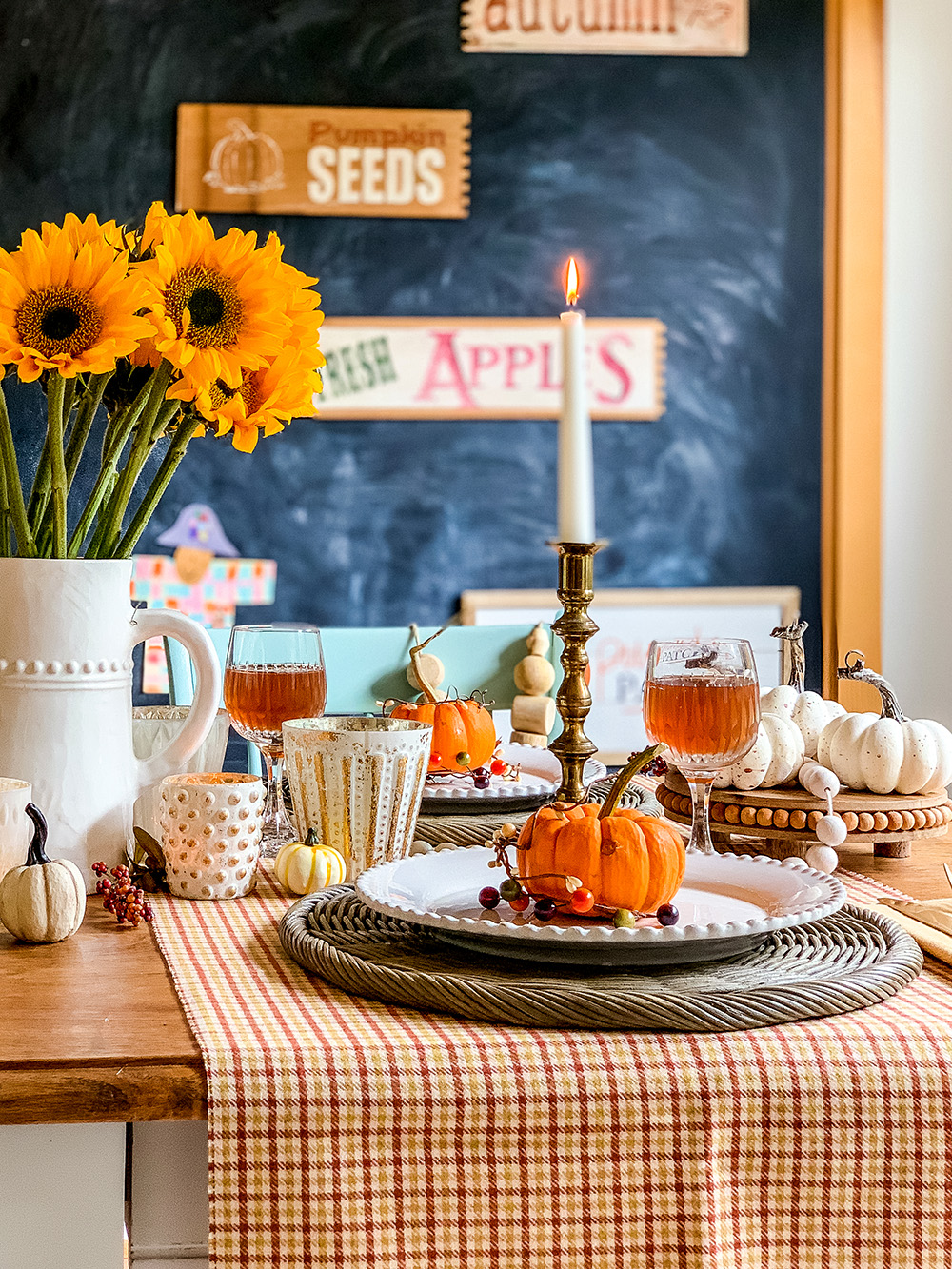 Cristina at Remodelando la Casa and I go waaaaaaaay back too. And … surprise, surprise … I was first drawn to Cristina's blog because of her diy kitchen renovation!
Seriously, you need to check out the before and after. It's quite remarkable.
In fact, Cristina has been building custom spaces throughout her home for the past decade.
She's never met a power tool she doesn't like!
So as you walk through her fall home tour, pay attention to the all the custom details, And make a mental note that Cristina designed and built them all herself! (Okay, a husband may have lent a helping hand here and there, but Cristina did most of the heavy-lifting and power tool tooling).
Check out Cristina's amazing fall home tour at this link …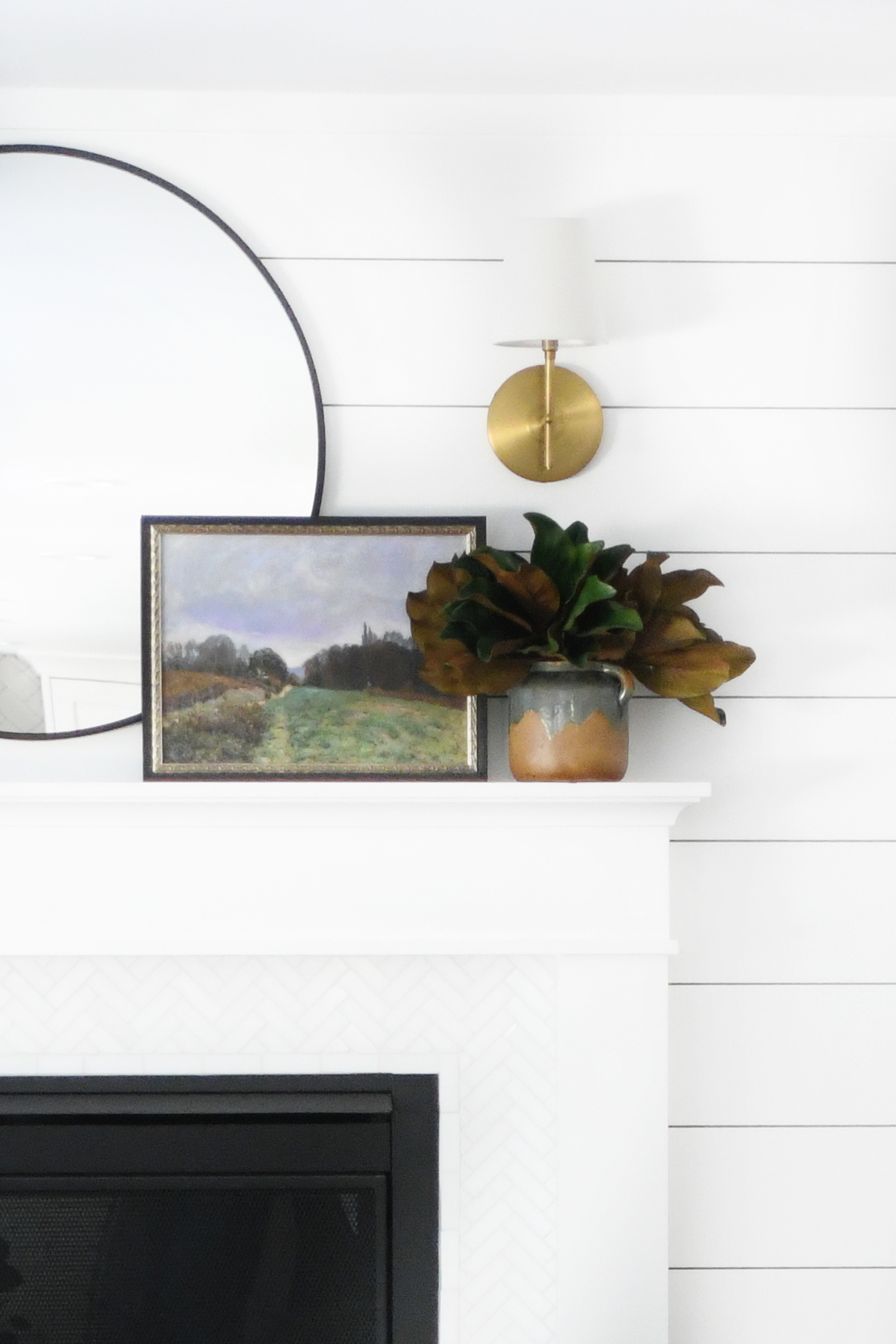 Rounding out today's tour line up is Tammy at Pink Peppermint Design.
Looking at that teaser picture, I'm pretty sure that Tammy has actually achieved in her design what I was trying to go for (but missed the mark) in mine.
Because I'm definitely getting a serious boho chic vibe from that mantel. I think that vintage print seals the deal!
I did a quick pop over (because, I'm honestly writing this post in real time today) and Tammy is sharing her comfortable-cozy-yet-bright-and-refreshing family room with us on today's fall home tour. Just click here …
Here's the home tour line up so far this week …
Monday
It All Started With Paint / Inspiration for Moms / Modern Glam / Southern State of Mind / Decor to Adore / Clean and Scentsible
Tuesday
Far Above Rubies / Town and Country Living / Thrifty and Chic / StoneGable / Setting for Four / Making it in the Mountains
Wednesday
Seeking Lavender Lane / The Wood Grain Cottage / Duke Manor Farm / 11 Magnolia Lane / Life on Cedar Lane
Thursday
Thistlewood Farm / Hymns and Verses / Follow The Yellow Brick Home / Our Southern Home / Remodelando la Casa / Pink Peppermint Design
Pin It!