Fall in the Kitchen – Neutral Kitchen Decor for Fall.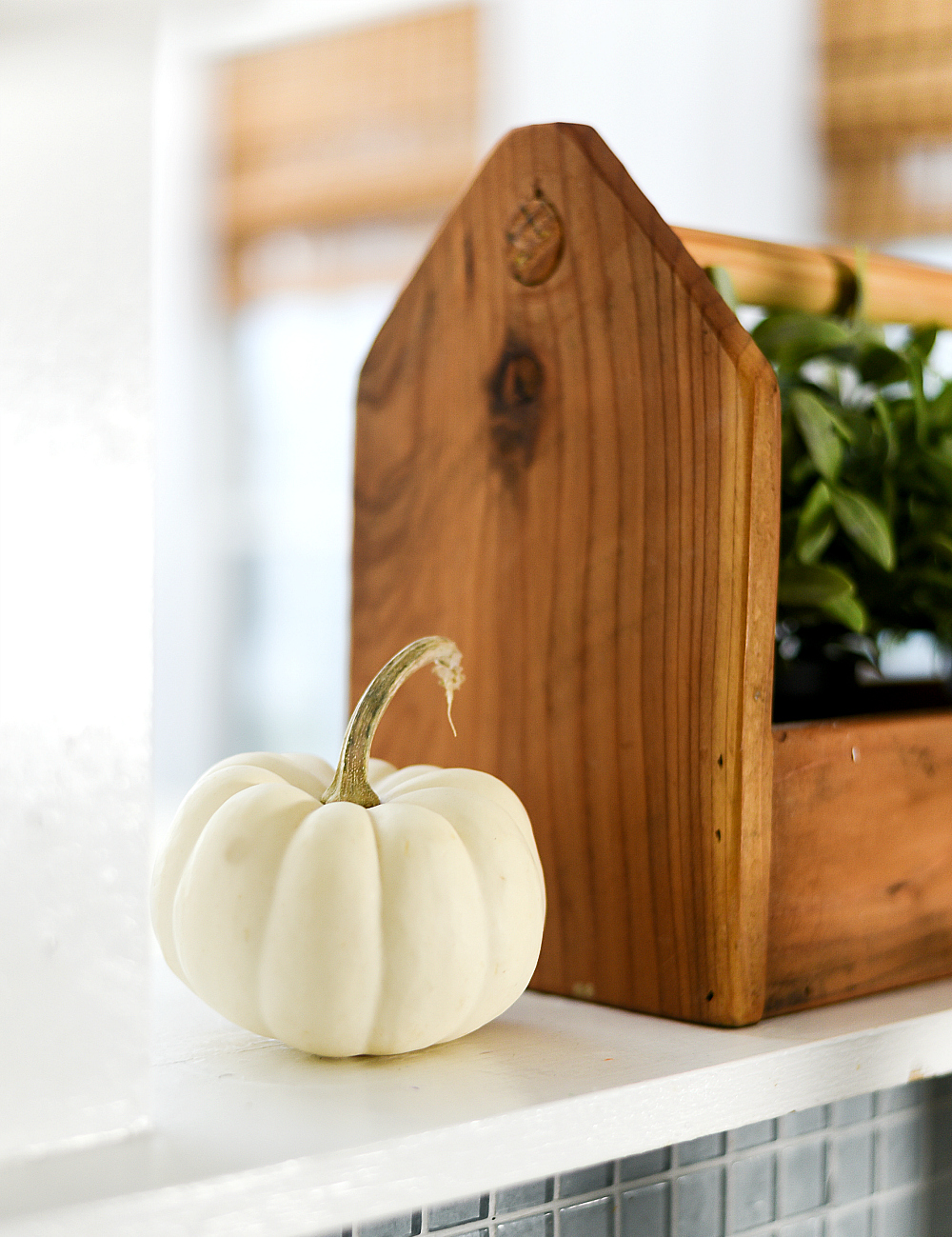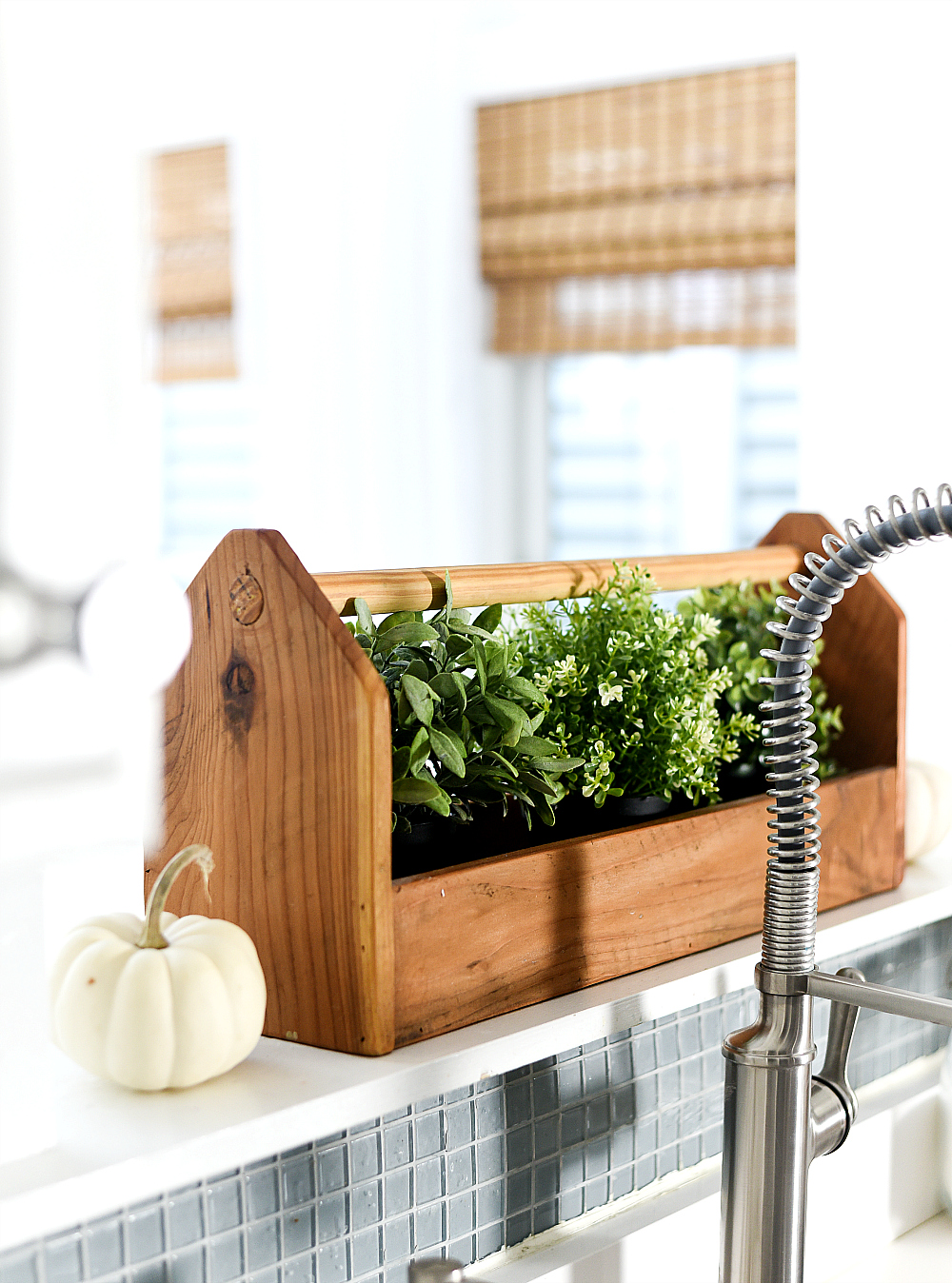 I'm going to TMI (too much information) you this morning.
Please accept my apologies.
Especially since TMI and pictures of the kitchen don't really go hand-in-hand.
But … there is a point. I promise. However, to get to the point we must start with the TMI. So here goes …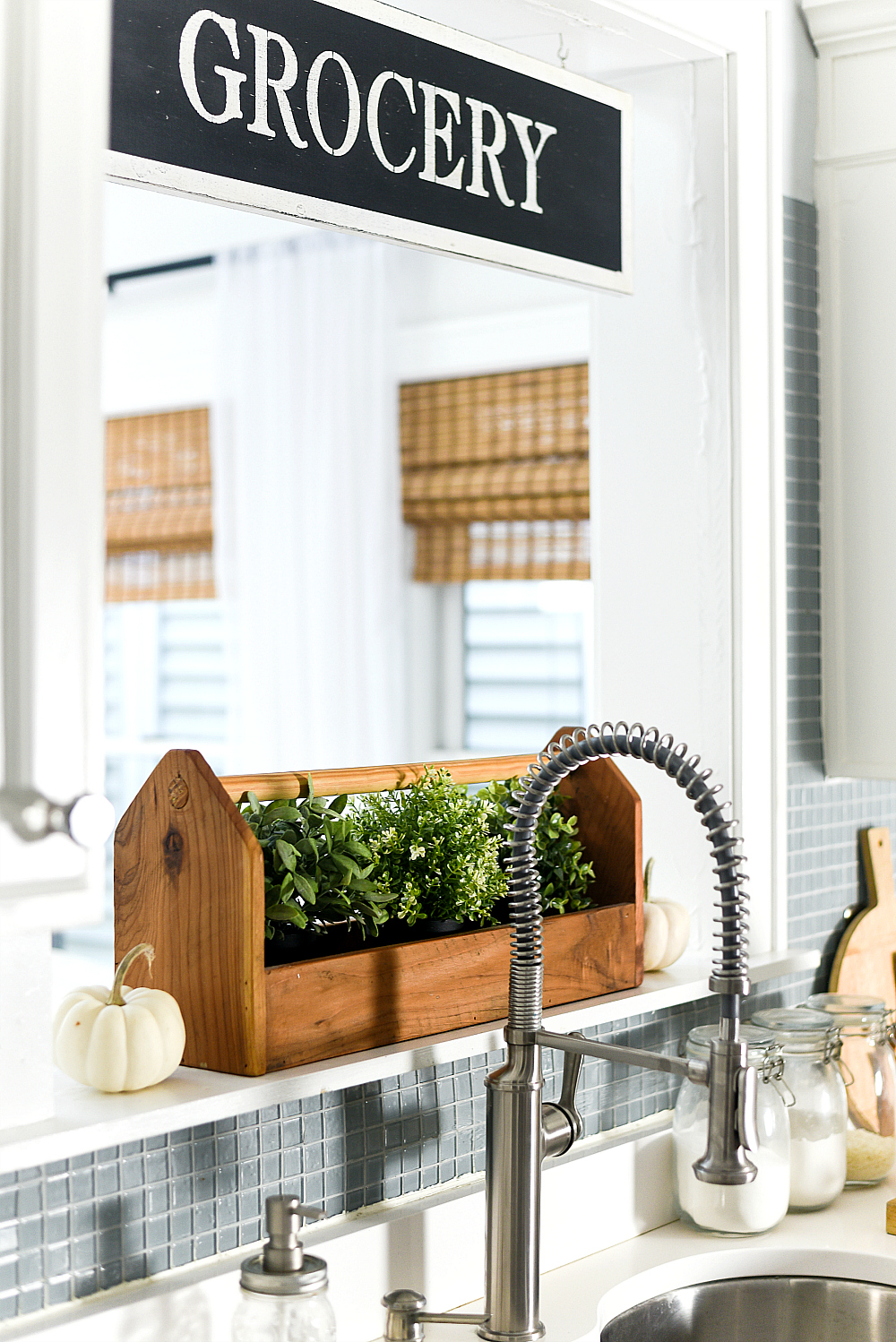 I'm bladder challenged.
And now you see how this is a totally inappropriate topic to bring up during a kitchen blog post. But again …
patience people.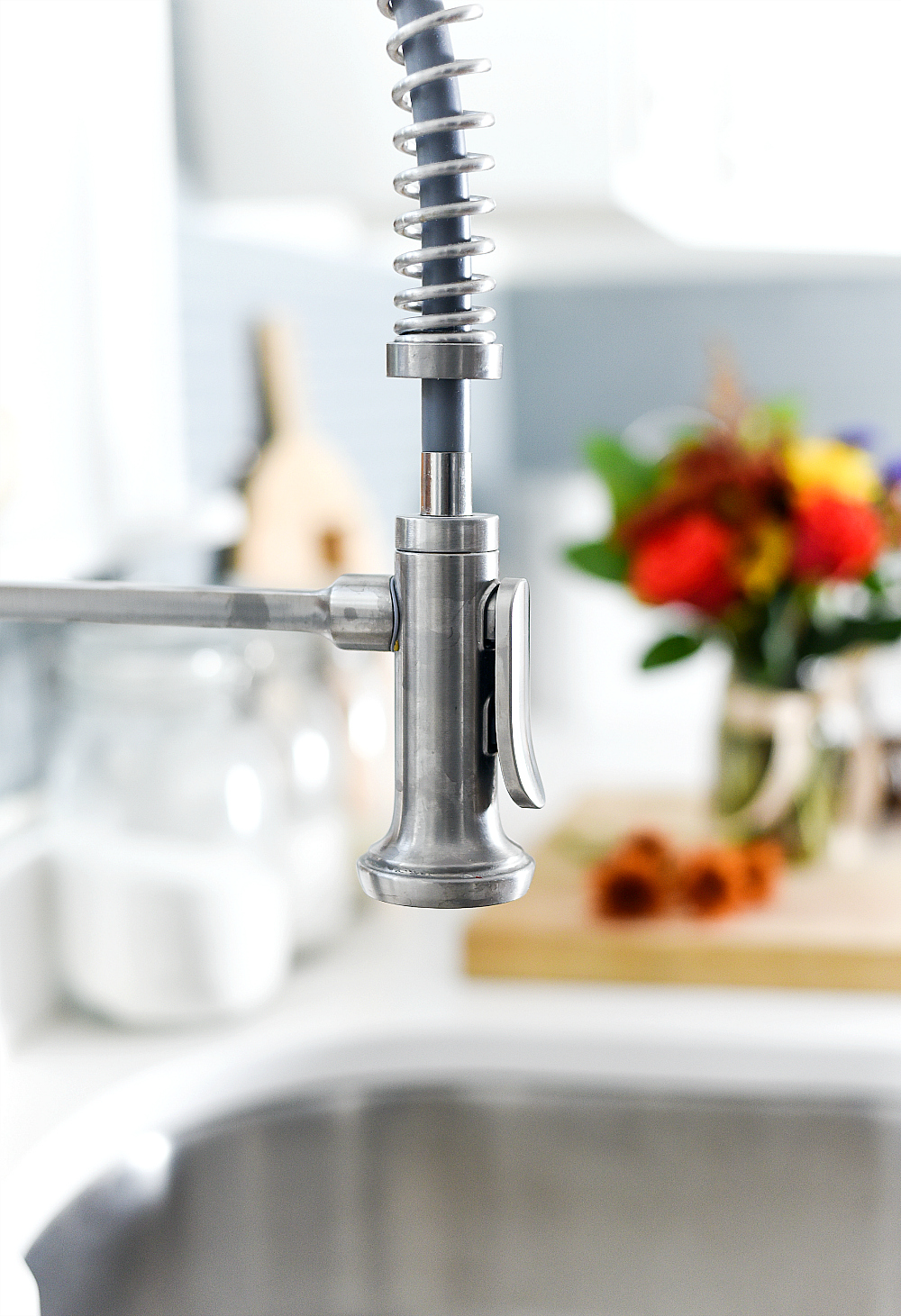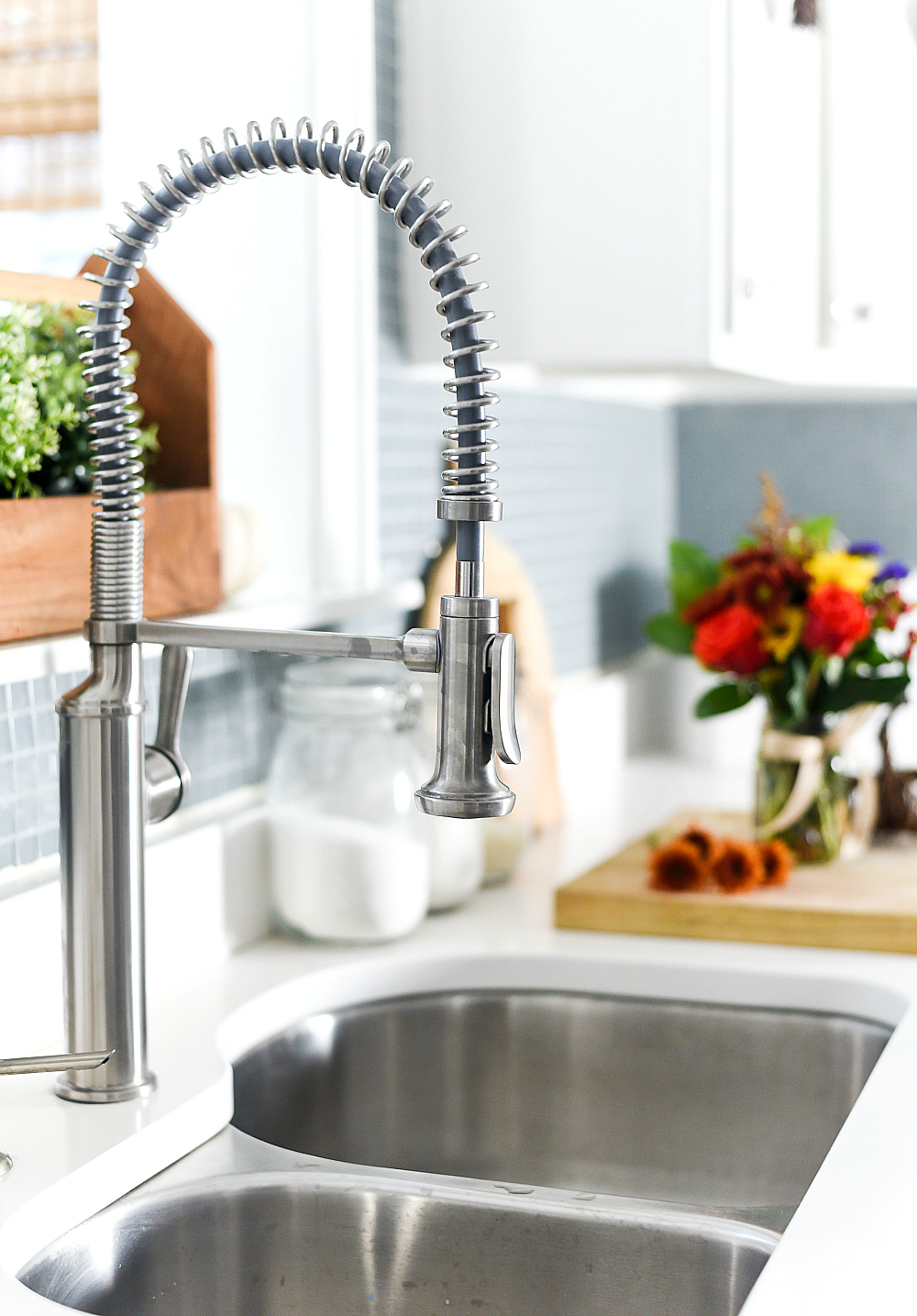 Now, I'd like to blame the whole bladder challenged thing on childbirth. But that would be unfair to my children.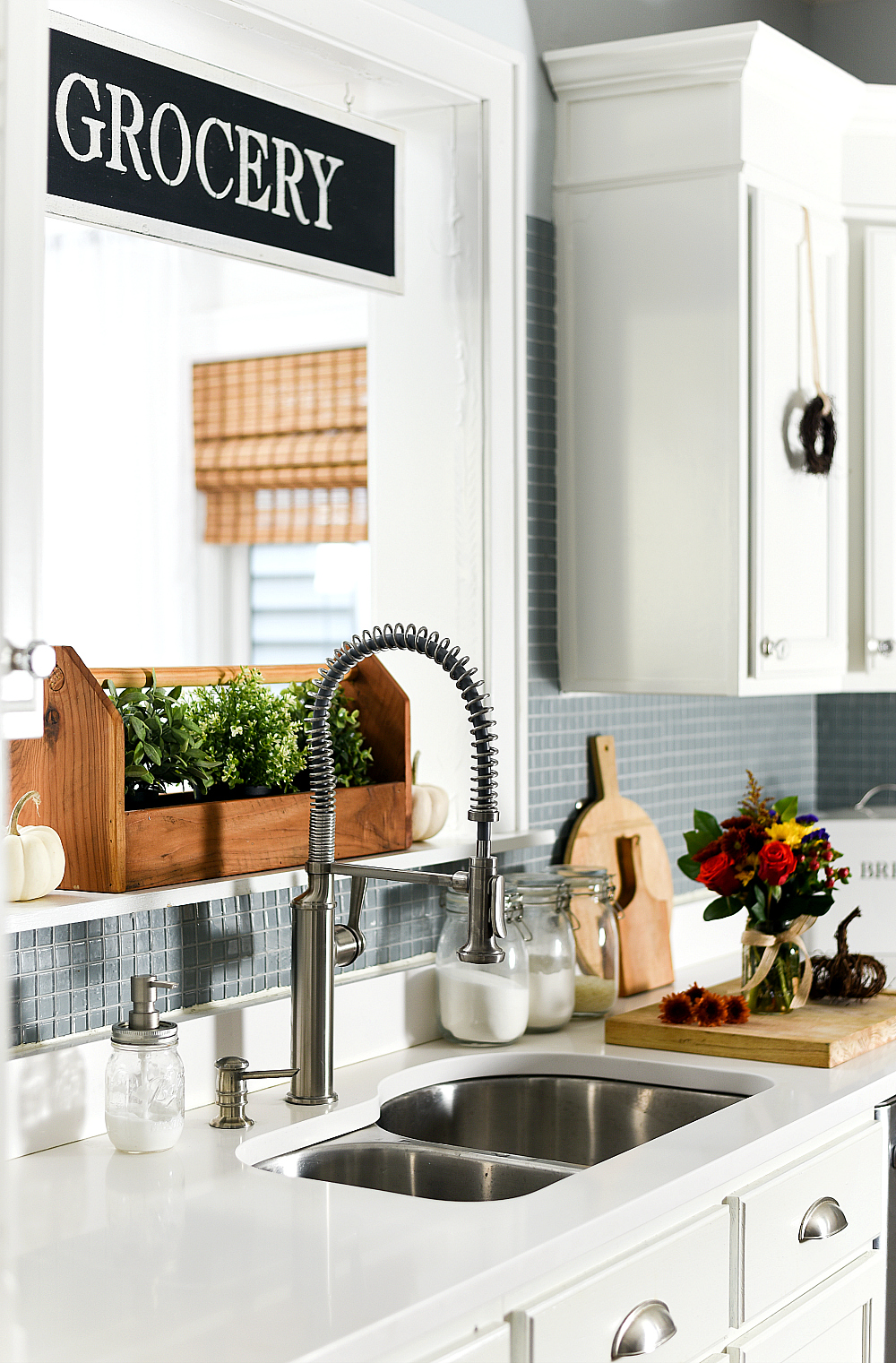 Turns out — much like the Grinch's heart is two sizes too small — so is my bladder. Or maybe it's three sizes too small. Or four? All I know, my bladder is the size of pea.
Oh, I just got what I did there! Tee hee. Bathroom humor. Yes, I'm 12.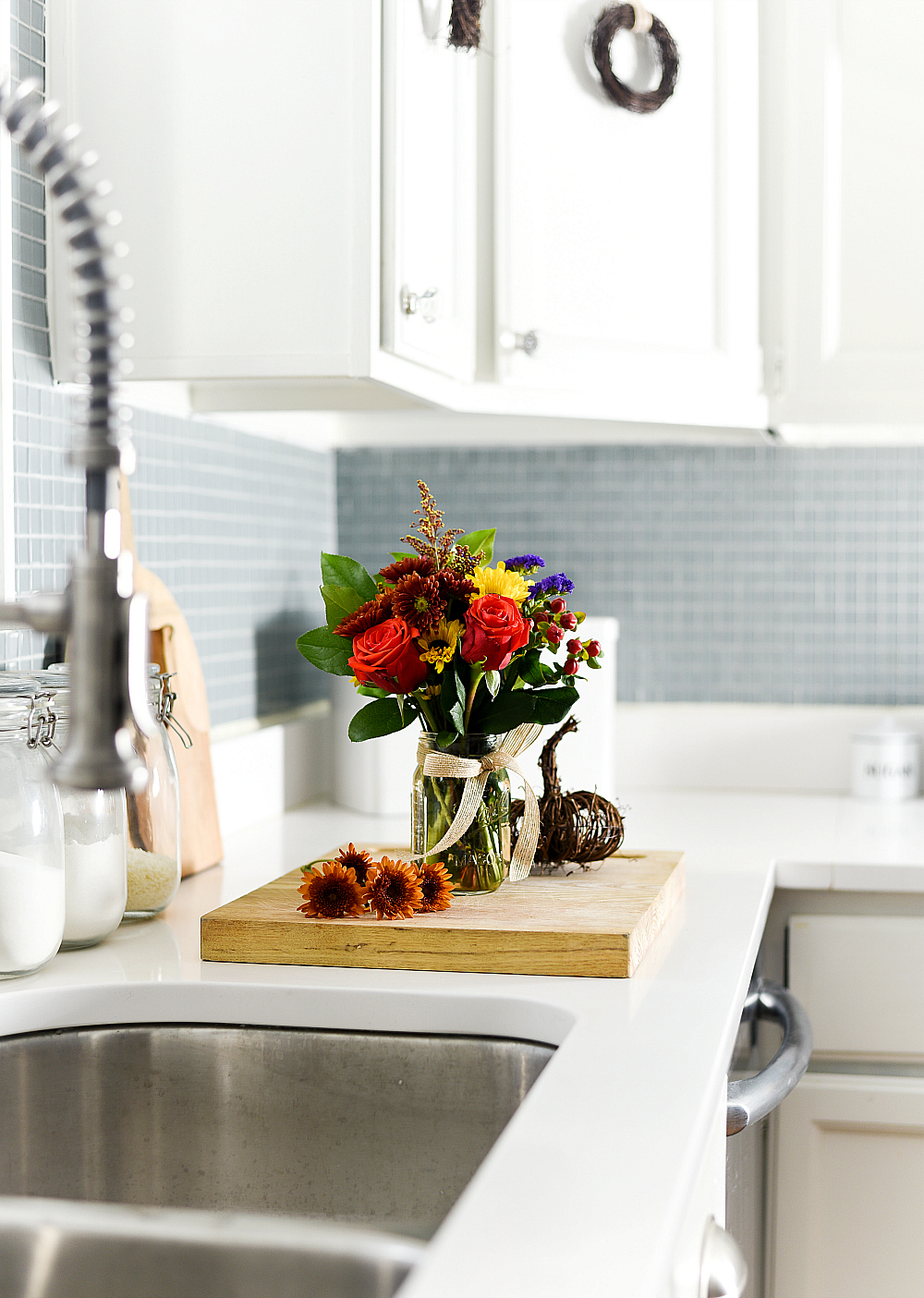 So me an my two-or-three-or-four-sizes-too-small bladder spend a lot of time visiting bathrooms. I map them out the moment I enter a store or restaurant. I know the best stops on the expressways and highways …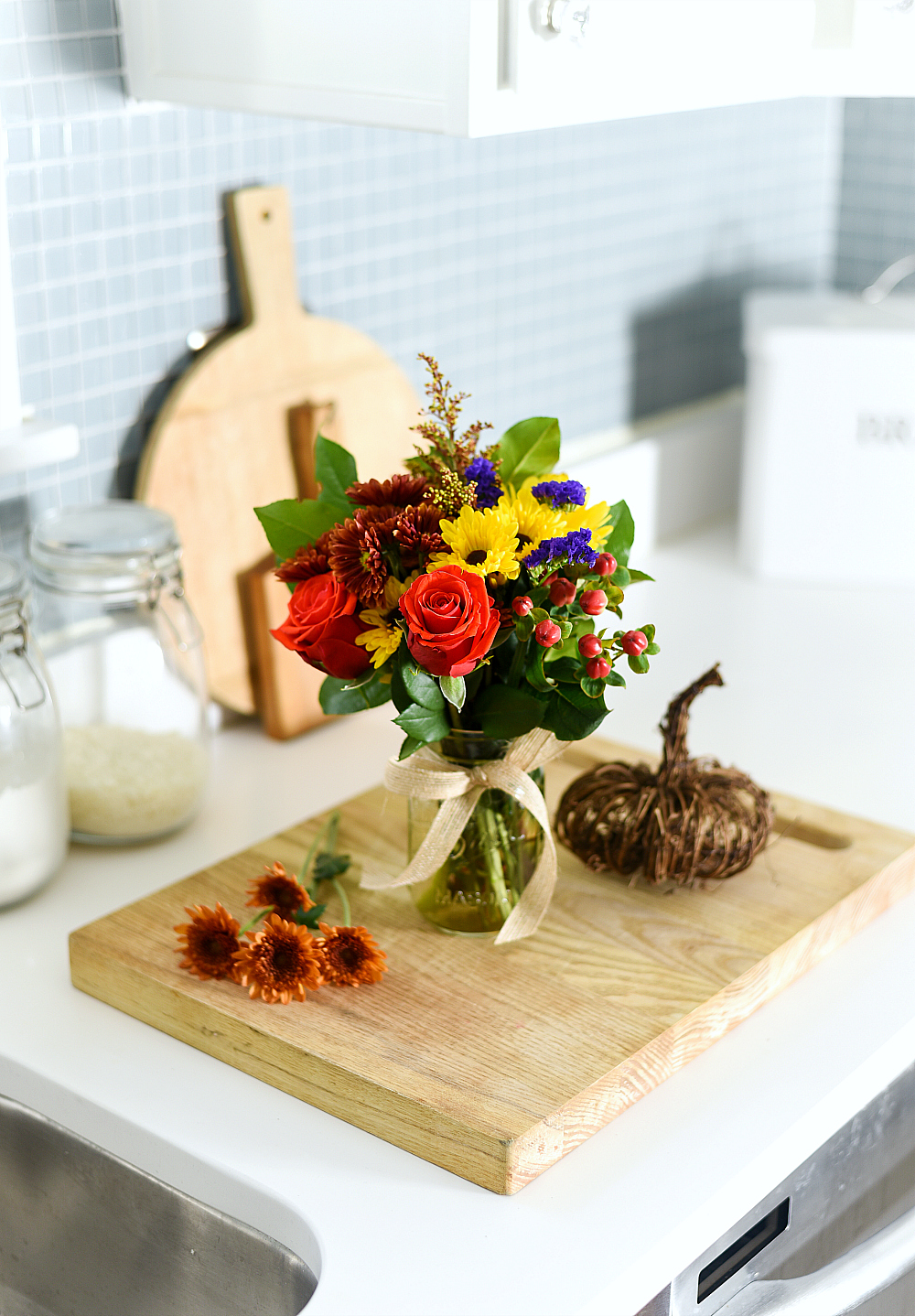 … come to think of it, I could probably put together a best/worst bathrooms guidebook. Or blog. 😉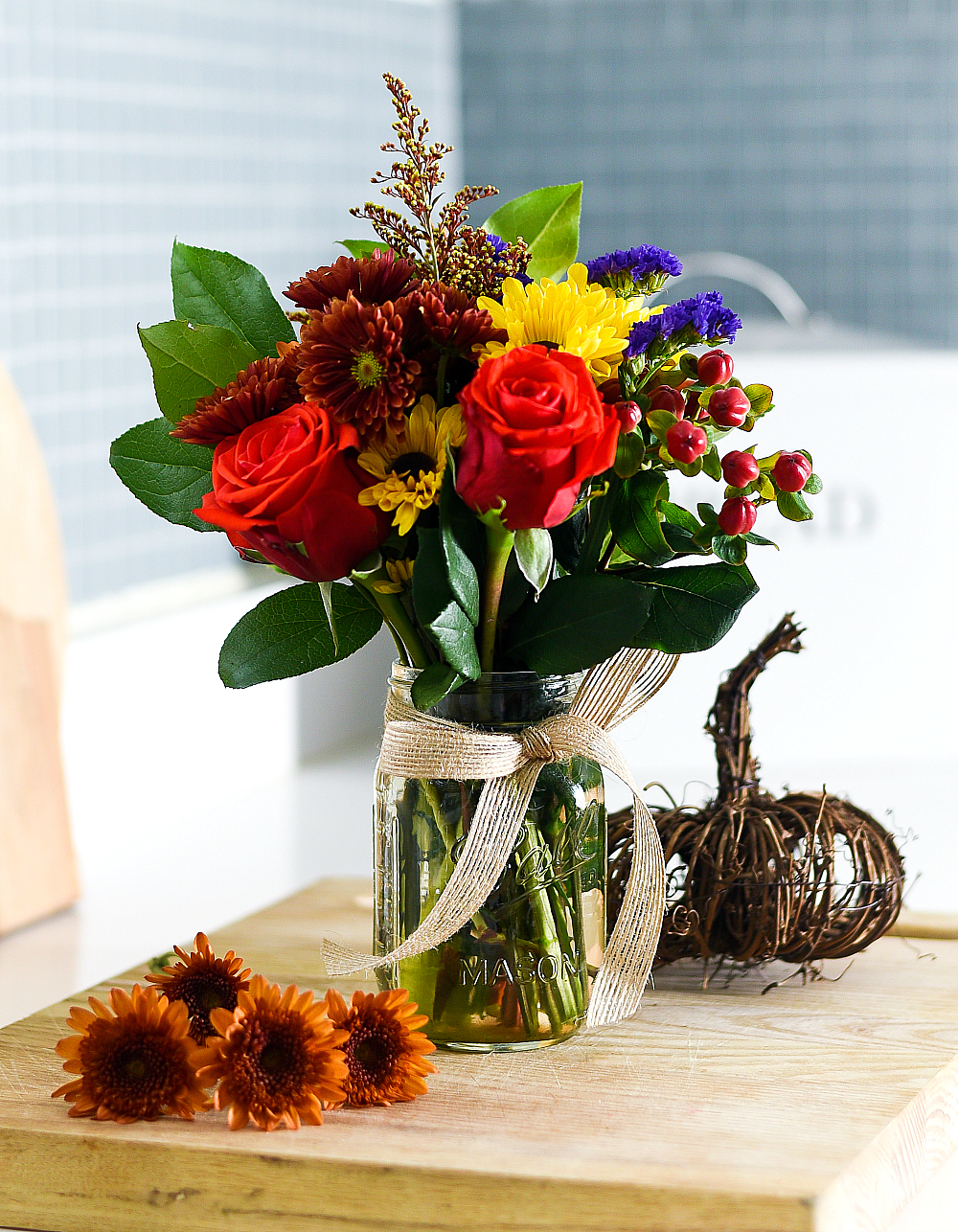 Oh, and here's where we get to the TMI bladder challenged point:
You see that fall flower arrangement up there? The one with the pretty reds and yellows and rusts with a splash of purple?
I can't take credit.
I saw that very same arrangement in … you guessed it … a bathroom. The bathroom of my local grocery store, to be exact. And that red and yellow and rust with a touch of purple flower arrangement was styled in a mason jar.
I was inspired.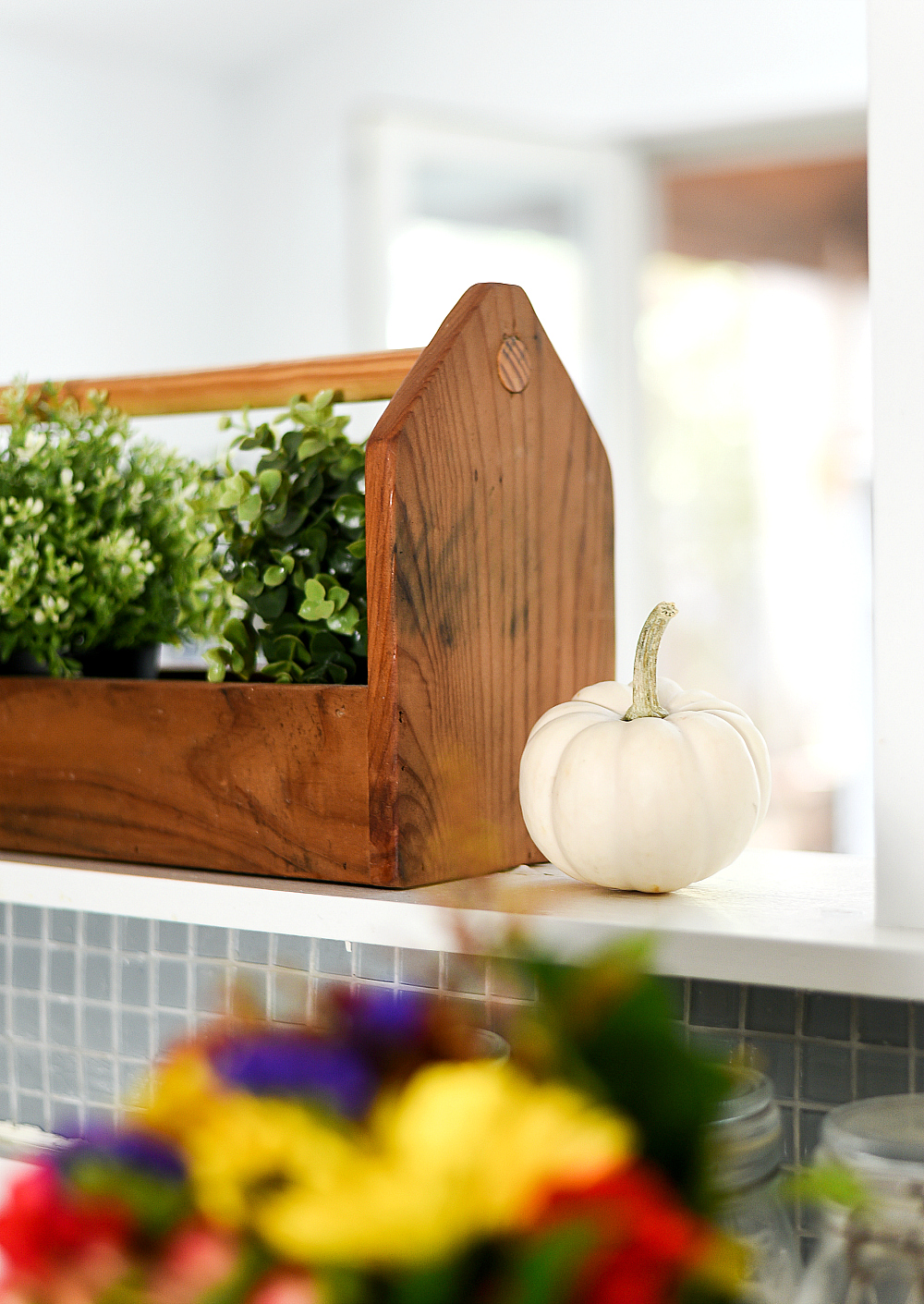 And lo and behold, I found the exact same arrangement at the grocery store florist.
So I scooped it up. Took it home. Put it in a mason jar. And declared my kitchen ready for fall!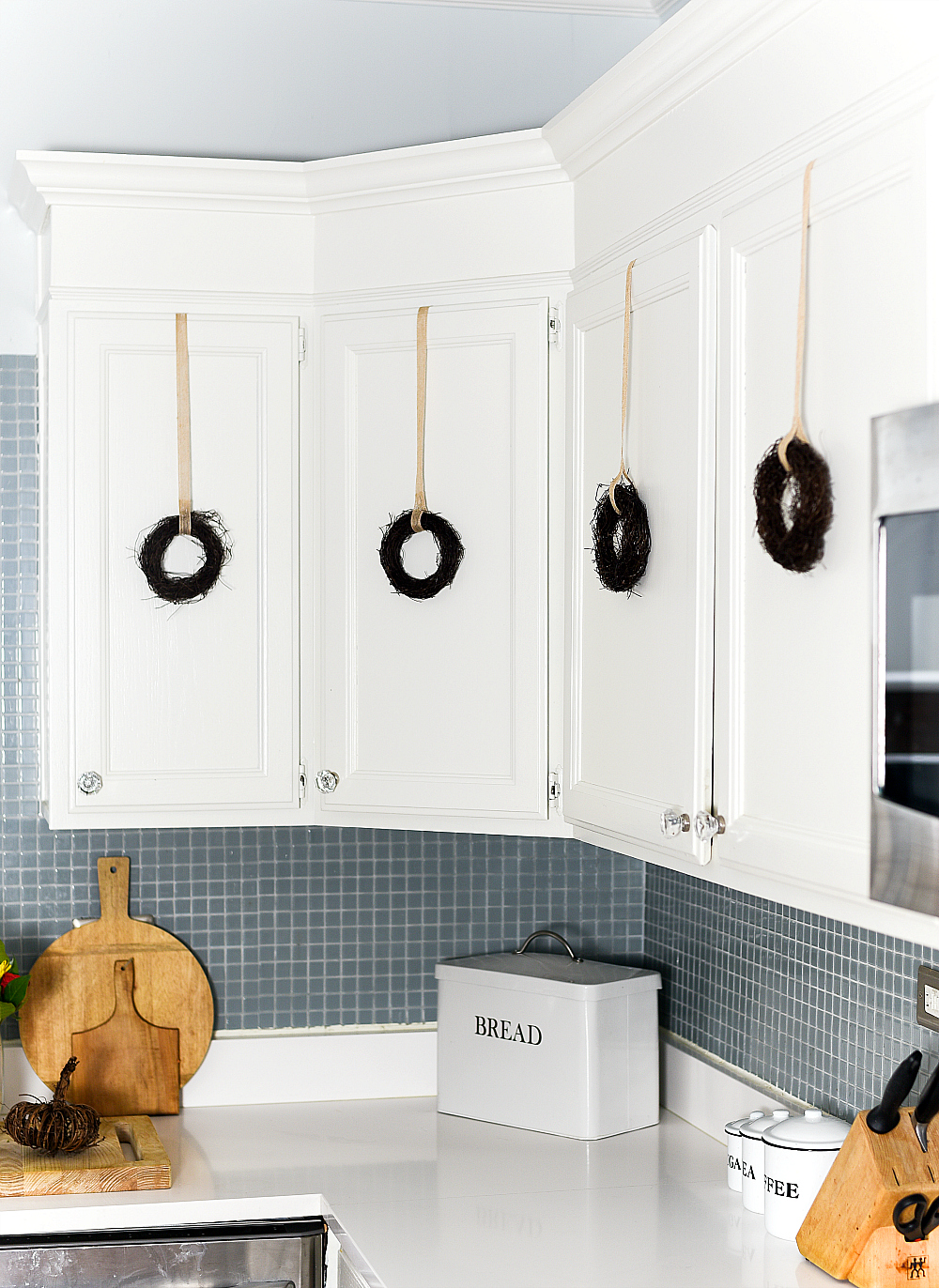 I also added some mini grapevine wreaths to the cabinets (you can find these mini grapevine wreaths at this affiliate link on Amazon).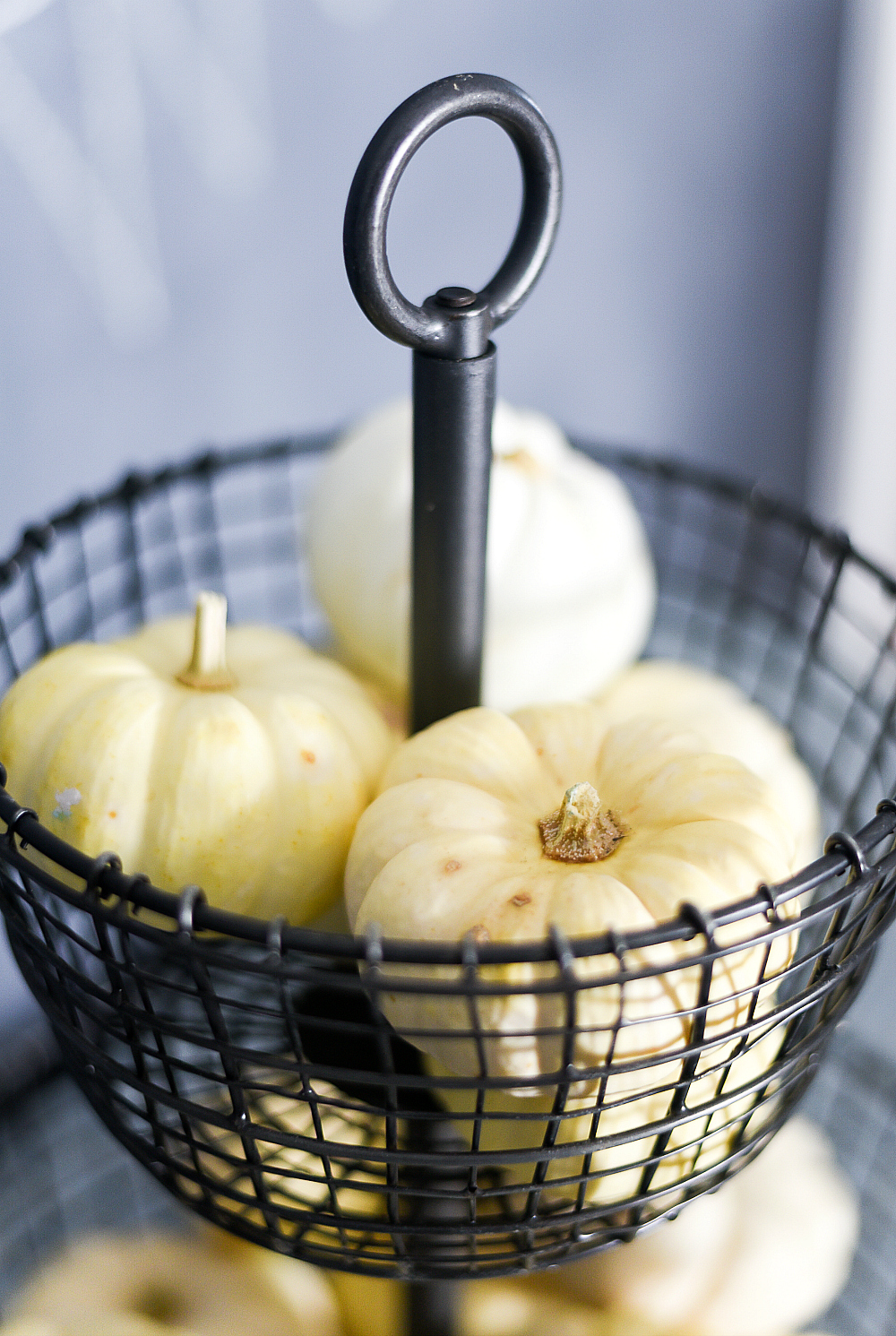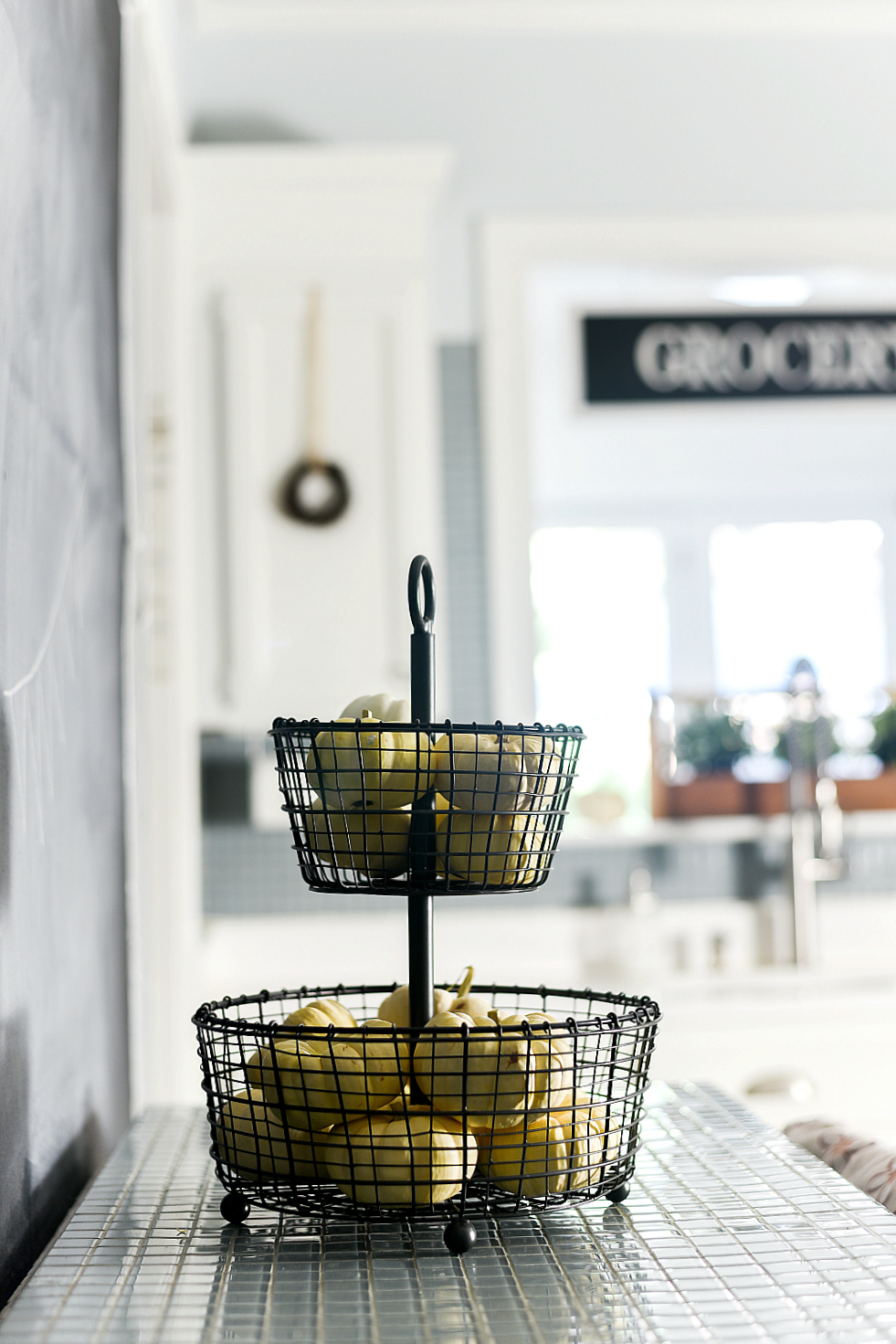 And tossed some mini white pumpkins into my two-tiered fruit basket to finish off the fall in the kitchen decor.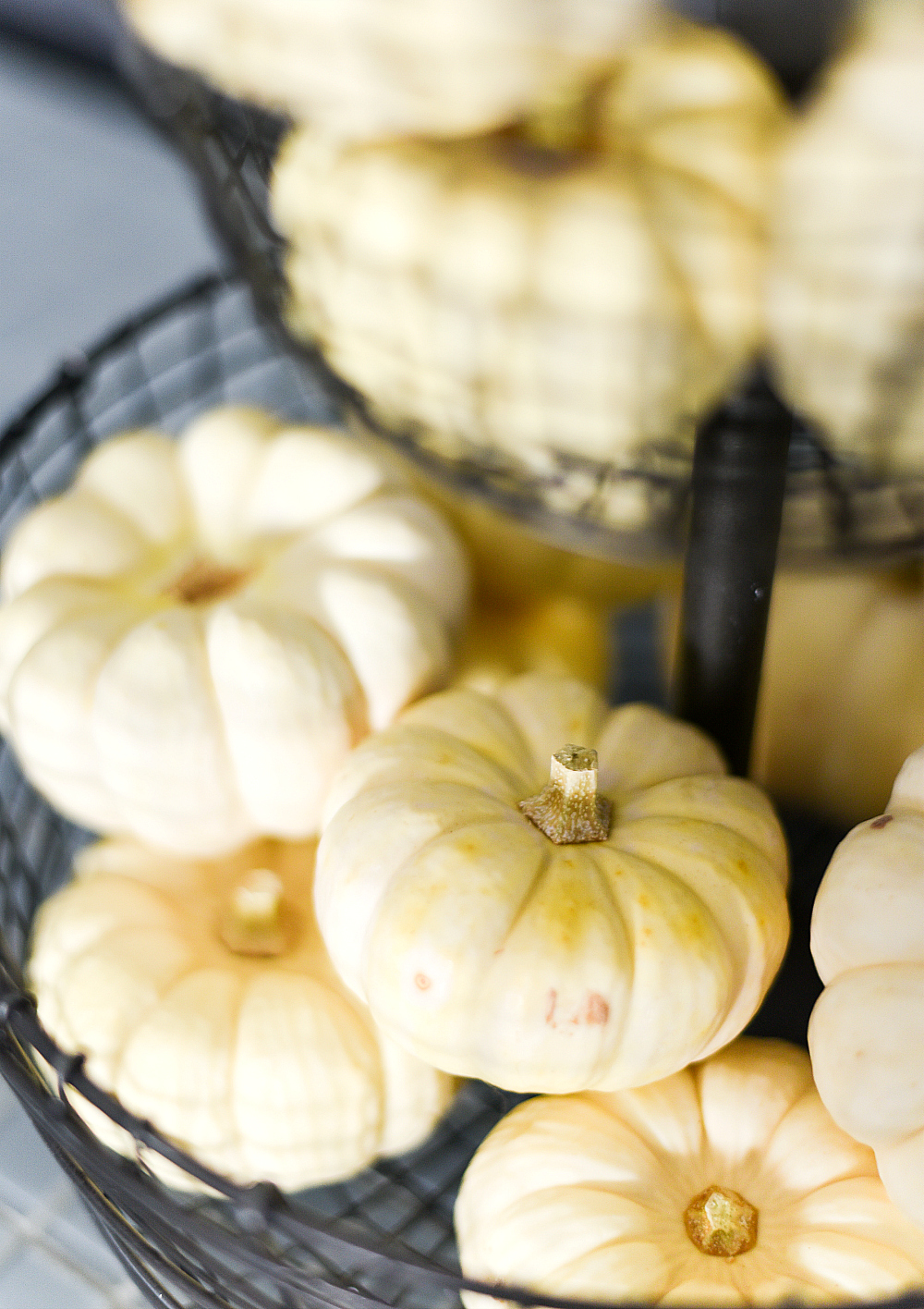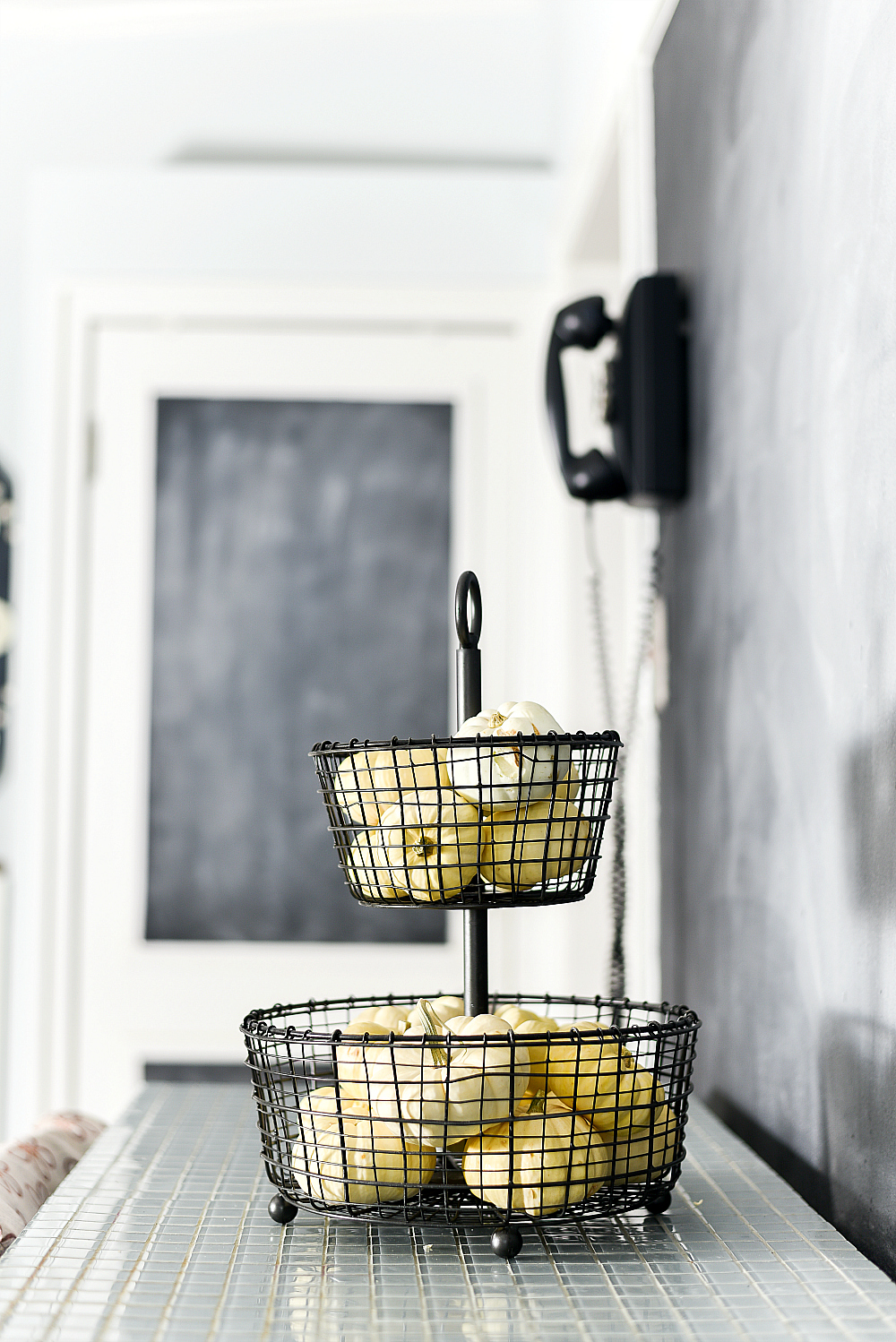 So, you see, sometimes my bladder challenge comes handy …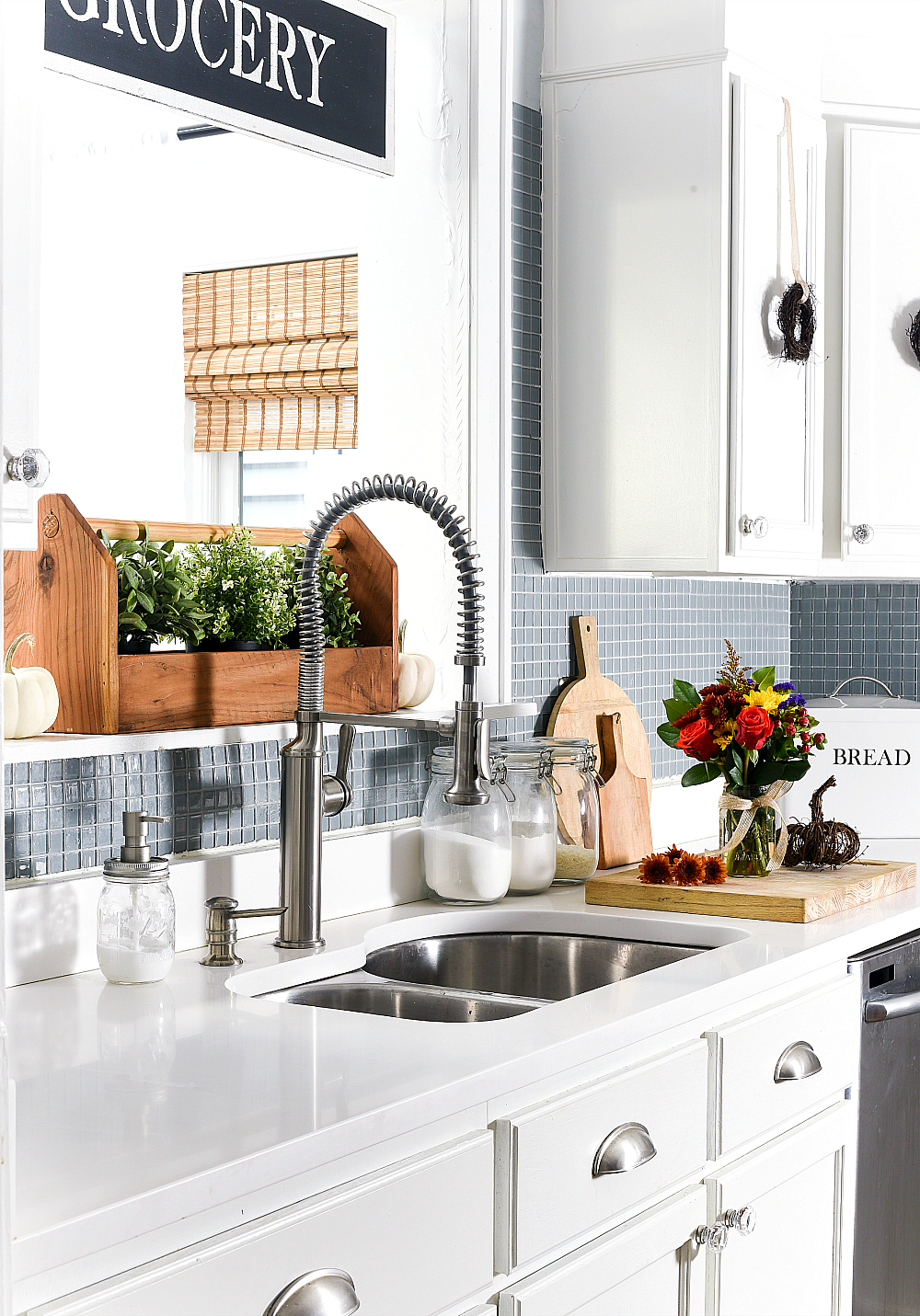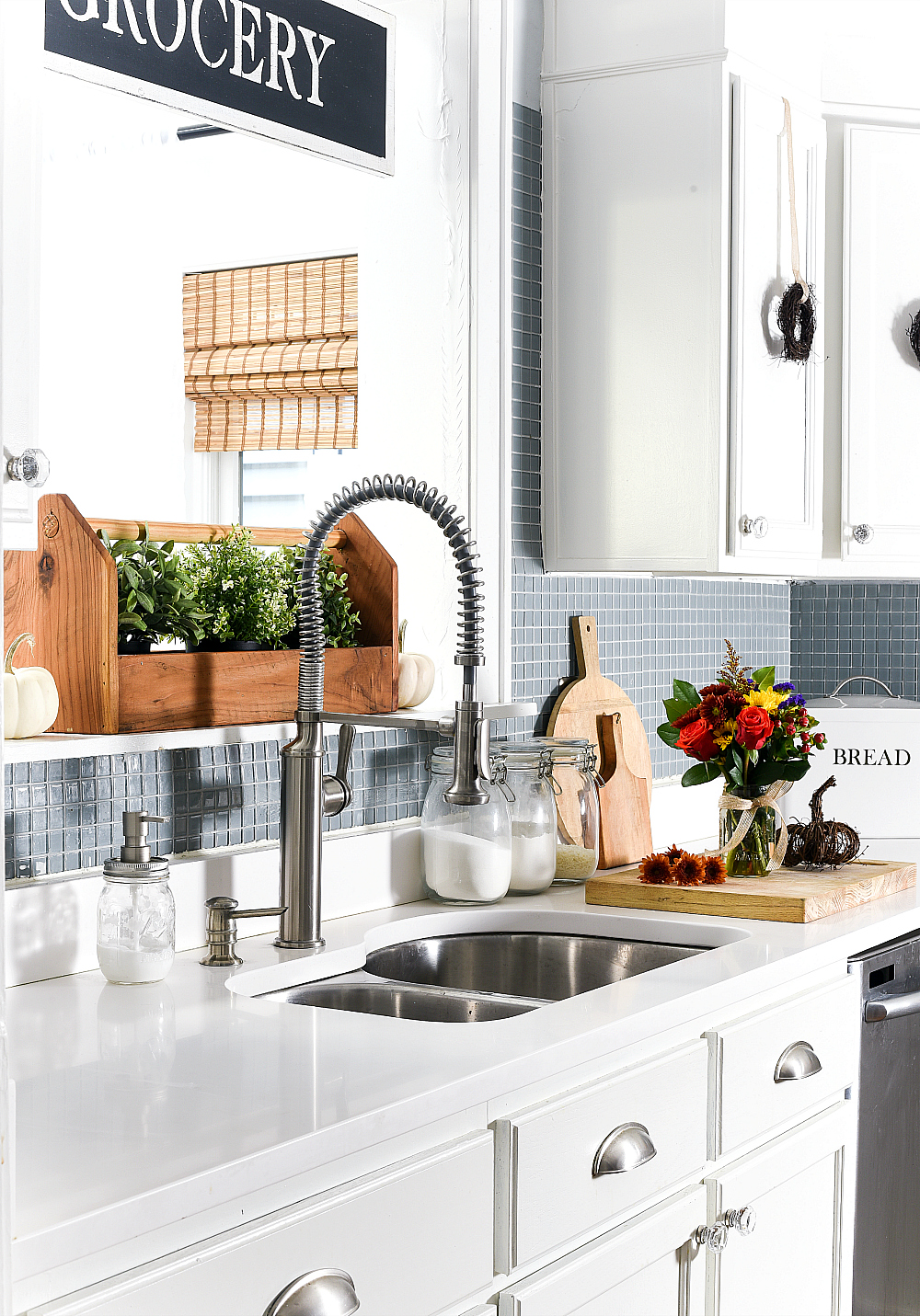 and serves as inspiration for seasonal decor!
With the lesson here being you can sometimes find inspiration in the most unusual of places. Like the bathroom. 🙂
Pin It!

You Might Also Like: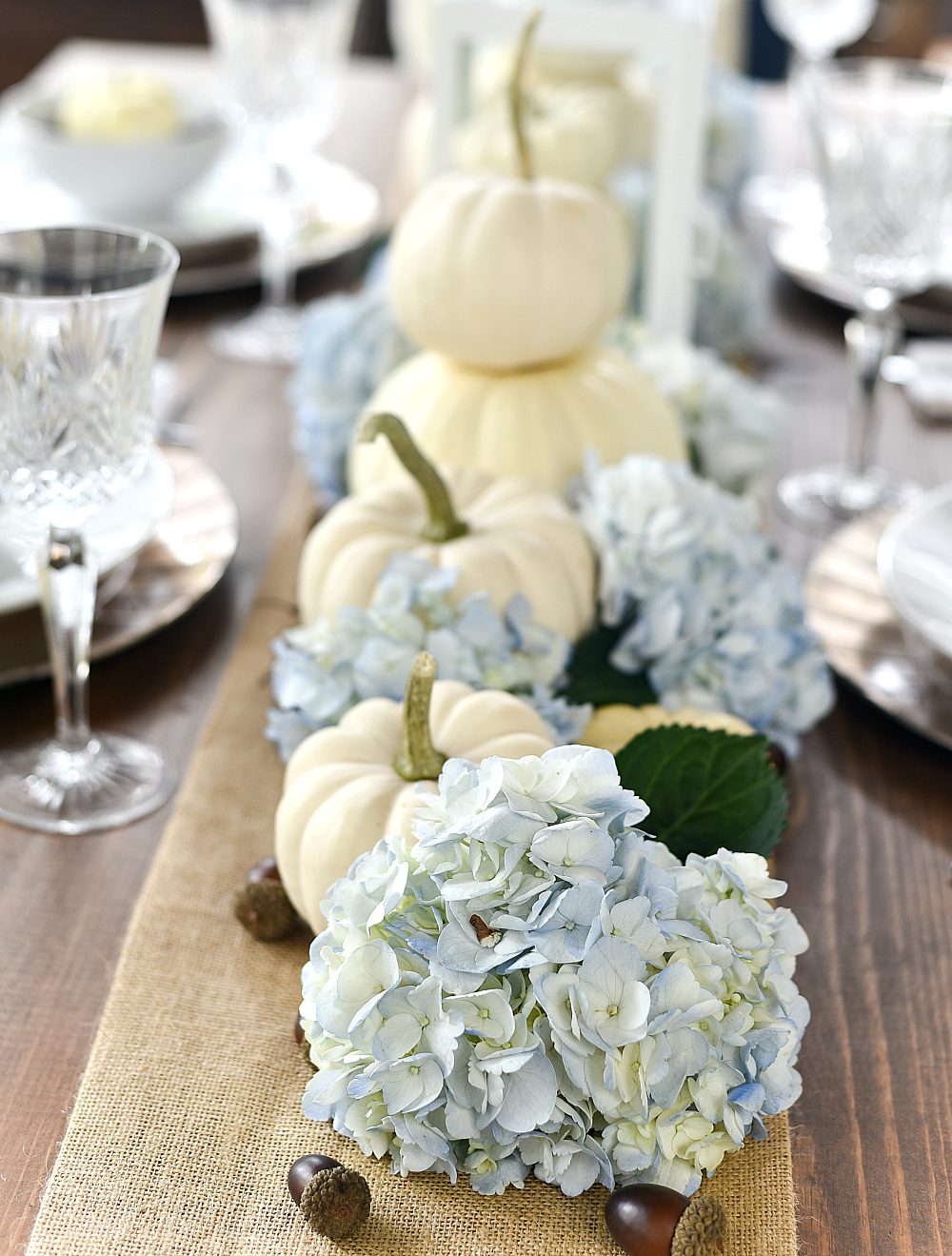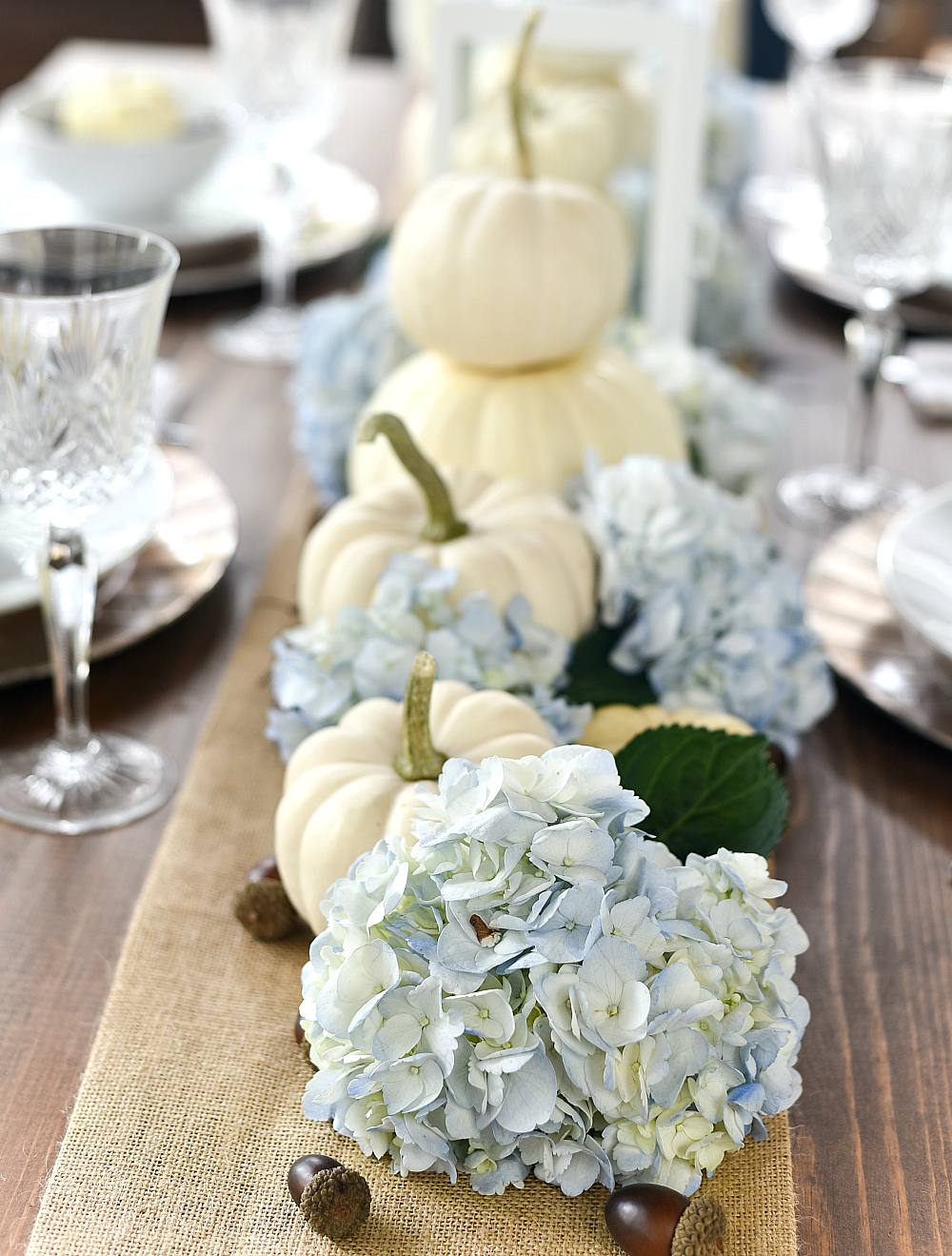 Table Setting with Hydrangeas & White Pumpkins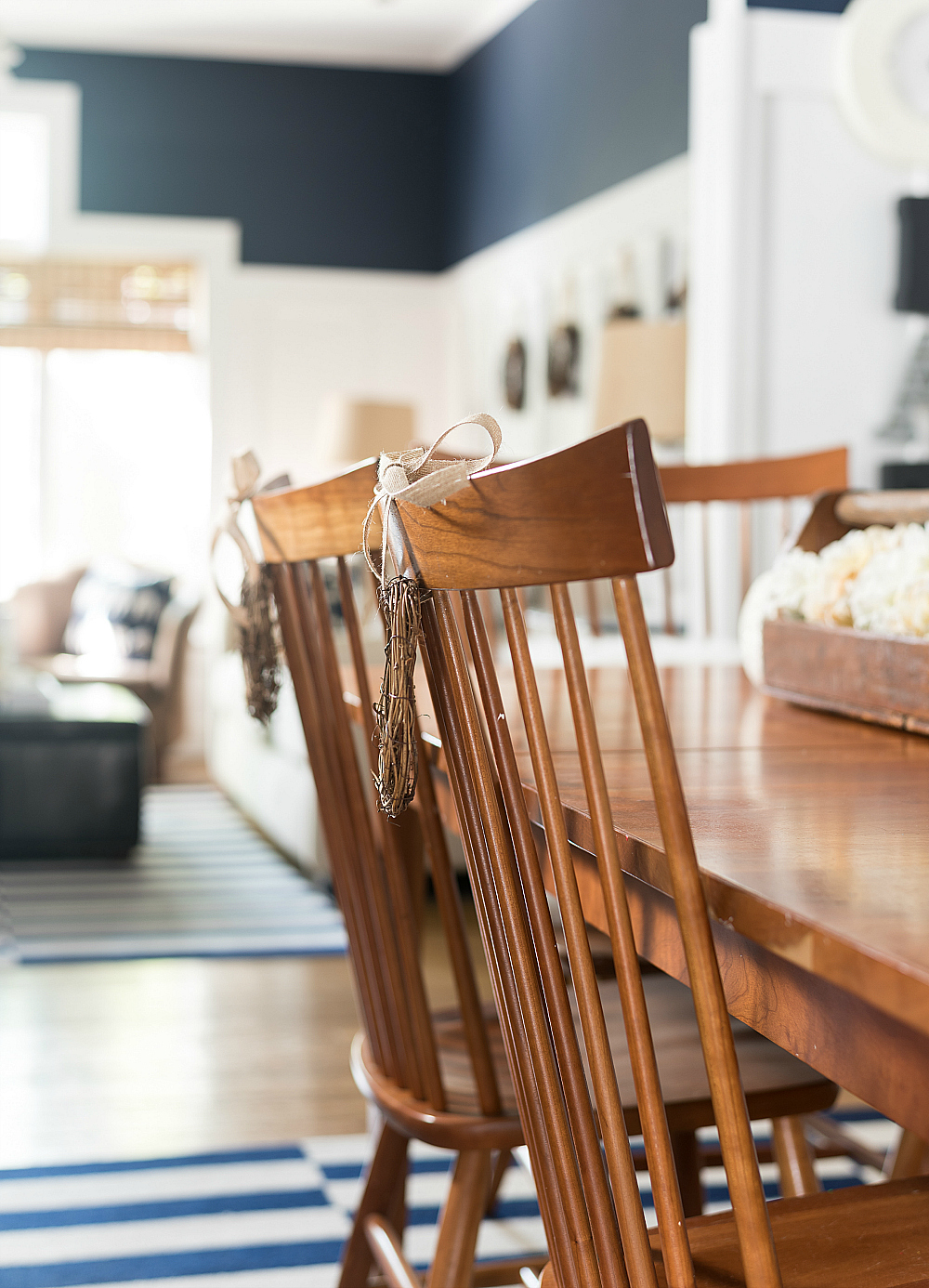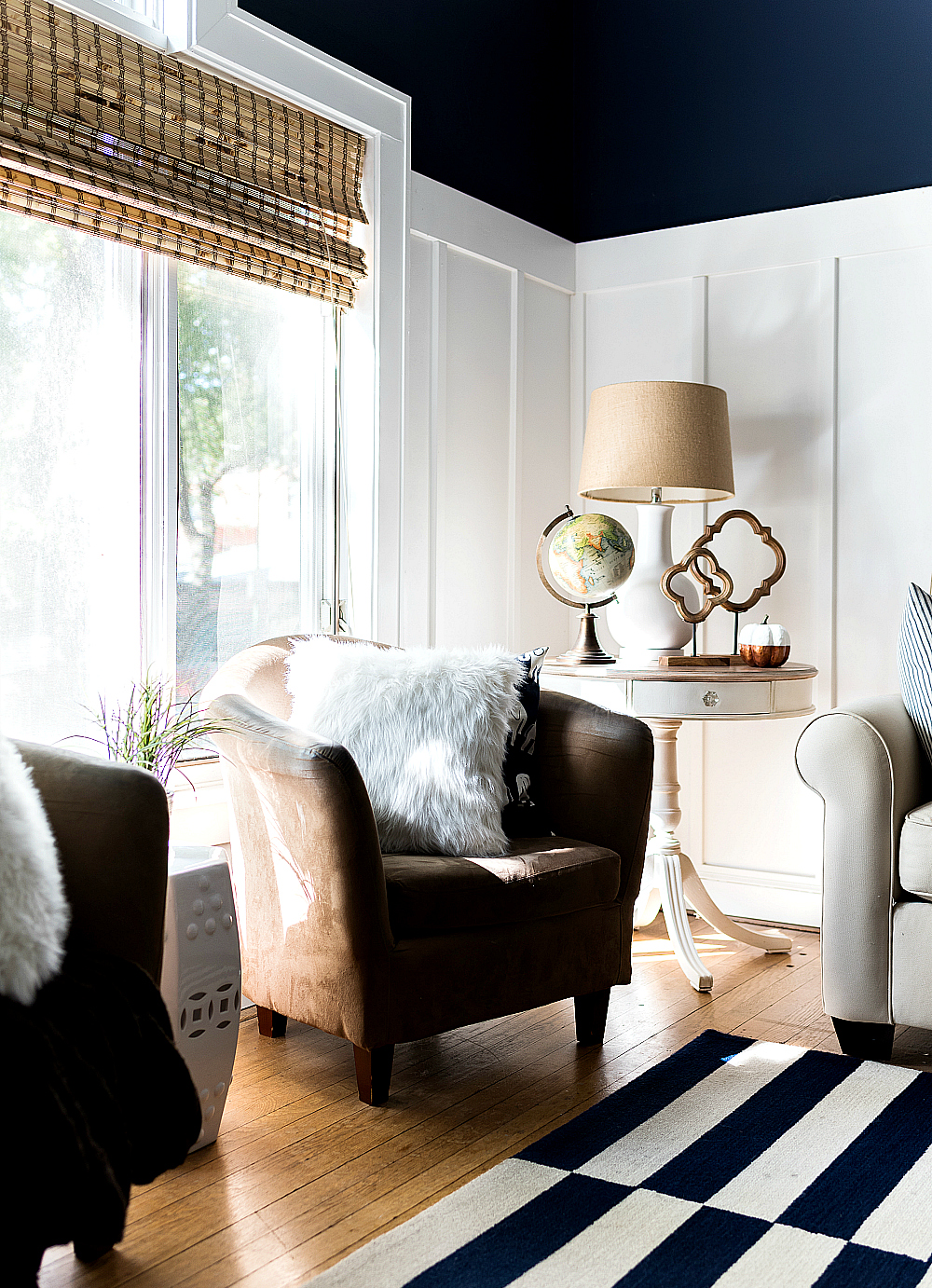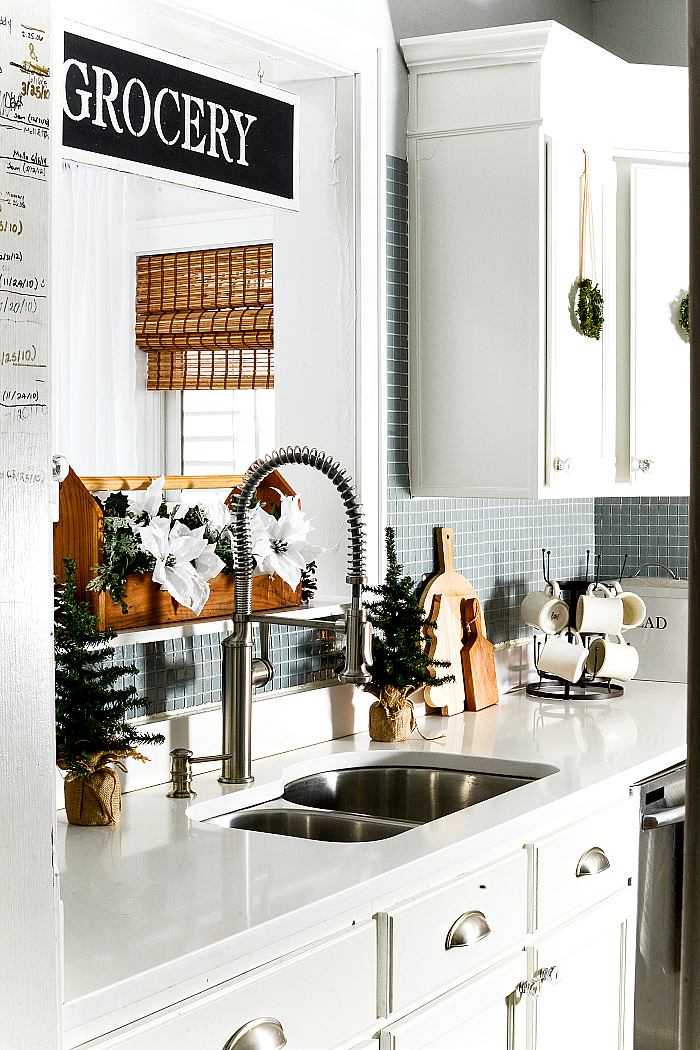 Sharing: | Savvy Southern Style |