Beach Decor Ideas: Easy Fishnet Wrapped Mason Jar Tutorial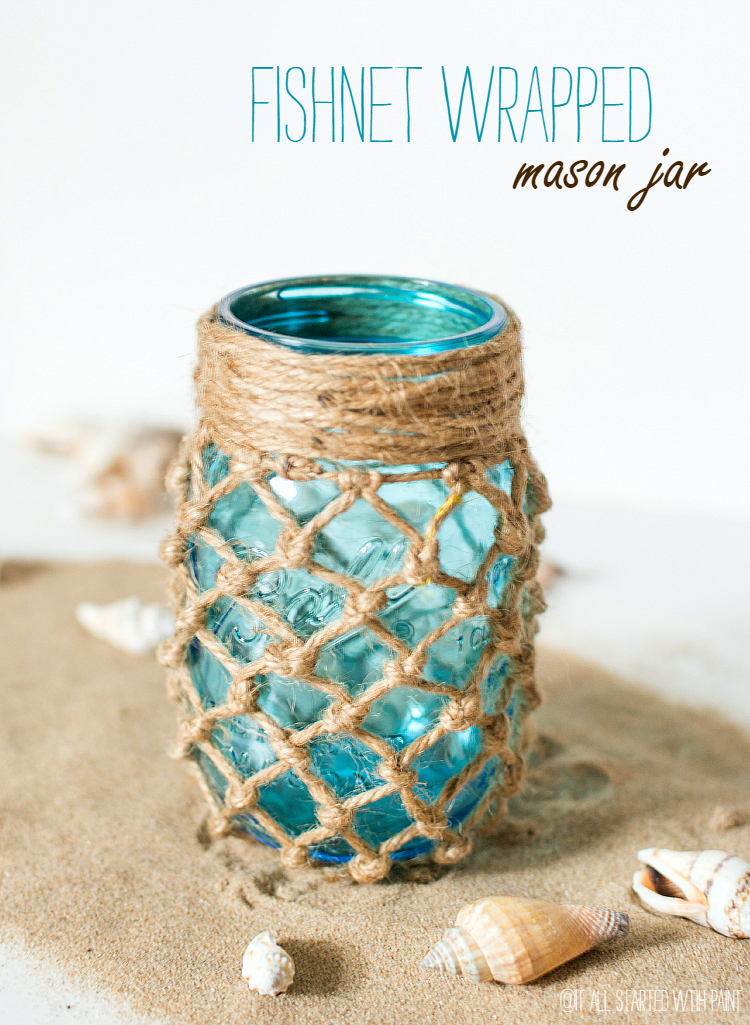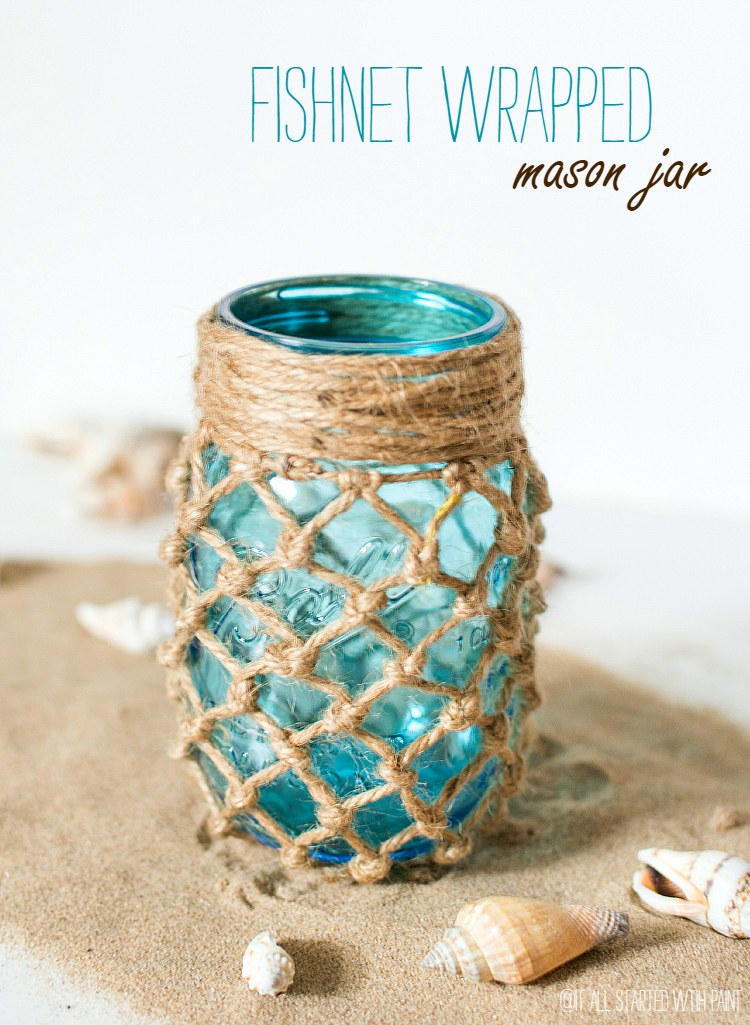 Sometime in mid-June I lapsed into vacation mode. Which was odd, because I wasn't on vacation. That was still over a month away.
But somehow … inexplicably … when the kids finished school, I clicked into island time.
I'm lucky if I make my bed each day. And feed the family. Accomplish a bit of food shopping.
Perhaps all that energy exerted prodding, poking, pestering … and calling in the village … to help my son find a summer job left me exhausted.
Whatever the reason behind my need to move as slowly as possible, the only thing I can seem to make are mason jar crafts. Which is troubling. Especially since I have an enormous project looming with a quickly approaching deadline.
Promises were made. Products were procured. Contracts signed.
Oops.
And while I'm not yet ready to go into details, let's just say said project rhymes with schmitchen shabinets.
Which will be shmainted. Schwite.
In the meanwhile, I've been keeping it low key. Beach style. With some twine. And blue mason jars. And faux fish net made from twine wrapping those blue mason jars …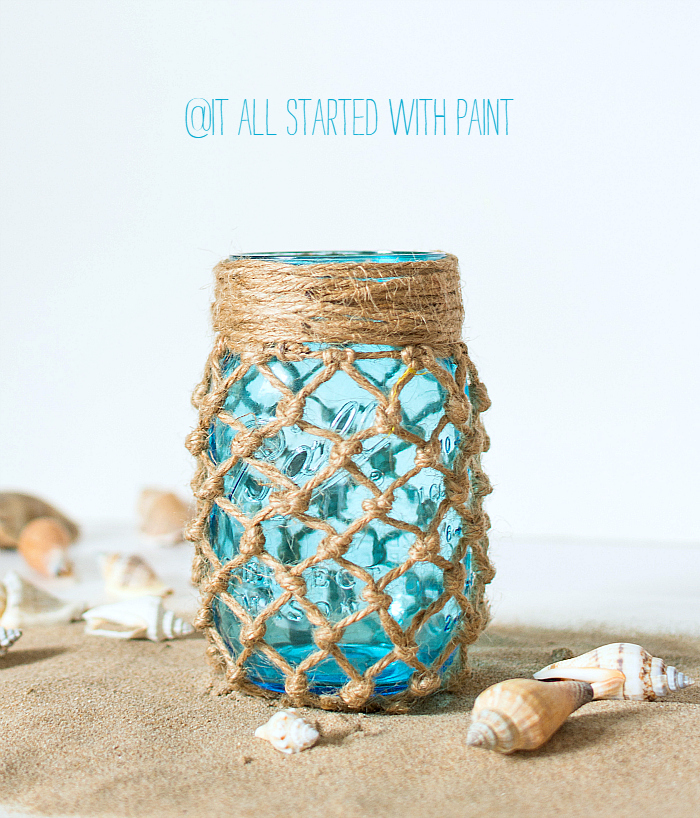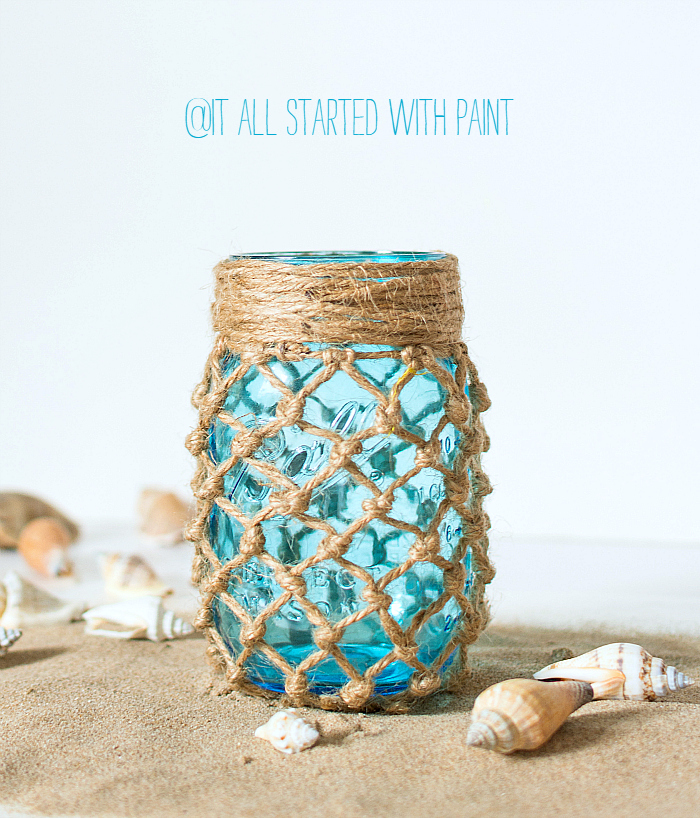 How To Make a Fishnet Wrapped Mason Jar
Materials*
Scissors
Sand & Sea Shells Optional 😉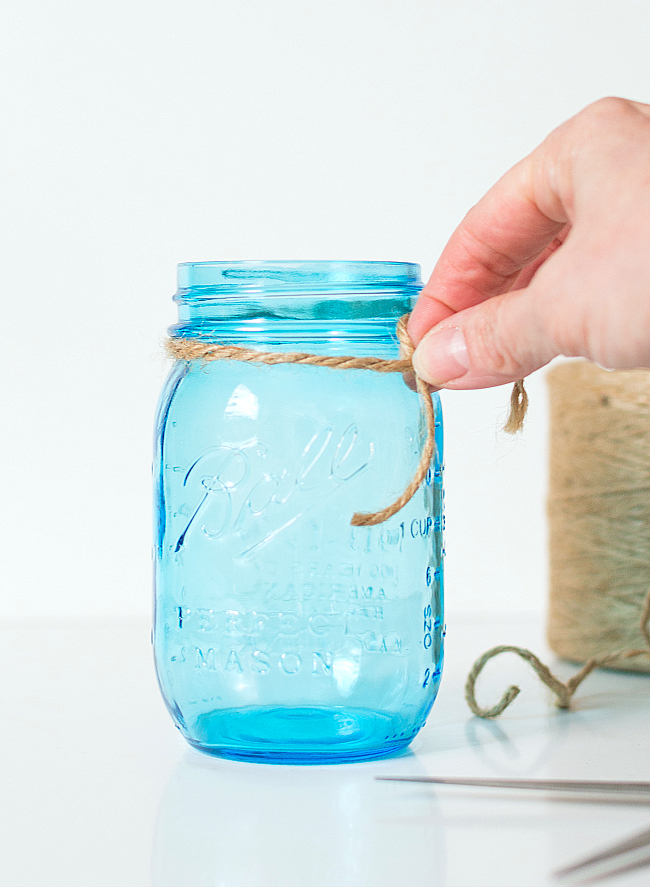 I started by cutting a piece of twine that could wrap around top of mason jar with some extra to tie it off.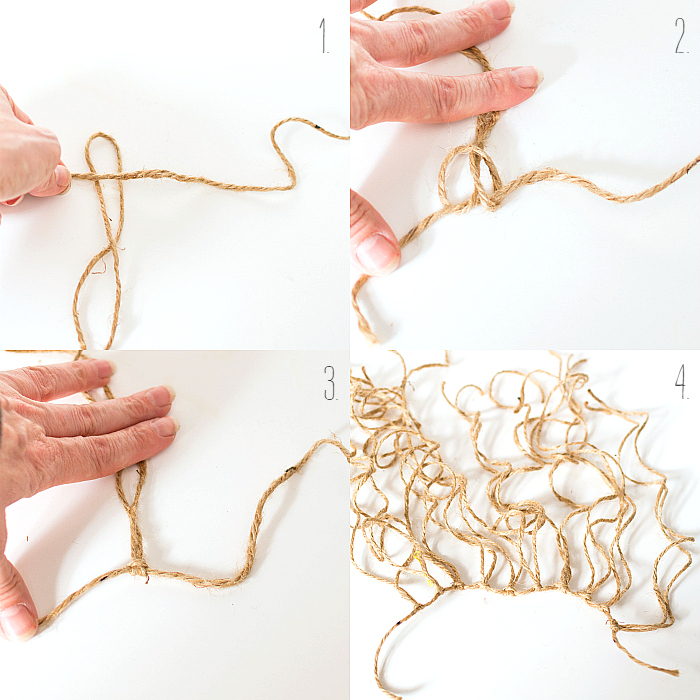 1. Cut 10 lengths of twine 32″ long. Fold in half and create loop over length that will tie around the top of the jar. | 2. Take two lengths of the folded twin and feed through loop. | 3. Pull tight into a knot. | 4. Repeat for all 10 lengths.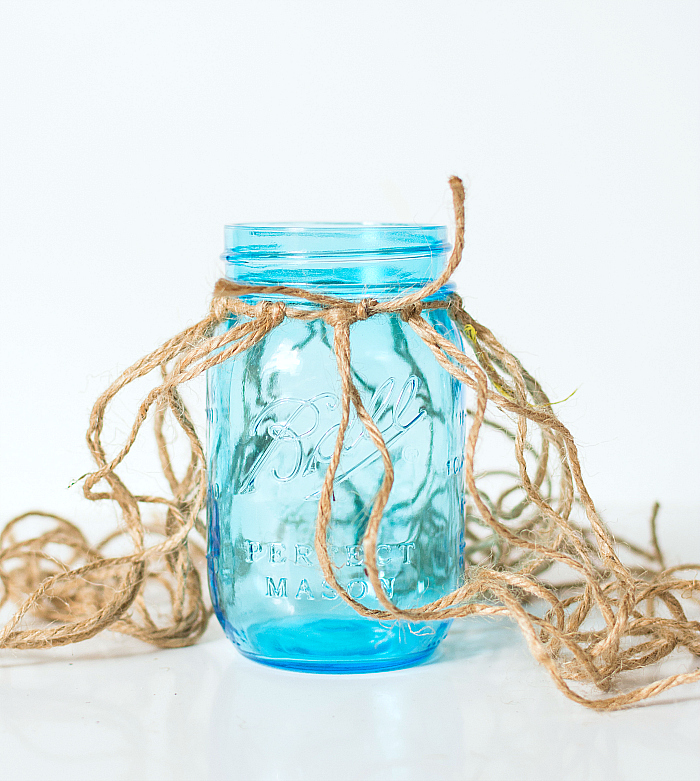 Tie and knot.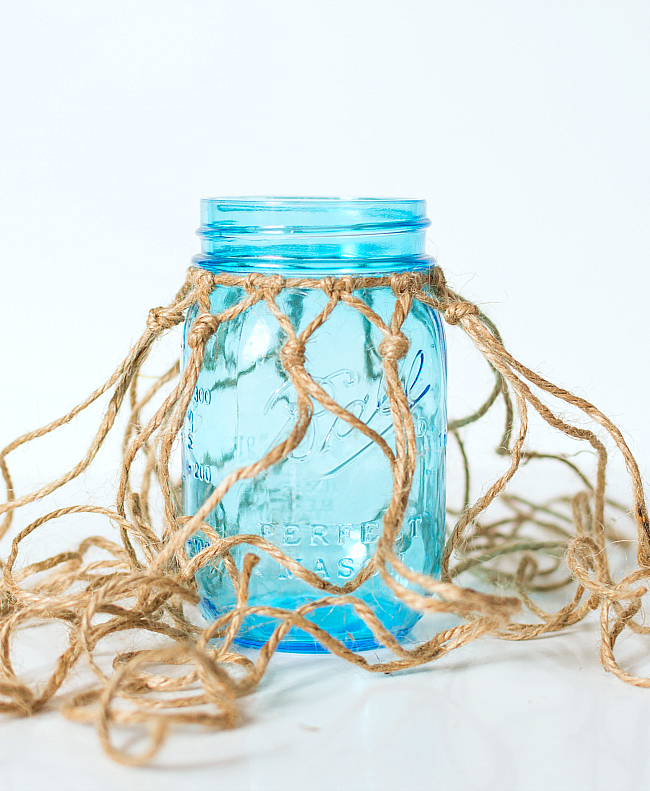 For the first row, grab two lengths of twine and knot together. Continue all the way around the first row.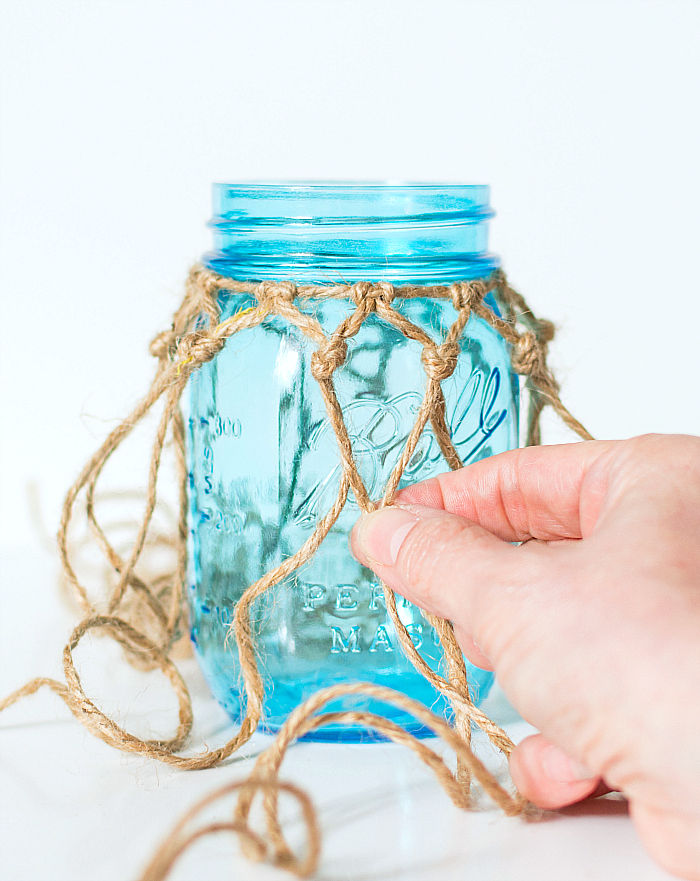 For the second row, grab two lengths of twine — making a diamond shape …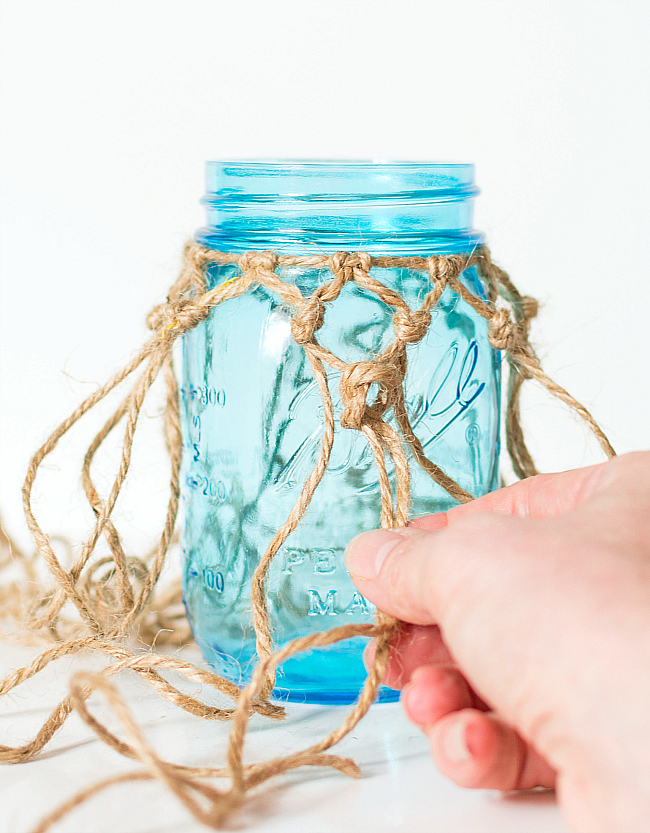 Loop together.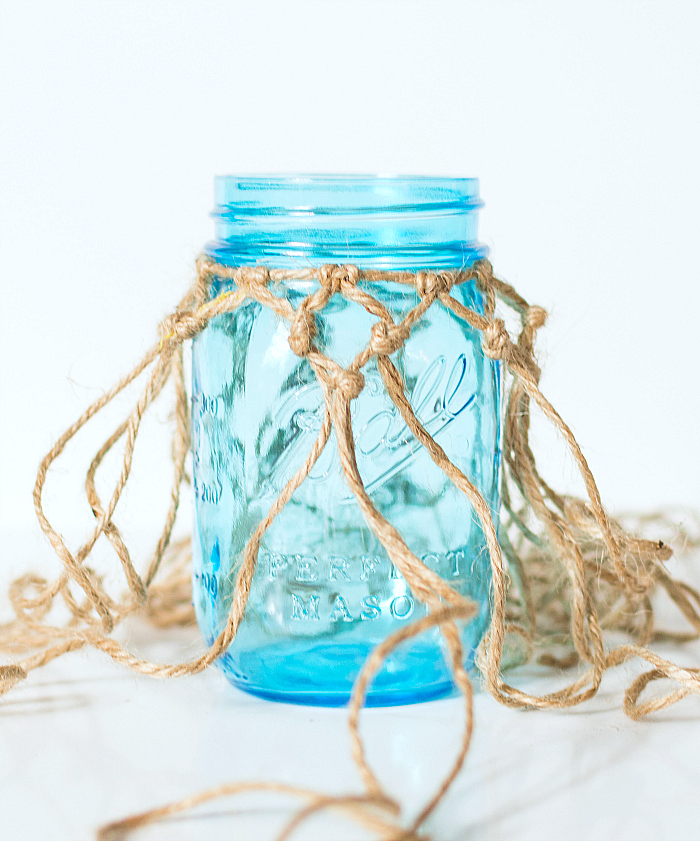 And pull tight.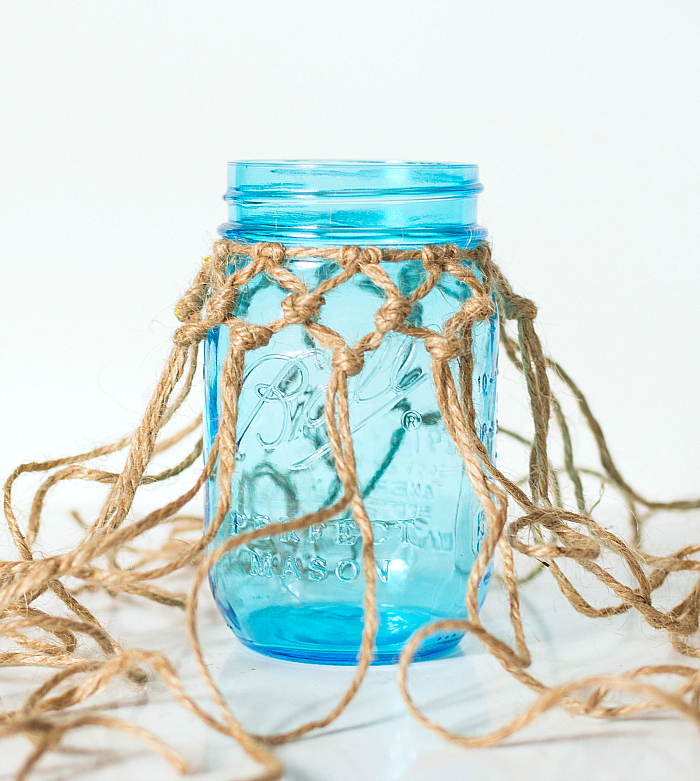 Rinse and repeat …
…. and repeat.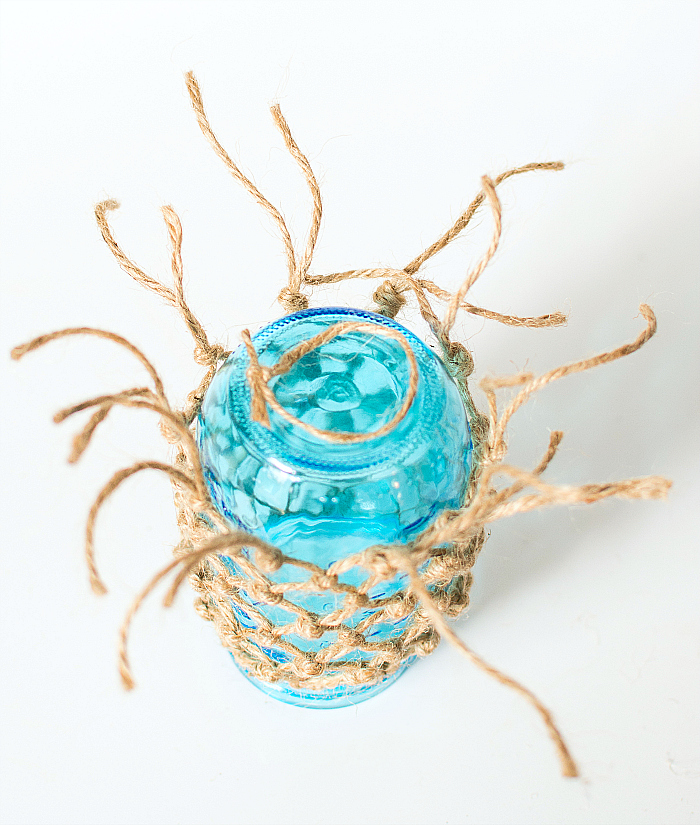 To finish it off, cut a length of twine slightly smaller than bottom of jar.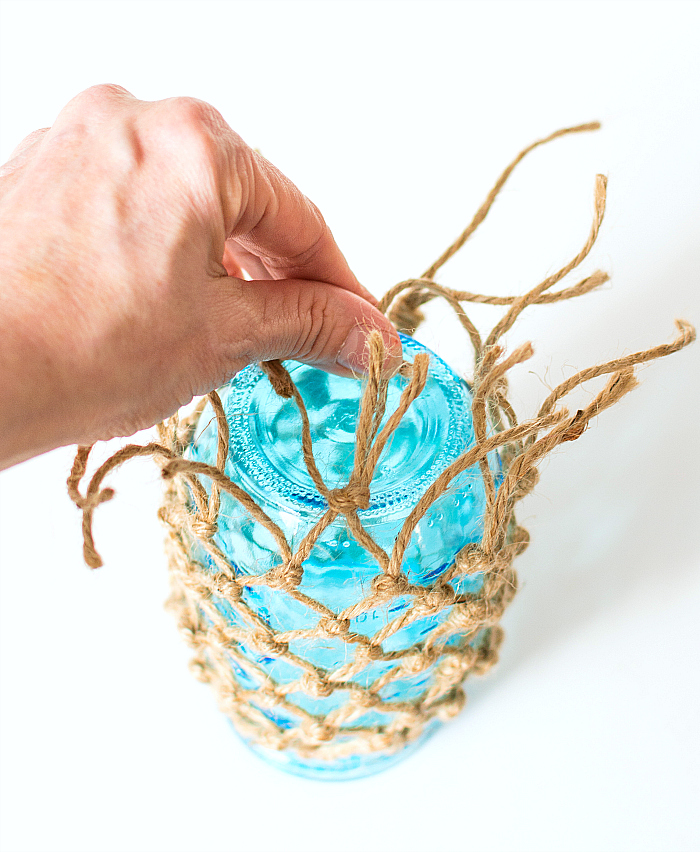 Grab two lengths of twine and tie to bottom piece of twine.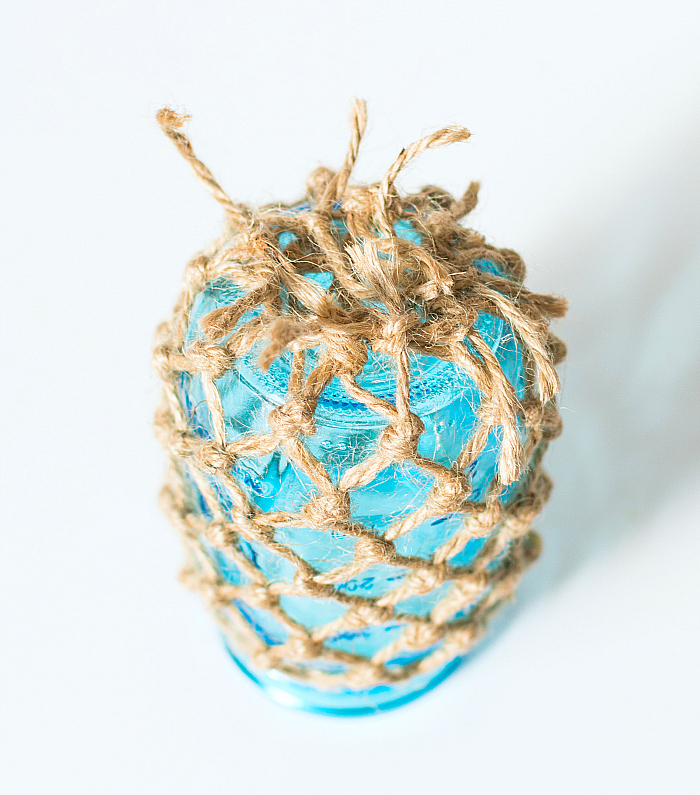 Until you end up with this mess. But fear not …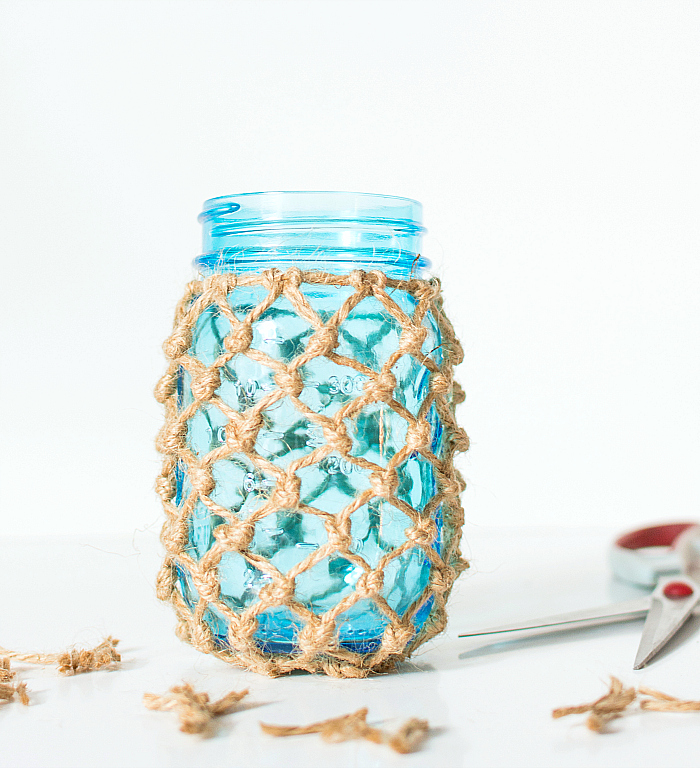 Grab your scissors and give it a trim.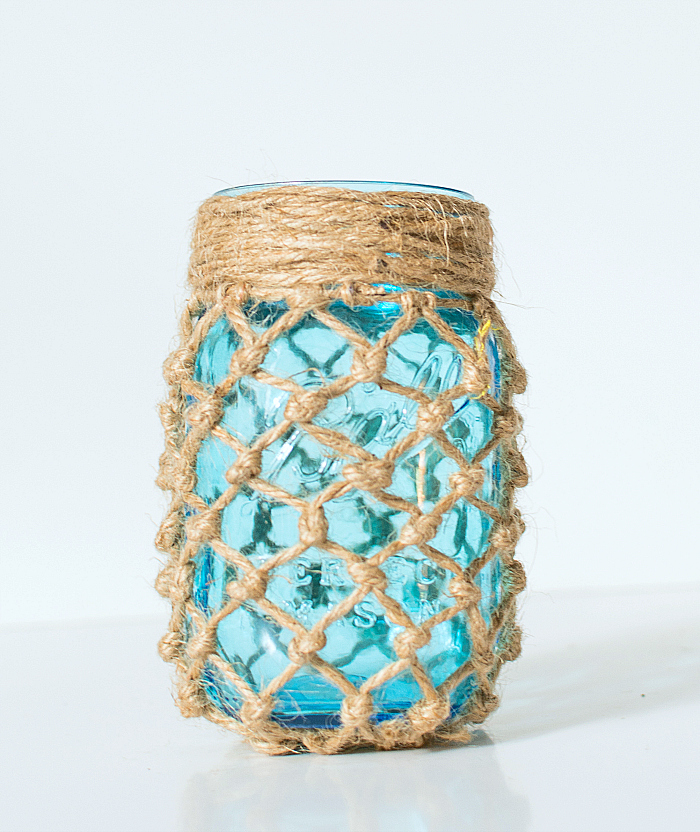 Wrap some twine around the top, and you're done! You have successfully created a fishnet wrapped mason jar!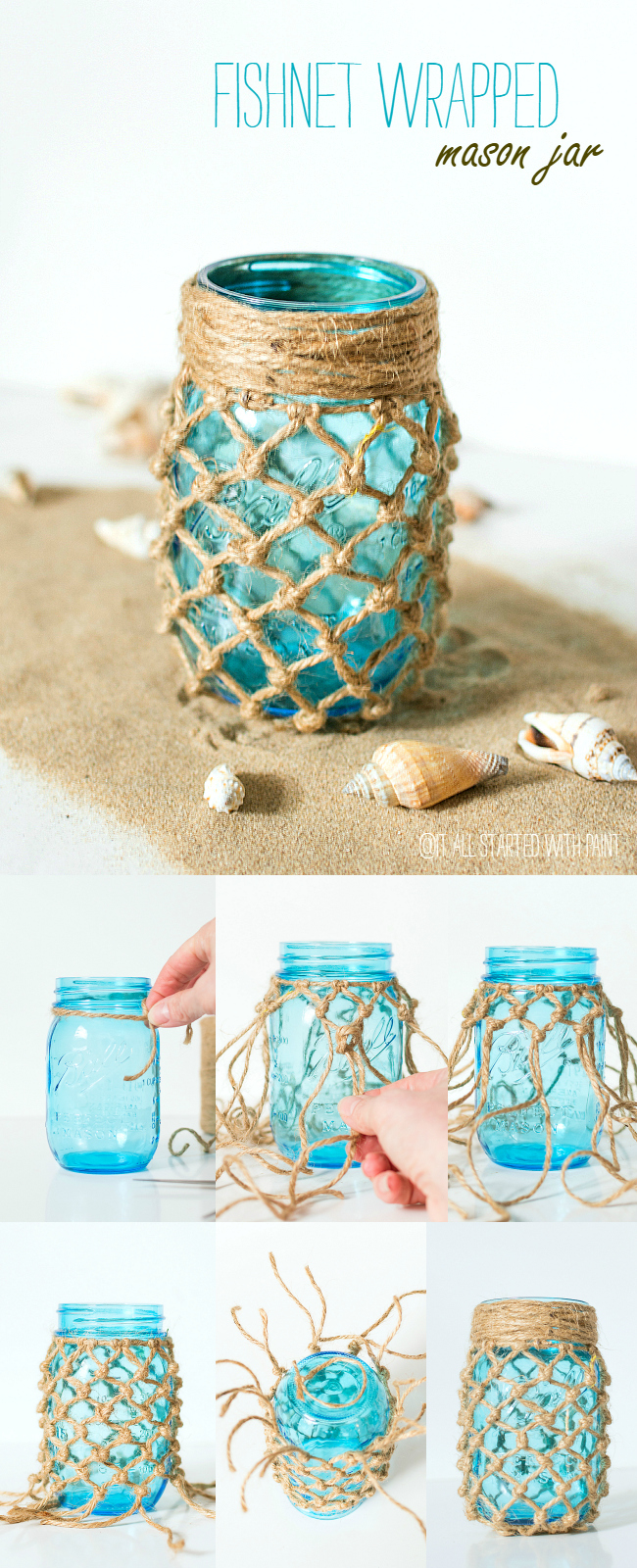 And now that real vacation is on the very near horizon, it looks like that shmitchen project will be on hold for a few more weeks …
perhaps I can get some schmiming done before we go.
🙂
You Might Also Like …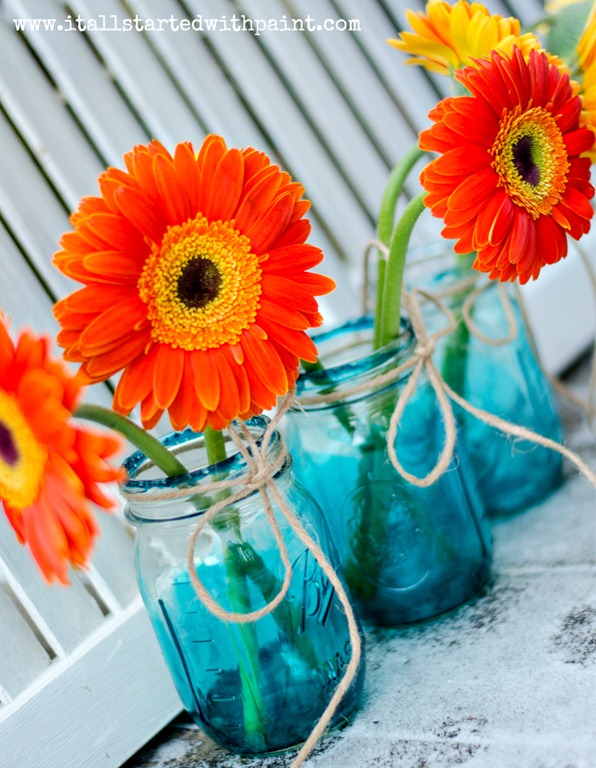 How To Make Blue Tinted Mason Jars (click here)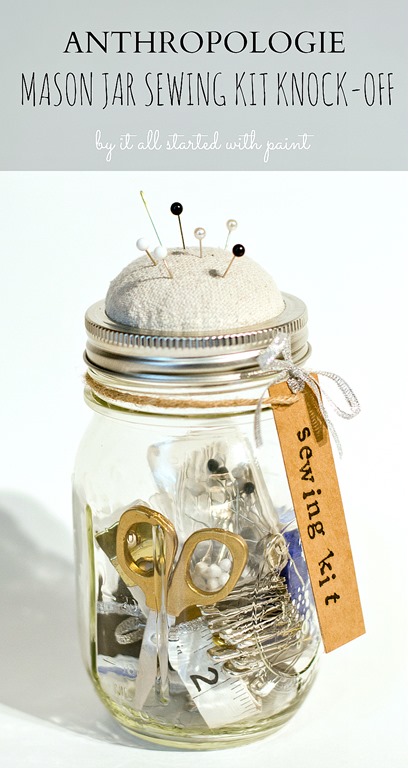 Mason Jar Sewing Kit (click here)

How To Paint & Distress Mason Jars (click here)
For even more mason jar ideas, check out my full gallery by clicking here …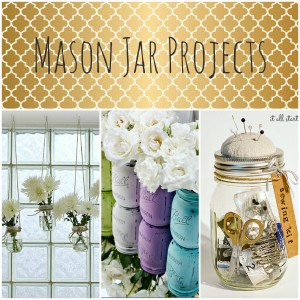 And here …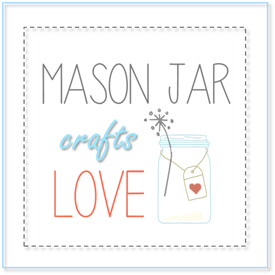 *affiliate links included.