This is a sponsored post written by me on behalf of CORT for IZEA. All opinions are 100% mine.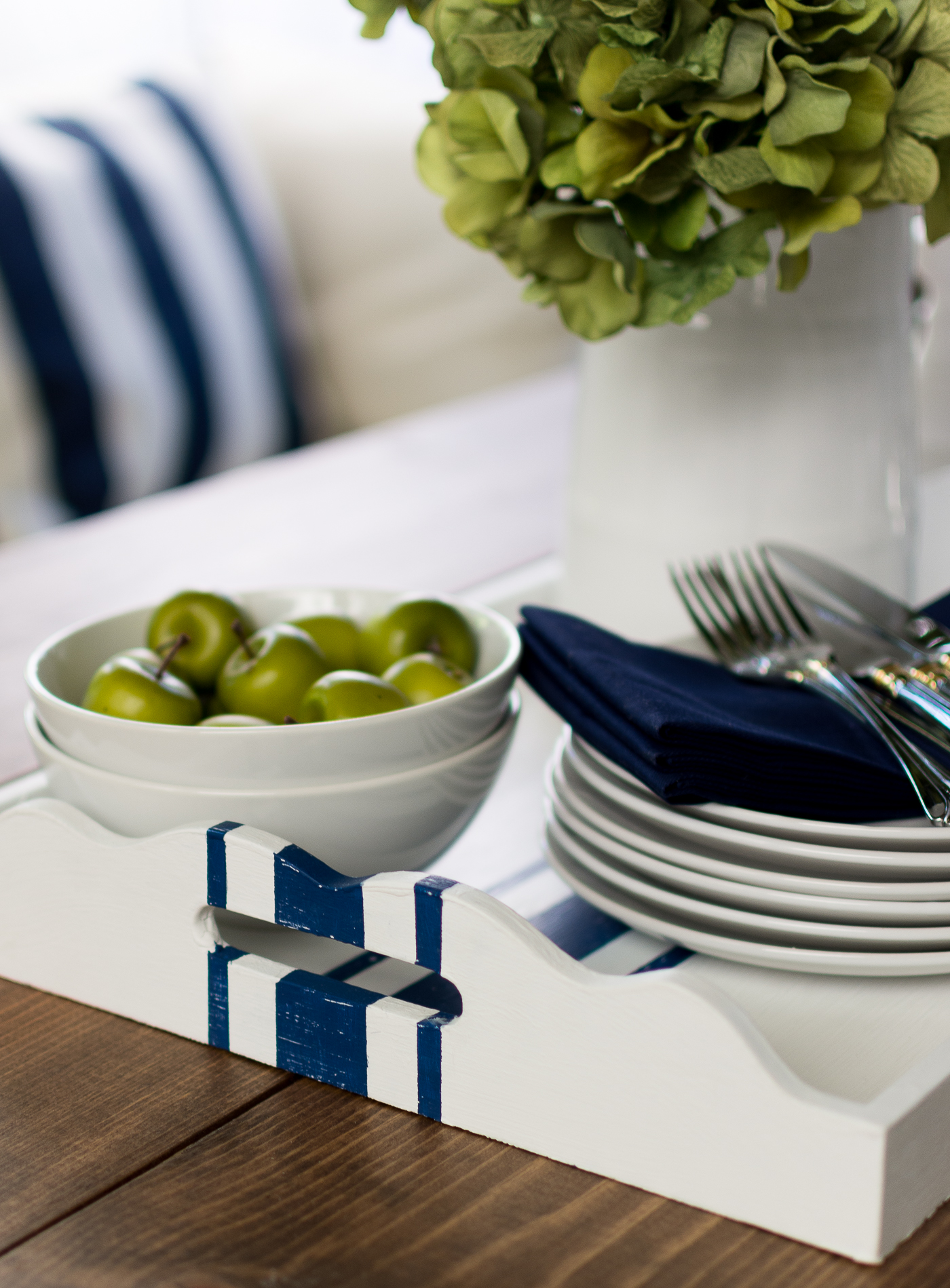 As I sit here in a hoodie and blanket bundled up against the cold — and no, not the cold outside; the cold inside as the air conditioner continues to blast well into September — I can't help but realize that winter will be bearing down on Chicago very soon …
It could be a week.
It could be a month.
Regardless, it will happen.
Oh, and the Farmer's Almanac is predicting a brutal one.
Shiver.
And all this thought of winter bearing down has me waxing poetic about summer …
and all that I'll miss as I'm shoveling sidewalks and chipping ice off my windshield.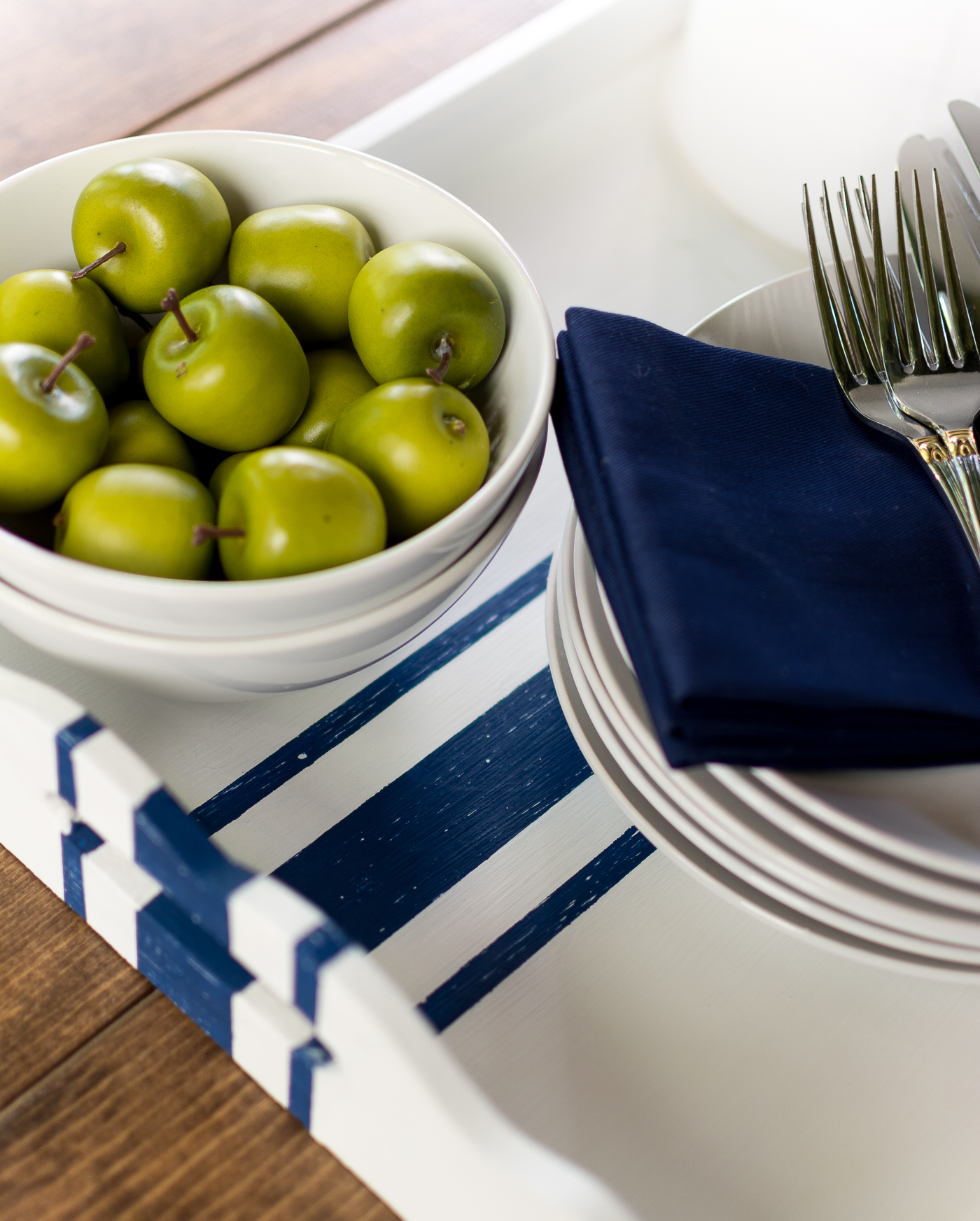 Here are the top five things I'm going to miss about summer …
#1 – Sand between my toes. Enough said.
#2 – Sun-kissed skin. Yes, I realize tanning is not good for me. But I can't help it. I look so much better with a little color on my cheeks. And legs. Plus, you can never really take the Jersey out of a Jersey girl. 🙂
#3 – And speaking of legs: I'll truly miss my Old Navy white denim boyfriend shorts. With its stretch denim, it's like wearing pajamas.
#4 – Green. Green. And more green. I'm dreading the dreaded months filled with days of gray.
#5 – And, last but not least, dining al fresco. Especially on our screened-in porch …
… a screen porch we have been enjoying all summer but I have yet to share a full reveal of its new look.
Mostly because I've been waiting to finish up the details. A pillow cover here. A pillar candle there. And a much-needed serving tray to help us bring our dishes and napkins and condiments out to the table …
and back inside.
So when CORT Clearance Center asked me if I'd like to visit their downtown Chicago location (easy to find just off Lake Shore Drive) to find a discount furniture item or two to upcycle, I jumped at the chance. And as I headed down Lake Shore Drive on a beautiful, sunny summery Chicago day I had dreams of serving trays and chunky pillars dancing in my head …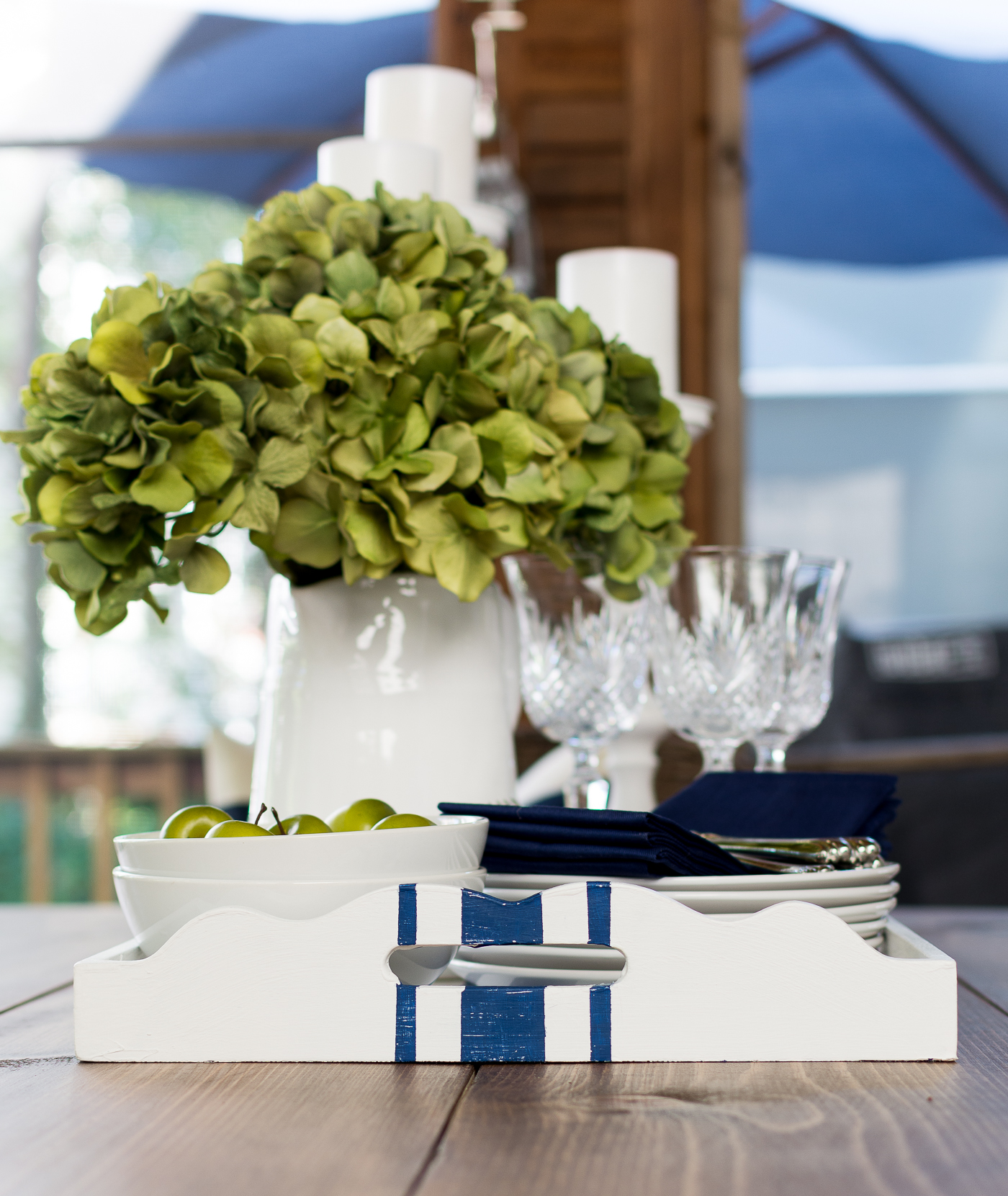 And CORT did not disappoint. Seriously. And while I had my eye (and dreams) on serving trays and candle holders, I was easily distracted by all the amazing tables and chairs and sofas and lamps and artwork filling the beautifully appointed showroom.
I almost scrapped my serving tray and pillar plan for the most gorgeous hounds-tooth chair!
The best part: everything was affordable, but not cheap. The quality was top notch. So much so that everything is CORT Certified. CORT guarantees if any product is found to be defective within 90 days of purchase they will repair or replace it.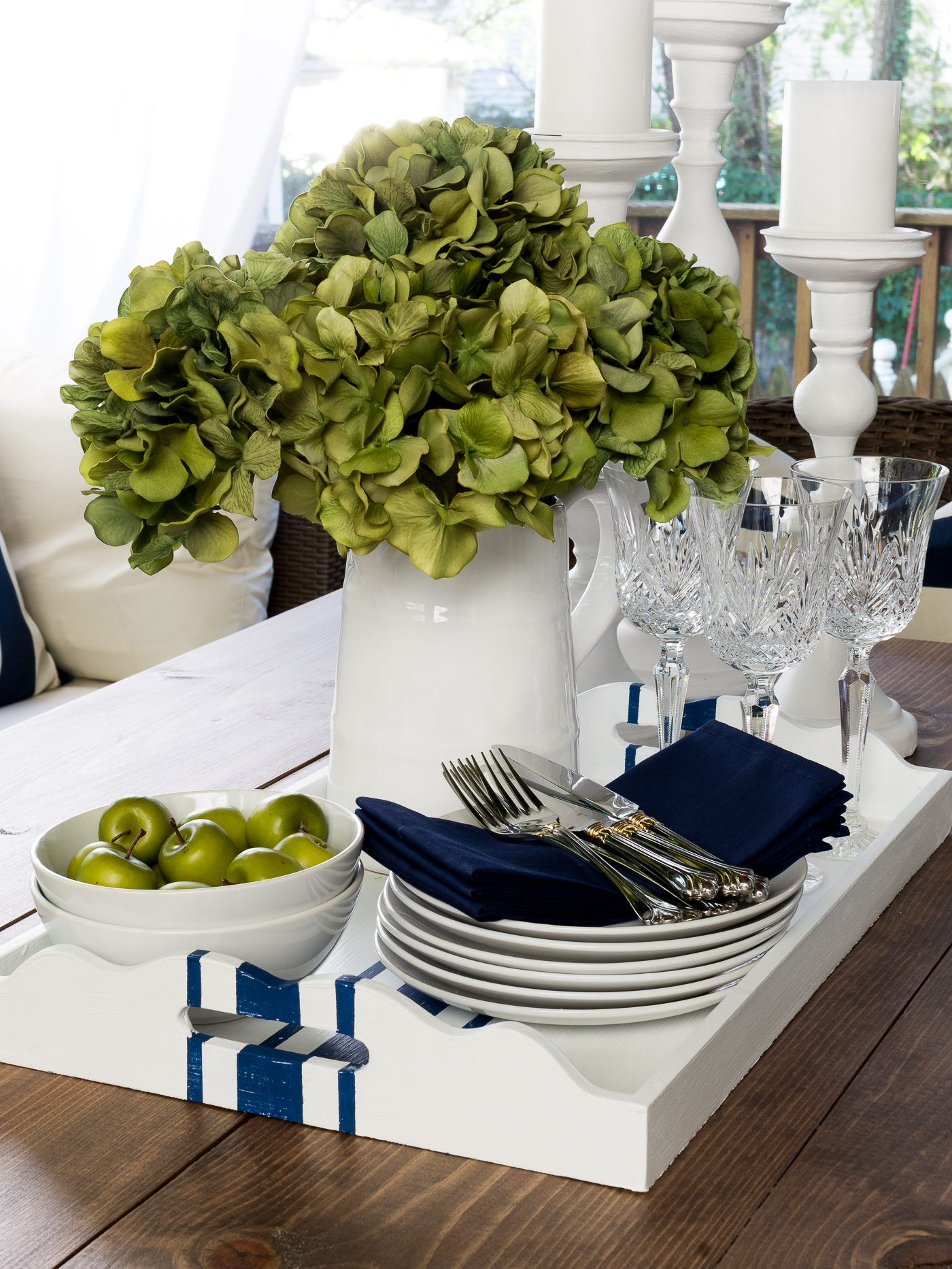 And then … then … things in the CORT showroom got even more amazing!
As I was checking out, my sales associate Angie kept giving me even more off on my already affordable pieces as she bundled items together and gave me "home to go" discounts.
Score!
And as I drove back home along Lake Shore Drive on a beautiful, summery sunny Chicago day with my CORT Clearance Center merchandise safely packed away in the trunk, I had upcycling dreams of a grain sack striped tray & chalk painted pillars dancing in my head … 🙂
How To Make Grain Sack Striped Tray & Chalk Painted Pillars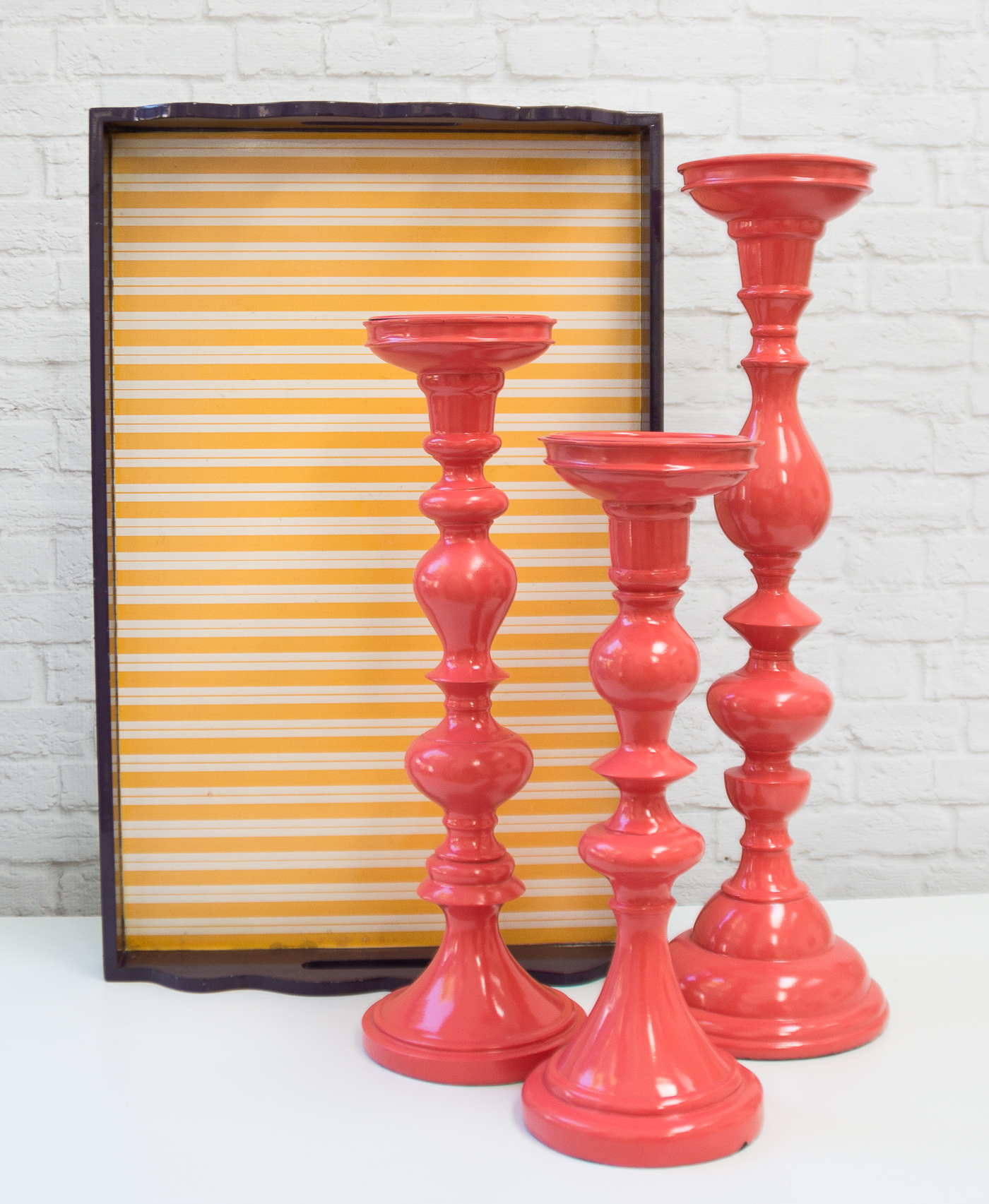 Let's start with a before of the serving tray and pillars I found at the CORT. I know. A mismatched color combination. And while the coral is pretty, it's also very taste and decor specific. But the quality is amazing. Sturdy. Solid. Well made. And those pillars have some serious heft to them.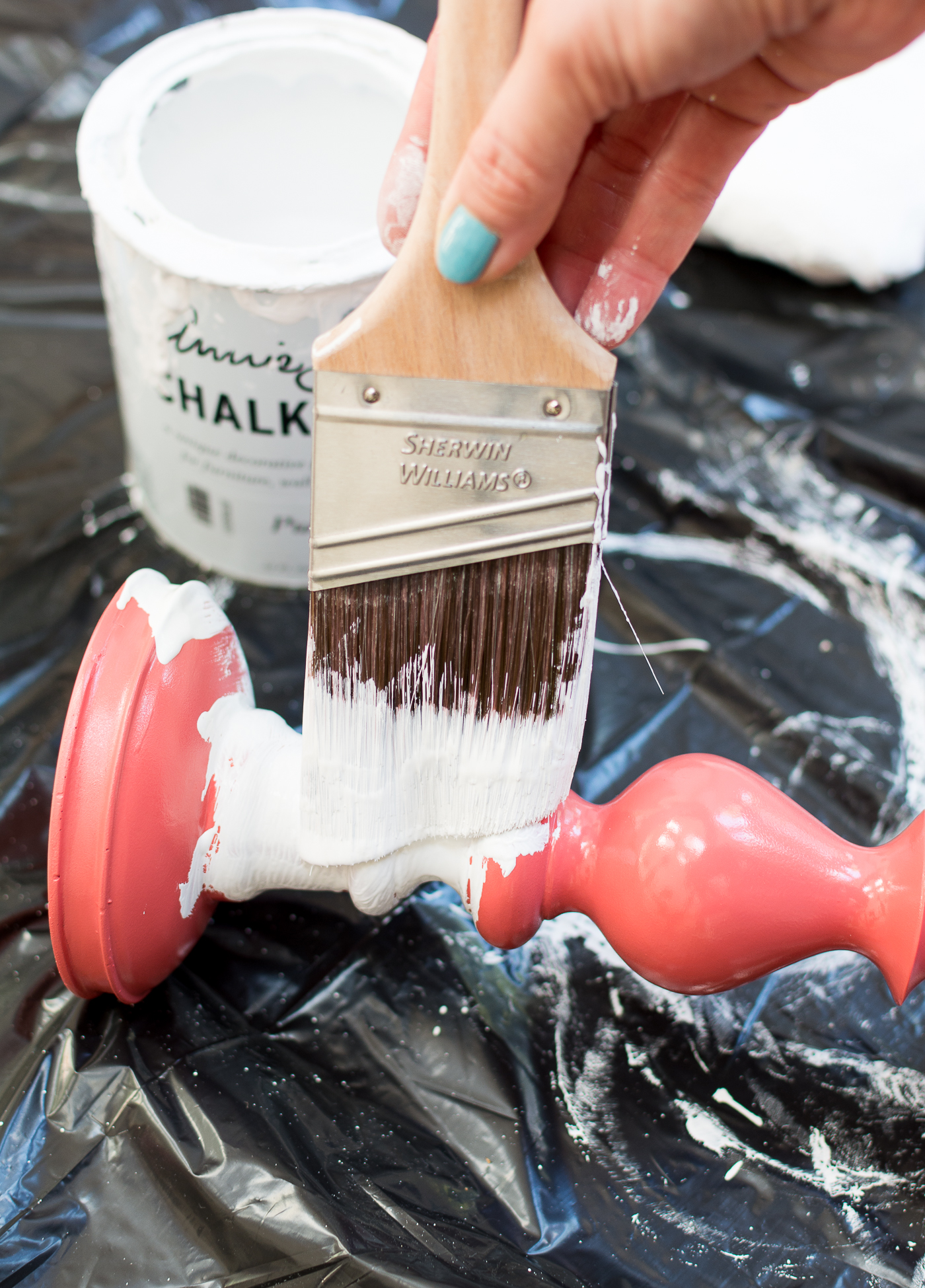 I thought a couple coats of chalk paint (two coats, to be exact, using Annie Sloan in Pure White) on the pillars and the serving tray would make them a bit more versatile. Well, for my current white and navy decor that is. 🙂
I gave all the pieces a good cleaning first, but that's all the prep you need with chalk paint. Which is why it's my go-to for a paint makeover.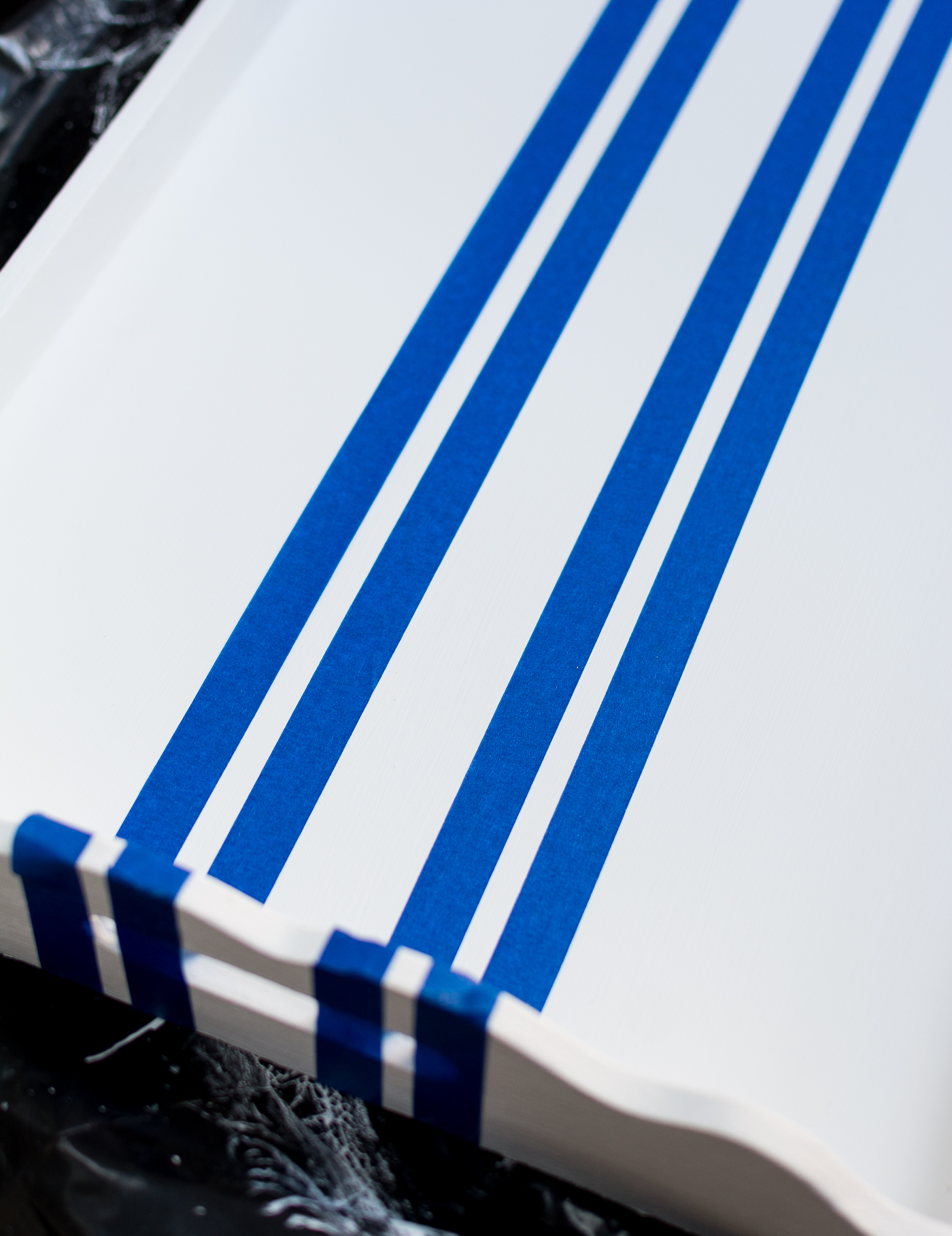 Once dry (and chalk paint dries fast so you can do this all in a single day), I taped off a grain sack pattern on the serving tray with painter's tape.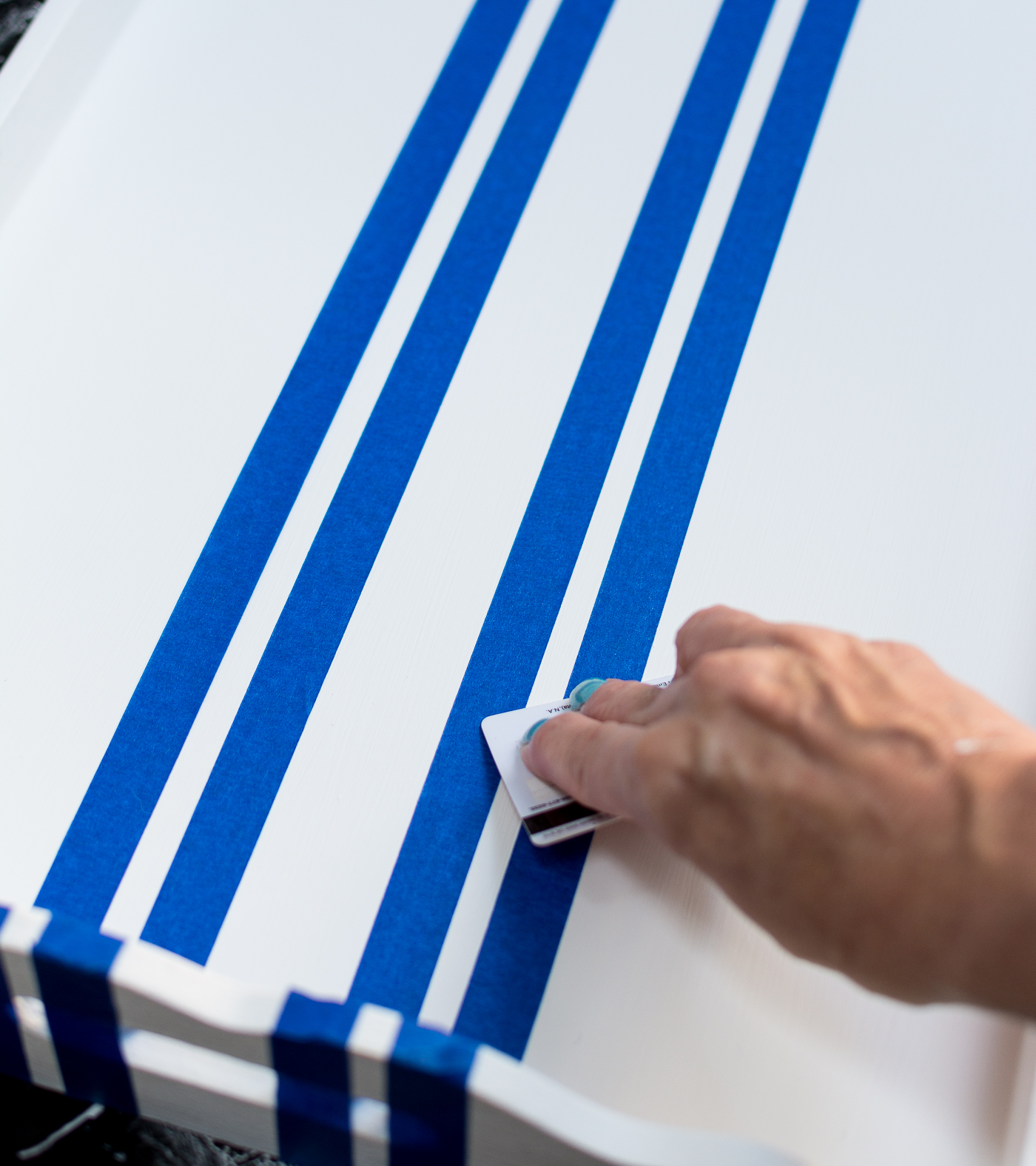 I used a credit card to seal the edges of the tape. I wanted nice, clean, and seepage-free lines when I removed the tape.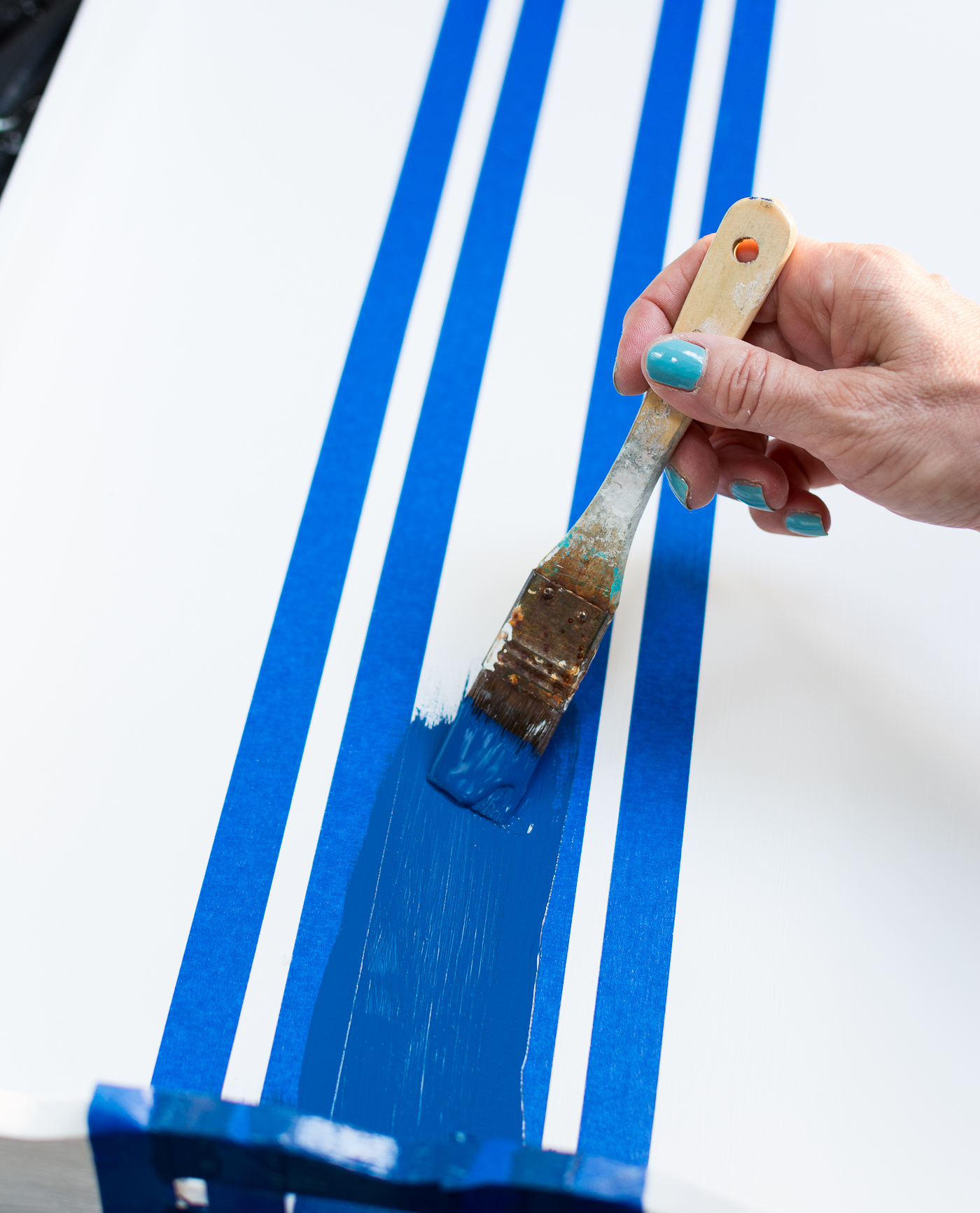 I used a navy chalk paint (ArtMinds brand in Indigo blue that I found at the craft store) to paint the stripes. After I removed the tape, I did have a few touch up spots on the handles.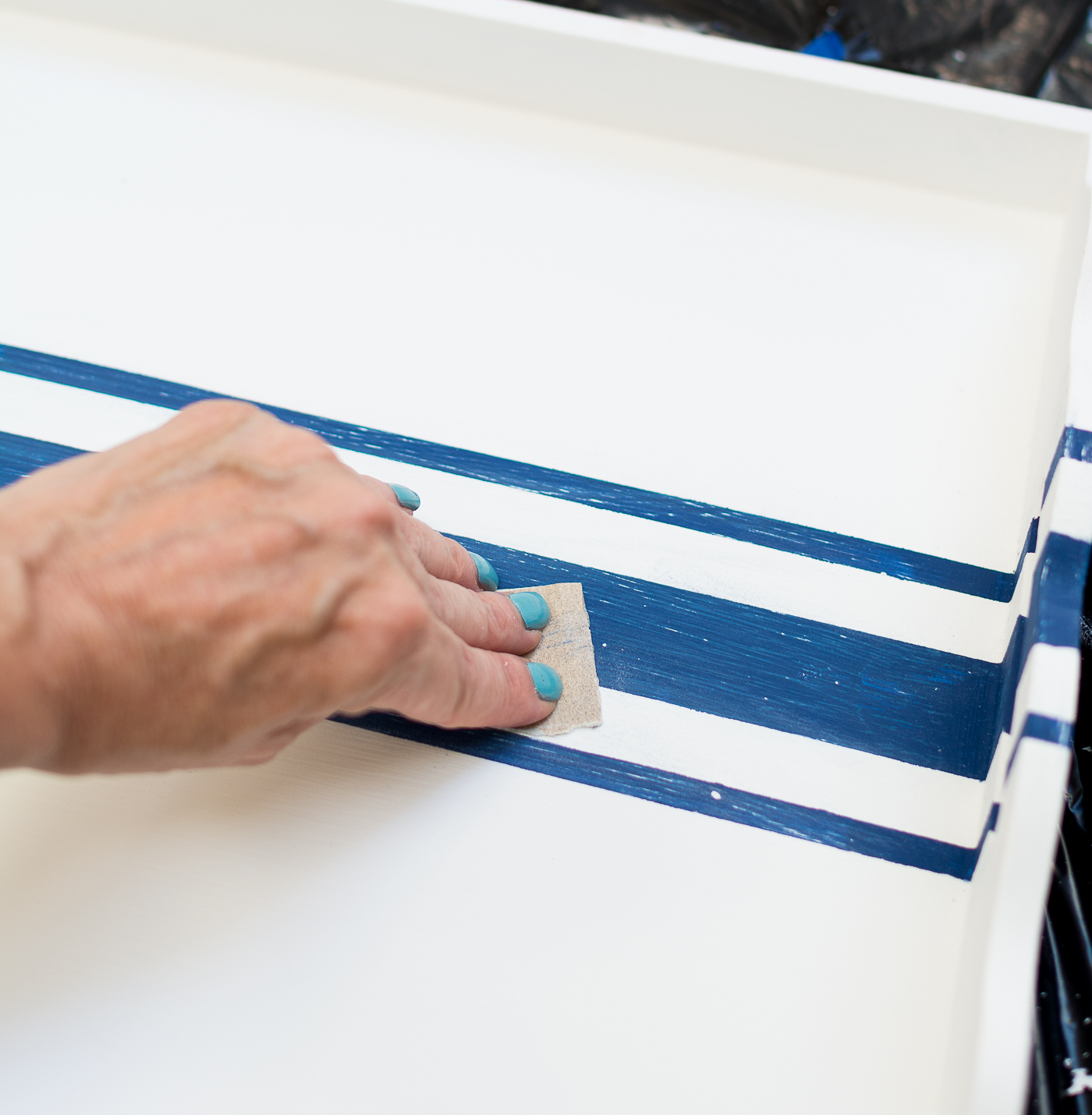 I opted to not go with a distressed finish, but did give the serving tray a light sanding with 200 grit sandpaper along the navy blue stripes to achieve more of a grain sack look.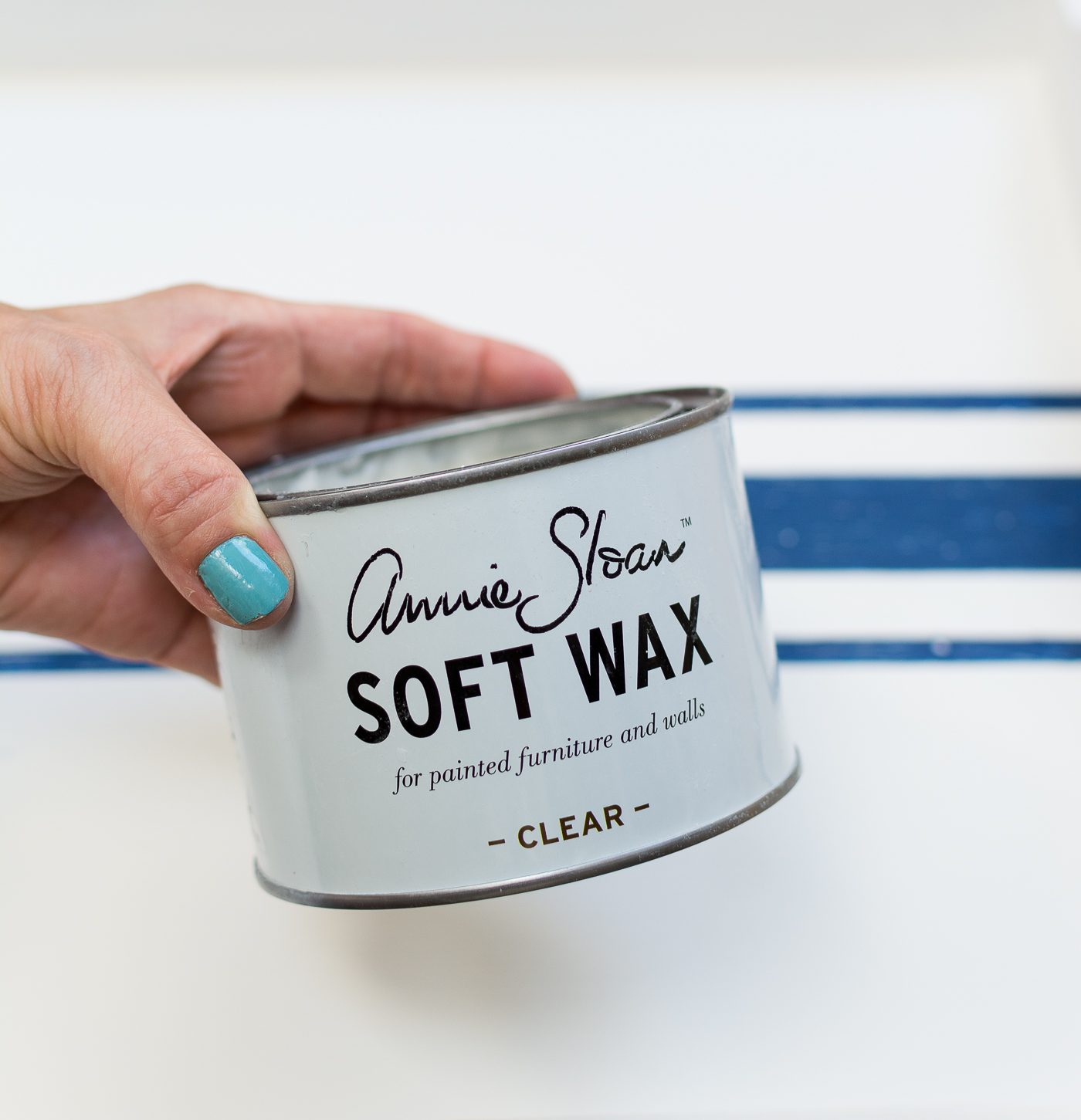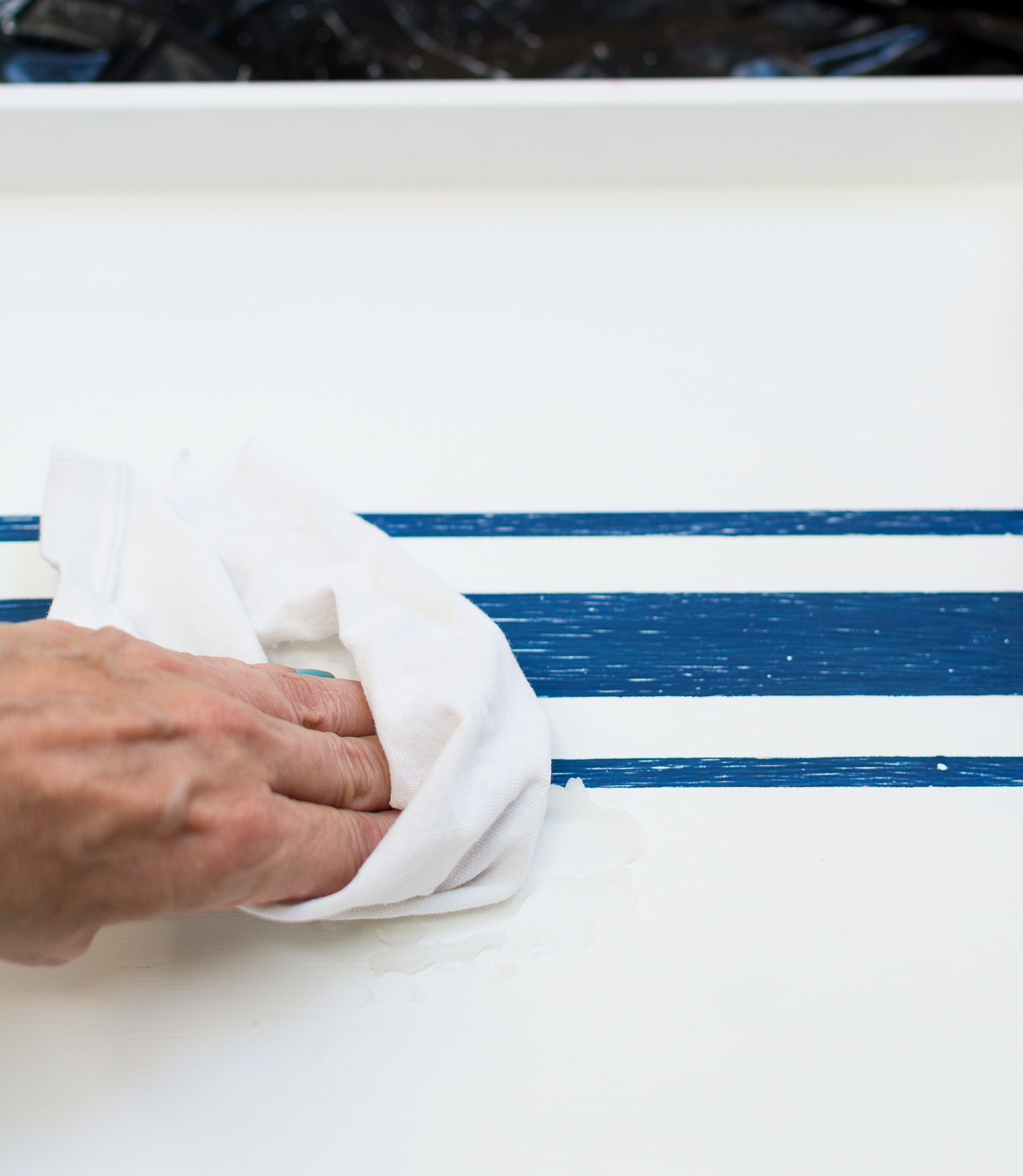 I finished off the serving tray and pillars with a coat of clear wax. I simply applied the wax — generously — with a clean cloth. Using a second clean, dry cloth I wiped off the excess and gave the pieces a buff. These steps happened simultaneously. Once all the pieces got a coat of clear wax, I immediately went back to the first piece and started wiping-off-excess-and-buffing process.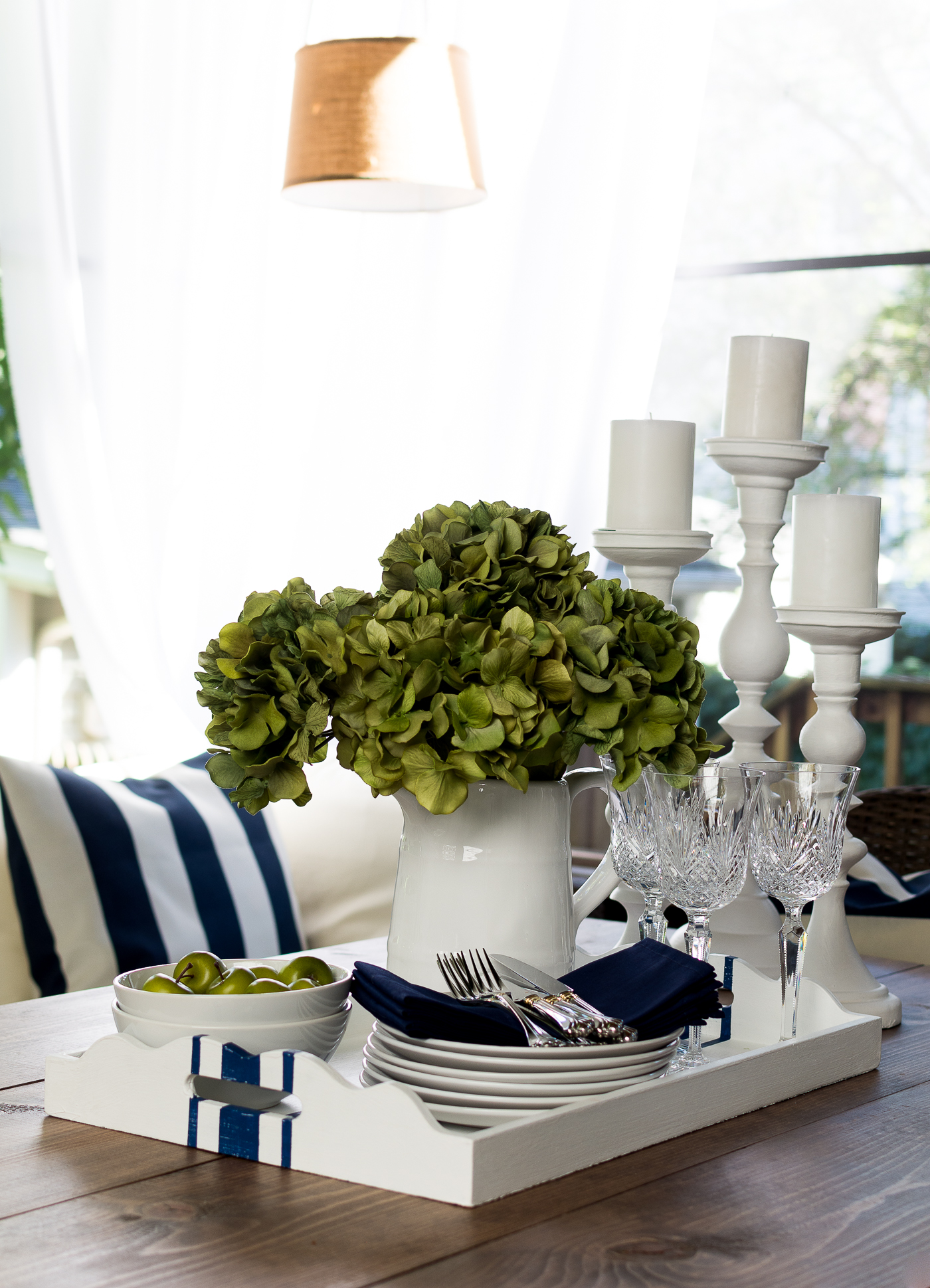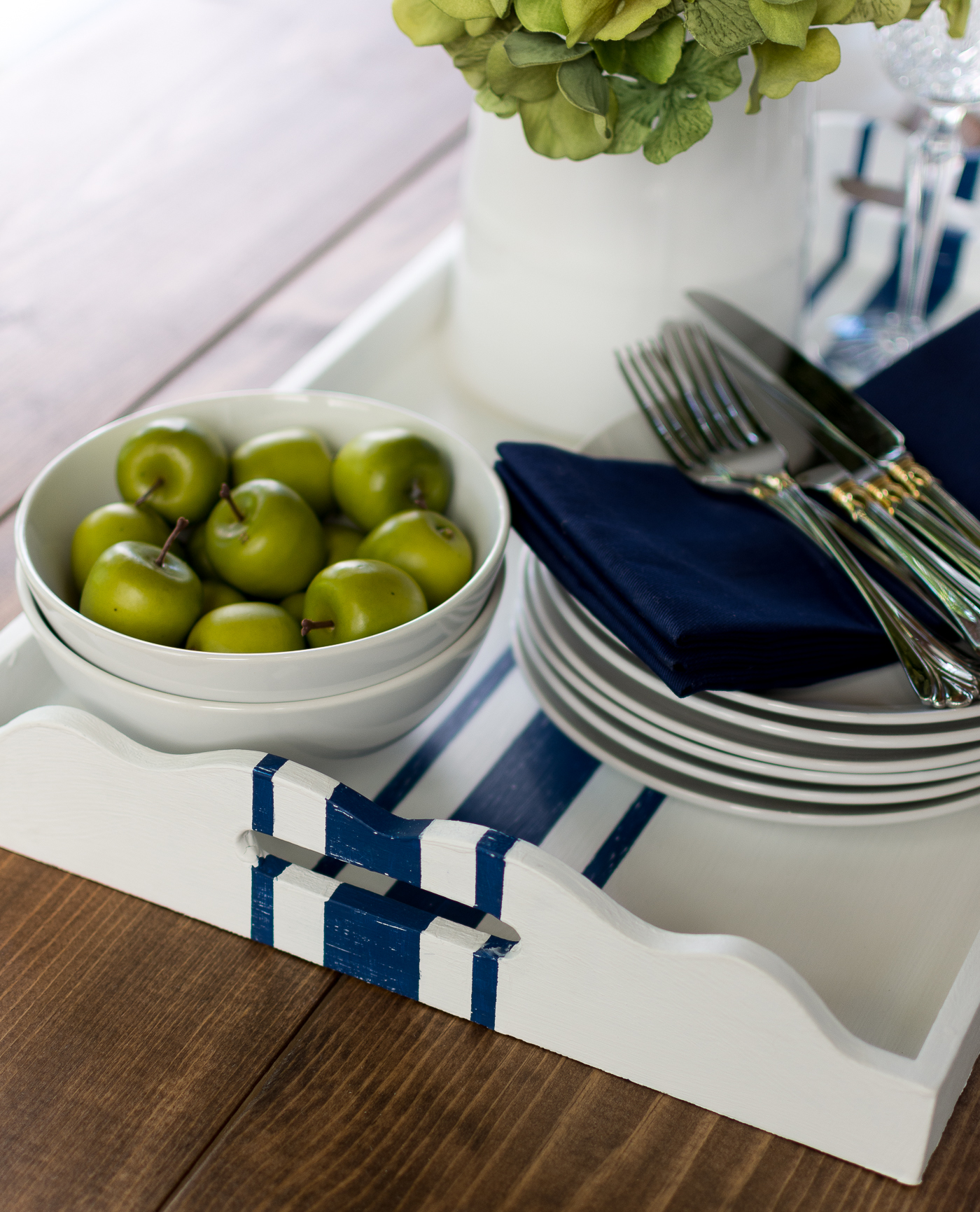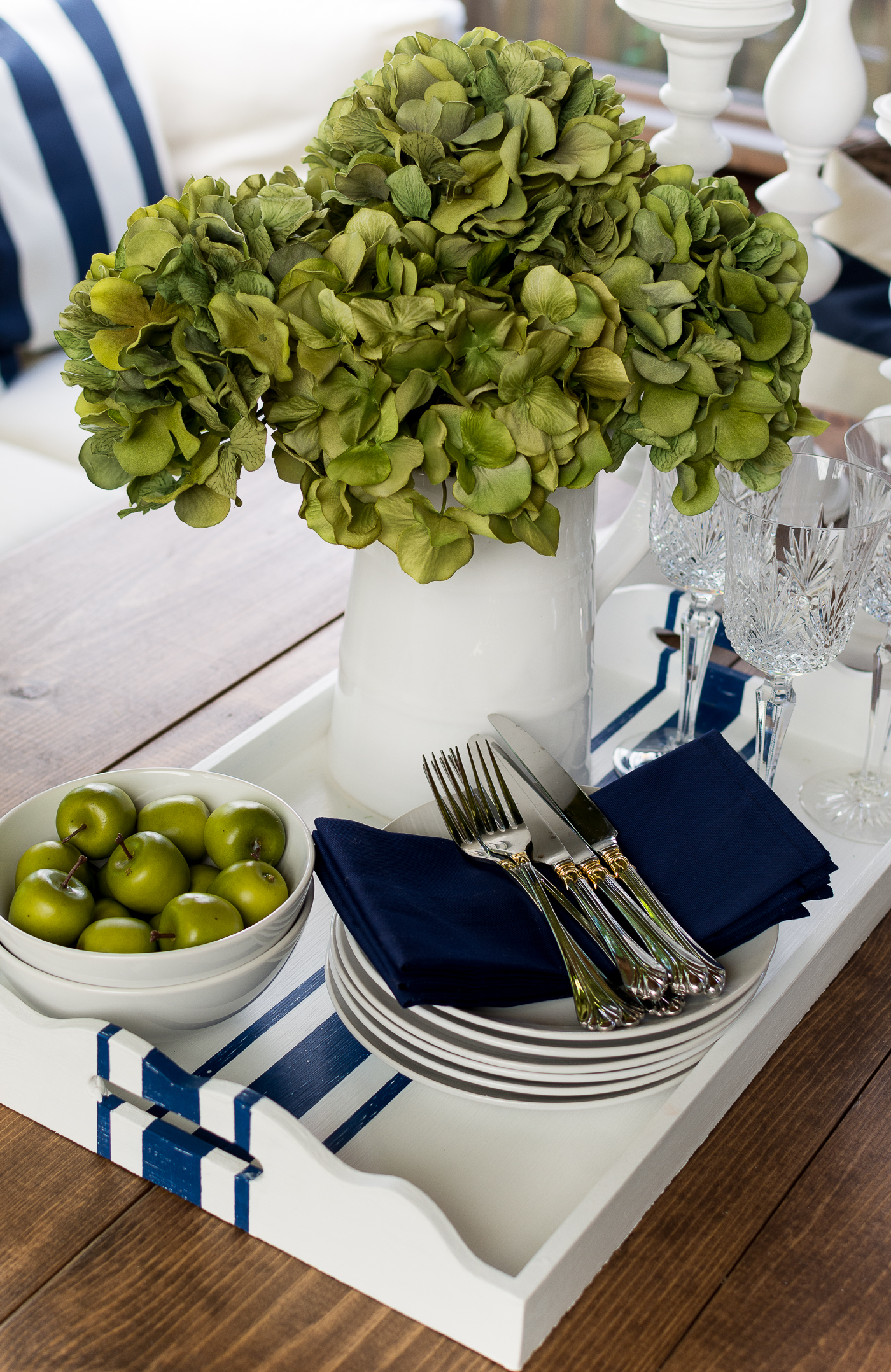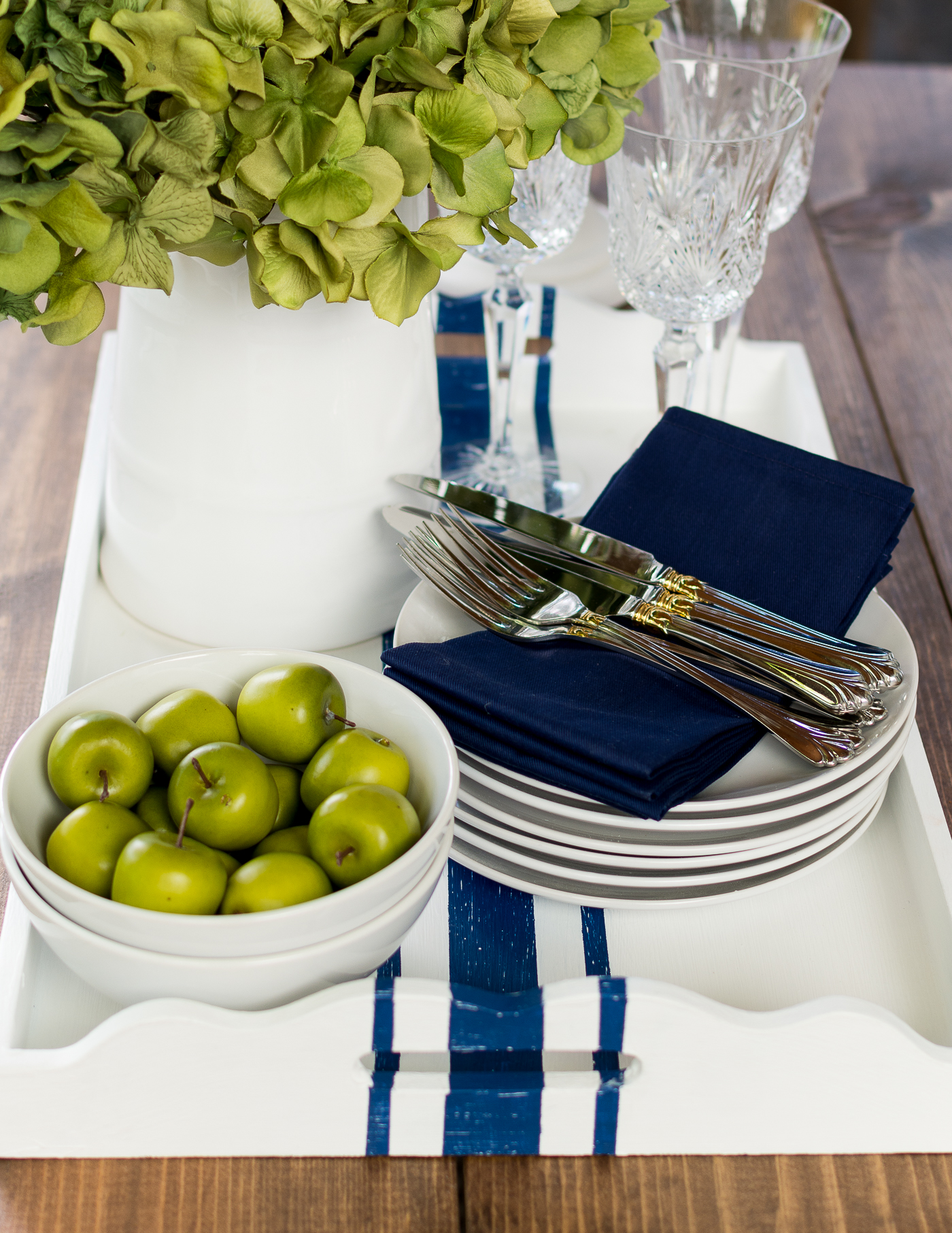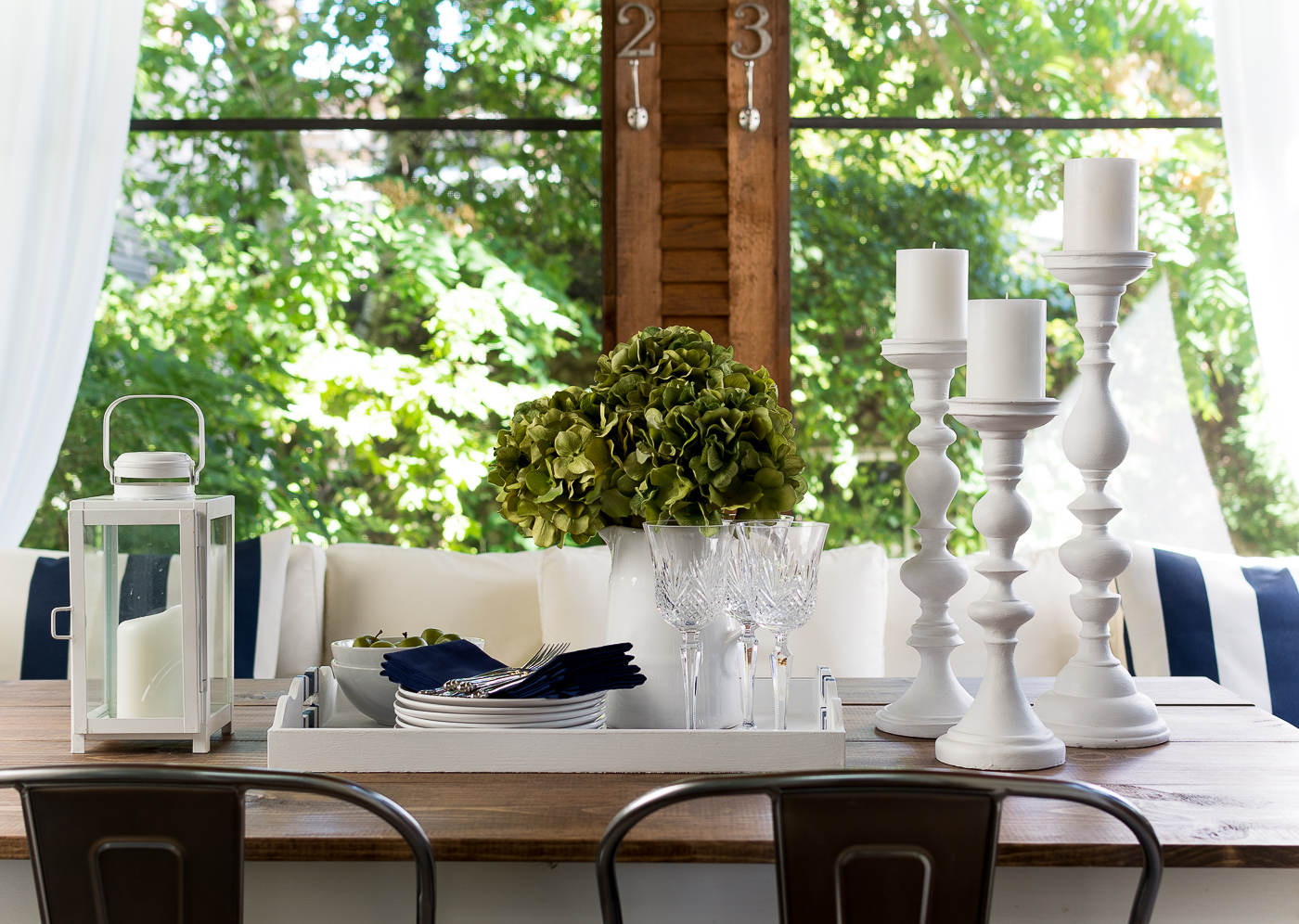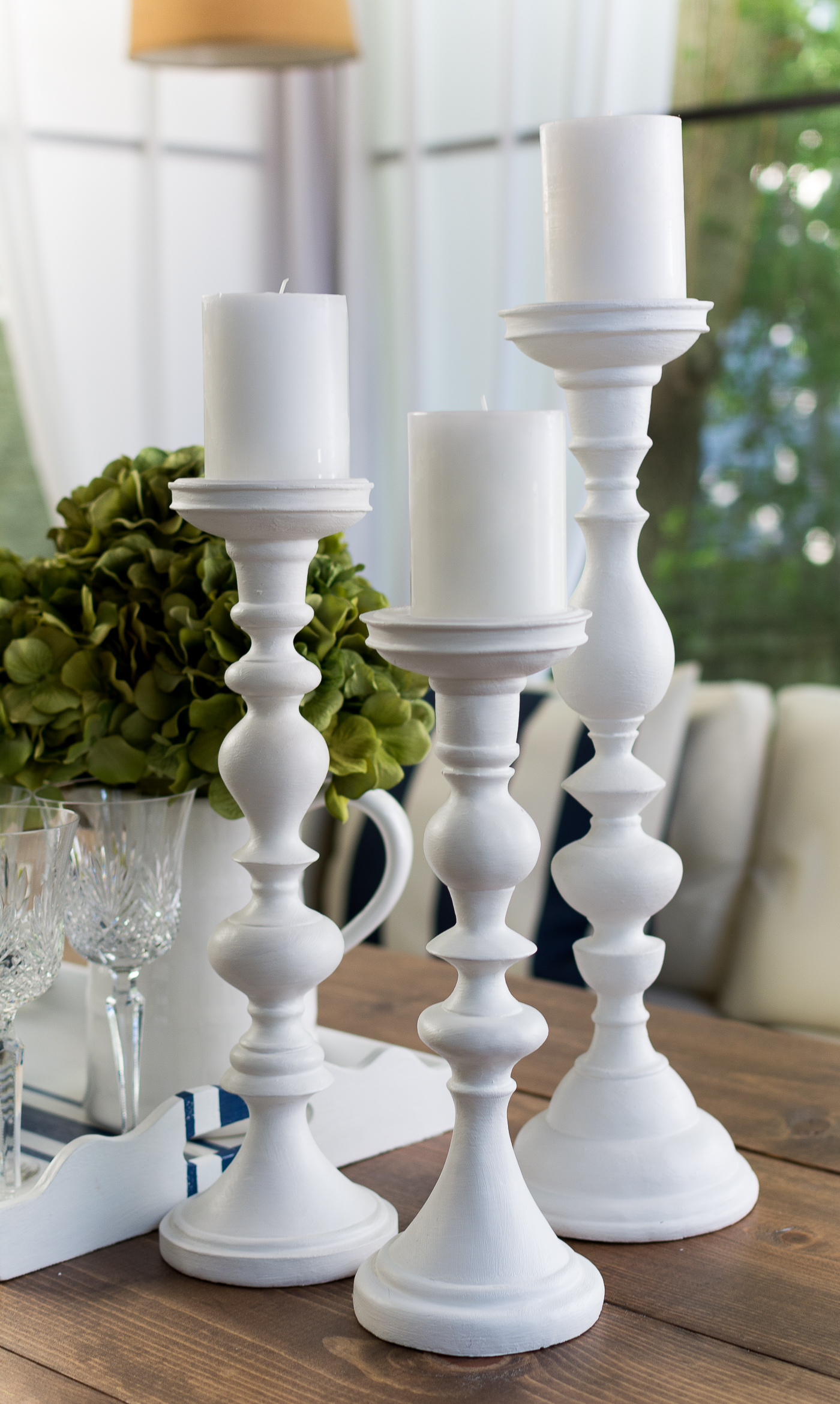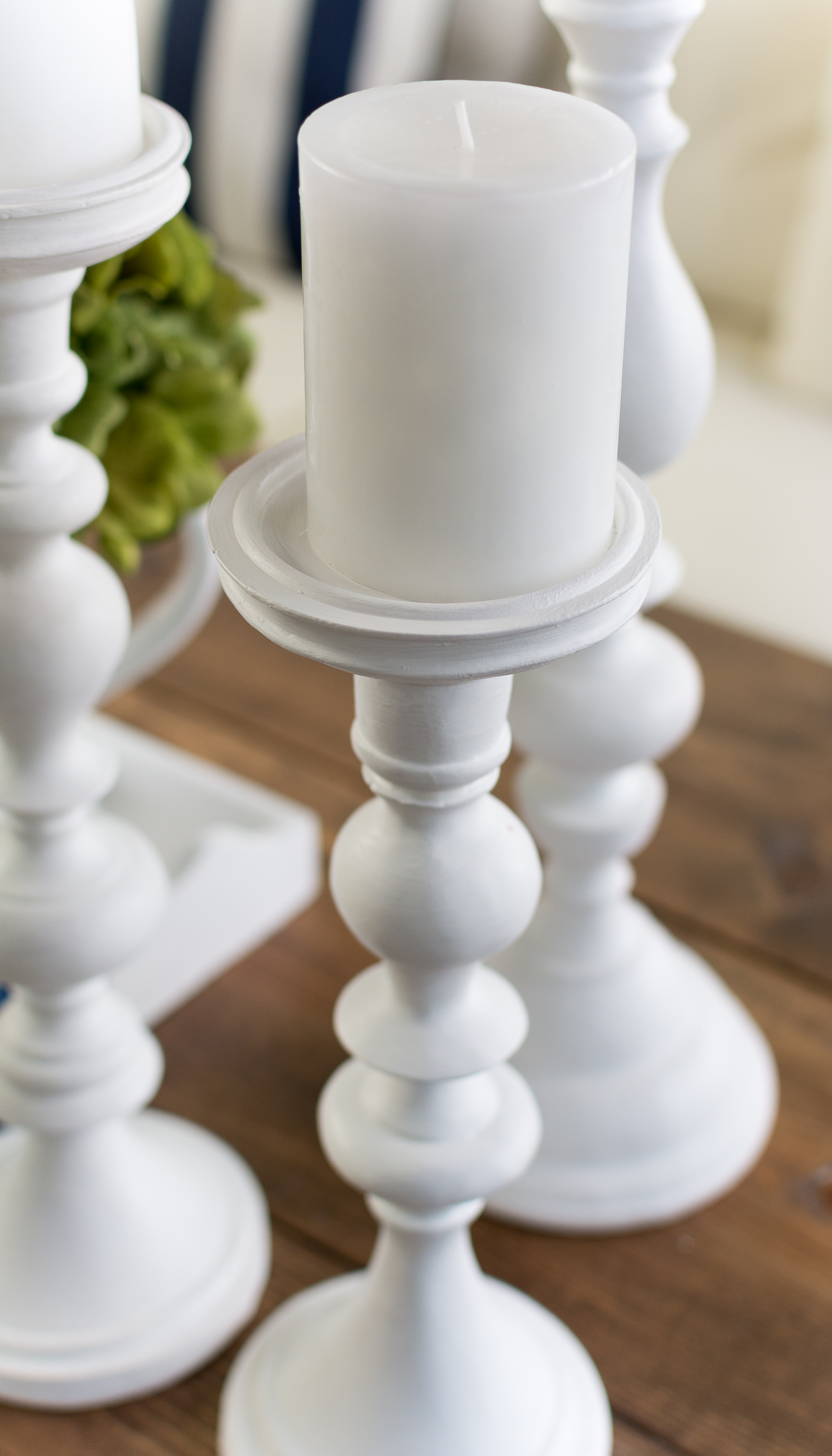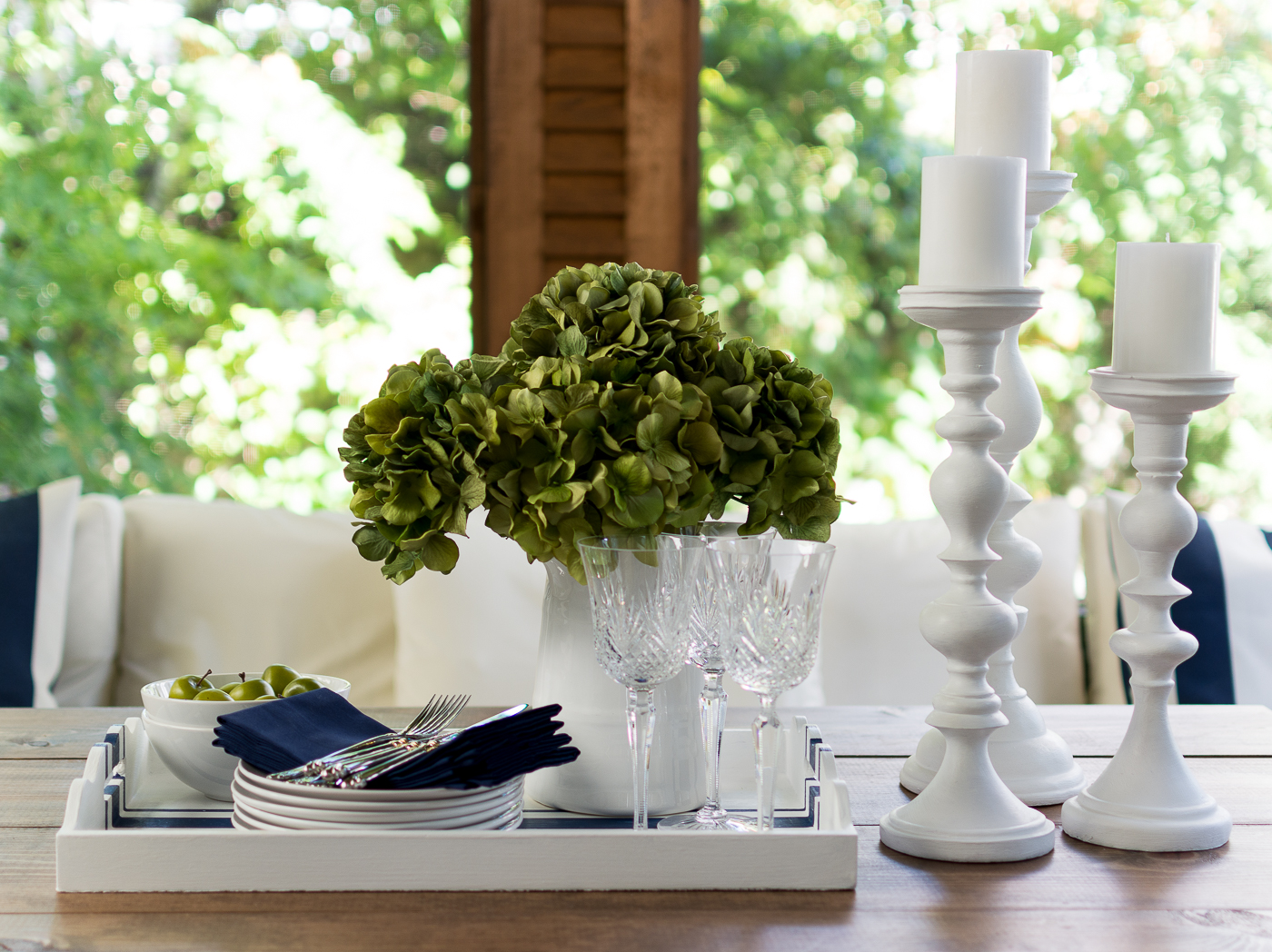 And now … finally … as winter will soon be bearing down on Chicago, my screen porch transformation is complete. Thanks to my new, upcycled grain sack striped tray & chalk painted pillars from CORT, the porch is ready for its big reveal …
that I promise will happen before the first frost! 🙂
Pin It!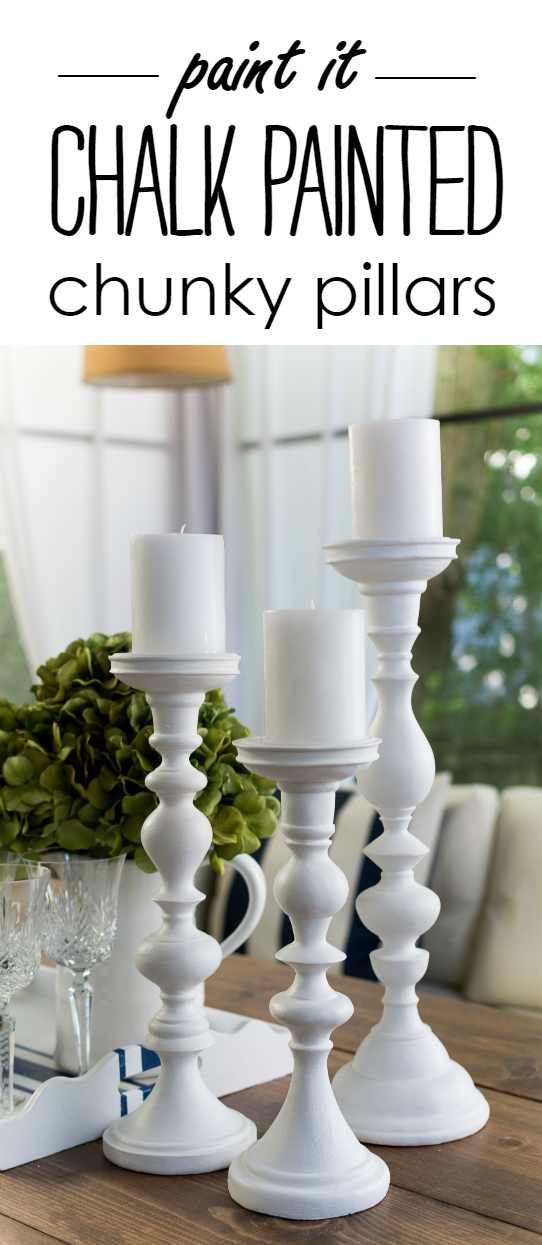 CORT showrooms are located nationwide. Click on the link to find your local clearance center.
Sharing: | Savvy Southern Style | Refresh Restyle | Between Naps on the Porch | A Stroll Thru Life |