First off, tomorrow I'll be running a post with links to all those "Imagine the Impossibilities" challenge accepted posts you've been sending me …. and if you want to be featured just leave a link to your "Impossibilities" post in this comment thread (if you haven't already sent it to me, that is) …
… and if you haven't written up a post about your "Impossibilities" challenge yet, then grab a button over there on my sidebar, write up a post, and send me the link here in the comments thread …
… and if you don't know what the "Imagine the Impossibilities" challenge is, click here.  There's still time to join us!
Now, I've been busy, busy this week and all over the place.  Including today, where I'm guest blogging here …
Many of you are probably already familiar with Nicole at Thrifty Decorating and her weekly link party and blog hop…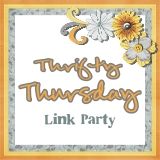 If not, then you must go there next Thursday and link up.  I mean it.
Now let me introduce you to the incredibly creative and crafty Nicole by featuring some of my favorite projects …
Check out her Valentine's Day wreath (just click on the pics for more information) …

… I really need to get moving on my own wreath project …
And what about these sweater vases …
… because, you may not know this, but vases can get very cold in the winter. It's true. (And is it just me, but doesn't that Ball jar look angry to be the only one naked up there?)
And you know how we all have our "thing" … mine being putting numbers and hooks everywhere … well Nicole's thing is old window frames as wall art.  She has them all over her house … and has even inspired her husband to pick them out of the garbage.
But this particular one …

… comes with its very own sordid tale.
And then Nicole shows how she framed out her bathroom mirror here …

… which reminds me that I really need to get on top of that project myself so that I can finally give you my powder room "reveal"…
Oh, and here's Nicole caught in the mirror …

I know. I know.  There are so many much prettier shots of Nicole and her beautiful family on her blog here.
But the "caught in the mirror with your camera" shot make me smile.
So beware future bloggers that ask me to guest post … I will dig around for that behind the camera in the mirror shot …
And in all fairness, here's one of me – taken with my phone — that greatly annoyed my sister when I used it as my Facebook profile pic …
And don't forget to link up those "Imagine the Impossibility" challenge accepted post links in the comments thread to this post ….
… or on the comments thread here …