I painted the bathroom sink.
No. Really. I did.
Sounds a bit crazy, right?  But when you've looked at this ugly day in and day out …

for 17+ years …
… inthe most visited room in our house …
… I figured I couldn't possibly make things worse.
Plus with the white painted board and batten moulding planned for this space, that beige cheap faux-marble-look fiber glass sink was going to stand out …
… and not in a good way.
Instead of ooh'ing and aah'in over my  moulding and balloon shade and hooks and numbers …
… and new faucet (that 'our sponsor' installed for me all by himself with nary a curse uttered) …
…  and the moulding I added around the mirror slab  …
… all anyone would take away is that ugly old sink.
They wouldn't be talking about my moulding, numbers, hooks, balloon shade, faucet, or mirror …
… instead they would be whispering behind my back about "why in the world didn't she replace that ugly old beige faux-marble-look fiber glass sink."
So I really had no choice but to paint it …
… and how did I do it you ask?  How did I successfully paint over the ugly?
Here's how …
1.  I purchased this product from a home improvement store for $36.00
2. Then I watched this YouTube video (they use a different product but the steps are the same)
3. I followed the box and YouTube instructions to a tee … with extra special attention paid to surface prep.  Apparently if you fail to prep properly you will end up with an epic fail …
And presto chango, I ended up with this …
Believe me, it's a far cry from perfect …
There are some brush strokes visible …
… and I didn't tape off the drain perfectly.
But I'm A. O. K. with that.
I'm going with it adds a bit of old world charm …
… you know, because in the olden days porcelain wasn't perfectly smooth.
And I just totally made that up.
The full bathroom remodel can be found by clicking here ….
Oh, and the sink has been holding up well.  Here's how it looks close to two years later …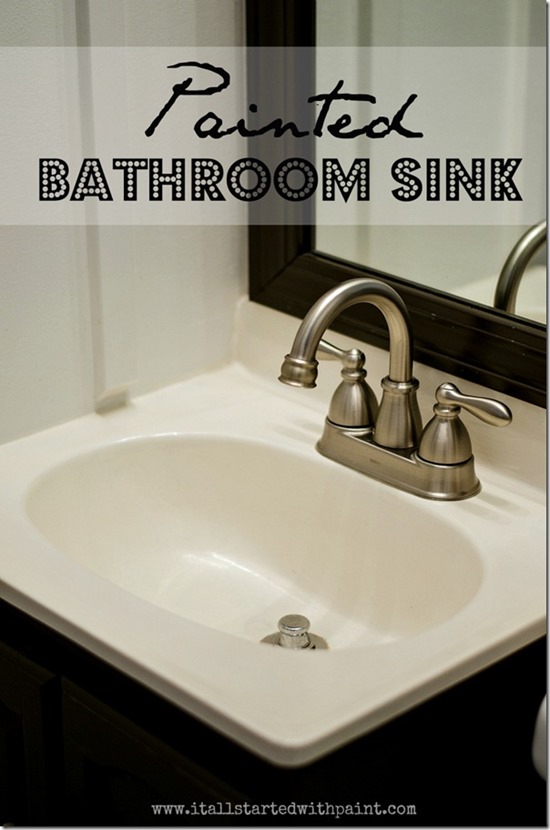 Let's keep in touch … 


I loved this sink so much, I painted another one in my home. This time I have a step-by-step tutorial with pictures of each step along the way. Just click here …