How To Refinish Butcher Block Knife Block Tutorial.

Once upon a time, I worked on Michigan Avenue.
In the heart of the Magnificent Mile.
And it was magical. Every day I went to work surrounded by Gucci. And Cartier. And Saks Fifth Avenue. And Louis Vitton. And Bloomies. And …
my most favorite of all …
the Crate & Barrel flagship store.
It was majestic. Standing tall at the corner of Michigan & Eerie. Four glass-windowed stories filled to the brim with my dream home heart's desires.
I would spend many a lunch hour roaming the store. Traveling from floor to floor. Plotting my dream kitchen filled with the most beautiful kitchen gadgets (even though I had no idea what most of them were used for). Of bedrooms made with the finest of linens and fluffiest of down-filled comforters. Of living rooms with beautiful sofas with plush throws and pillows …
and I could hear my credit cards screaming in protest.
I haven't been to the Magnificent Mile Crate & Barrel in years. Fortunately — or unfortunately, depending on how you look at it — a second Crate & Barrel has been erected closer to home. But I resist spending my lunch hours roaming their hallowed glass-windowed halls.
Until recently.
I walked in with a firm grasp on my debit card. I was on a mission. A two-tiered rustic fruit basket was my desired purchase. So with blinders on, I entered.
And crumbled.
The dreamer in me took over. Kitchen gadgets I still don't know how to use called out to me. A collection of wooden and metal salad tongs begged me to give them a home. And then there was the butcher block …
so many lovely, perfectly grained butcher block cutting boards. And cheese trays. And bread trays. And knife blocks.
And just as I was ready to loosen my grip on my debit card and purchase a new butcher block knife block, I had a revelation: What am I doing (the logical side of my brain demanded)? I'm a DIY blogger, after all! Why buy new when I could refinish my old, decrepit, stained one?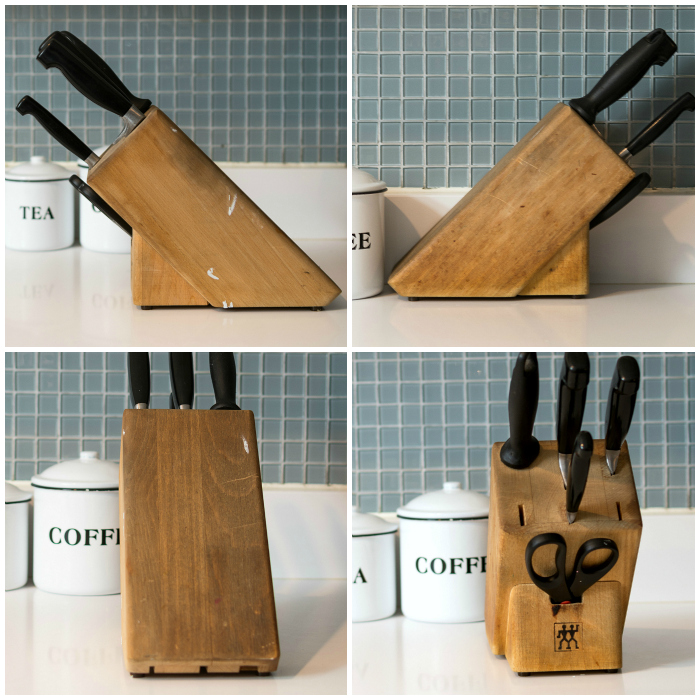 It was looking very sad. And in need of a little TLC in the form of sandpaper and wax.
How To Refinish Butcher Block Knife Block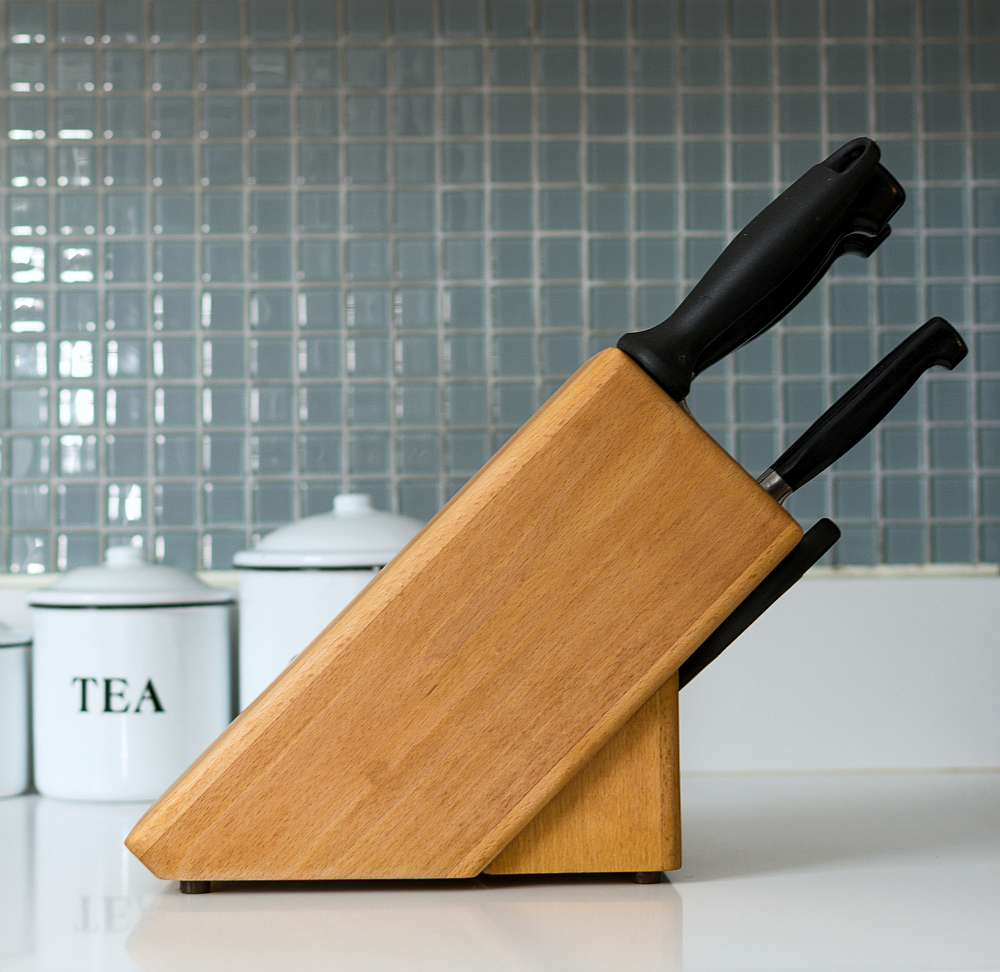 I started with sandpaper, Bee's Oil, and tack cloths.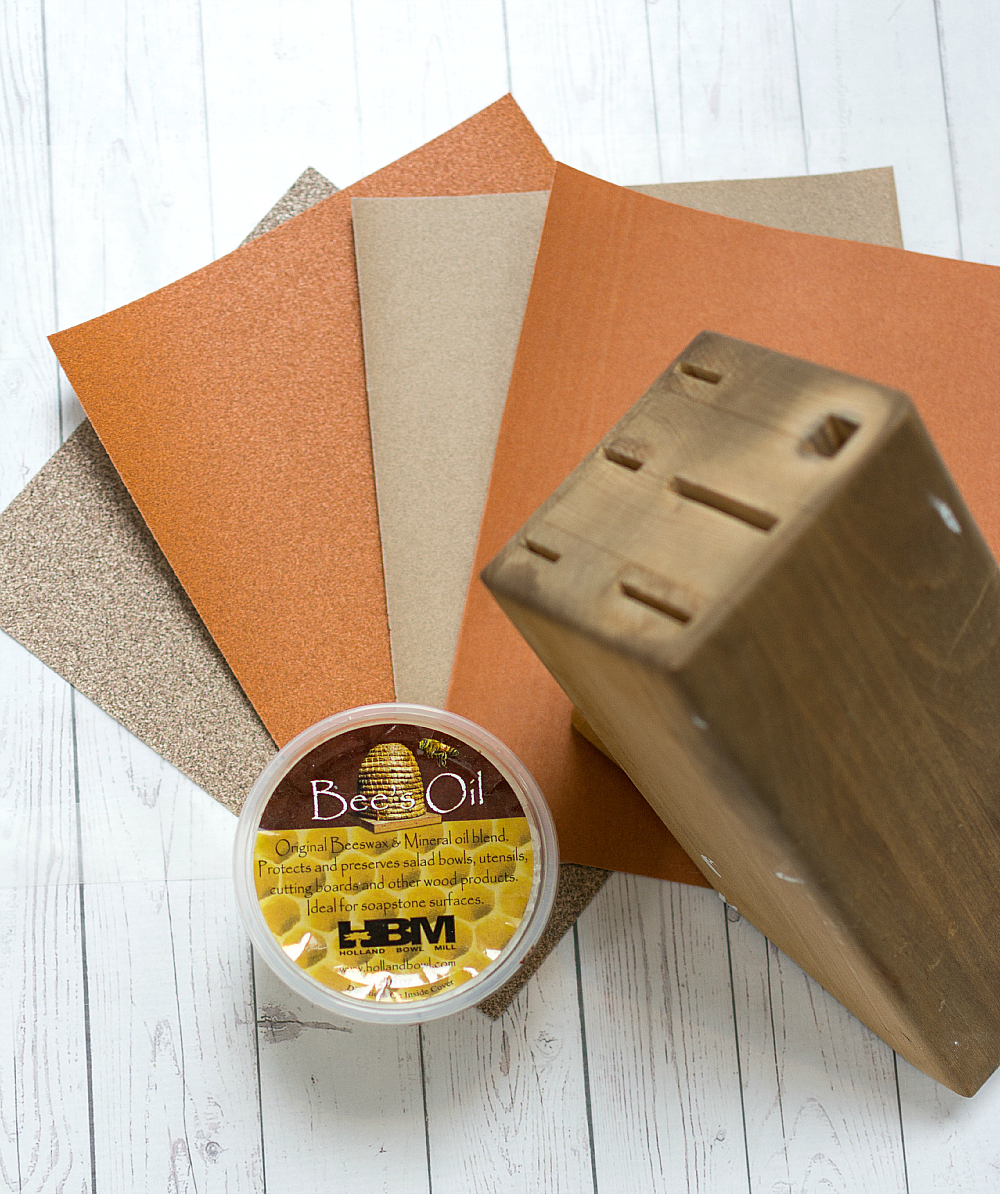 Started with the largest grit sandpaper, sand all sides of the knife block; use tack cloth between each sandpaper to wipe clean.
After a final cleaning with tack cloth, use a clean cloth to generously rub on Bee's Oil on all sides. Let stand 15-minutes and then buff off any excess.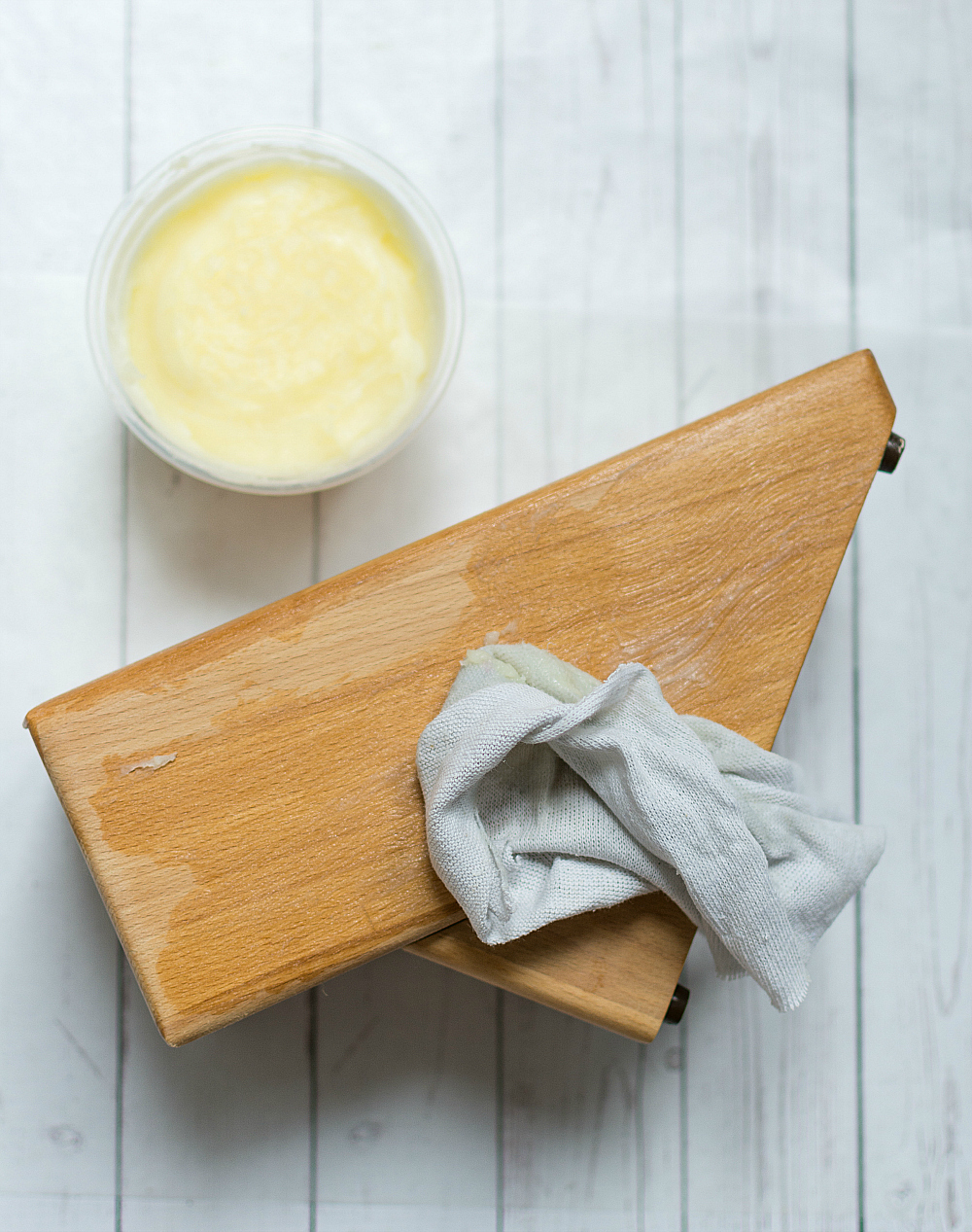 And that's it. A pretty dramatic before & after …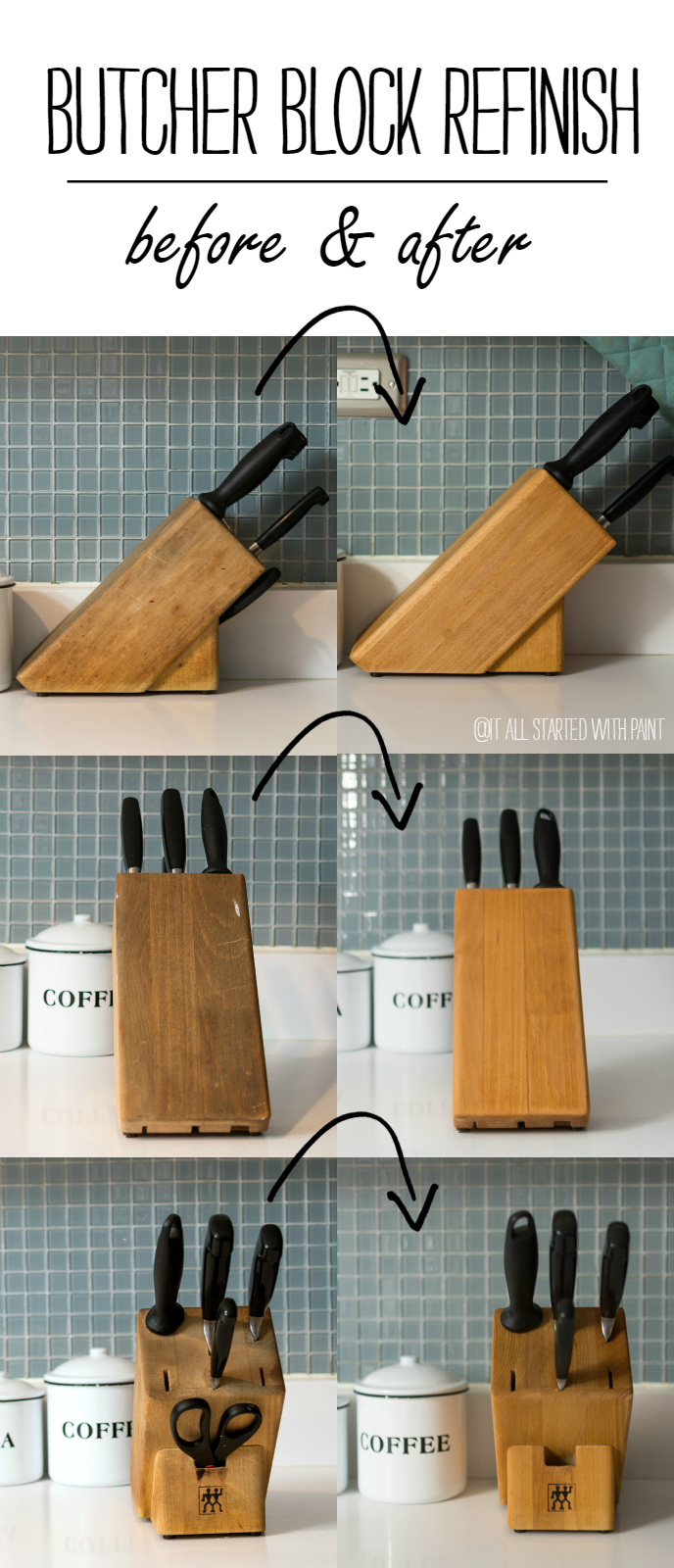 And now my 20+ year old butcher block knife block looks like it could hang with all the other butcher blocks at Crate & Barrel.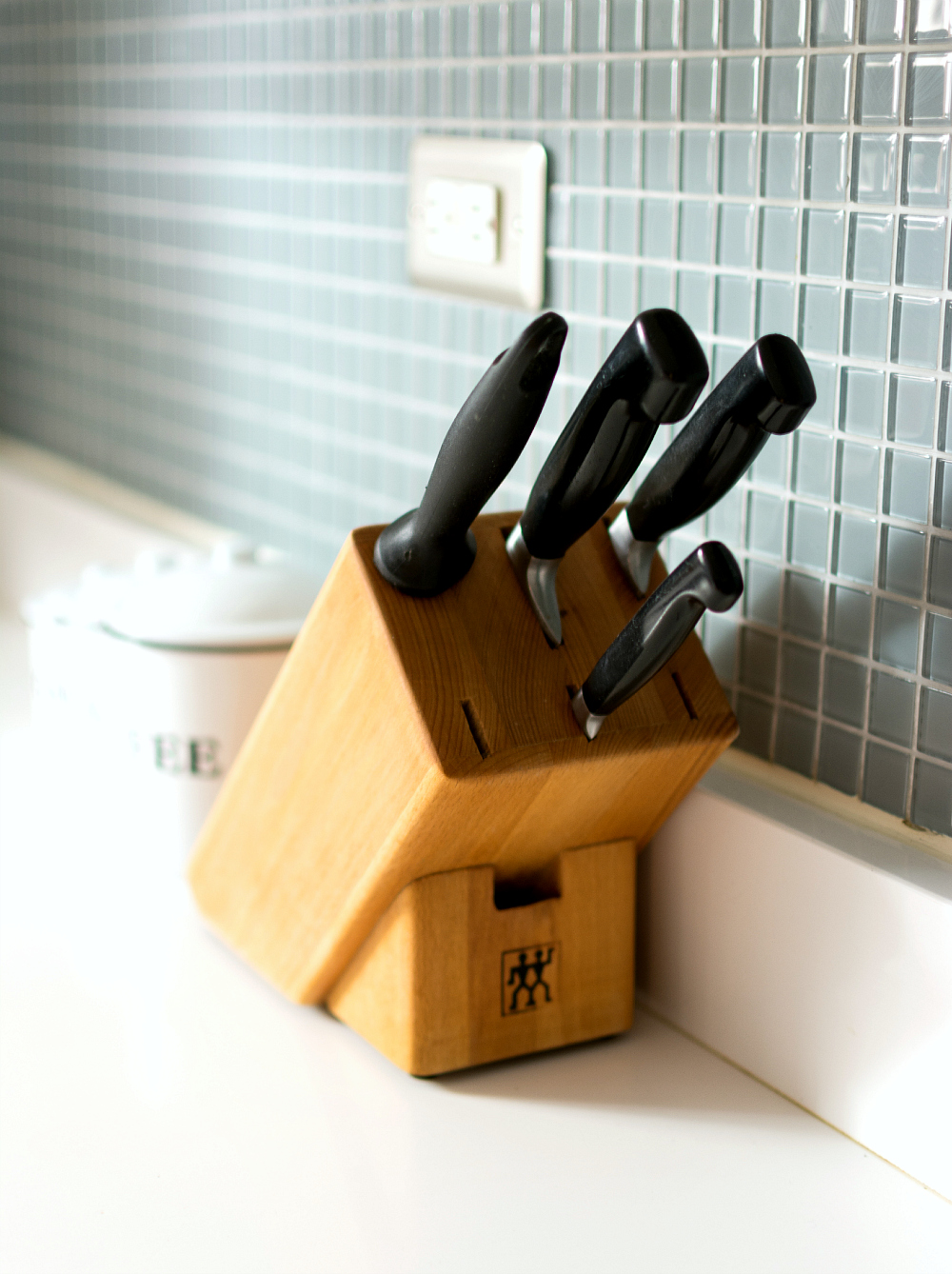 🙂
You Might Also Like: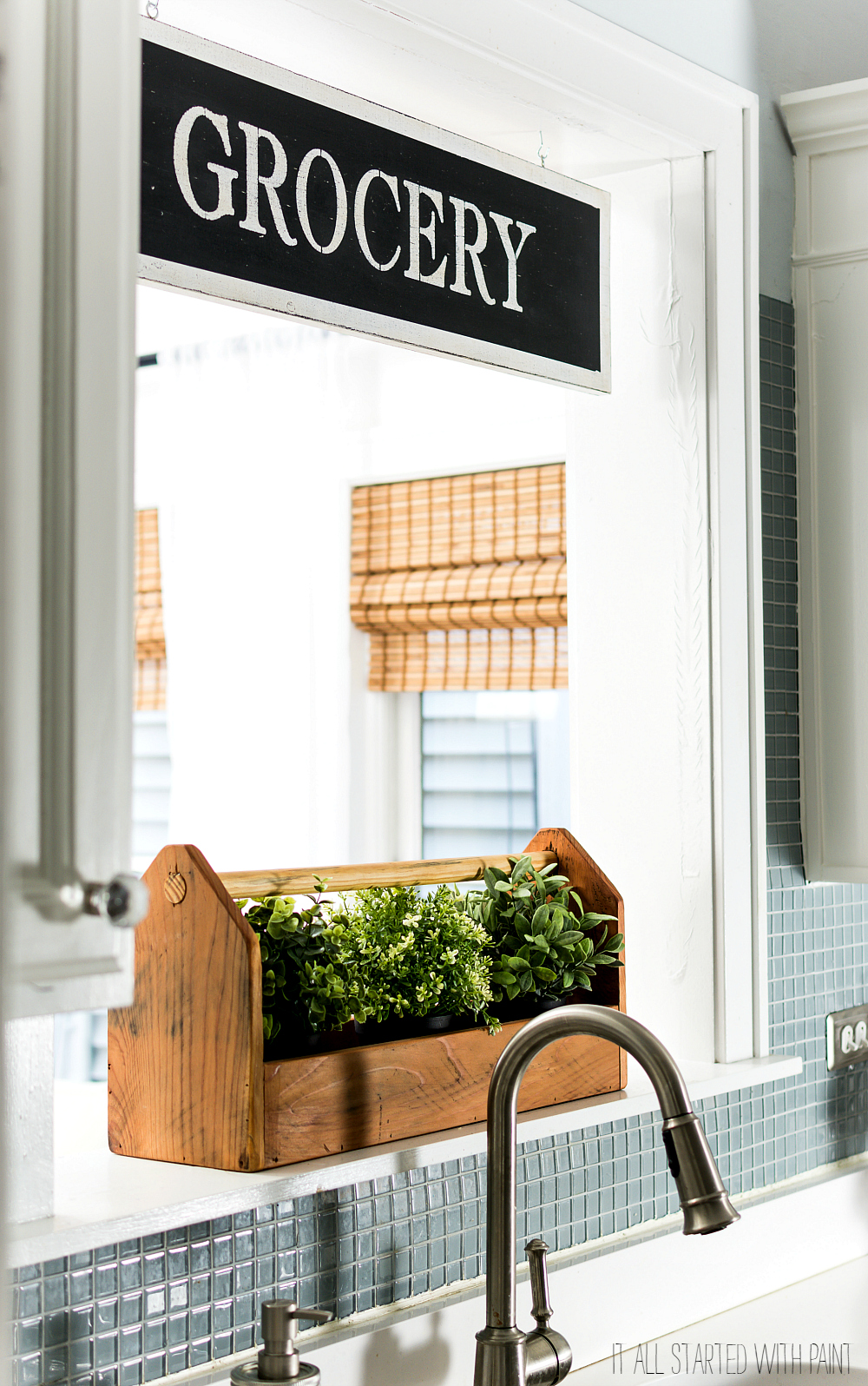 Vintage Look Grocery Sign (click here)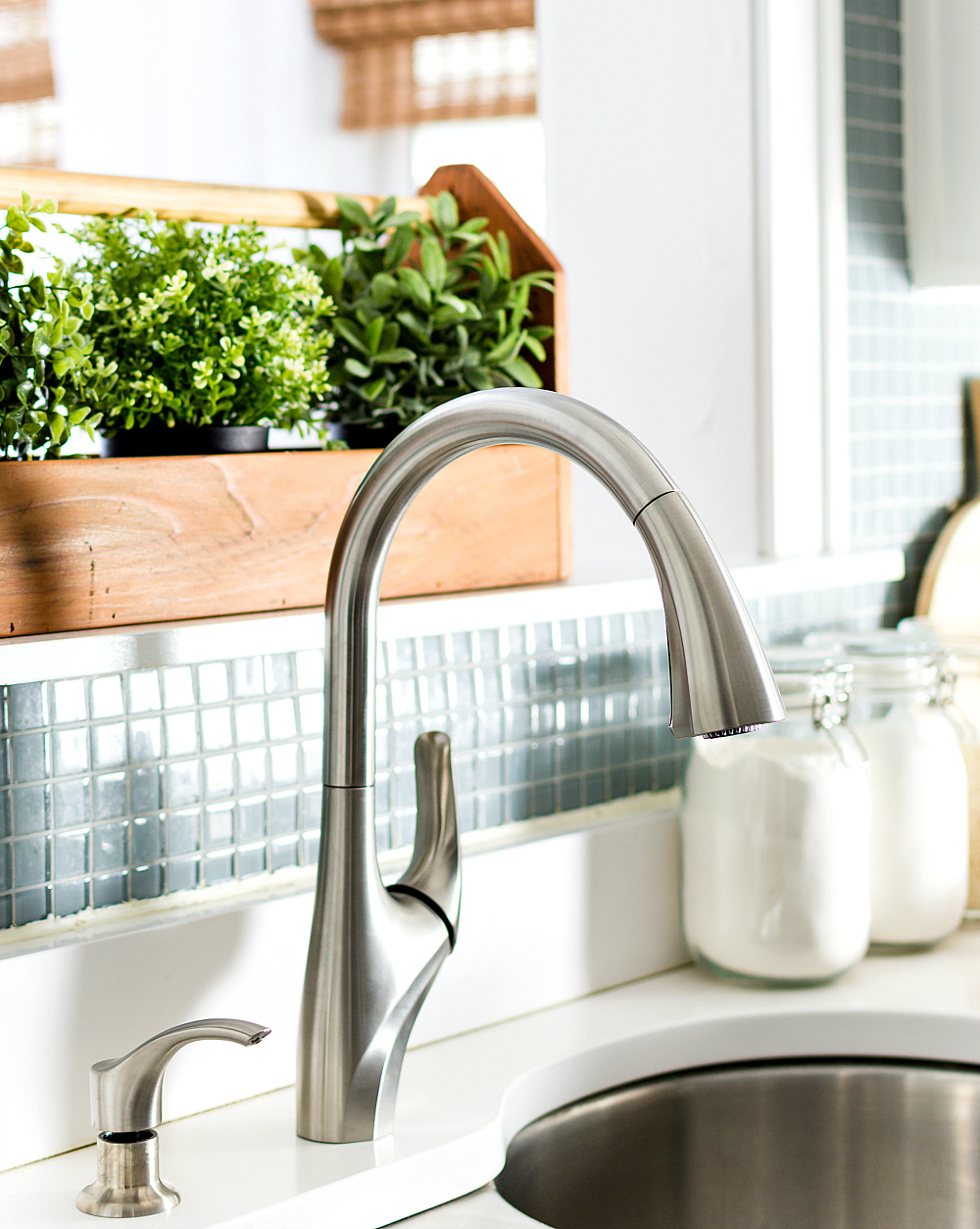 How To Install Kitchen Faucet (click here)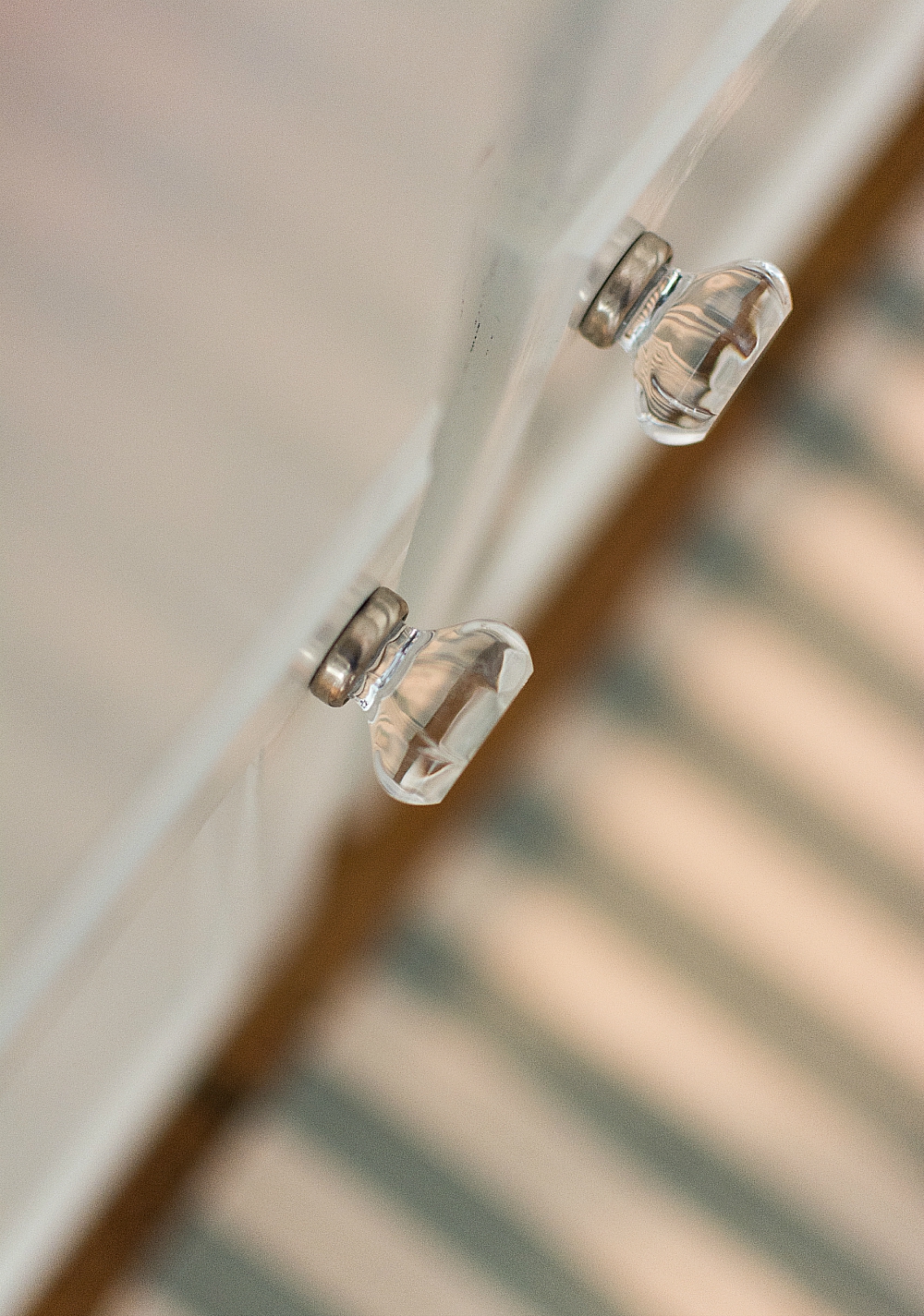 Glass Hardware Kitchen Bling (click here)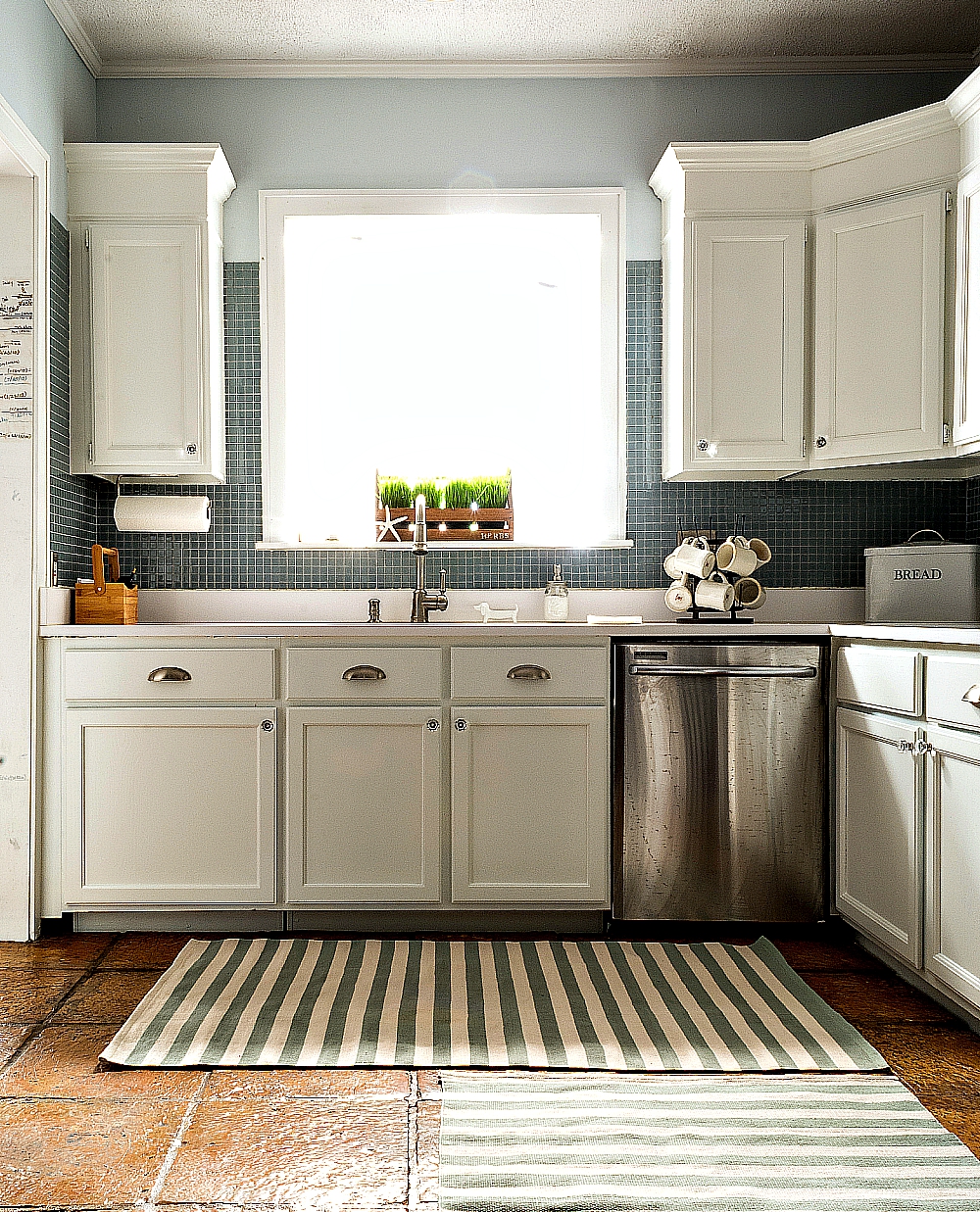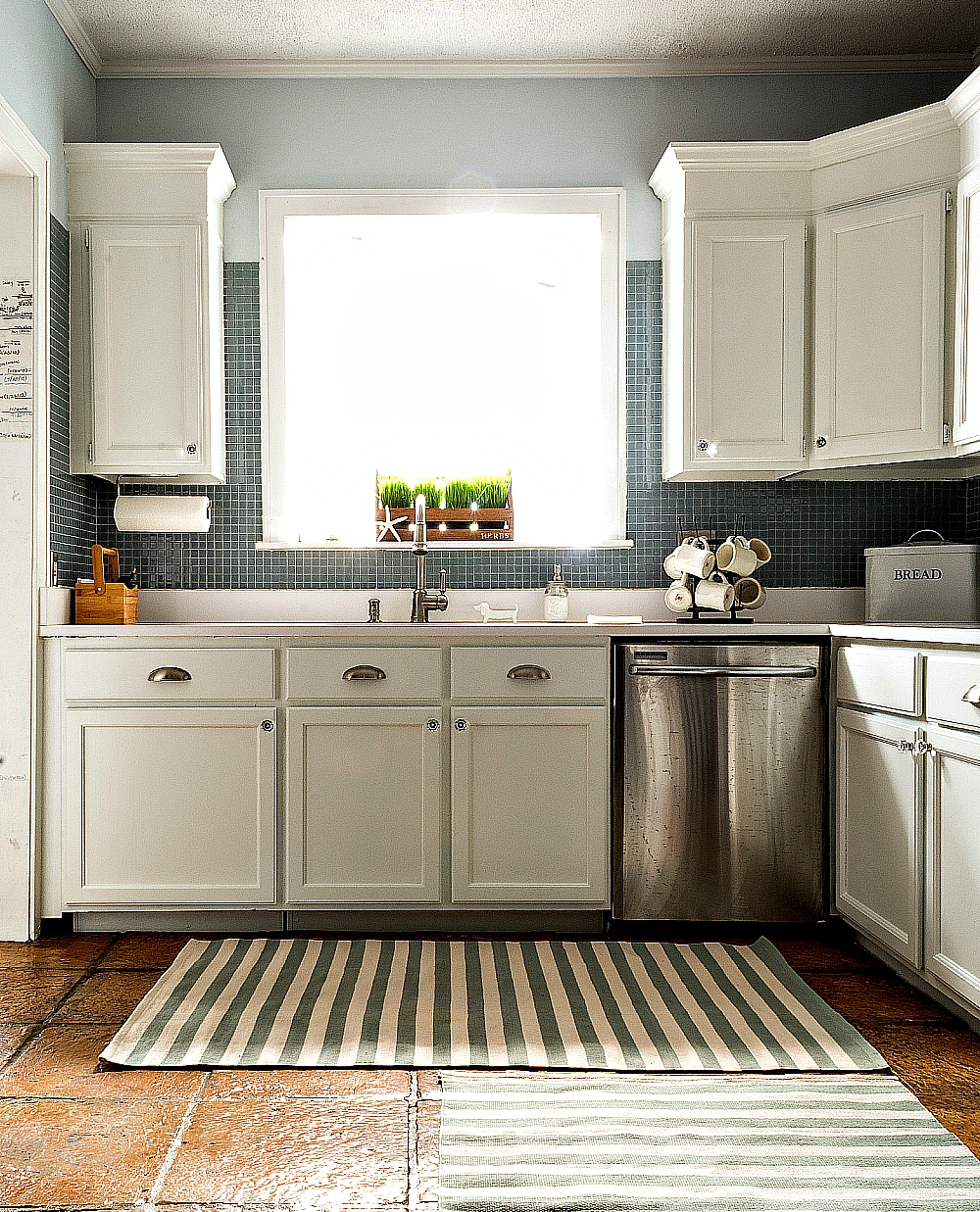 Builder Grade Kitchen DIY Remodel (click here)