I was in the kitchen the other day making a snack when I spotted the 12-pack of caffeine free Diet Coke. Nestled in an awkward spot between the radiator cover and the refrigerator …
its designated resting place.
My husband picked up that 12-pack of caffeine free Diet Coke for me earlier in the day. Along with everything else on 'the list' – which my son insists on labeling our collective grocery list.
What caught my eye … and got me thinking … was the simplest of things. The smallest of gestures. The top of the 12-pack of caffeine free Diet Coke was opened. Yet all 12 cans were still packed tightly together. Because there were already Diet Cokes chilling in the refrigerator. This was my replacement 12-pack. But my husband had opened the top when he nestled that 12-pack in the awkward space between he radiator cover and the refrigerator.
To make it easier for me.
And it struck me: my husband performs these simple acts of sweetness for me all the time. Without thinking. And … shame on me …  often without acknowledgement.
He takes over dinner duty for the kids when he walks in the door at night.
He heats up the tea kettle for me in the mornings.
He scrapes the ice off my car in the winter, and washes the dirt off my car in the summer.
He lets me watch whatever I want on TV.
He still loves me without makeup …
and a few extra pounds.
And when I tried to think of all the small, sweet things I do for him, I drew a blank.
Shame on me. Again.
So I thought it might be due time for me to amend those vows we spoke to one another 20 years ago this week. You know, to include some little things that I can do for Mike.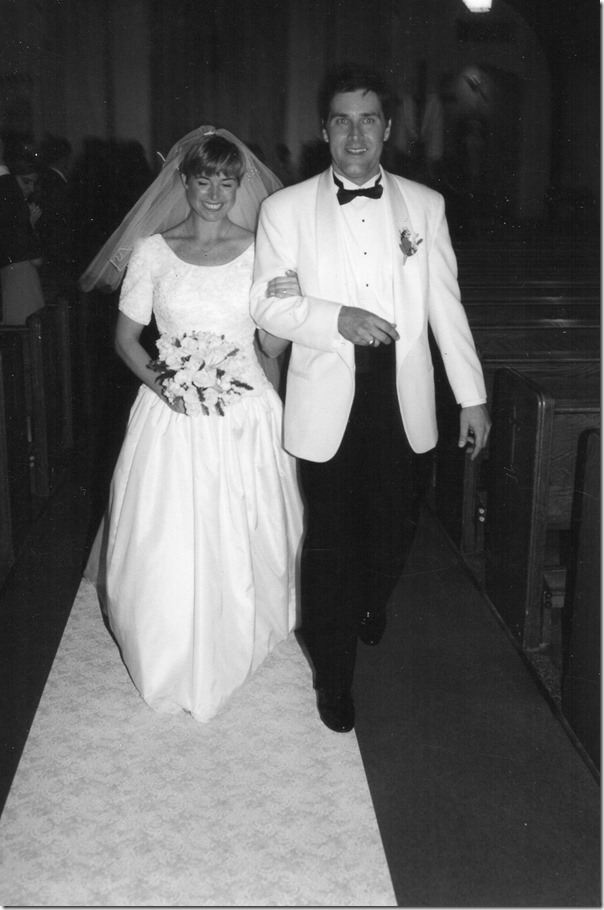 Here goes. I vow to …
Always replace the toilet paper roll.
Fill the ice cube trays.
Clean the dishes in the sink.
Make the bed every day …
… and thank Mike more often for all the little things he does for me.