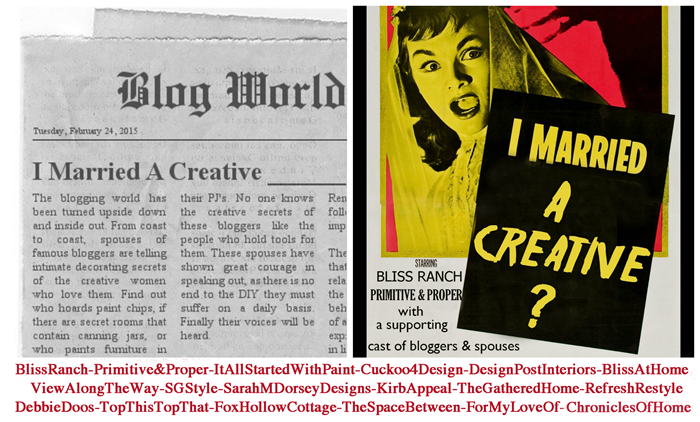 My better half is taking over the blog today to dish on me and my never-ending DIY/crafting/mason jars projects …
 1.  What is your favorite project Linda has done, and why?
I was really impressed with all the board 'n' batten she's done in the front hall, the 'powder room' and the dining room because not only does it look great, it actually shrunk our square footage by half an inch or so each time. Good at tax assessment time.
2.  What is your least favorite, and why?
The painted celery. They tasted like paint.
3.  What is the one creative item or tool that Linda cannot live without?
The Ball® Mason Jar. I suspect her ashes will someday be kept in a Mason jar. Painted in proud New Jersey state flag colors.
4.  What is your biggest pet peeve about Linda in the real world or the project and decorating realm?
Did you think I would actually write something about this? Seriously? OK, it's the laissez faire attitude toward the difficult task of replacing the toilet paper roll. But no, I won't answer that.
5.  If you could take Linda on a vacation anywhere, where would she want to go?
The beach somewhere, probably back to the British Virgin Islands, where we had our honeymoon. I asked her about Storm Lake, Iowa, but I haven't heard back yet.
6.  Linda finds $100.  What does she do with it?
Buys more Mason jars. Or drinking glasses. We almost have room for another one or two.
7.  What is YOUR favorite room in your house and why?
The kitchen. I could cook all day if allowed. Plus the refrigerator is there. And beer is in the refrigerator.
8.  Creativity is messy, but for the most part blogs show the pretty picture.  Can you tell us how Linda is a secret slob?
I've already said too much.
9.  Name a project or decorating adventure that you thought would be a flop but was fabulous?
Having kids.
10.  Blogging takes a lot of time.  Do you ever pass by Linda while she is on the computer and secretly feel neglected?
Never, seriously. What Linda does makes her happy. And it really makes me happy that she's happy.
11.  Before, during, and after photos are an important part of blogging, do you remember to do that while working on projects for Linda?
I am not allowed to touch the camera. I sometimes am allowed to be in the same room, though.
12.  How often do you read Linda's blog and do you have a favorite post?
Occasionally, and I like each, because she writes so well and they are very personal.
13. Before changing a piece of furniture, hanging new curtains, or planning a whole room redo, does Linda consult you or do you come home and it's done?
We have long had an agreement that Linda knows what she is doing and I wouldn't have any good arguments against what she wants to do. Come on, I'm just some knuckleheaded guy. She knows best.
14.  Does Linda discuss her blog with you,  stories from other blogs or friendships with other bloggers?
Yes, it gives her pleasure to talk about it, and that makes me happy for her.
15. Where do you think Linda gets most of her creative inspiration; tv, magazines, online, you, or was she just born that way?
My best friend called her "Martha Stewart" years ago, but I suspect it's really inspiration from Ayn Rand.
16.  Do you know what Pantone's color of the year is and how do you feel about so called "girly" colors for your walls?
No, but I can tell you my Color of the Year is 6.
17.  If you could change one room or area of your home with no decorating advice from Linda, what area would you choose and why?
The basement, but I hate the term "Man Cave." Silly. It's the basement, and that's where guys have been hiding for years. Though there's not much I'd do to it, frankly.
18.  Are you ever worried Linda will share too much personal information or that blogging might invade your private life?
Never. Thanks for making me think about it, though.
19. Have you ever helped Linda style photos for her blog or offer input on how you think a vignette should look?
I offer input. Silently.
20.  There is a saying "If walls could talk…", what would yours say about the decorating in your bedroom?
Please – no indoor stucco!
Phew. I came out unscathed, don't you think? Yes, I know. I married the most wonderful man in the world! And you should see his eyes. The most beautiful crystal clear blue. Eyes you can get lost in. Swim in …
sigh.
I'm not the only blogger whose husband is giving up secrets about their decorating-obsessed blogging wives. Check out some of my blogging friends to see what their husband's have to say about being married to a creative __________________
Linda