This is a Sponsored post written by me on behalf of Duck Brand provided by ShurTech Brands, LLC for SocialSpark. All opinions are 100% mine.
Are you a hopeless romantic? Do you believe in fate …
and perfect matches?
I do. Perhaps it was all those princess Disney films I adored. And absorbed. Or the after school specials. And – most powerful of all – all those ugly-duckling-hiding-behind-their-unfashionable-baggy-clothes-and-wide-rimmed-glass-turned-beauty-queen chick flicks that I drank up like Kool-Aid.
My inner (okay, outer) ugly duckling teenage self needed to believe in those stories. I clung to them like a 5-year-old clings to the monkey bars. Like our lives depended on it.
I needed to believe that someday … some day with fingers crossed tightly … I would blossom. Emerge from my cocoon. Turn into that beauty queen. Okay, that was pushing it … more like turn into a more polished and stylish version of myself.
And I started by replacing those Coke-bottle glasses with some contact lenses.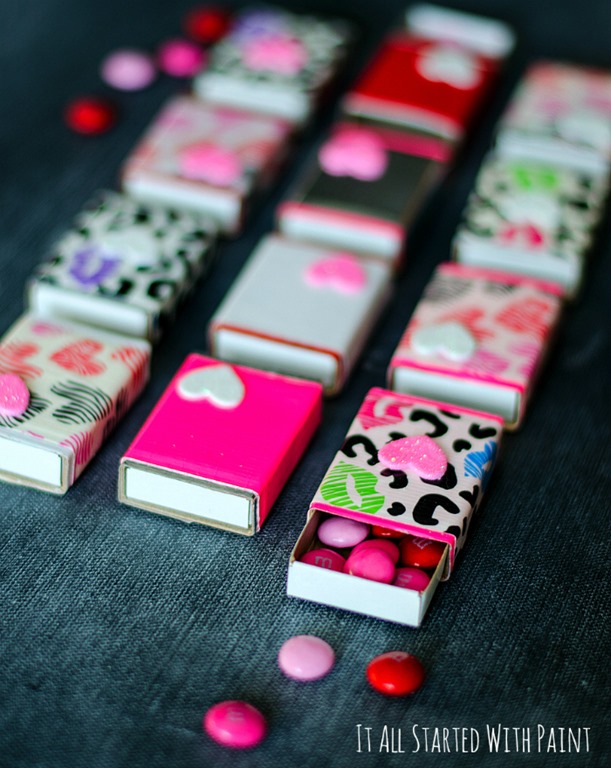 And in my quest for that perfect match, I kissed my fair share of frogs. Unfortunately they never transformed into my prince charming. Because, when it comes down to it, my perfect match shouldn't need to transform into something else. He should be perfect just the way he is.
Now I'll be honest, panic started to set in during those frog-kissing years. Especially as I neared 30. My perfect match resolve started to crack a bit. Doubt seeped in through those cracks. Invading my thoughts. Questioning my belief in fate.
But fate is funny. And fickle. And just when I thought it would never happen …
when I was ready to throw in the towel. Give up hope. Dare to flirt with the idea of single motherhood …
It happened. And my faith in fate was restored.
So much so that I thought I'd help you find your perfect match. With a Valentine's Day craft made with some fun Duck Brand® holiday tape.
How To Make A Matchbox Valentine
Materials*
Duck Tape in Assorted Prints & Colors
Match Boxes
*affiliate links included.

I started by covering the match box with Duck Brand® tape.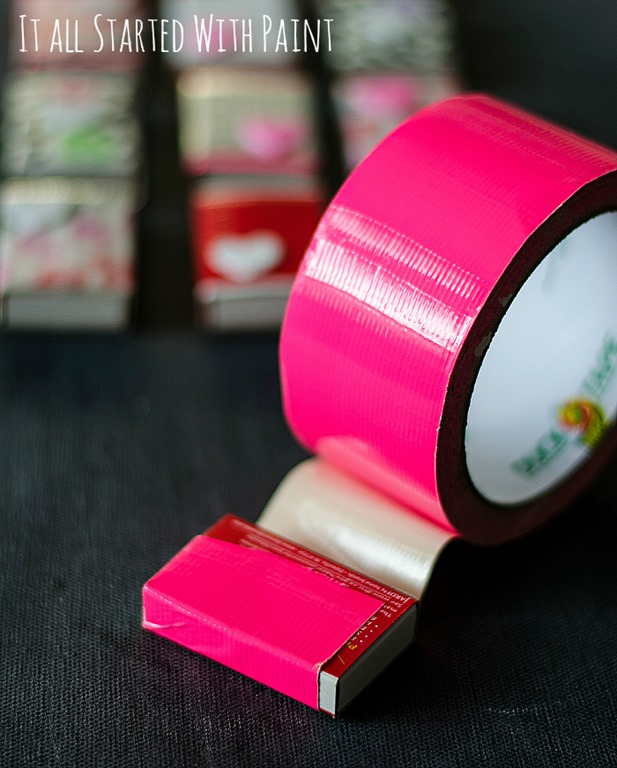 Unfortunately, the matchbox is slightly wider that the tape. So I just used two pieces.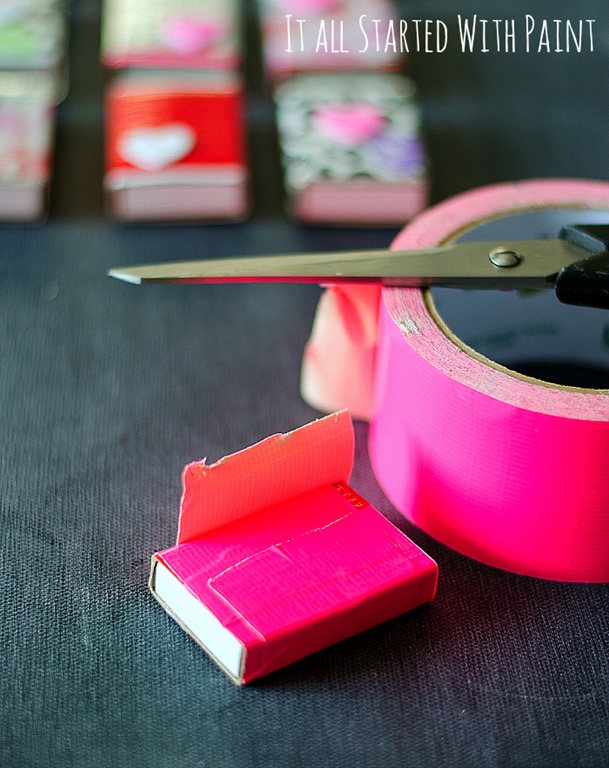 Then I covered the center of the box with a contrasting Duck Brand® tape. I really loved this leopard print and kisses.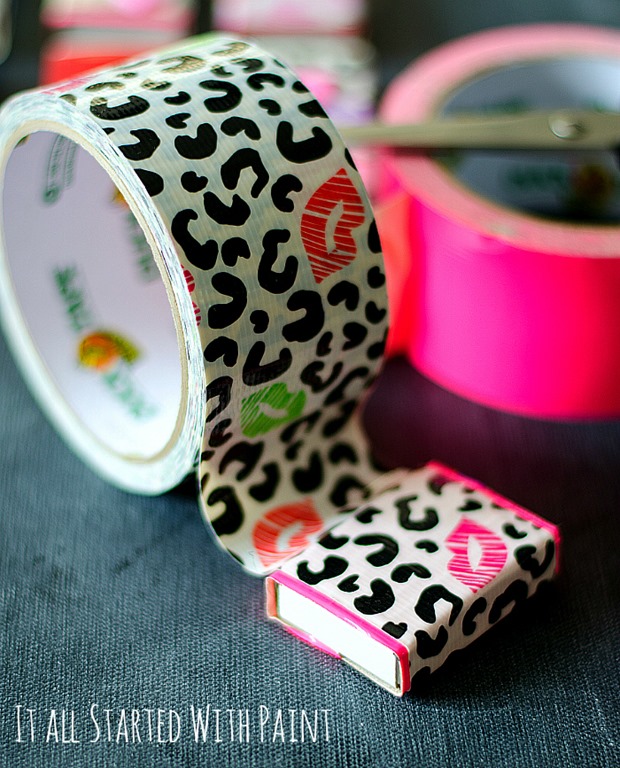 So fun and flirty!
And soooooo not your father's Duck Brand® tape, right? They have so many fun colors and prints that are perfect for just about any holiday!
Last step, some sweets.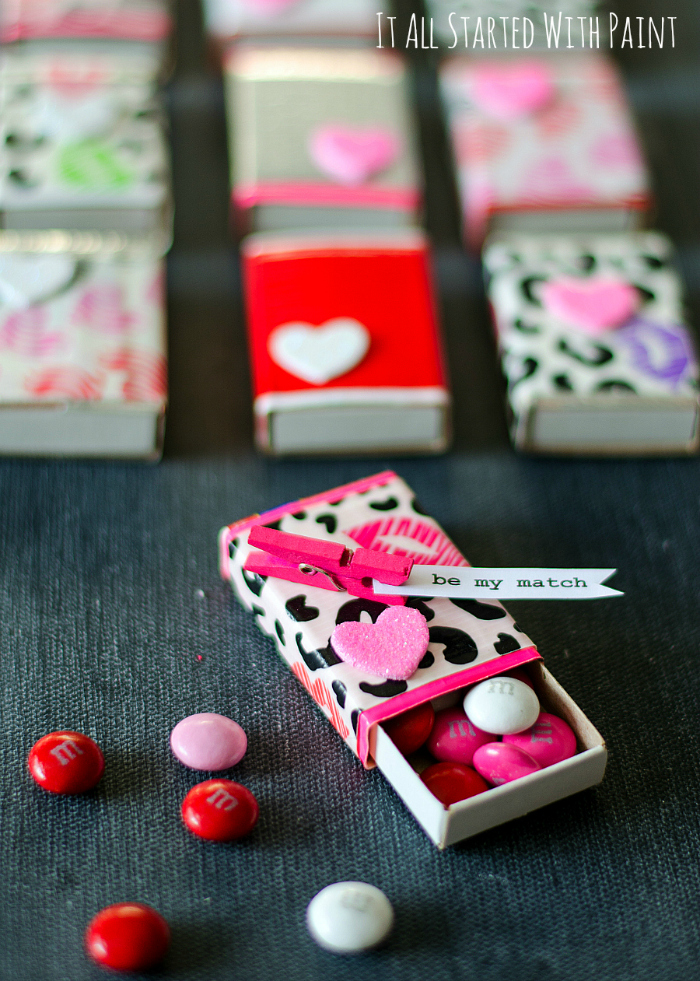 The perfect Valentine for your perfect match!
P.S. You can find Duck Brand® on Twitter too at @TheDuckBrand. You can follow along here on Twitter
You Might Also Like: