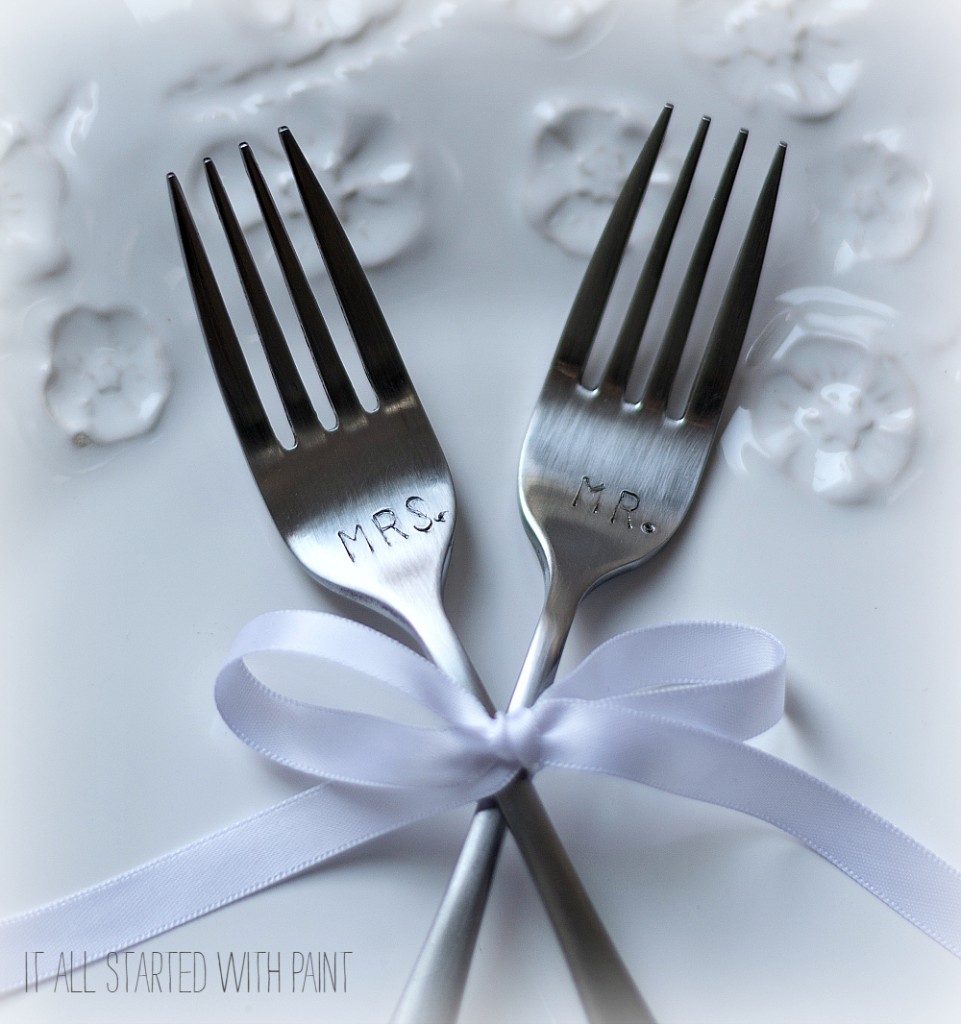 I may or may not have a full set of forks with various stages of stamps and scratches. An "M" here and a faint "MR" there. And maybe an "M" and an "R" followed by an upside down "S" …
And when I say may not, I really mean may.
Just another example of a project that, in my mind's eye, was going to be so simple. Some hand stamped Mr. & Mrs. forks.
I already had a bunch of thrift store forks to play around with. Different shapes and different thicknesses of metal.
Hence all those test forks that now sport "M's" and "R's" or just a muddled scratch because the stamp slipped mid-bang-of-the-hammer.
I already had the metal stamp kit. And stamp pad. And hammer.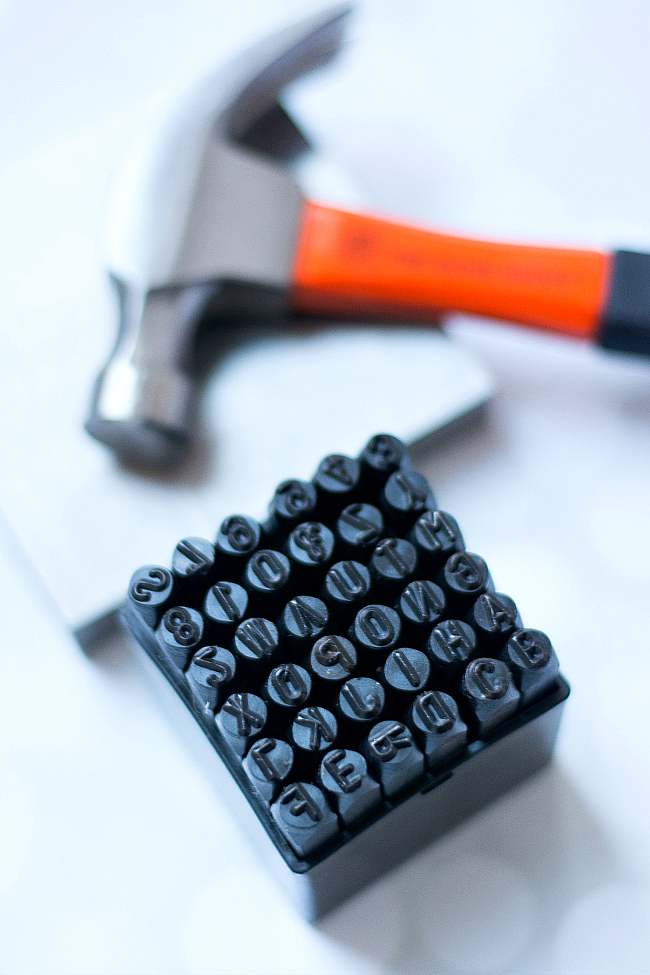 In an ideal world, I just needed to line up the stamp on the fork and give it one really hard whack with the hammer.
But some of my thrift store forks had odd curves, making it impossible to find a logical flat spot where the stamp could be stamped.
But I still tried. And failed. Until I hit upon (literally) these forks …
These forks are probably not the best choice, metal wise. They are a bit thick. But they offered the flattest surface.
I had six to play with. And let's just say forks 1, 2, 3 & 4 didn't turn out to well …
but 5 & 6 finally worked. And now we have a "MRS." and a "MR." fork with which to eat a romantic meal on Valentine's Day …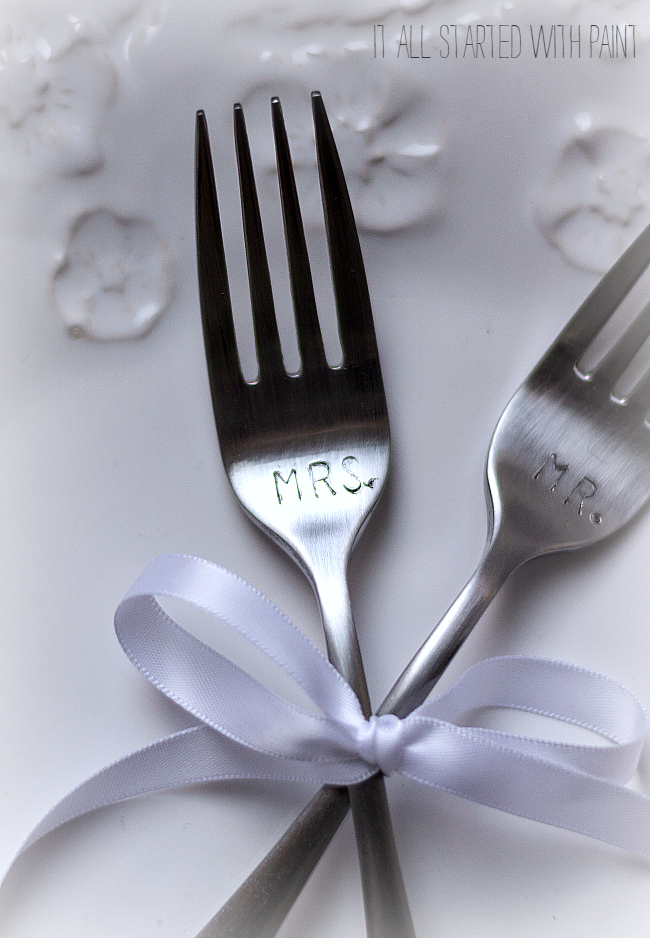 … or maybe cake.
For even more Valentine's Day inspiration, check out these creative ideas from some of my creative blogging friends …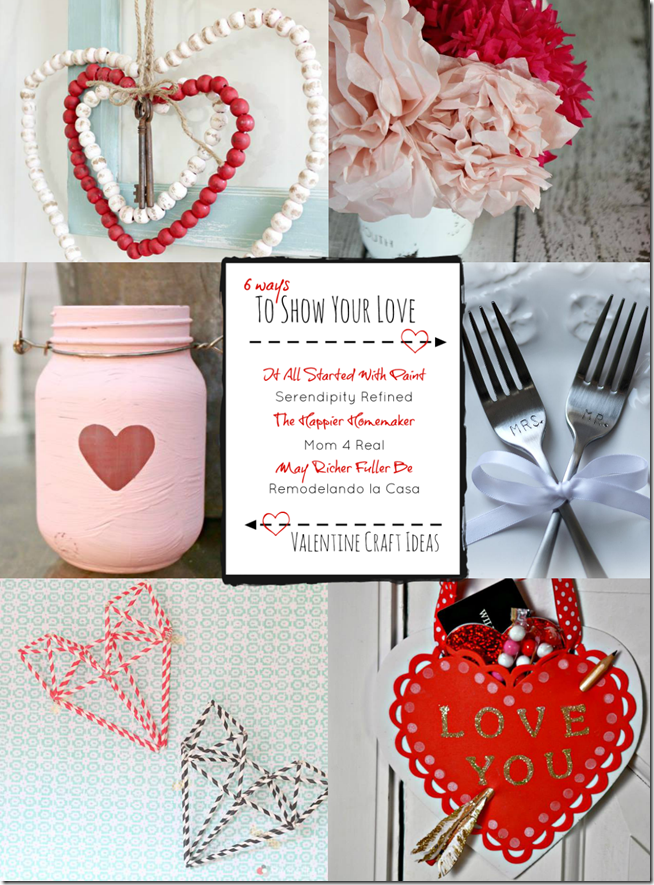 Recycled Beaded Hearts by Remodelando la Casa
Paper Flower Bouquet by The Happier Homemaker
Valentine's Day Painted Mason Jar Lanterns by Mom 4 Real
Himmeli Hearts: A Valentine's Day Craft by May Richer Fuller Be
Easy Non-Candy Valentine by Serendipity Refined
… all of which are ideas that won't leave you with a drawer full of half-stamped, half-scratched forks!
🙂
You Might Also Like: