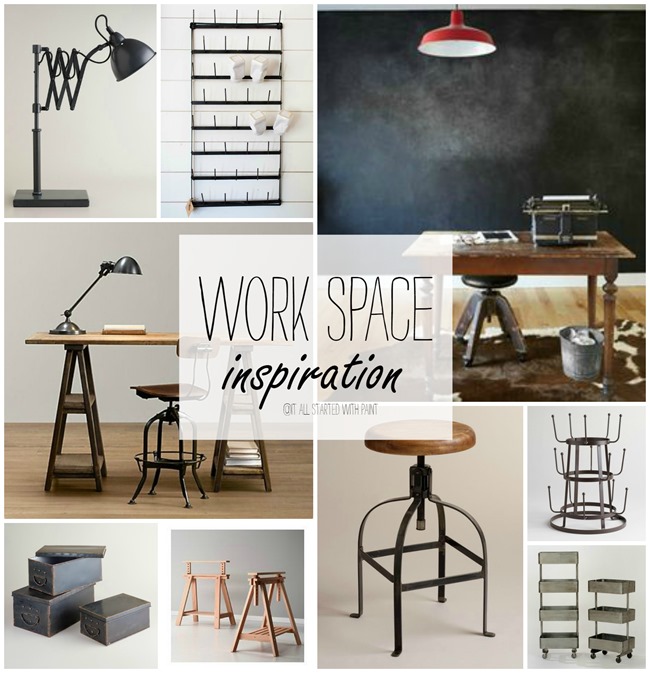 Sources: Accordion Lamp; Wall-Mounted Bottle Drying Rack; Chalkboard Wall Office; Sawhorse Desk (discontinued Restoration Hardware); Tin boxes; Sawhorses; Swivel Stool; 3-Tier Drying Rack; Metal Shelf Carts
I'm overwhelmed.
My office, craft room, and Etsy shop business is situated directly in the center of our home. The dining room. It's the room you can see from every room on the first floor of our charming (read: square-foot-challenged) home. It's the room you have to pass through day and night as you move from living room to kitchen to powder room to family room to basement.
And it's a mess. Drop cloth and half-painted mason jars crowd the table top. Threads and drop cloth droppings are scattered on the floor. Specs of paint have added unwanted color to our chairs. And a sewing machine sits on the floor among dollar store, Michael's, and Jo-Ann Fabric bags overflowing with soon-to-be-crafted masterpieces. Not to mention the quart of Annie Sloan Chalk paint that I dropped on my  new navy and white striped rug last week …

It's stressing me out. Mostly because I can't get away from it. It's an eyesore that screams at me day and night. A constant reminder of all the undone things that need to be done. Things that need paint and stitches and distressing and packing …
Sigh.
And let's not overlook the fact that it renders my dining room unusable for its intended purpose: dining.
I'm determined to carve out a space in our finished basement where I can move my blogging and Etsy shop businesses. It's a space we added on to the house below the first floor family room addition. A space originally intended for the kids. Where X-boxes and Wiis and PlayStations were played. And toys stored. But the kids have outgrown (for the most part) those things. And now the space is a place my husband works in the evenings.
Now, I'm not looking to displace my husband from this space. I'm just looking to add me into it. A little nook, if you will. Where I can build and inexpensive sawhorse table. And hang some bottle drying racks on the wall. Oh, and that wall will be painted with chalkboard paint.
And, I know, I know, I may be jumping the gun here. I mean, haven't even shared family room remodel yet. Mostly because I'm still working on some DIY details before that photo shoot can take place.
But I can dream, can't I? Okay, I'm doing a bit more than dreaming. I've been tooling around Amazon and placing some orders. And pulling out paint chips and toiling with some colors …
And I've been pinning ideas like crazy on my it all started with OFFICE & CRAFT SPACE IDEAS Pinterest board (here …)
 Follow Linda @ it all started with paint blog's board it started with OFFICE & CRAFT SPACE IDEAS on Pinterest.
So stay tuned. I've bumped this project up on my priority list. What with the holiday season just around the corner and all, I anticipate things will get crazy busy all around …

Linda