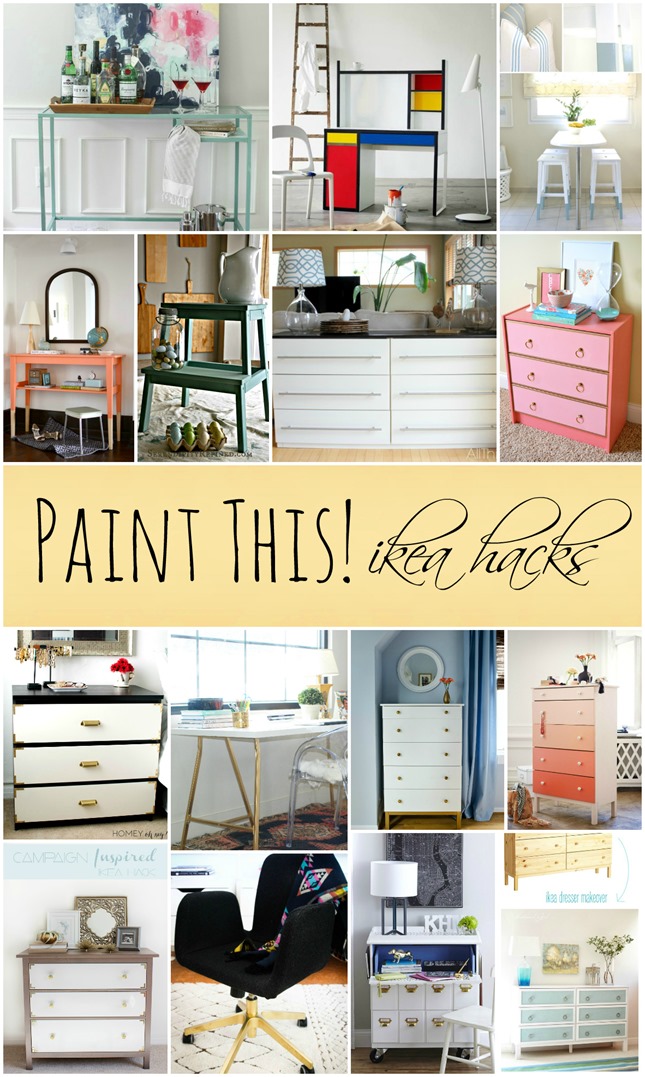 Bar Cart VITTSJO Laptop Table Hack from Style Me Pretty | Mondrian Dresser MICKE Computer Work Station Hack from IKEA | Dipped Leg SVALBO IKEA Hack from The Sweet Beast | IKEA Step Stool Hack from Serendipity Refined | Kitchen Sideboard TARVA Dresser IKEA Hack from All Things G&D | IKEA RAST Hack Dresser from Sita Montgomery | Campaign Style Dresser IKEA MALM Dresser Hack from Homey Oh My! | Office Desk VIKA AMON Table IKEA Hack from White + Gold | TARVA IKEA Dresser Hack from It All Started With Paint | Ombre Dresser TARVA IKEA Hack from Decor8 | Campaign Inspired Dresser IKEA Hemnes Hack from Lacquer & Linen |  STORNAS Buffet IKEA Hack from Little House Big Plans | | PATRIK Swivel Chair IKEA Hack from Hither & Thither |  Rolling Desk TARVA IKEA Hack from In My Own Style | TARVA 6-Drawer Dresser Hack from Centsational Girl
I'm a Google image search junkie. It's my go-to for just about everything …
well, everything that has to do with home décor or diy or crafting or holidays or gift ideas or free digital downloads or clothes or shoes or or hairstyles or recipes or …
okay, everything!
I tend to bypass the standard Google web search. Too many words. Not enough visuals. I'm a show-me kind of girl. An I-need-to-see-it-to-believe-it kind of person.
So it should come as no surprise when I was ready to "hack" my IKEA Tarva dresser, I turned to Google image search for ideas. And I never in a million years would have guessed the first image I pulled up would be the exact look I was looking for. Which you can see by clicking here …
That Google image search also pulled up some amazing IKEA transformations. With paint. So I thought I'd collect my search findings here for you. All in one place.
You're welcome!
Now I can't help but wonder how – or if – this collective post of IKEA hacks will turn up in a Google image search?
Hmmm …