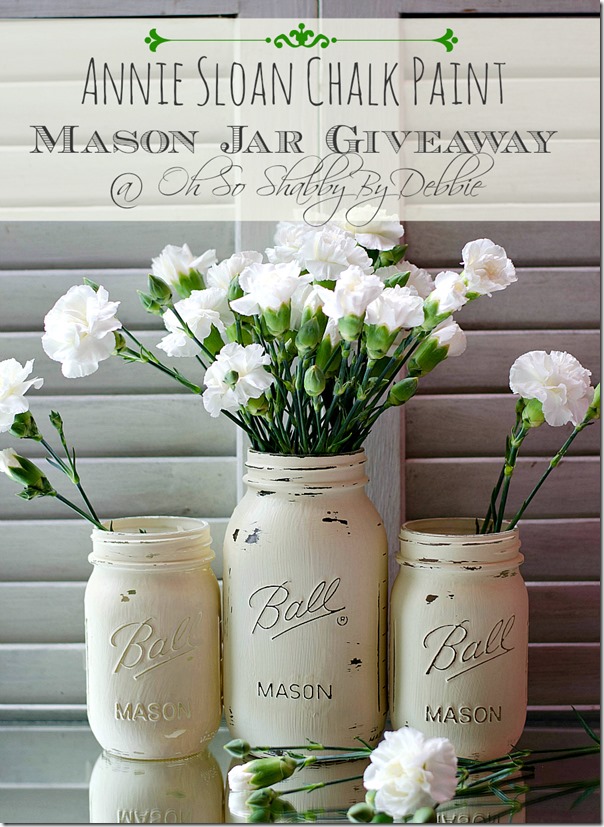 Did you happen to notice the exclamation point? The one up there in the title? Yeah, that one …
If you've hung around here awhile, you know I don't throw around exclamation points lightly. Let alone feature one in my headline …
* Gasp *
I think they're overused.  Abused.  Bordering on the "cry wolf" syndrome.  I mean, no one can be that excited all the time, can they?  And if everything is always exclamation point worthy doesn't that take away from the really and truly exclamation point worthy things?
Take, for instance, this giveaway I'm taking part in …
a giveaway of a set of my Annie Sloan Chalk Paint painted and distressed mason jars.
A giveaway taking place on the fabulous Oh So Shabby by Debbie Reynolds Facebook page right now …
And a giveaway that is taking place on the Oh So Shabby by Debbie blog …
Now that's a giveaway worthy of an exclamation point!  Or two!!  Okay three!!! But that's where I draw the line …

So if you'd like to win that "Shabby Set" in the photo ~ one quartz sized mason jar flanked by two pint sized jars painted in Annie Sloan Old White ~ CLICK HERE TO ENTER …
Good luck!!!  I'm rooting for you!!!


Get it all started with paint delivered to your email inbox:
Let's keep in touch:
Sharing:
* Domestically Speaking *  Someday Crafts *  Southern Lovely * 733 Blog * Sowdering About in Seattle *