When Karah at the space between asked if I wanted to be part of this …
… along with Thistlewood Farm, Eclectically Vintage, and The Cottage Market …
… I jumped at the chance.  It sounded like such a great idea.  A blogger-to-blogger outreach.  I would make a handmade gift and send it off to other bloggers.  And they could keep that gift … or pass it on.  And then, if they wanted to keep this going, would in turn reach out to even more bloggers with their own handmade gifts …
… and so on and so on …
Then I had the brilliant idea that I was going to make two of each gift for each blogger.  One for them to keep.  And one for them to pass on … to a friend, or family member, or someone in need of a pick-me-up.
Yeah, that brilliant idea finds me elbow deep in drop cloth with no end in sight.
Now, if you're curious about the gift I'm making, you'll need to go here …

… where I'm substitute teaching …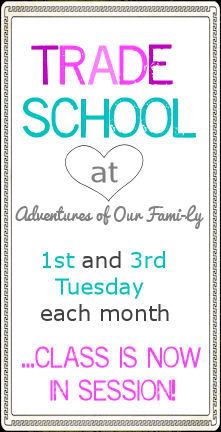 … and my tutorial is about the gift that I'm making.
Now Sarah is a fellow Chicagoan.  And she arranged for some of us local bloggers to meet and eat a few months ago …
… and I think I may have scared her a bit.  I'm a tad (okay, very) intense and excitable when I meet fellow bloggers …
But Sarah is just as nice and sweet as you would image her to be …
And while you're at Adventures of our Fami-Ly, be sure to check out Sarah's cool projects and tutorials and tasty recipes (just click on the picture to be taken to the post) …
Meanwhile, I'll be home slaving away over the sewing machine so I can get those pillows out to Sarah (yes, Sarah is an intended recipient), as well as …
– and –
P.S. Mark your calendars. The "It's a Cinch" Mission: Possible Challenge link party is just one week away.  We'll go live at 6:00 AM CST/7:00 AM EST …