Rosemary Beef Skewers from HelloFresh Meal Delivery Kit.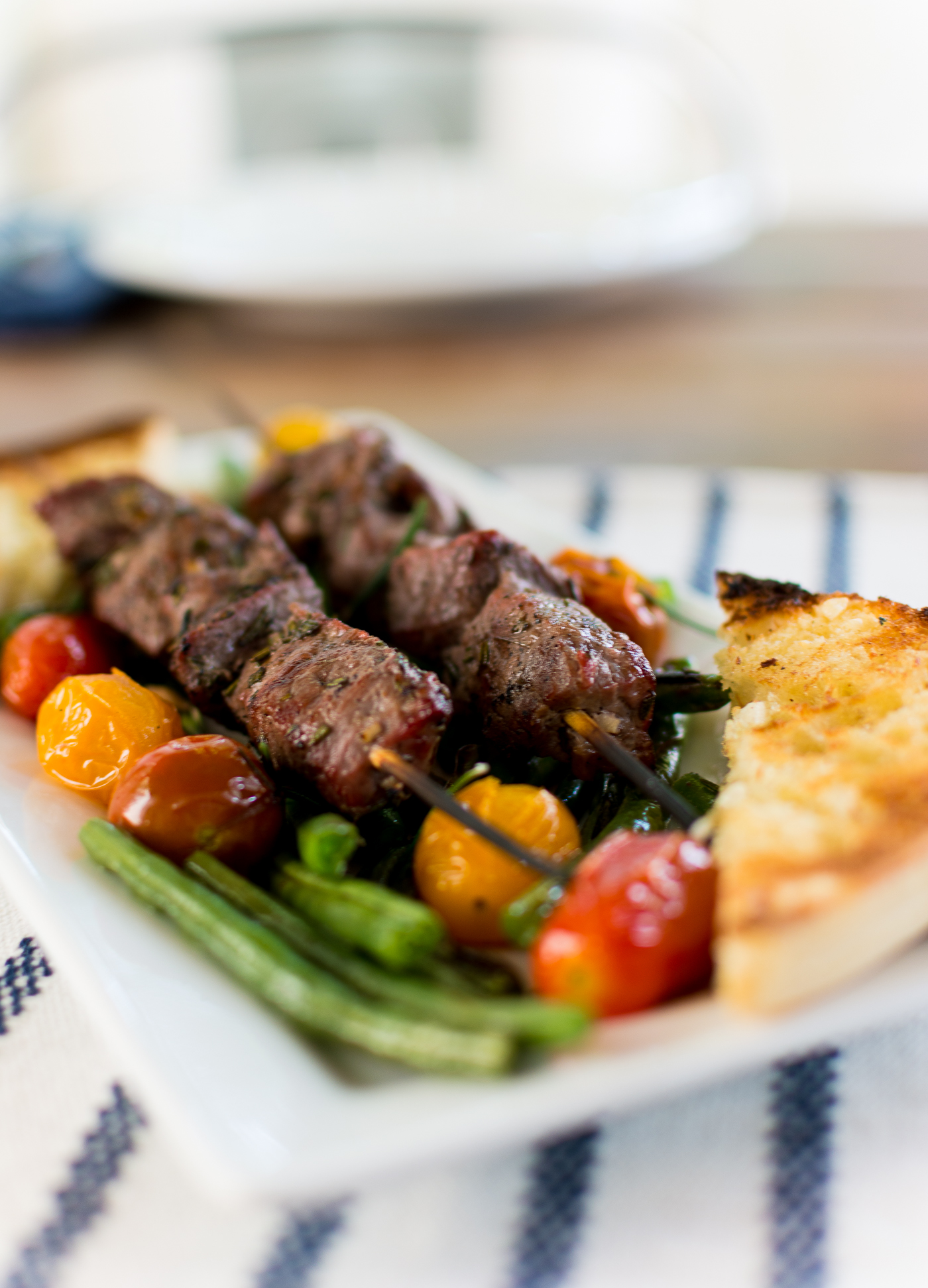 What's for dinner?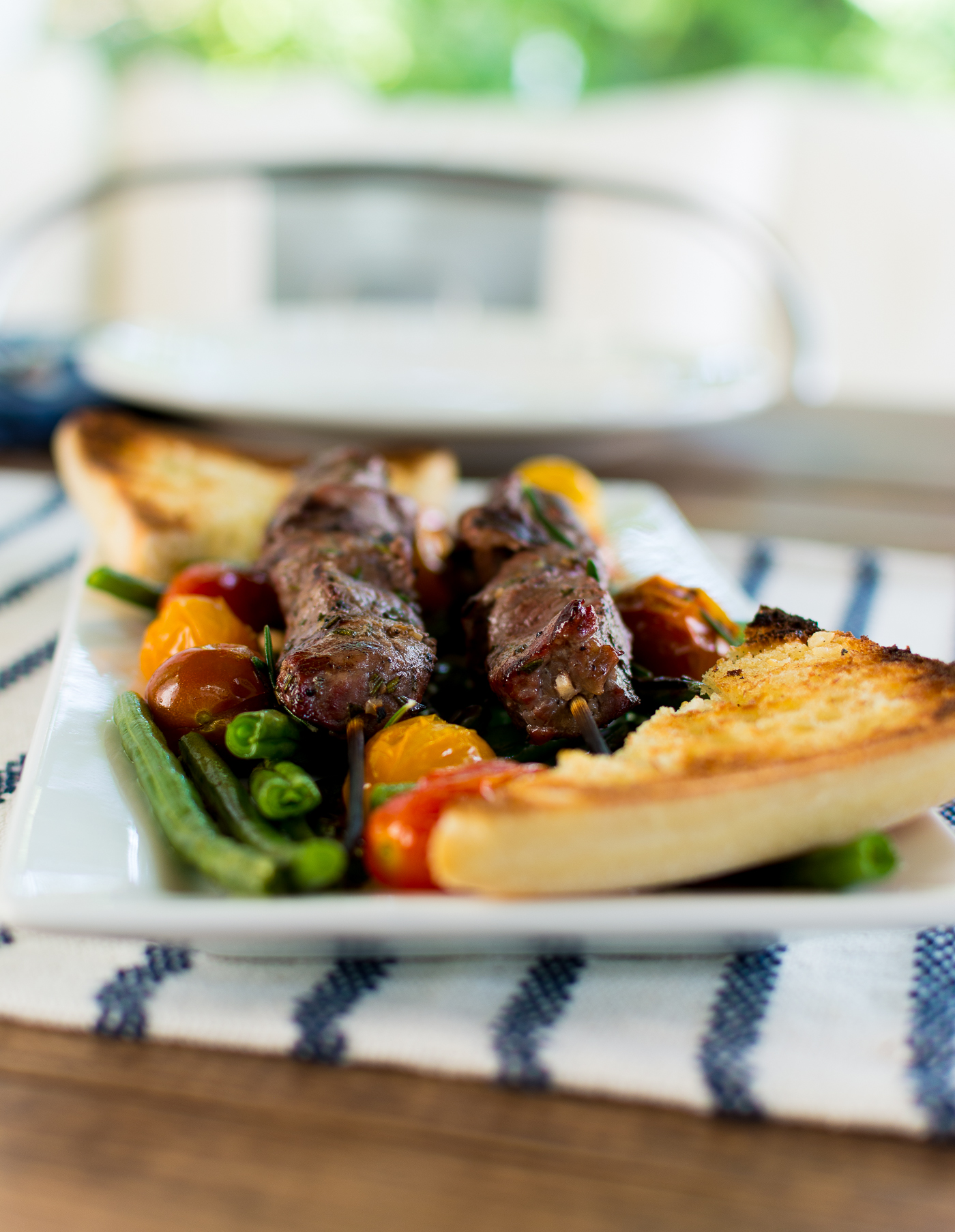 Ugh.
Those three words (or is four?) have become the most dreaded of words in the English language. Well, for me that is. And not the individual words. What's a reasonable start to a question. For is a common preposition. Dinner is something to look forward to. But when those three (or four?) words are threaded together in that particular order and voiced from someone who is dependent on you to make them dinner …
it conjures nothing short of dread.
It wasn't always so. Long ago it was, Where should we go for dinner? Back in the carefree, freewheeling days before kids. And even longer ago, What's for dinner? was the question I posed to my dinner-making mom.
But all that changed 19 years ago. When schedules and routines and dinner time became of utmost importance …
and my carefree, freewheeling days were replaced with the never-ending What's for dinner? query.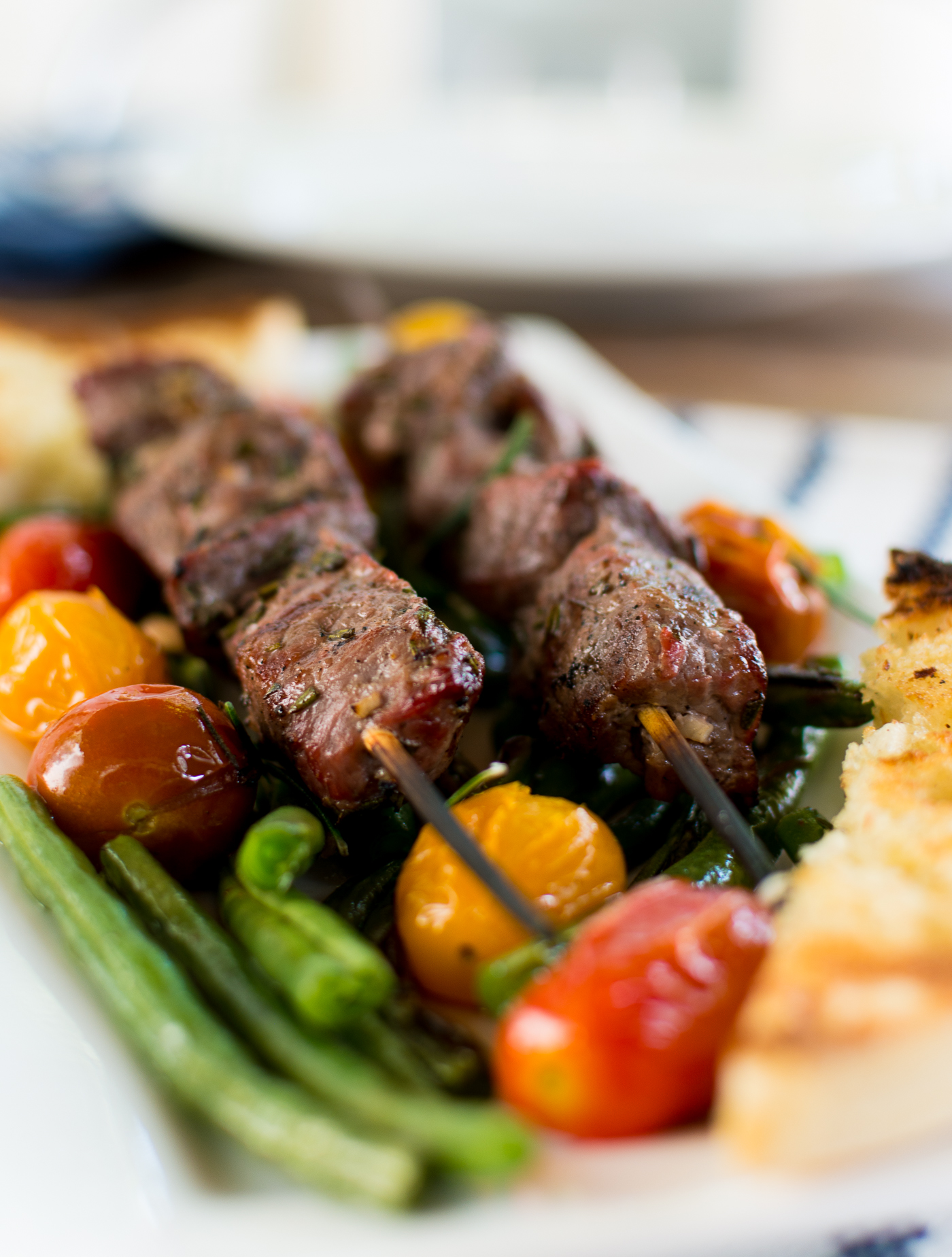 I'll admit, over the years we (okay, I) have fallen into a repetitious rut. Where quick and easy mostly (okay, always) takes precedence over everything else. Pasta Mondays. Chicken Nugget Tuesdays. Fast Food Wednesdays …
and on and on and on it goes.
We did shake things up last year when our nest became a little emptier when our oldest headed off to college. Dinner for two kids morphed into dinner for my daughter and I. And yet, once again, it only took a few weeks for us to morph into a new, repetitious rut.
When my son returned from college for summer break and the new, slightly fuller nest What's for dinner? question was posed, he actually suggested we try a meal delivery kit service. You know, to mix up our same old same old routine.
Turns out the dinner Gods were listening, because shortly thereafter HelloFresh reached out to me asking if I wanted to try out their meal delivery kit. Naturally I jumped at the opportunity to freshen up our ho hum mid-life-crisis dinner routine.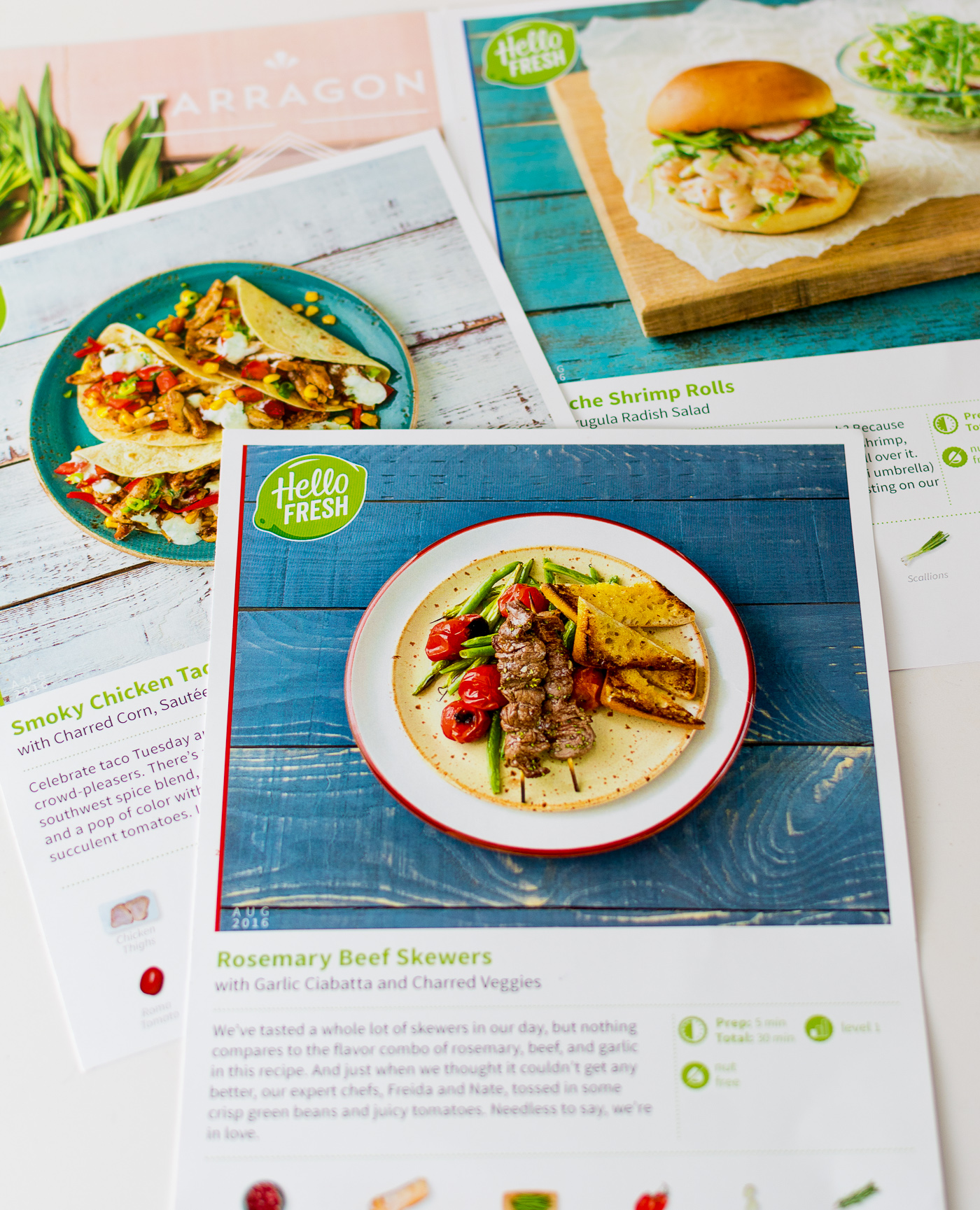 The whole family's palates perked up when the HelloFresh box was delivered to our front door. And as I unpacked three boxes containing perfectly proportion fresh ingredients to create three delicious meals — and detailed instructions on how to combine those perfectly proportion fresh ingredients to easily make three delicious meals — I think I heard a cheer in the background. Or maybe it was a sigh of relief. 😉
I love how HelloFresh takes the guess work out of meal planning. Each recipe is packed with fresh ingredients that have been reviewed by an in-house dietitian to make sure we're eating a healthy and balanced meal …
in fact, my son commented on how many different things were on his plate (a not so subtle reminder that I've been falling short on providing healthy, balanced meals).
And remember how "easy" has been a priority for me when it comes to making dinner? What could be easier than letting HelloFresh do all the planning and grocery shopping! The hardest part of the whole process was deciding what to make first — The Smoky Chicken Tacos or the Brioche Shrimp Rolls or the Rosemary Beef Skewers.
I went with the Rosemary Beef Skewers.
Then all I had to do was a little bit of prep. Like washing the vegetables and mincing garlic and chopping up herbs …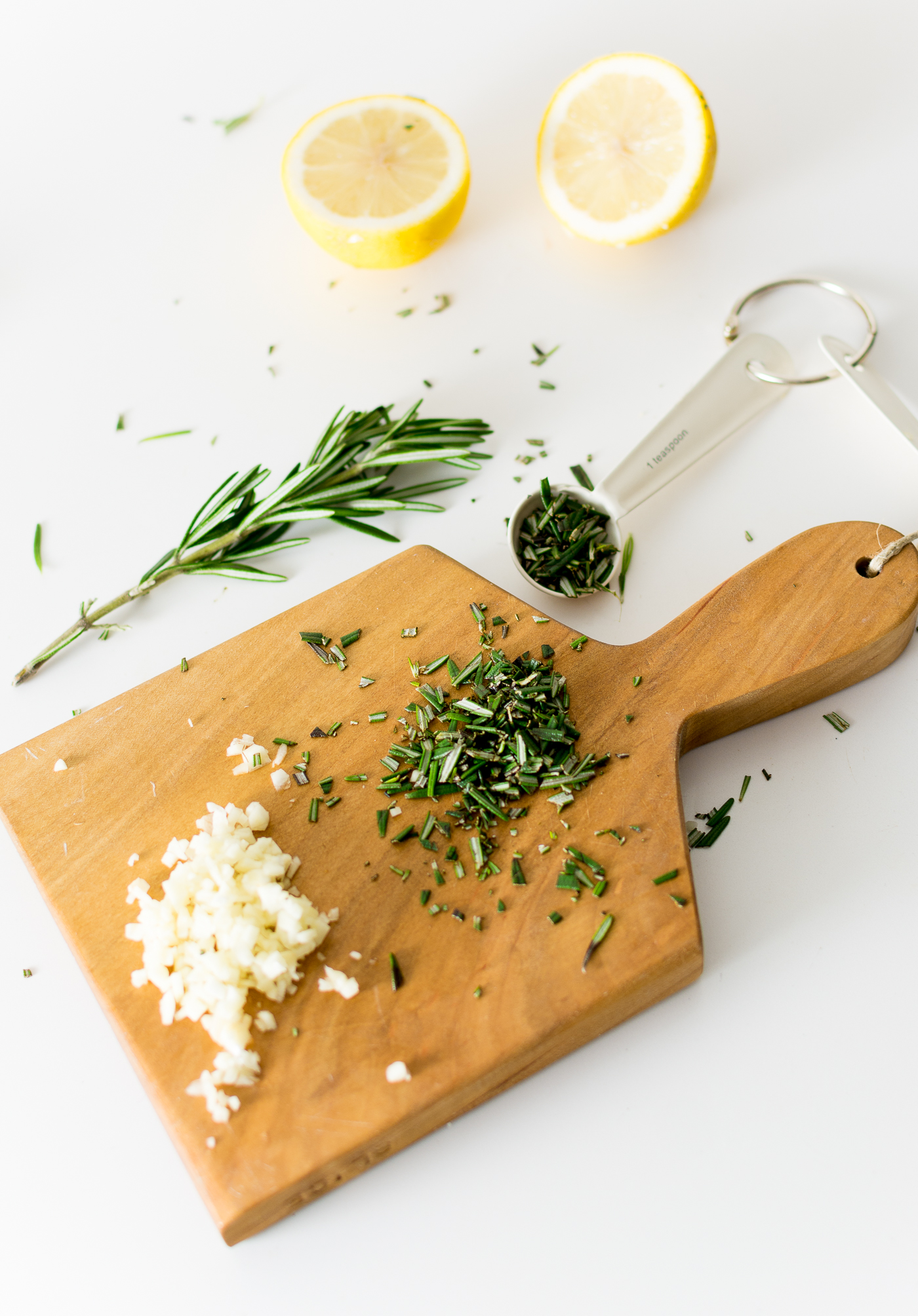 … and marinating the meat with rosemary and garlic before threading them on pre-soaked skewers.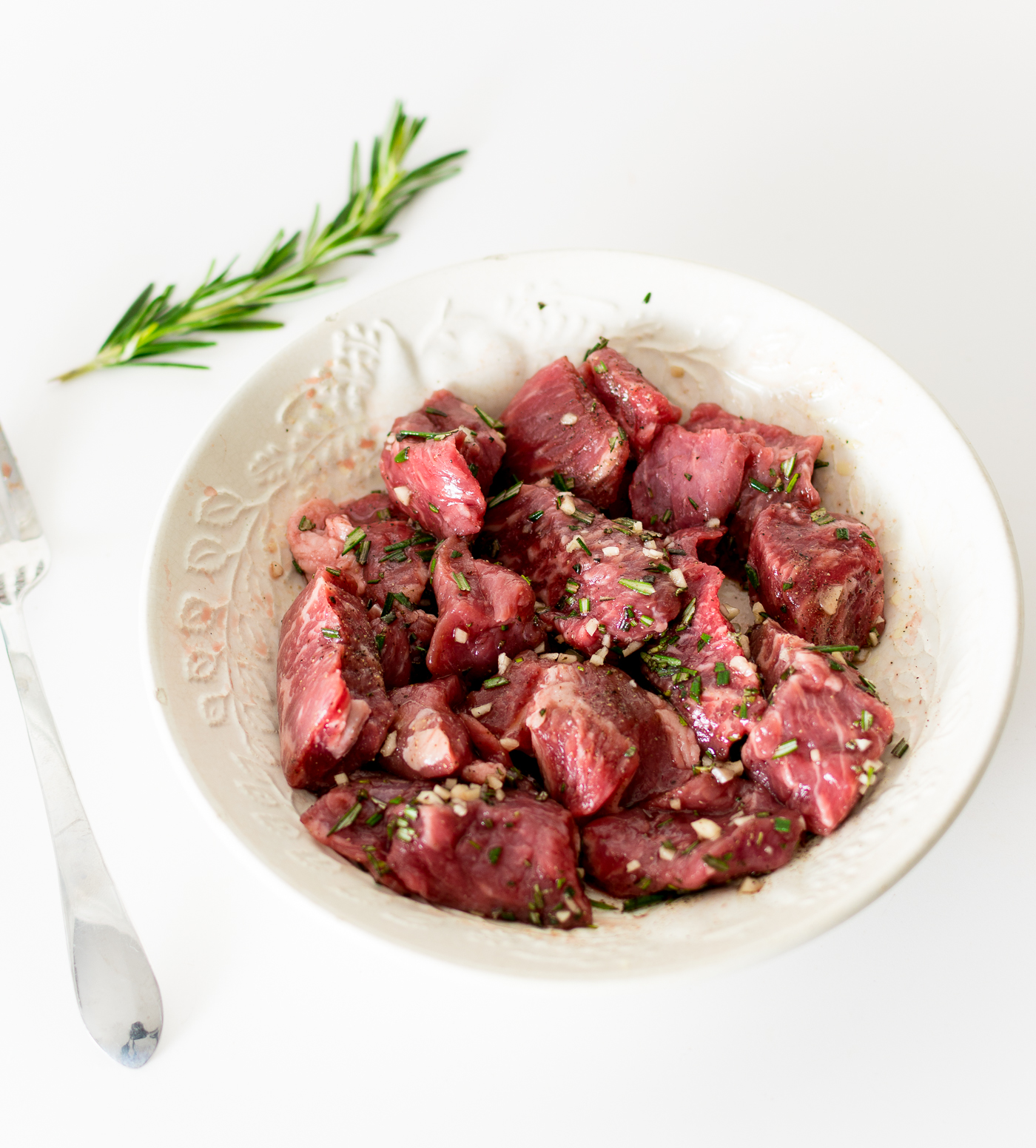 The HelloFresh step-by-step instructions even tell you what to do when. And in what order. Seriously, this is a foolproof plan that can be tackled by even the most culinary challenged.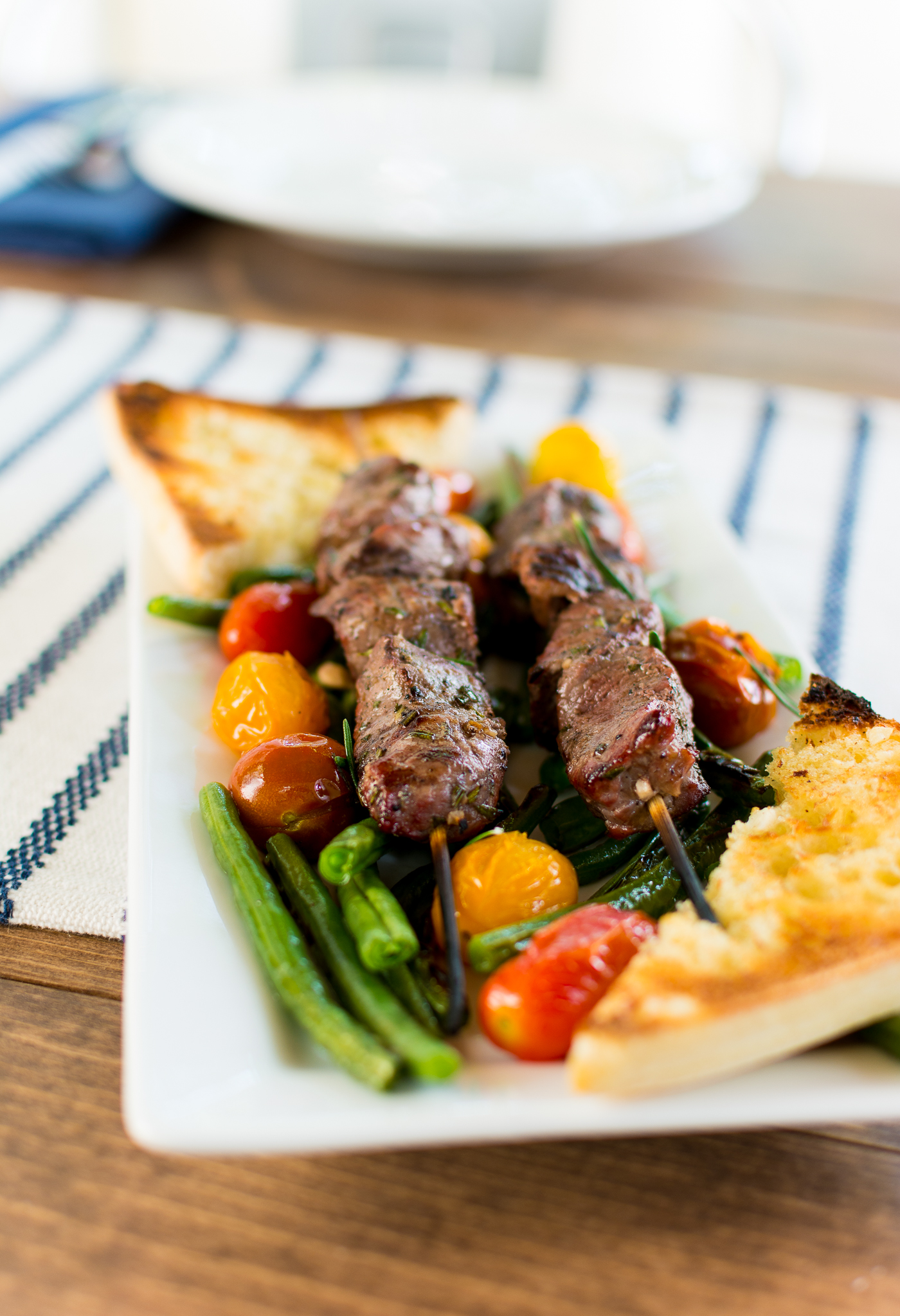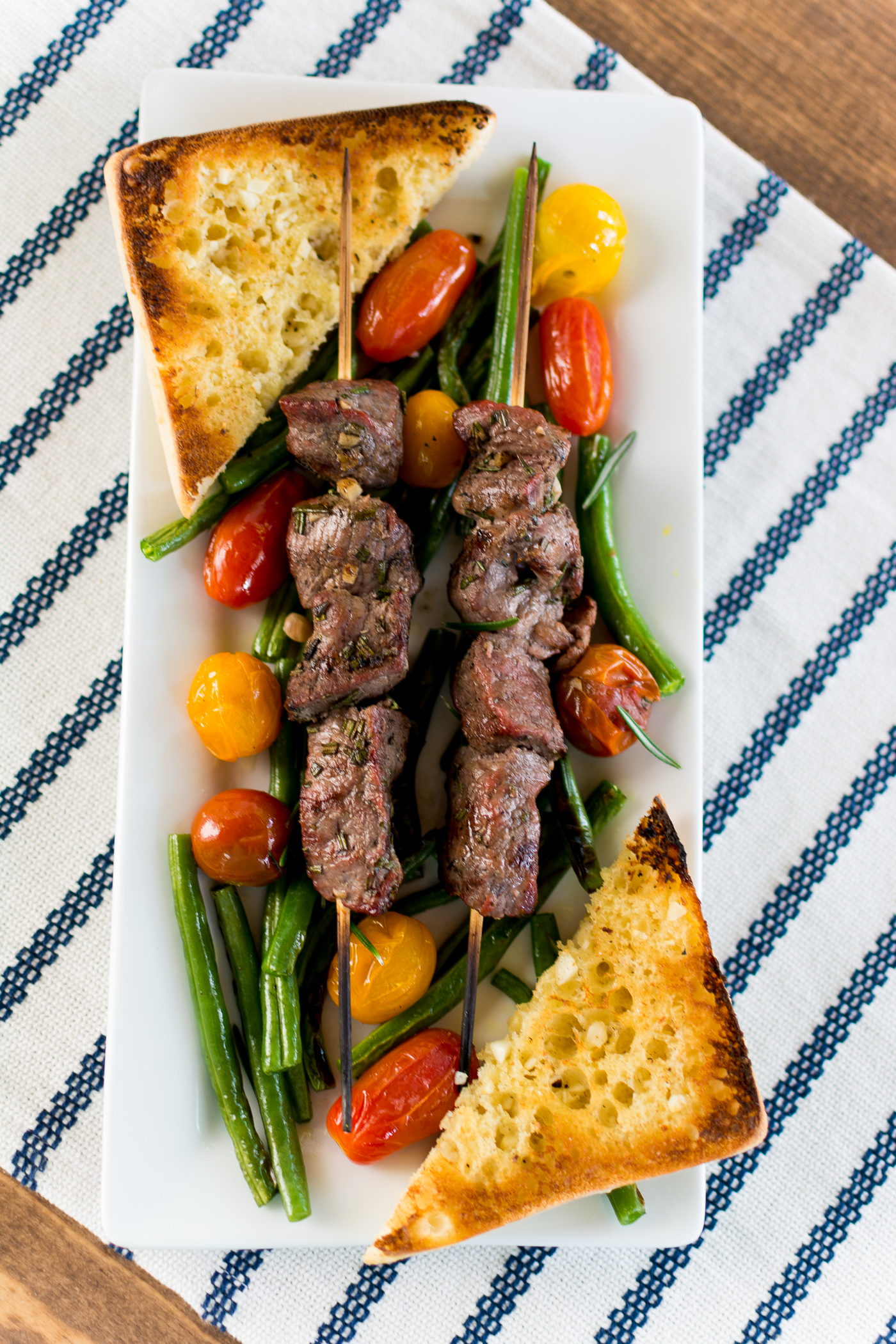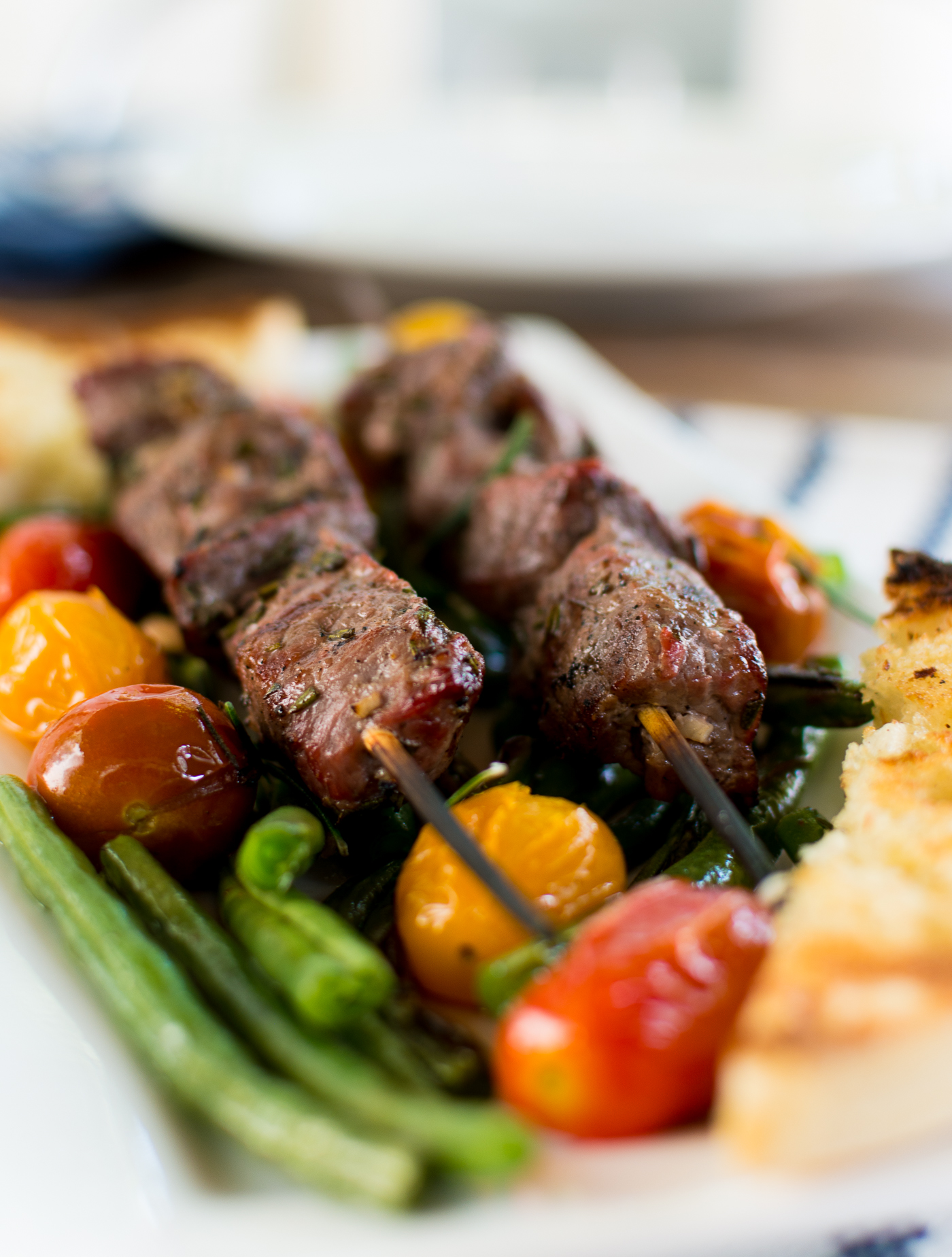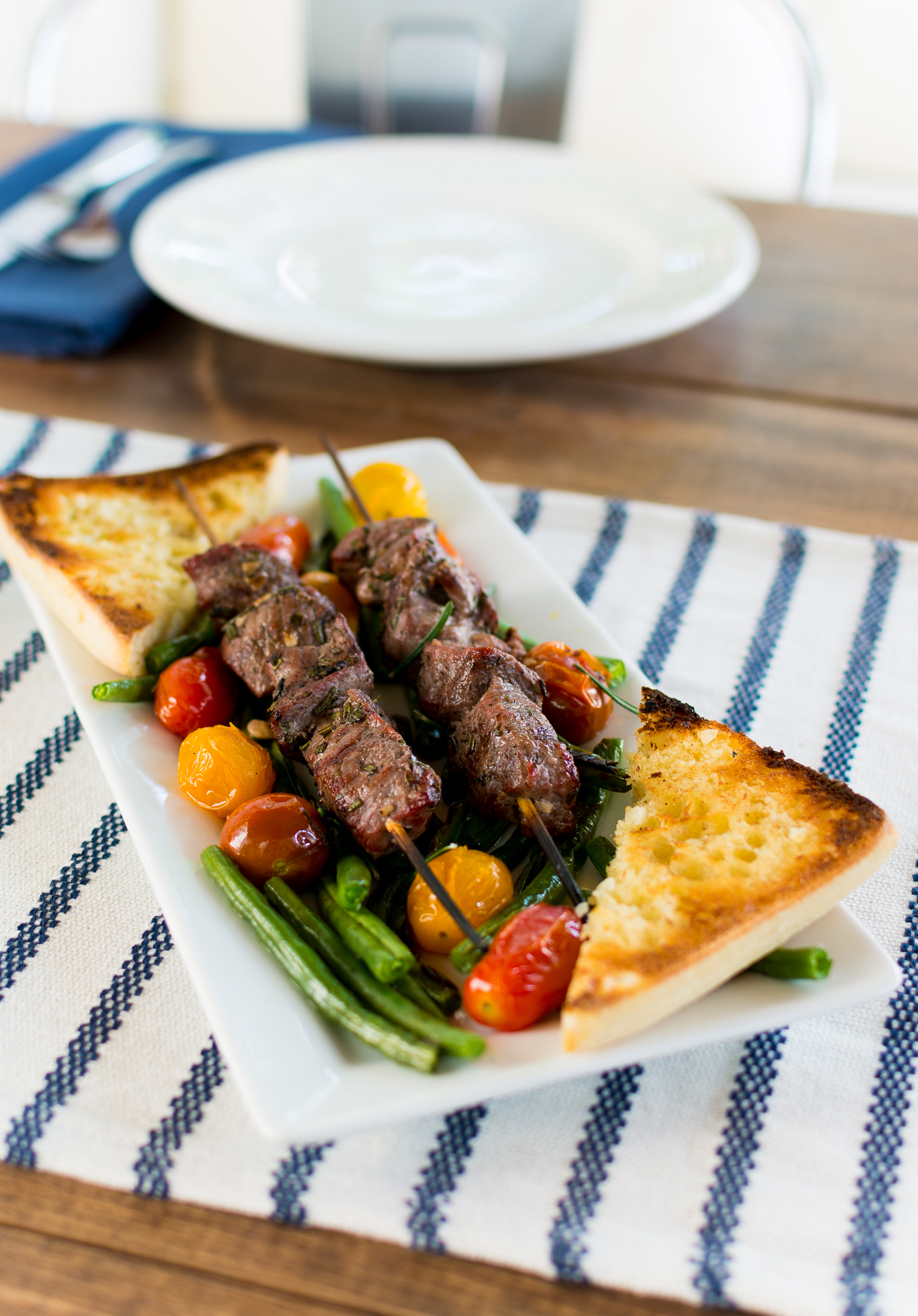 It was seriously lick-your-fingers tasty too! We gobbled it up …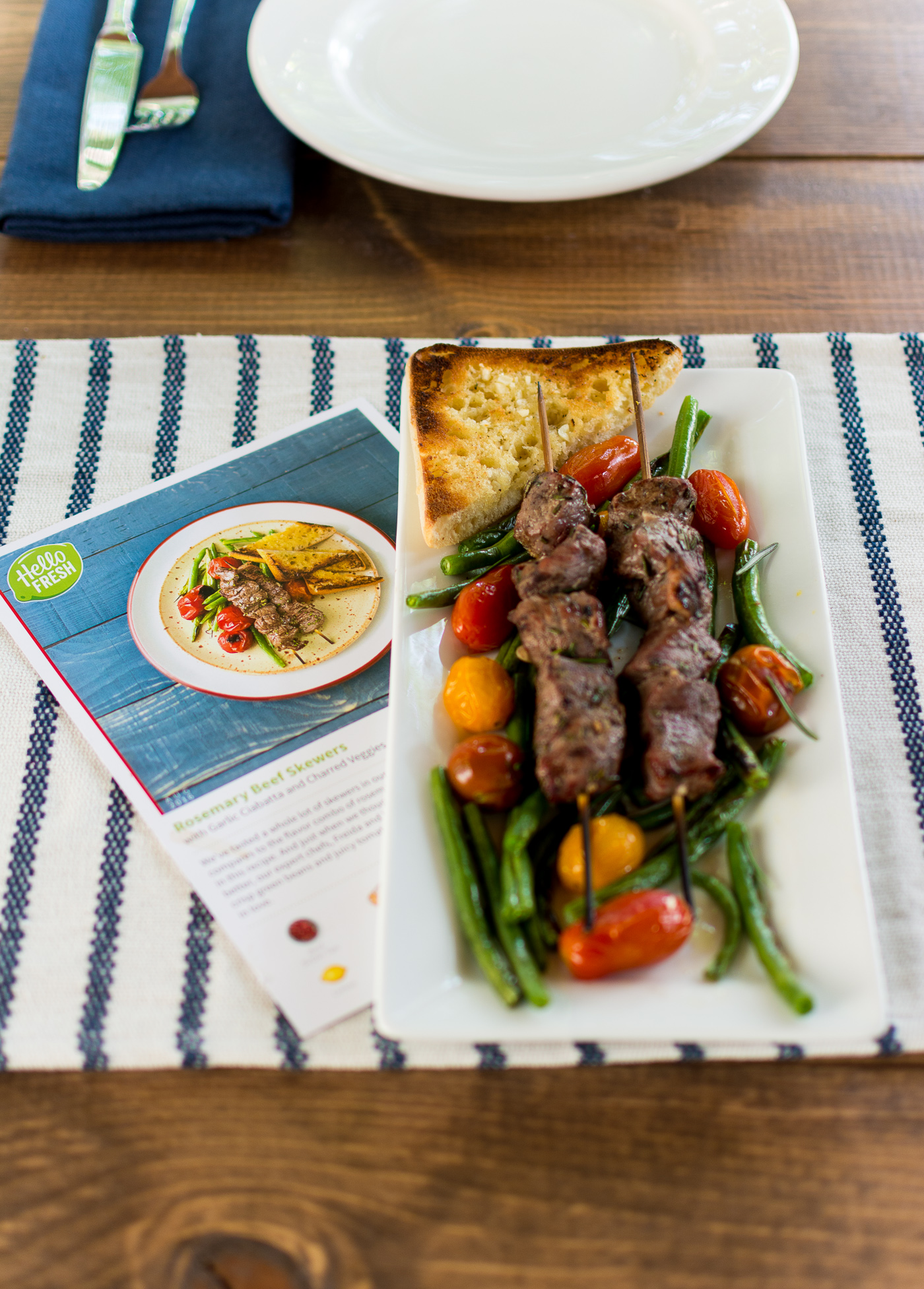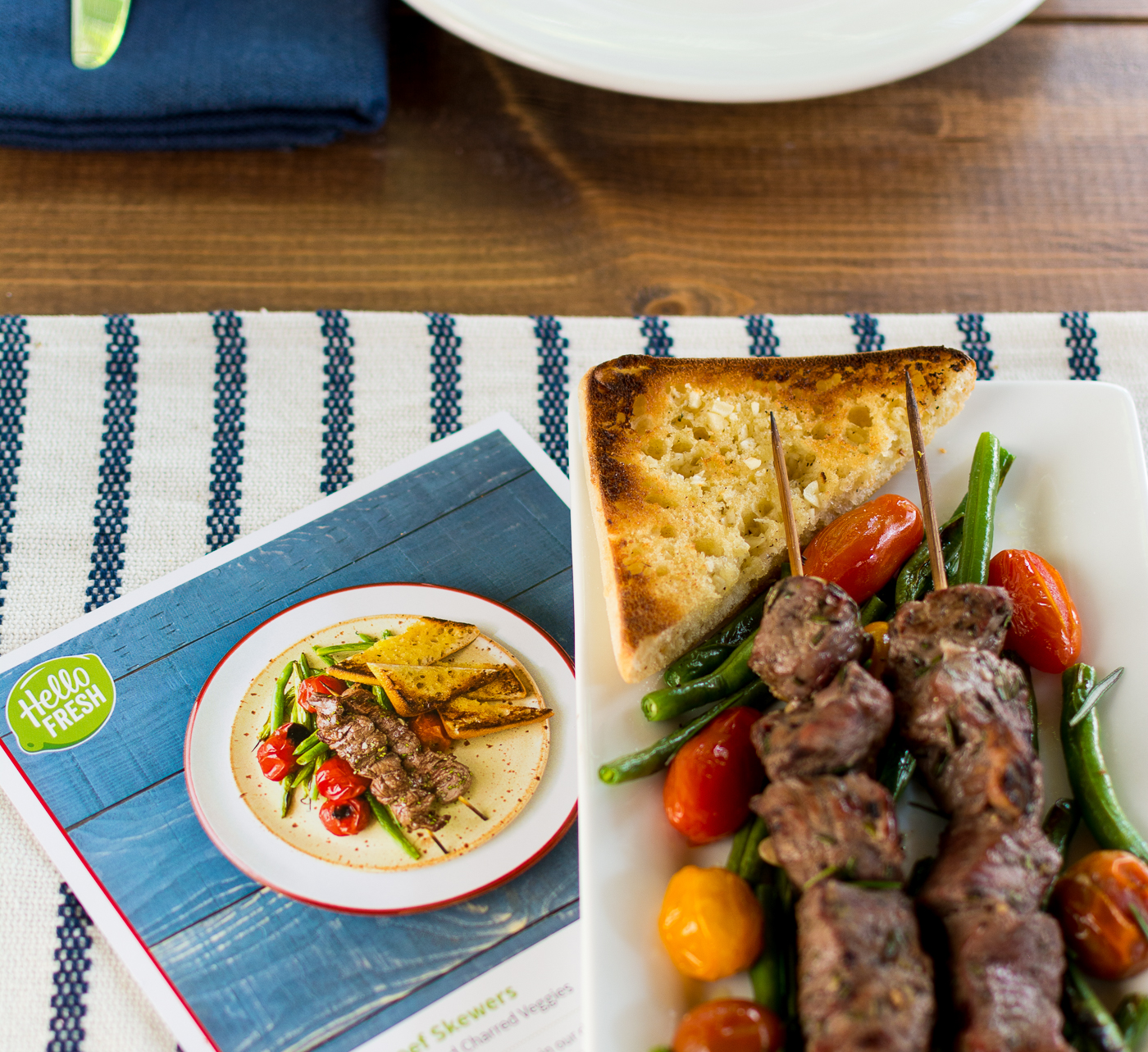 I can't wait to try out the other two recipes …
And I have great news for you too: HelloFresh would love to give you the opportunity to try their meal kit box too with a $35 off offer. Click here to sign up and use the promo code LINDA35 to receive $35 off!
Trust me, you won't be disappointed! In fact, you'll even start looking forward to the What's for dinner? question. 🙂
I am participating in a sponsored campaign hosted by HelloFresh. I received compensation for this post. All opinions stated are my own.