Did you ever feel like throwing in the towel?
You know, just walking away and shutting down your little sliver of cyberspace.
But then something lands in your inbox that inspires you.  And it inspires you because you – and when I say you I really mean I – inspired someone else …
The email subject line read "Copycat."  Now, I'm skeptical about unknown email addresses.  Let's just say I've crashed my fair share of computers.
And then the whole "Copycat" subject line had me shaking in my boots.  And I starting rifling through all those folders in my head wondering which project that I drew "inspiration from" had perhaps riled another blogger …
So with a wish and a prayer and a giant gulp I opened the email.  And here's what I found from Christy …
"Hello – First I want to mention I love your blog.  I stumbled upon it one day when I had been desperately trying to find ideas for my powder room downstairs.  This is sort of a confession.  I totally copied your powder room.  When we bought the house five years ago the paint job in the powder room left a lot to be desired.  Most of it was a chocolate brown , even the ceiling, with an army green WIDE stripe in the middle.  As a temporary fix I found some blue paint in the garage added a little white to it and covered the green.  I added a stencil to it.  I still didn't love it, but it was better.  So one day as I was sitting in there, you know, uh, contemplating the universe, I threw down my magazine and said,"That's it, that's it, I can't take it anymore!" It was a cave, a room I was starting to avoid at all costs. I began Googling powder rooms for ideas.  I stumbled upon yours and knew right away that was the one.  Most of the time I get ideas from other people in magazines and such but I pretty much just copied and pasted your powder room onto mine.  I LOVE IT!  Thank you so much for sharing what you did.  It is so bright and cheery in there now and seems twice as big.  Thank you so much!!!!"
And Christy included some photos of the before and after too …
Before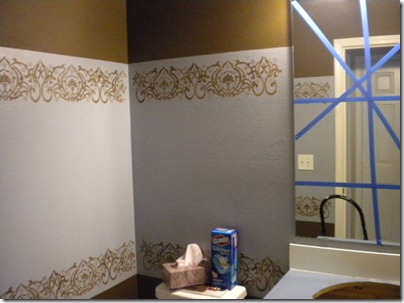 After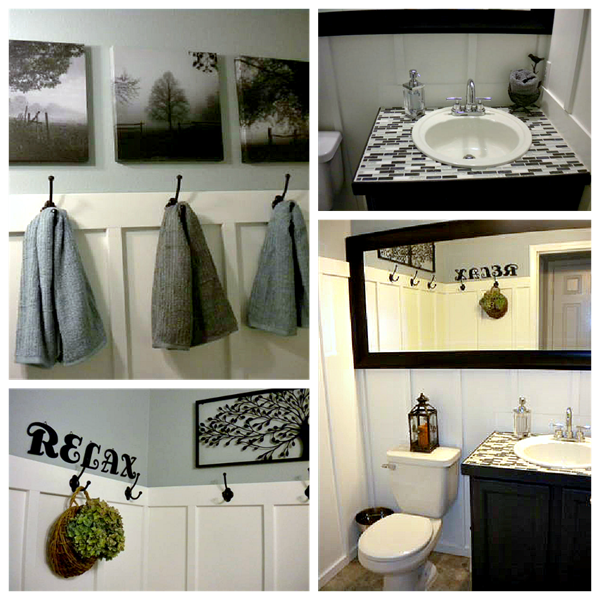 I just love the transformation.  And that tile top sink?  I've filed that one away for a future project around here …
And now I have to send a huge Thank you so much!!! right back to Christy for reminding me why I started blogging in the first place.  To work on my house.  To gather inspiration and ideas and "how to's" from other bloggers.  And then to do it myself and share how I did it too.  You know, to maybe inspire someone else …