Valentine Kid Craft Thumbprint Heart Jars – Easy DIY Mason Jar Craft for Kids.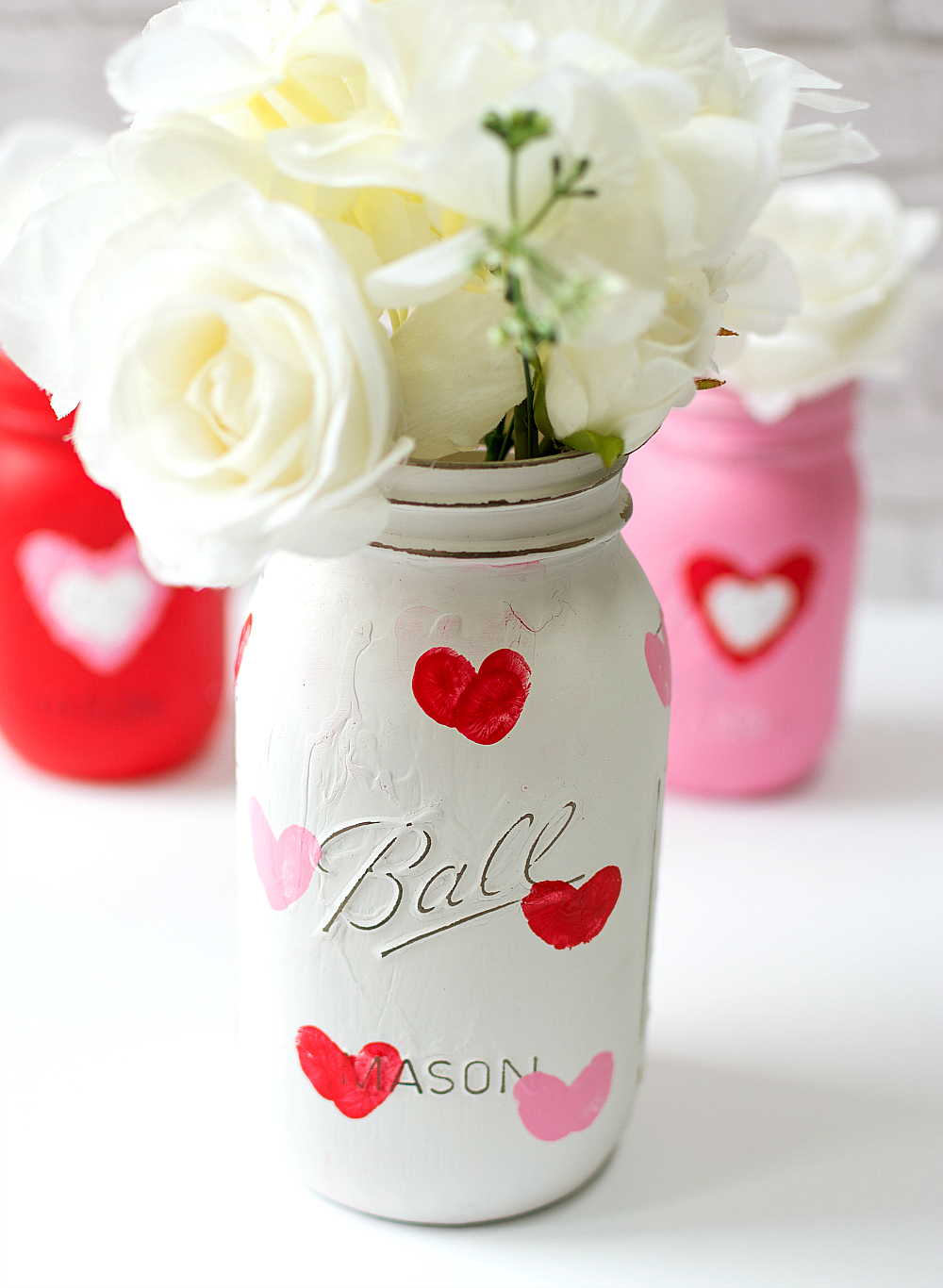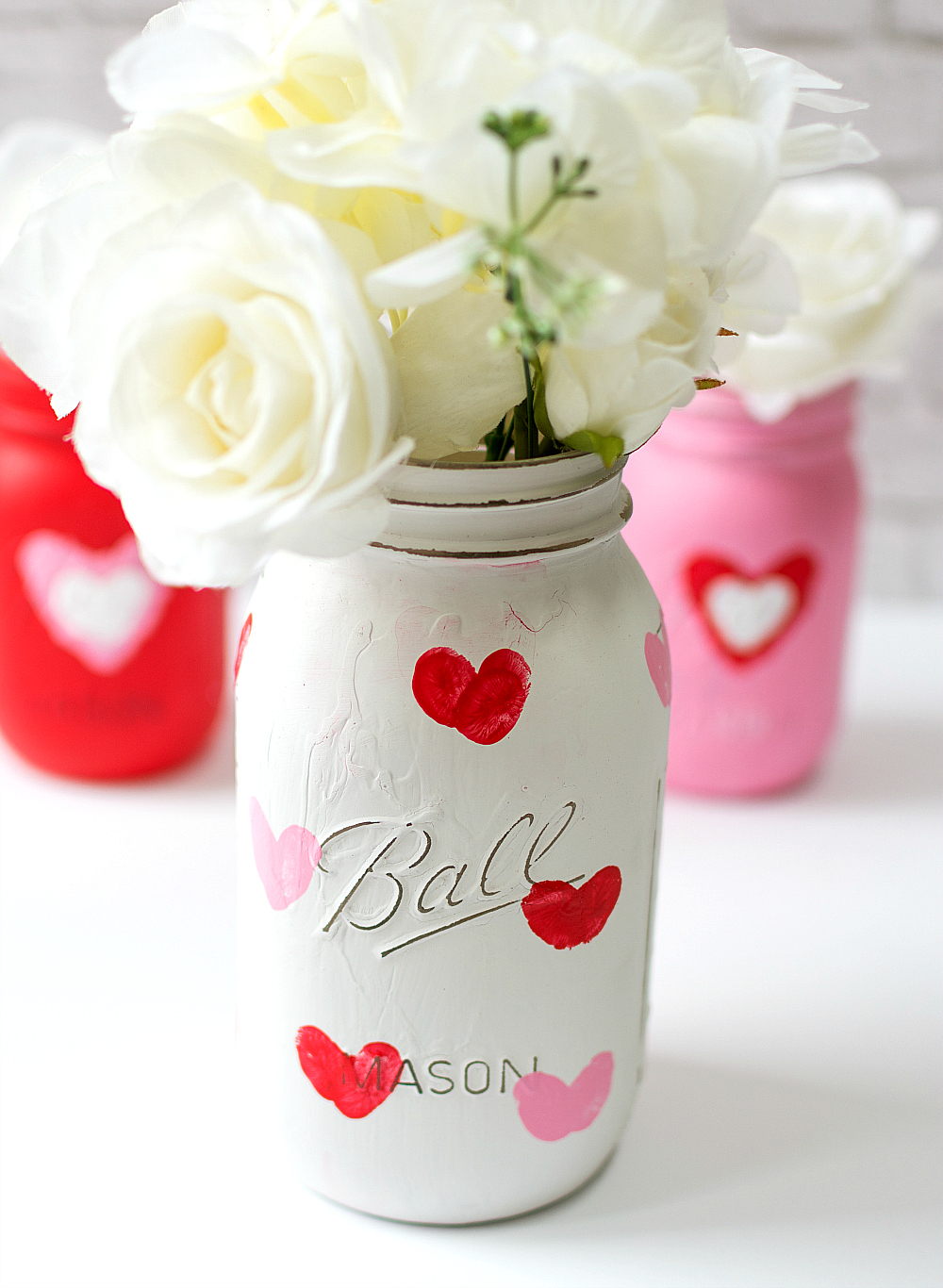 Sometimes I wish I started blogging when my kids were still young and carefree. A time when the house was always perfectly appointed and toys were always put away in their place and when mom (that's me) could do no wrong. And a time when mom (that's me) would always organize the best craft ideas to while away a boring rainy day …
Ha!
That would be social media me. Where I would post on Facebook and Instagram photos of my kids creating perfect crafts with perfect smiles on their faces. The would even make perfect messes that would look arty in photographs. And of course there would be the photo of them holding out their perfect crafts in their two little hands towards the camera.
Oh the fun social media me and the kids would have had!
There would be no tears. No frustrations. No glue bottles spilled. No glitter knocked to the floor. No dogs stealing pencils and bits of paper. And especially no sibling fights.
Sigh.
But that wasn't me. Not even social media me. As crafty as I may be, I wasn't the mom who invited the neighborhood kids over for a craft party … complete with healthy snacks. I was the mom who invited the neighborhood kids over for Domino's Pizza and Coca Cola …
🙂
But in my revisionist history scenario, if those neighborhood kids came over today we would happily make thumbprint heart mason jars for Valentine's Day. With arty messes only …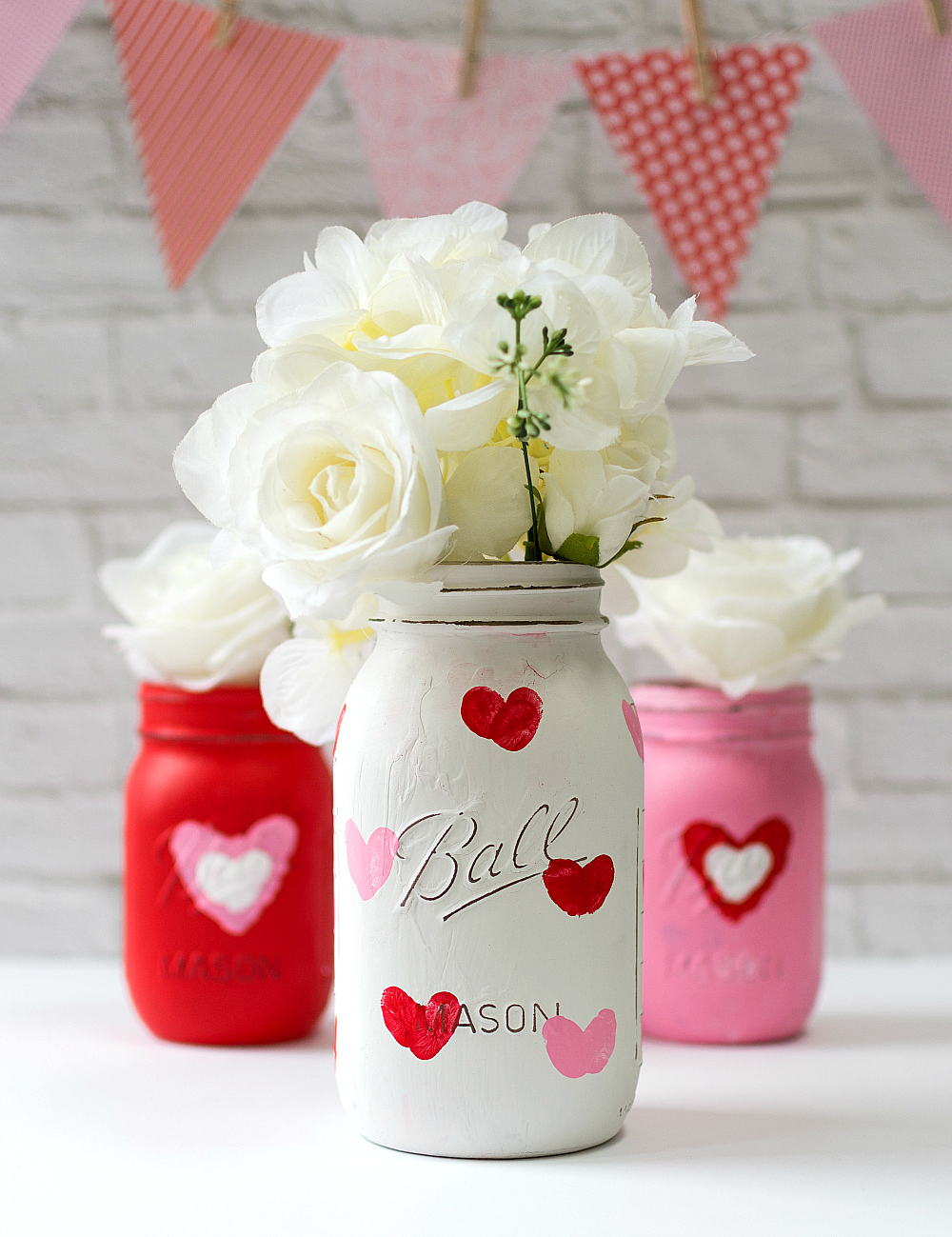 Valentine Kid Craft Thumbprint Heart Jars How To
Materials*
Ball Quart Size Regular Mouth Mason Jar
Ball Pint Size Regular Mouth Mason Jar
Americana Snow Titanium White Acrylic Paint
Americana True Red Acrylic Paint
FolkArt Bright Baby Pink Acrylic Paint
Paint Brush
*affiliate links included.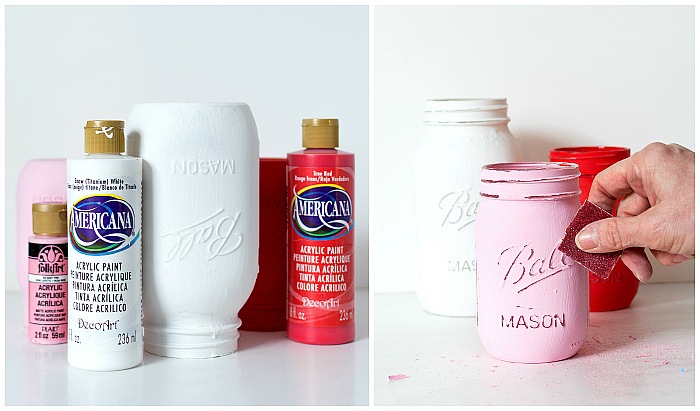 1. Paint jars in two coats of acrylic paint. Let dry overnight in between coats. (Optional) Distress with 80 grit sandpaper once dry completely (again, let dry overnight for best results).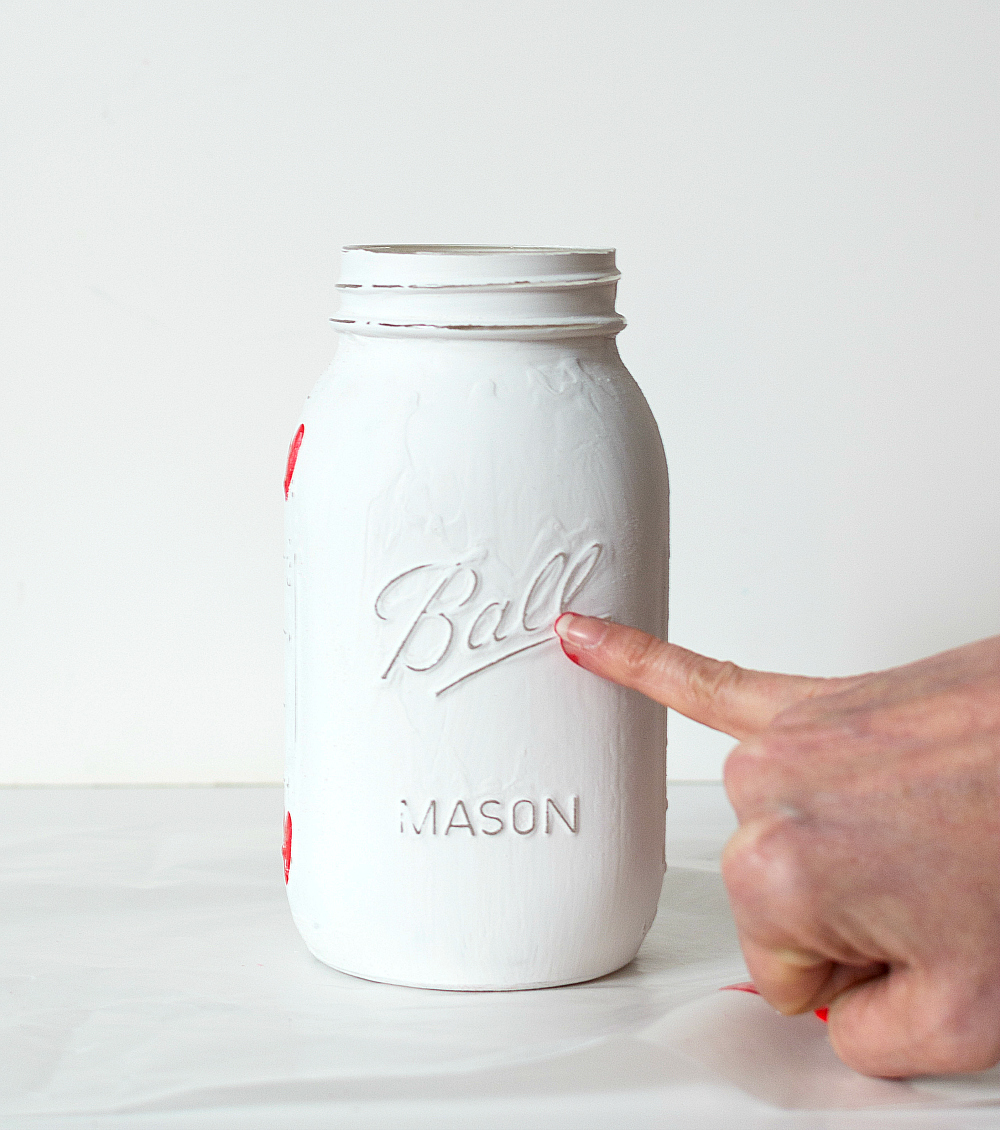 2. Using your finger (I used my pinky but kids should use their thumbs), dip in paint and add finger print to jar.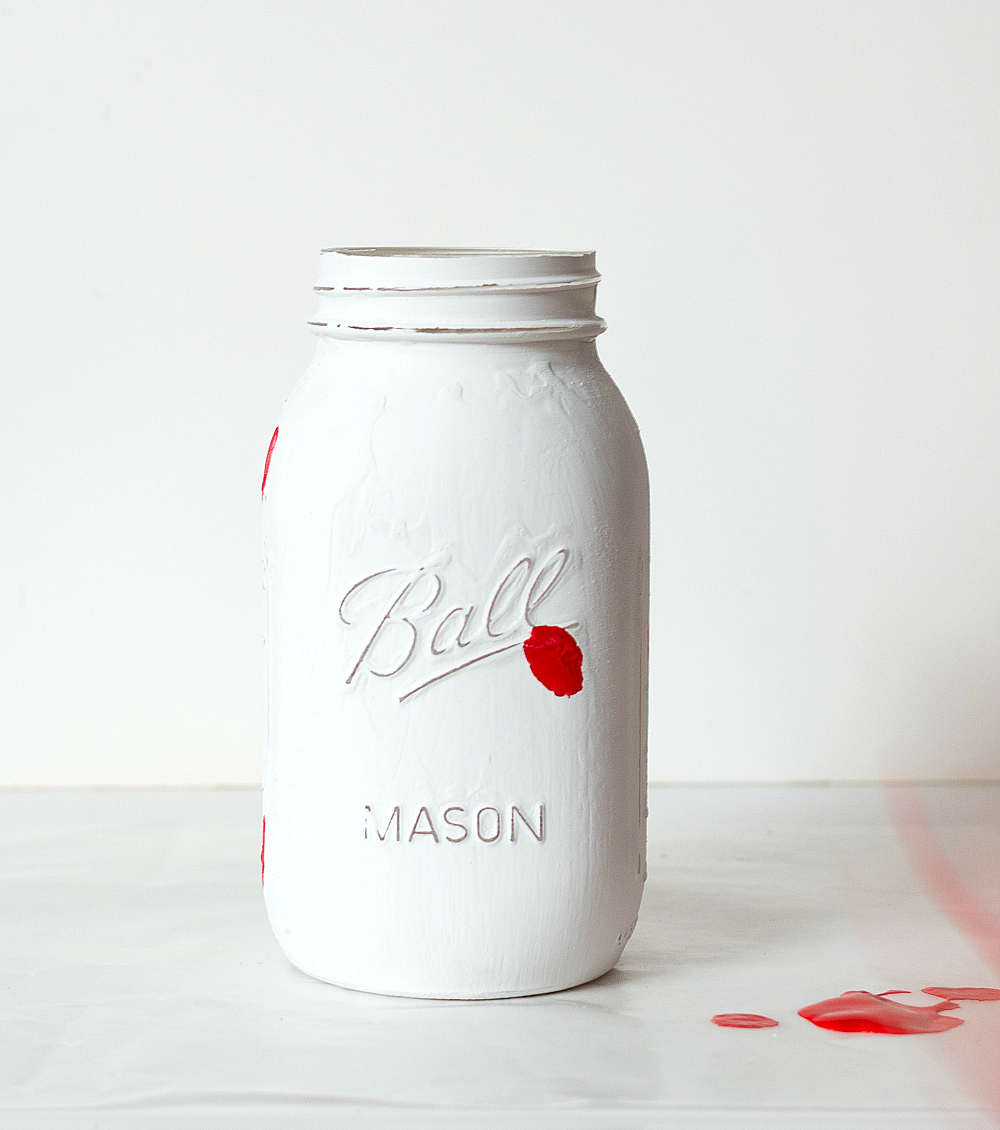 3. Dip in paint again, and add second finger print to jar to create heart shape.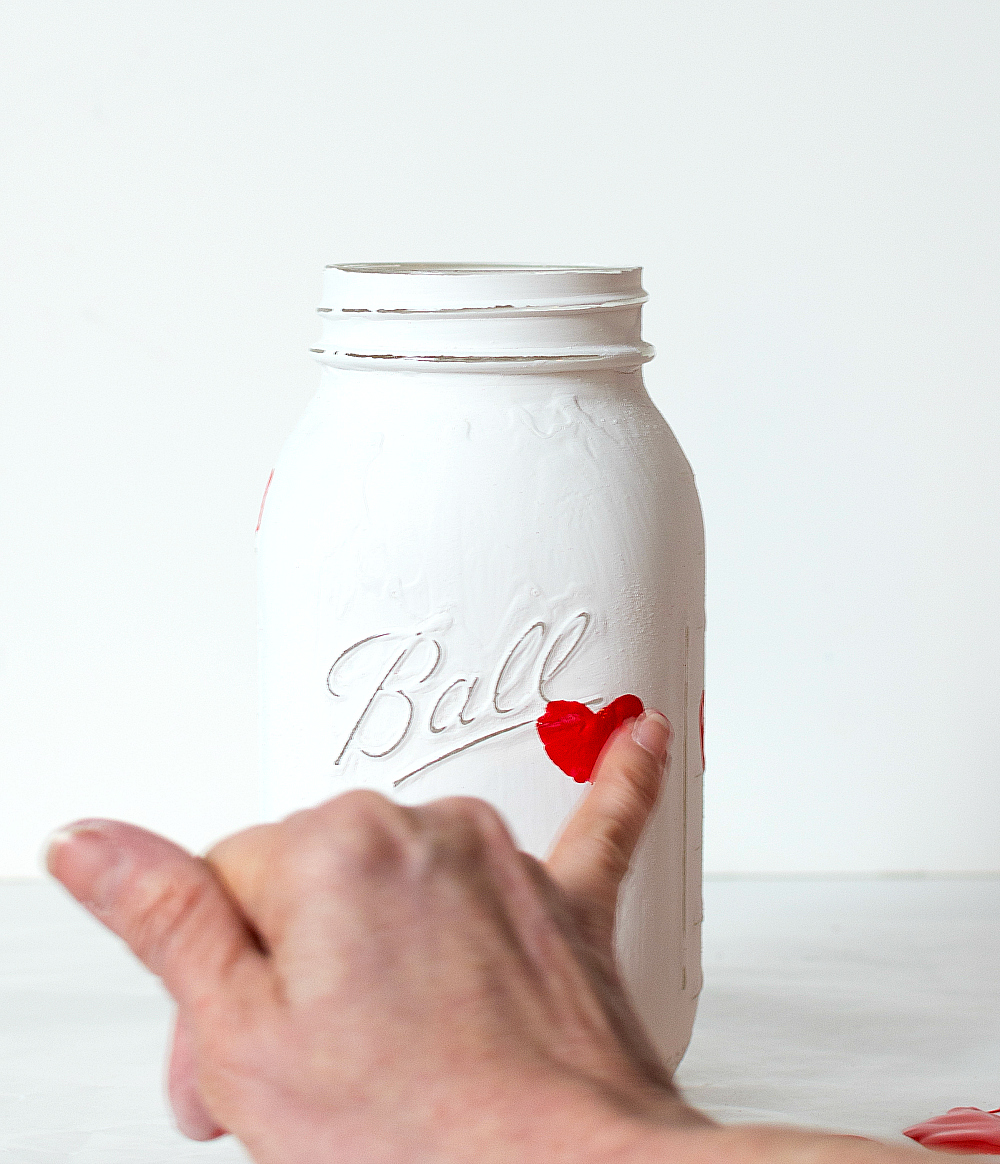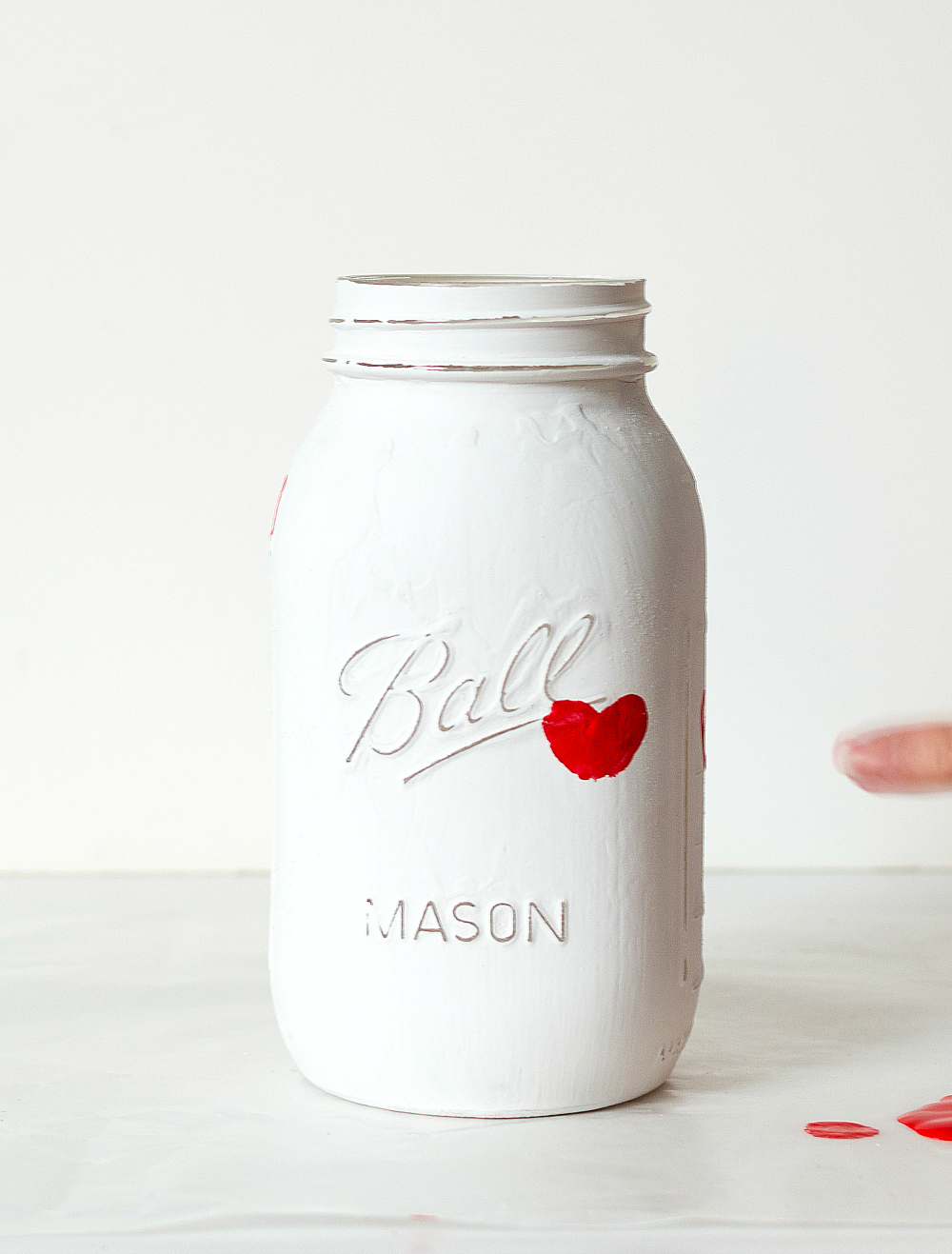 4. On the smaller jars, use thumb to create larger center heart. Once dry, create second inner heart with pinky.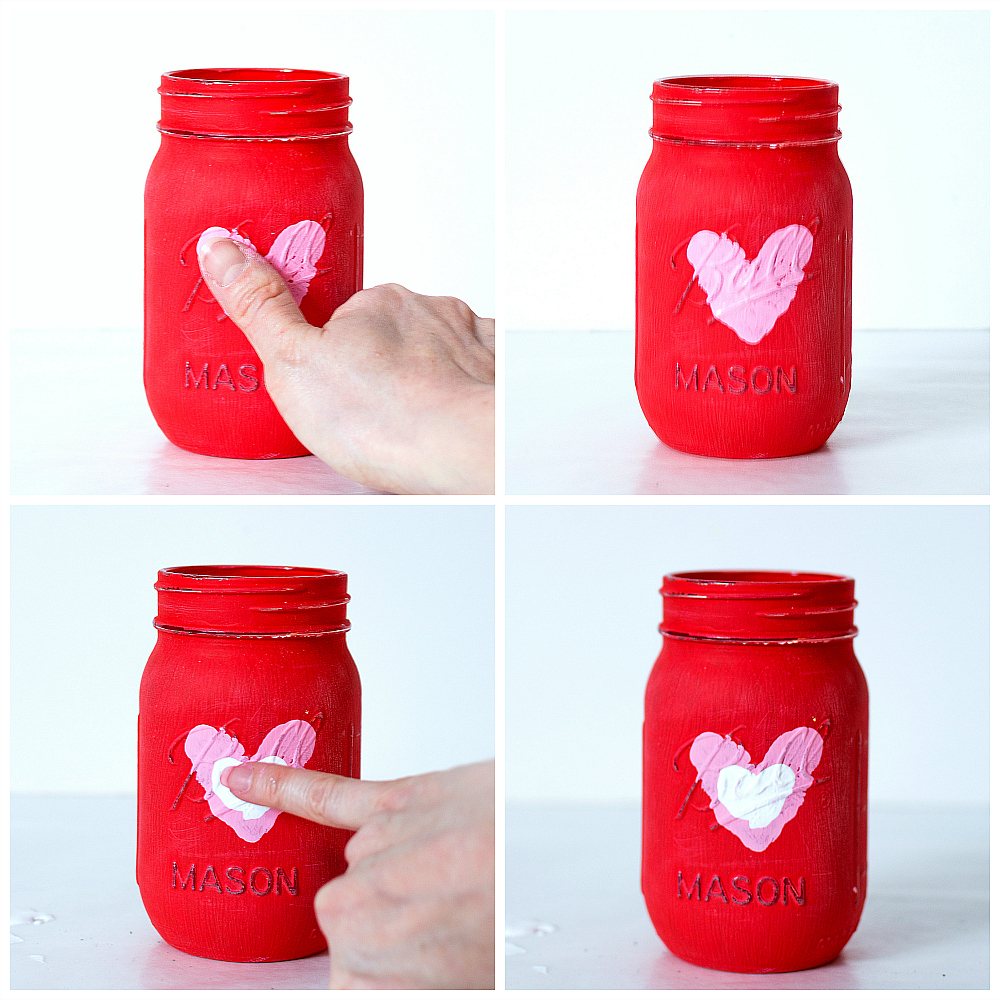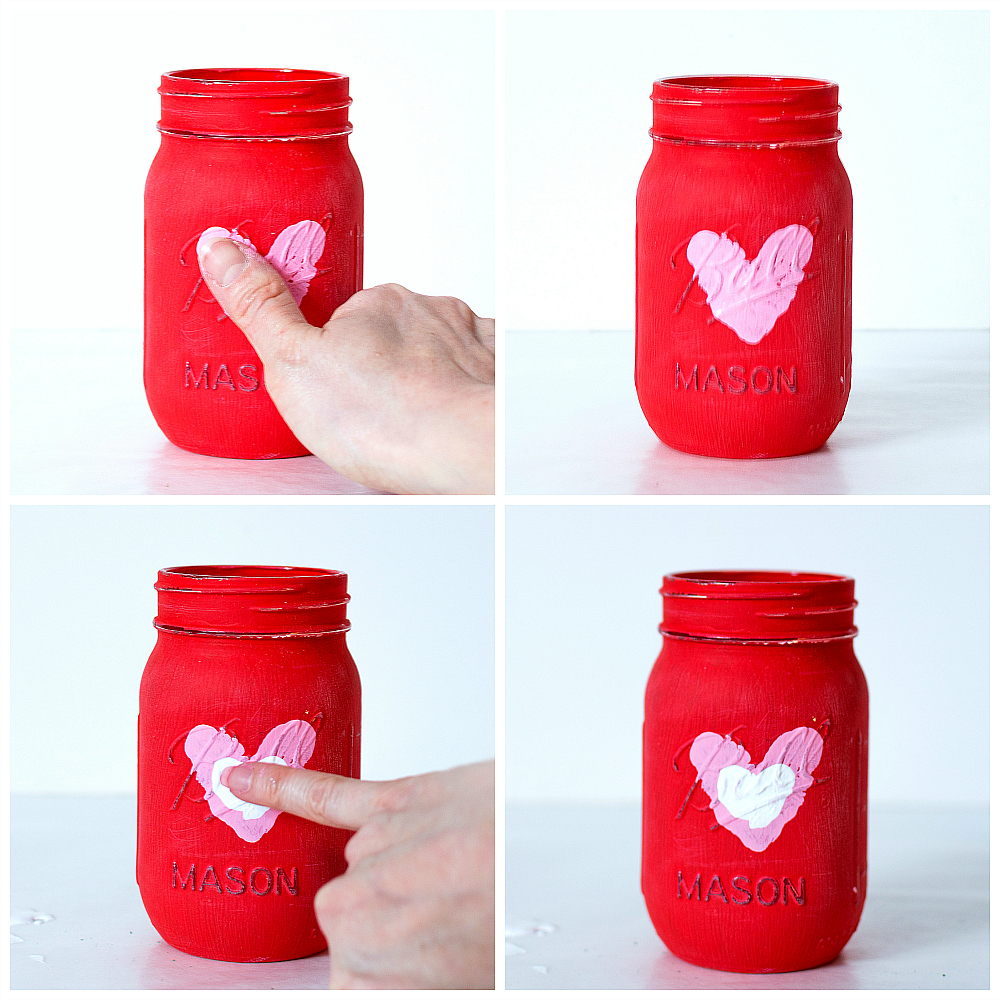 The final step is to use a clear top coat to seal the jars.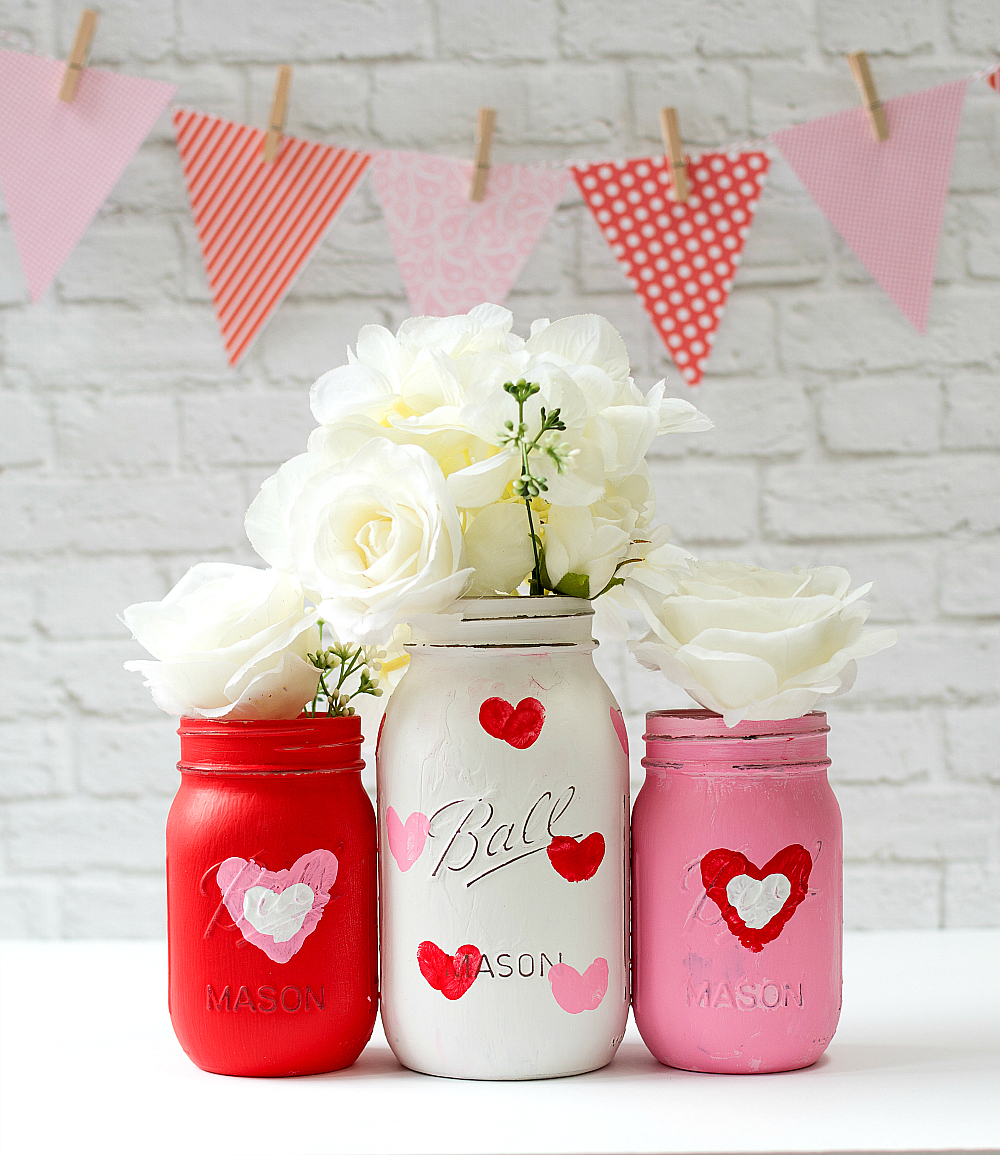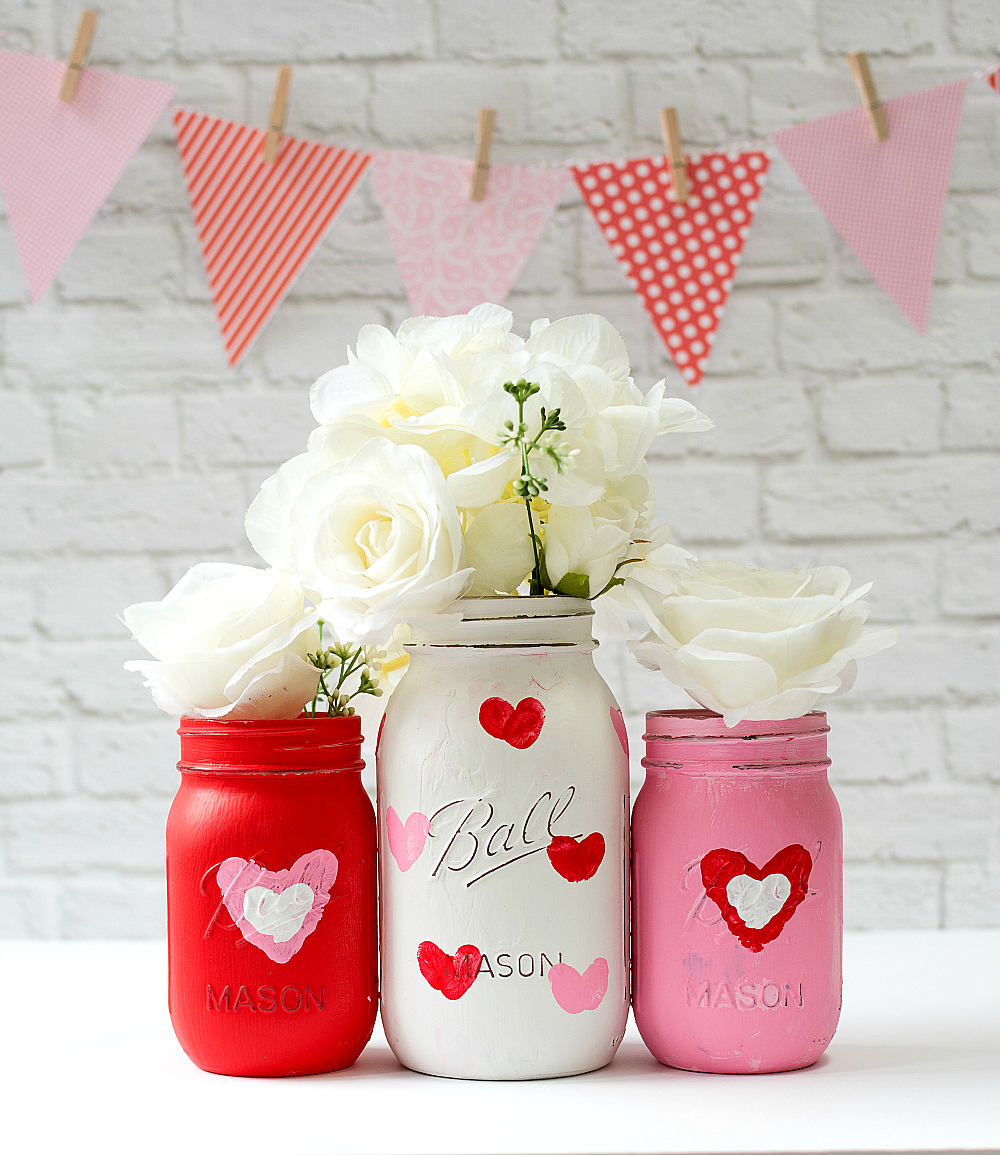 And now is when I would line up those perfect kids with their perfect smiles to each hold out their perfect Valentine's Day thumbprint heart mason jar creations so I could take that perfect Instagram photo to show the world all the perfect crafting fun we had …
🙂
PIN IT!

Valentine Kid Craft Thumbprint Heart Jars
You Might Also Like: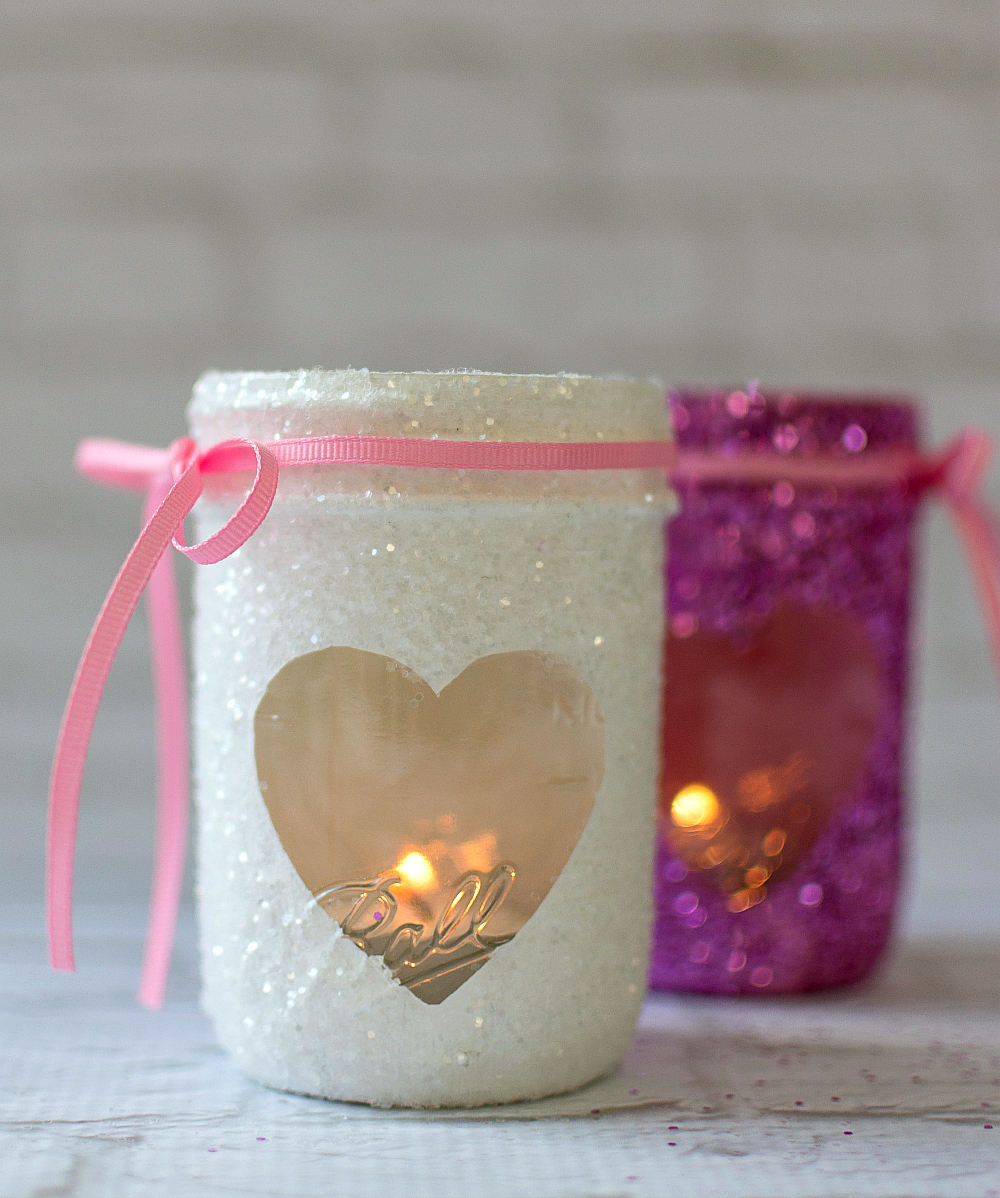 Glitter Heart Mason Jar Votives