Happy Friday, my friends!  I'm not really here today.  Well, I'm here.  But I'm not posting here.  Instead you can find me at Made From Pinterest.
But fear not.  To keep you entertained, the lovely Debbie (one of the three sisters at Made From Pinterest) is offering up an original project.  And it uses mason jars.  And you know how I feel about mason jars …
🙂
Take it away Debbie …
Hello again to the wonderful readers of "It All Started With Paint"!! We at Made From Pinterest are excited to be back this month because we have a super fun and quick Valentine's gift idea for you!
But first I have a question! Who remembers this song? "I'm a little bit Country and I'm a little bit Rock'n'Roll!
Remember Donny and Marie?
I remember that song well and as a teenager I much more related to the "Rock'n'Roll than I did with Marie's country!
My childhood was very far from any kind of "country" environment. Growing up we never had a garden, never raised chickens or had any other kind of "farmy" experience. I was raised in a city and was much more interested in the beach than the country!
Fast forward to a few years ago and a dear friend of mine gave me a Valentine's Candy Dish. It was darling and I loved that it had little holes for the candy to come out! I wanted to share the love and give one to some other friends of mine so imagine my shock when my first friend told me that these containers were actually chick feeders! WHAT?!?! This city girl had no clue what chick feeders were!
But don't they make darling candy dishes?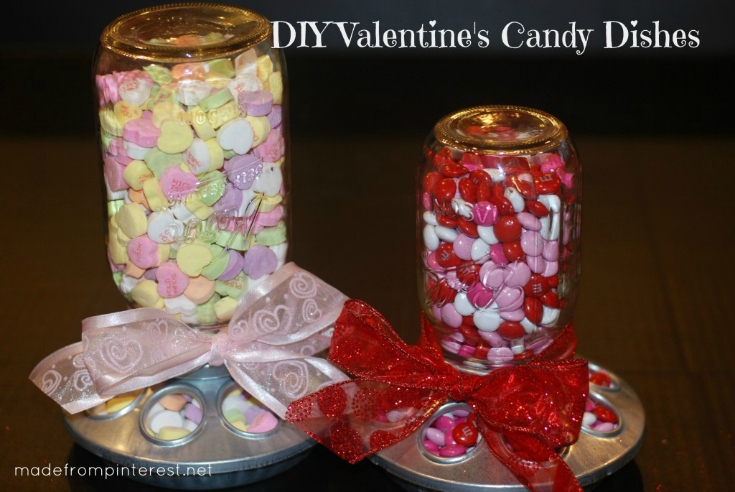 To make your own, first you will need to find a feed store near you. I purchased mine at our local IFA feed store and they were $3.39 a piece. Make sure you clean out the inside very well with rubbing alcohol.
I used both a pint and a quart mason jar. With the candy of your choosing, (I used M&M's and Conversation Hearts) pour the candy into the base and then shake slightly as the candy will settle and will make more room in the base. Fill and shake until you can't fit any more candy.
Then fill a mason jar with the same candy and carefully place the opening of the jar into the chick feeder and screw in. Tie with a bow and you are good to go!
Whenever I have given these as gifts, they have quickly become my friends favorite thing as it is mine! I hope you like them too!
We hope you have a wonderful Valentine's Day and that you take a shot at making these Valentine's Candy Dishes!
Thanks so much Linda for letting us visit today with you and your readers!
And thank you Debbie for such a creative and fun Valentine's Day idea!  I may just need to share this idea on Mason Jar Crafts Love as well …