White Painted Armoire: Annie Sloan Chalk Paint White Painted Dresser.
Turns out I'm not a multi-tasker.
I'm a mono-tasker.
I'm not sure why it's taken so long for me to realize … and admit .. this truth. A truth that's been dangling in front of my eyes for years now.
Perhaps because the idea of multi-tasking had taken such a strong-hold when I first started my professional career. It was a badge of honor. The all-powerful woman who could make the bacon …
and bring it home too.
Fearlessly juggling home and family life. All while wearing heels.
For too many years, I pretended to be a multi-tasker. And to all outward appearances, I was juggling like a pro. Only I knew I was juggling like a circus clown. With a cherry red nose and giant floppy shoes …
flailing around with my arms flapping.
Come to think of it, I'm pretty sure the reason I chose family over career when I decided to be a stay-at-home mom was because I knew, deep down, I couldn't multi-task. And that career would win out.
So I chose to mono-task the kids.
And what, you may ask, does this whole multi- vs. mono- tasking rant have to do with this white painted armoire makeover?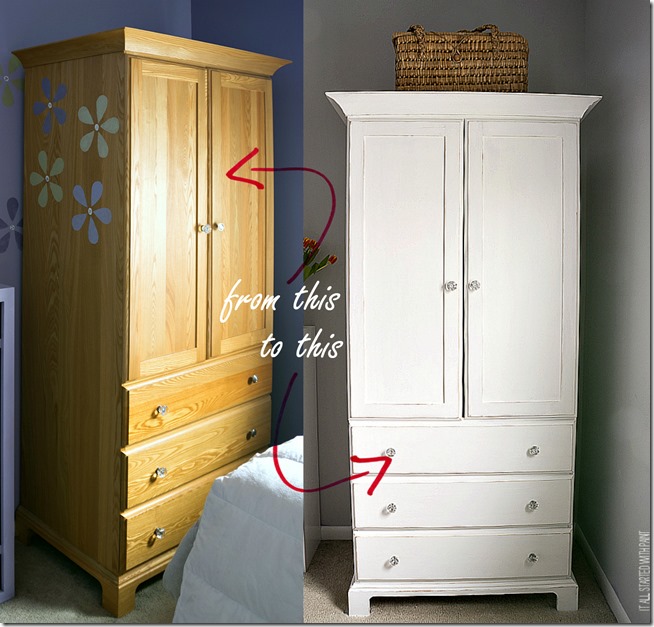 Turns out I'm a mono-tasking DIYer too.
Because as I've been working on de-purple-people-eater-ing my daughter's bedroom, the rest of the house has fallen into shambles.
Dust rhinos have overtaken the stairs. The dining room table is barely visible. And don't even get me started on the upstairs hallway …
or the kids bathroom!
Ah well.
The only upside is I was able to mono-task the painting of this oak armoire.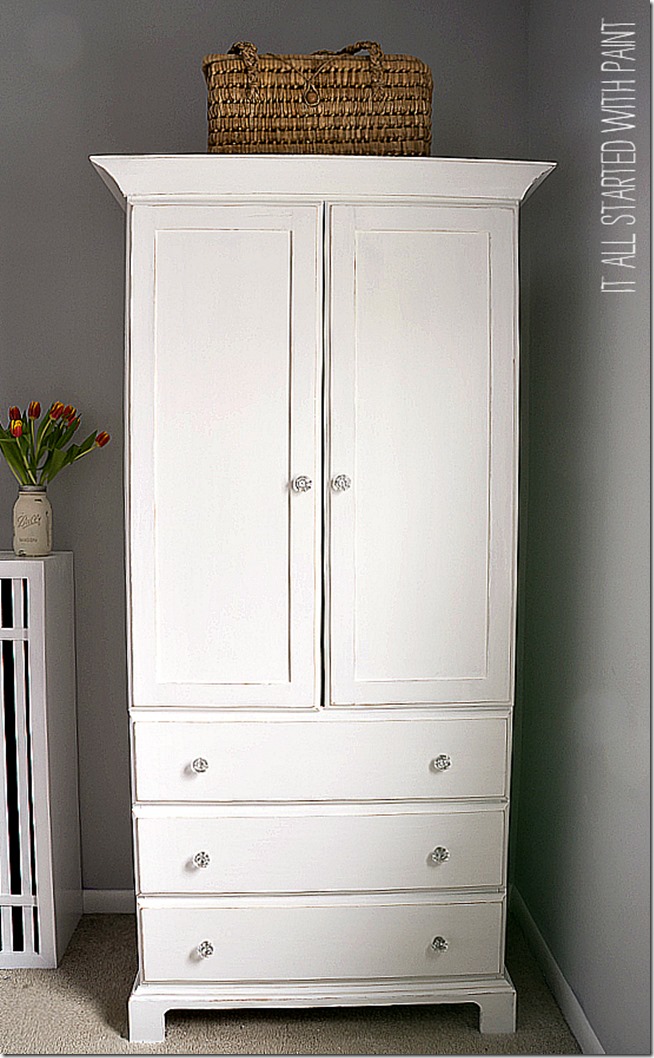 I used Annie Sloan Chalk Paint in Pure White. And then distressed it lightly …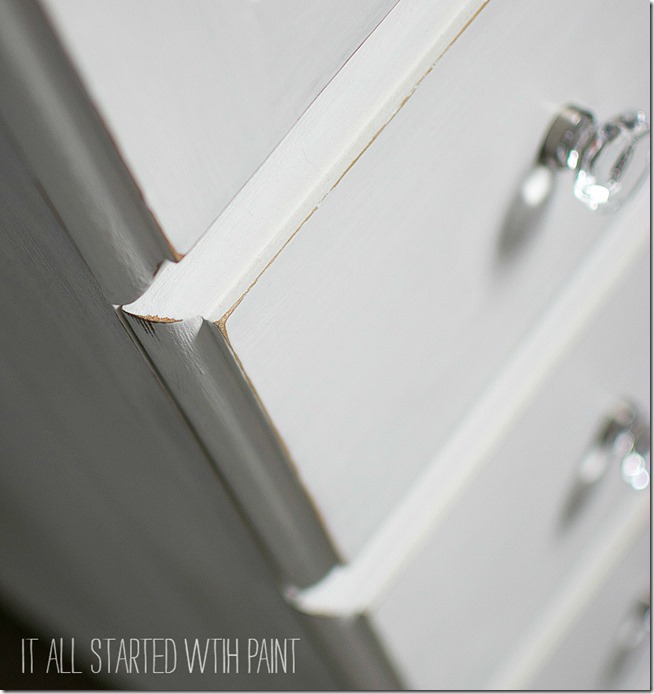 Before giving it a coat of clear wax.
I finished it off with glass knobs from Restoration Hardware.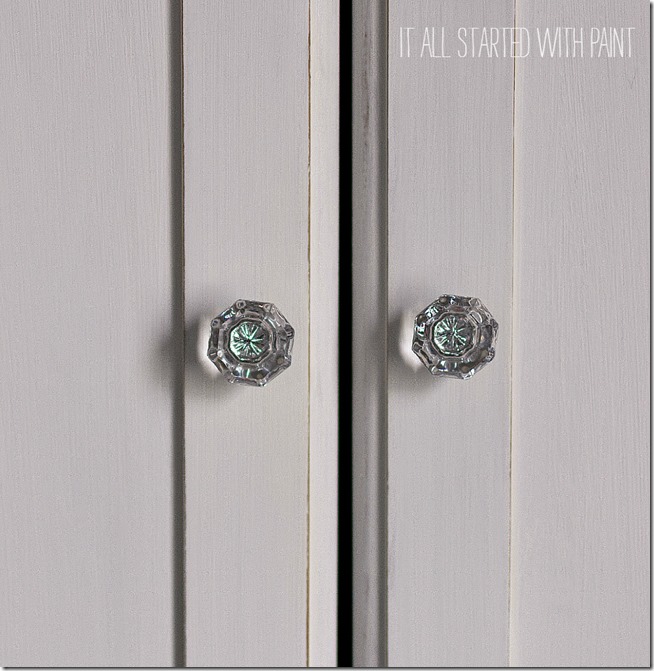 I had four of these knobs from more than a decade ago. On a whim, I checked in at Restoration Hardware to see if, by any chance, they could track down four more for me. Turns out, they still stock these knobs.
Shocking, right?
Turns out Restoration Hardware is a mono-tasker too!
🙂
Linda
PIN IT!

You Might Also Like: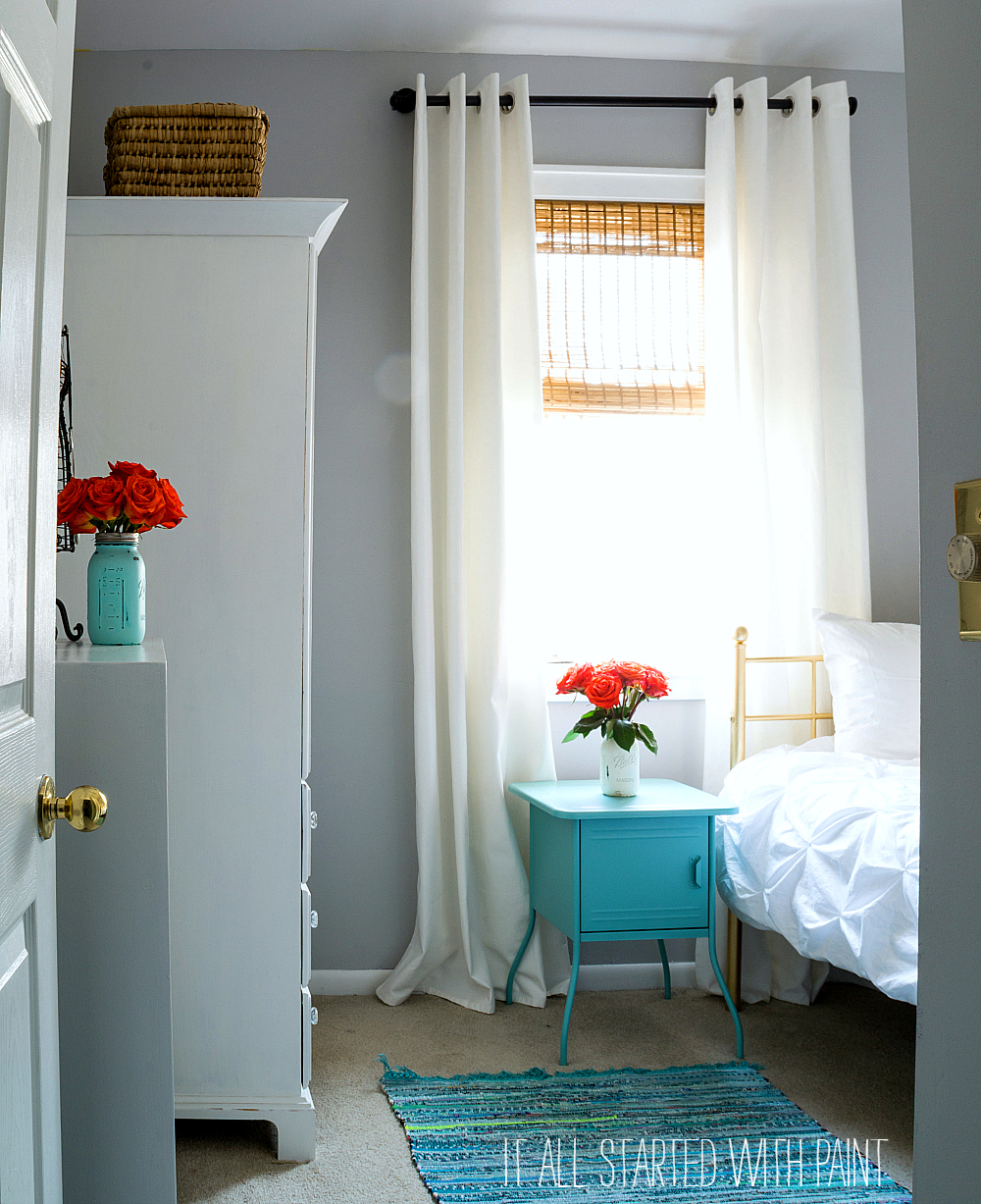 Teen Girl Room Makeover Reveal (click here)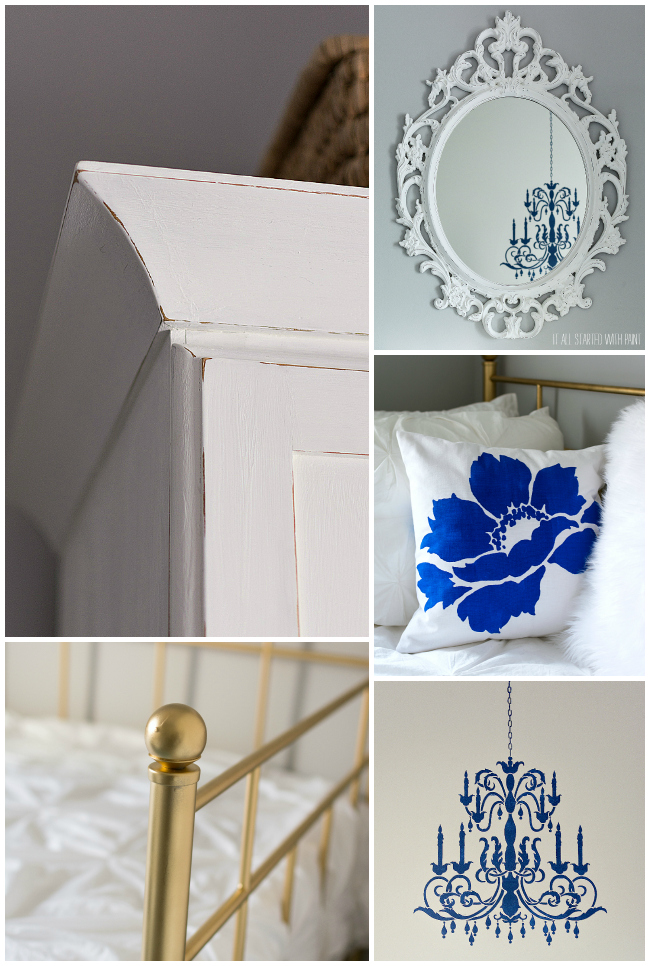 Teen Girl Bedroom Project Links:
Painted Armoire | Gold Spray Painted Bed Frame | Ikea Mirror Makeover | Paint-A-Pillow | Chandelier Wall Stencil
You can find more of my furniture makeovers by clicking here …