White Poppy Painted Mason Jar – Painted Flowers on Mason Jars DIY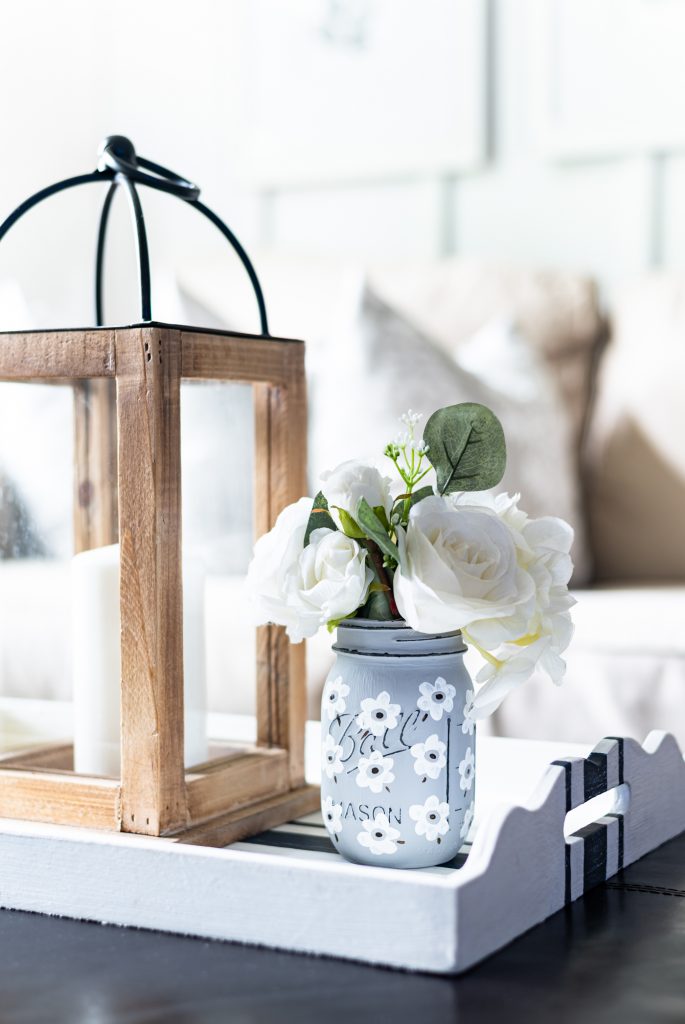 My husband is frustrated with the weather.
In Chicago, of all places.
And he's lived here all his life! He wants it warm and dry …
and Chicago is just not cooperating.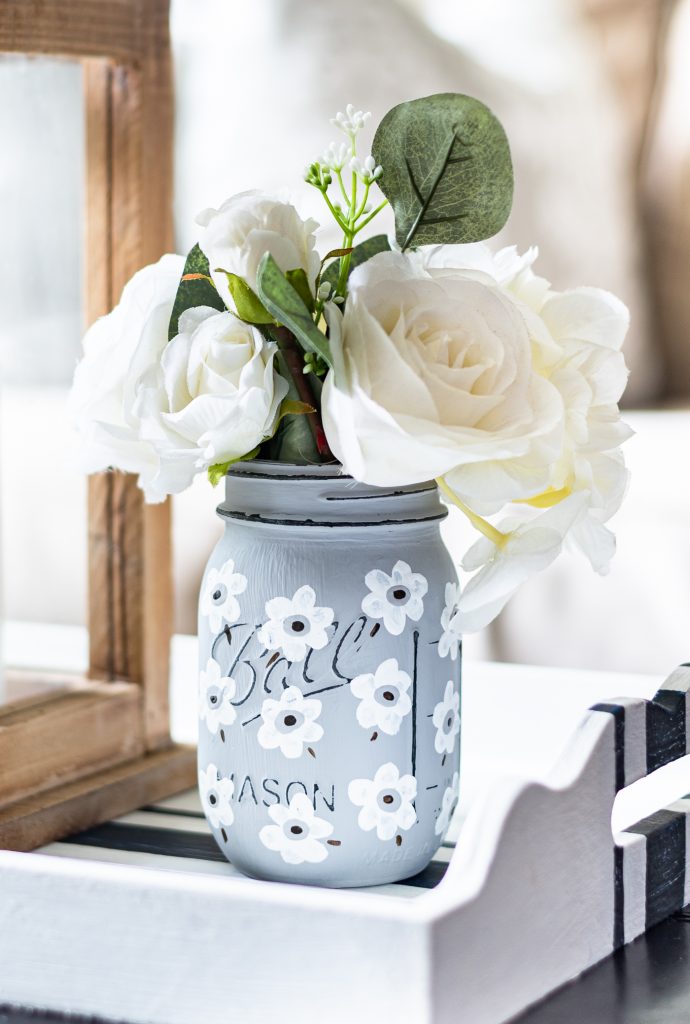 Sure we get a throwaway gorgeous day peppered in here and there. A casual reminder of what we're missing by not living in one of those warm climate states.
And, admittedly, he's hankering for summer weather when, technically, it's not actually summer.
But my biggest fears about his demands for warm and dry means my retirement dream of a downtown Chicago condo with spectacular city views from every room will remain just that …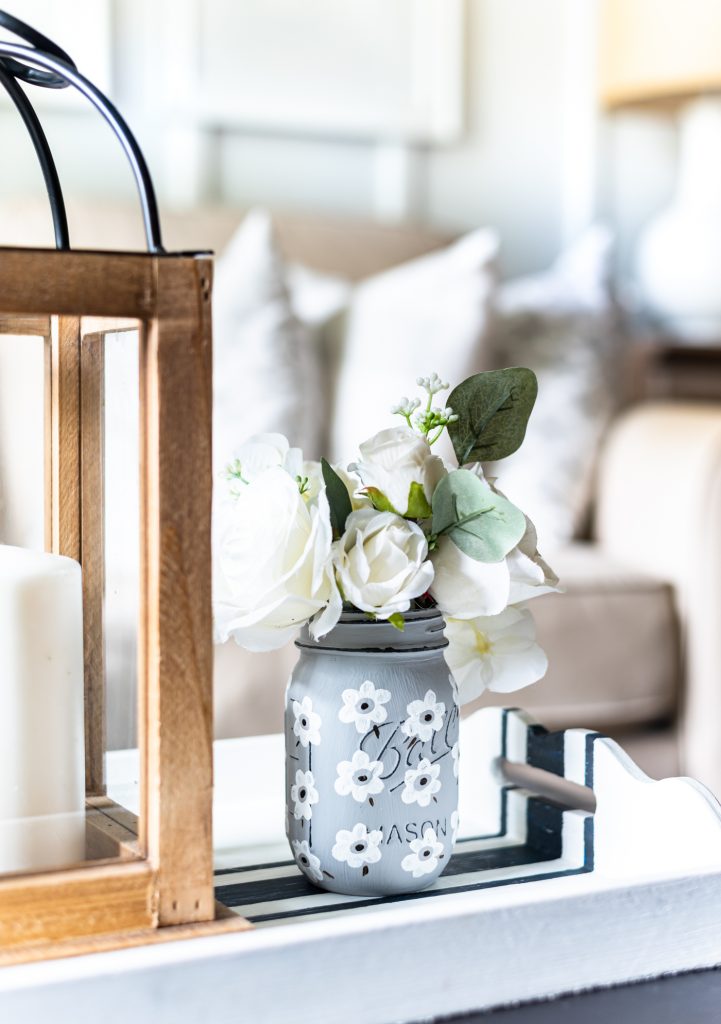 a dream.
Sigh.
I do have one teeny tiny hold out sign of hope. And it's called Uber.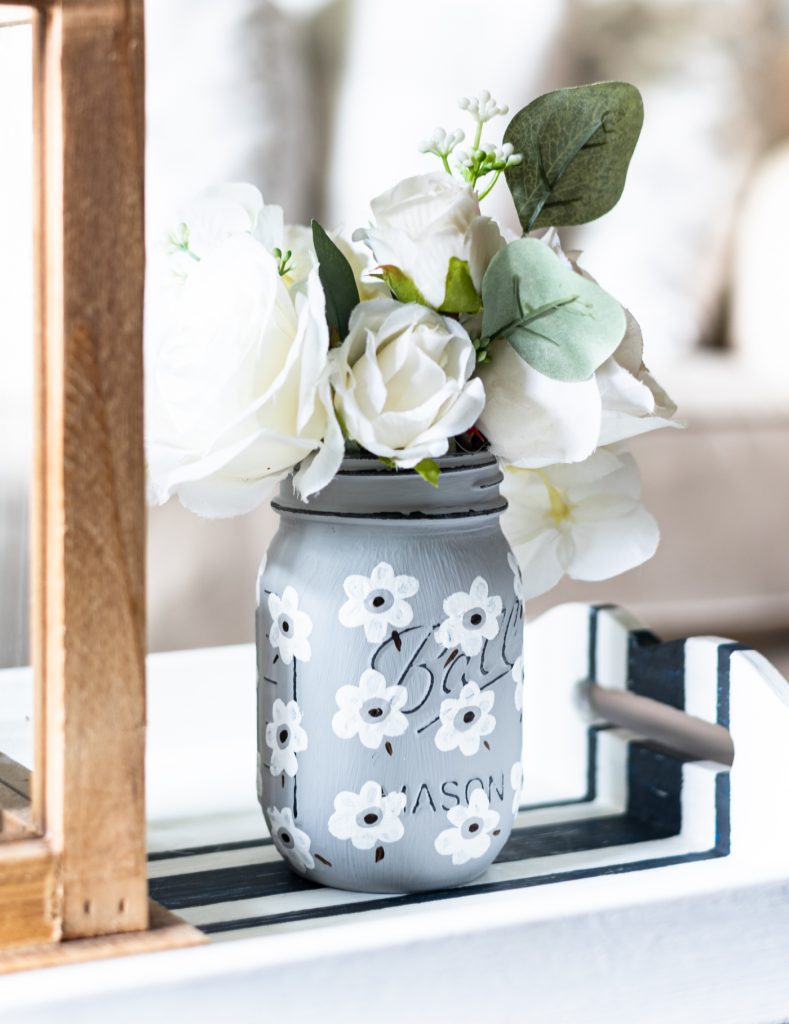 We had a meeting with the IRS last week at their downtown Chicago offices (no, we're not being audited; in fact, the IRS owes us quite a sum of money and we had to prove our identity).
But I digress …
Anyhoo, we took Ubers to and from our appointment. At off-peak travel times. And it was a very pleasant experience.
And during that very pleasant drive, my husband did admit that while he's not the biggest of downtown Chicago fans, he would be up for exploring the Chicago Riverwalk area.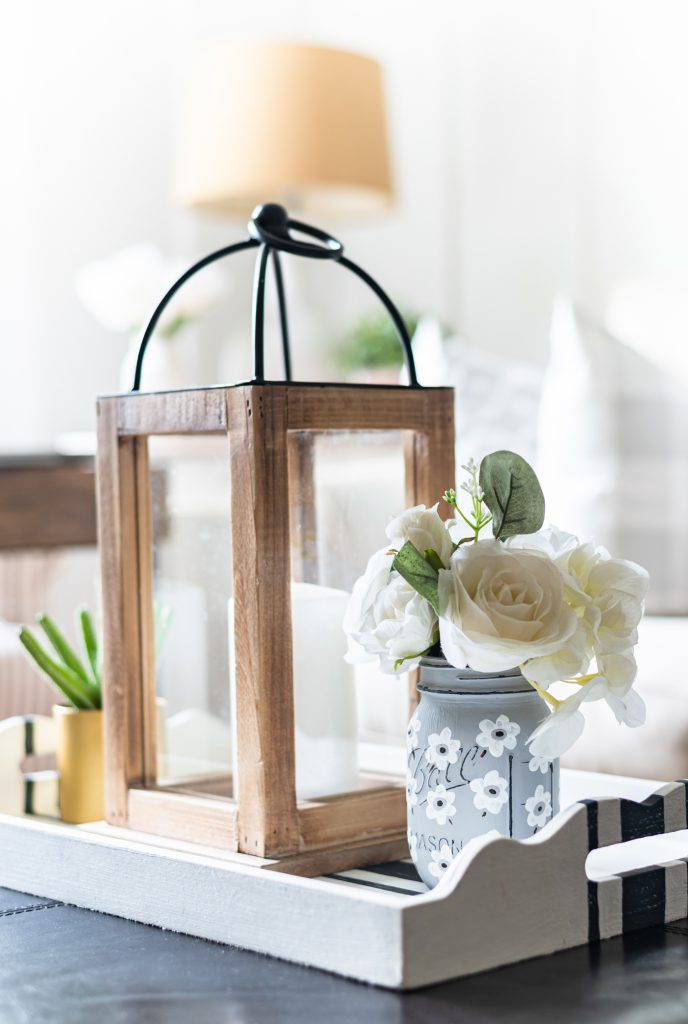 Hey, it's a small sliver of hope!
So maybe on a warm and dry summer evening in mid-July, he'll become as intoxicated as I with downtown Chicago as the sun sets and the skyline lights up … 😉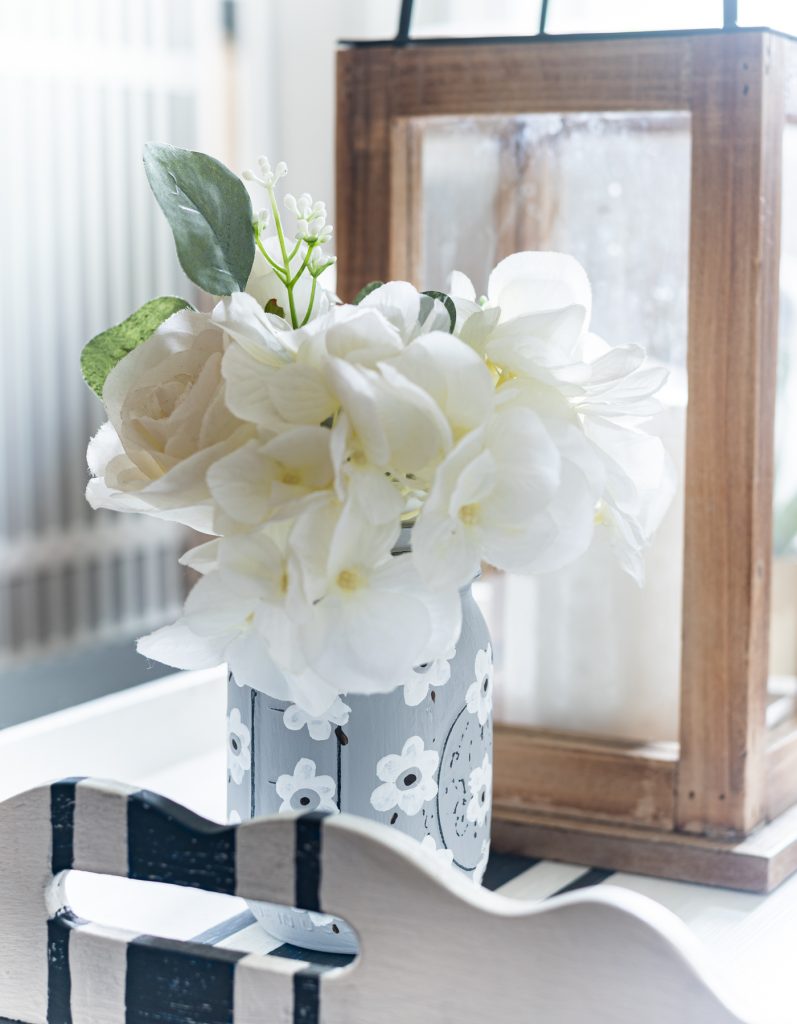 So, now you may be asking, Linda what do white poppy painted mason jars have to do with the weather in Chicago and my dreams of living downtown? Not much, really. Except despite the wet and temperatures vacillating from high 50's to high 60's, the flowers are a blooming! So I thought I'd get in on that blooming flower action with some painted flowers on mason jars of my very own …
and share with you all the tutorial on how easy it is to paint poppies!
White Poppy Painted Mason Jar Tutorial – How To Paint White Poppies on Mason Jars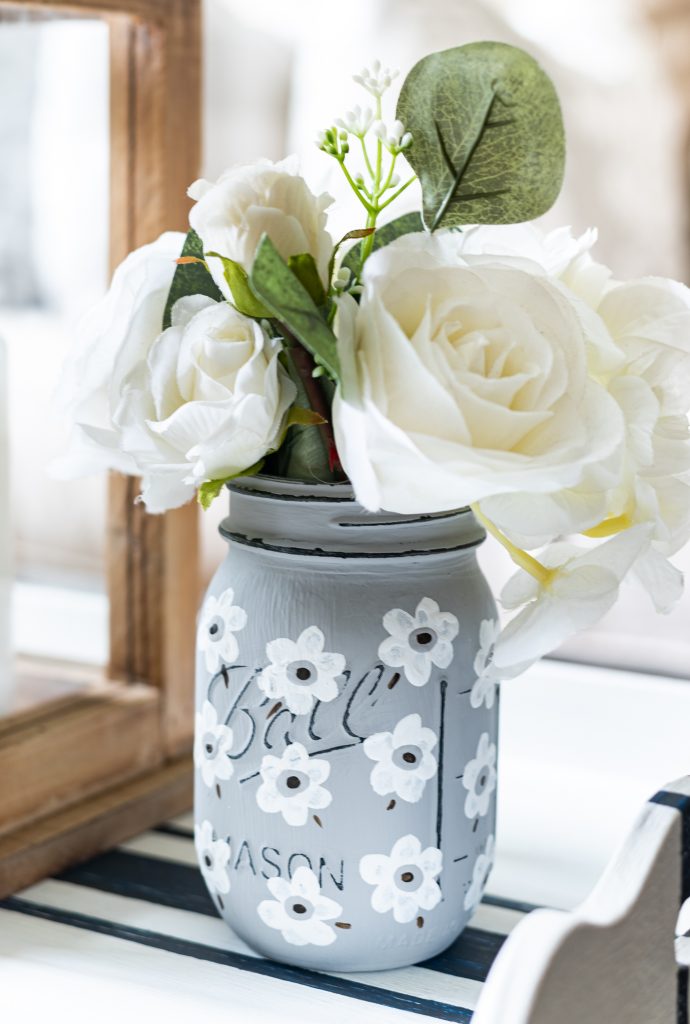 Materials*
Aged Gray Rust-Oleum Chalked Paint
Linen White Rust-Oleum White Paint
Raw Umber Americana Acrylic Paint
Pint Size (16 oz) Ball Mason Jars
Paint Brushes
*affiliate links included.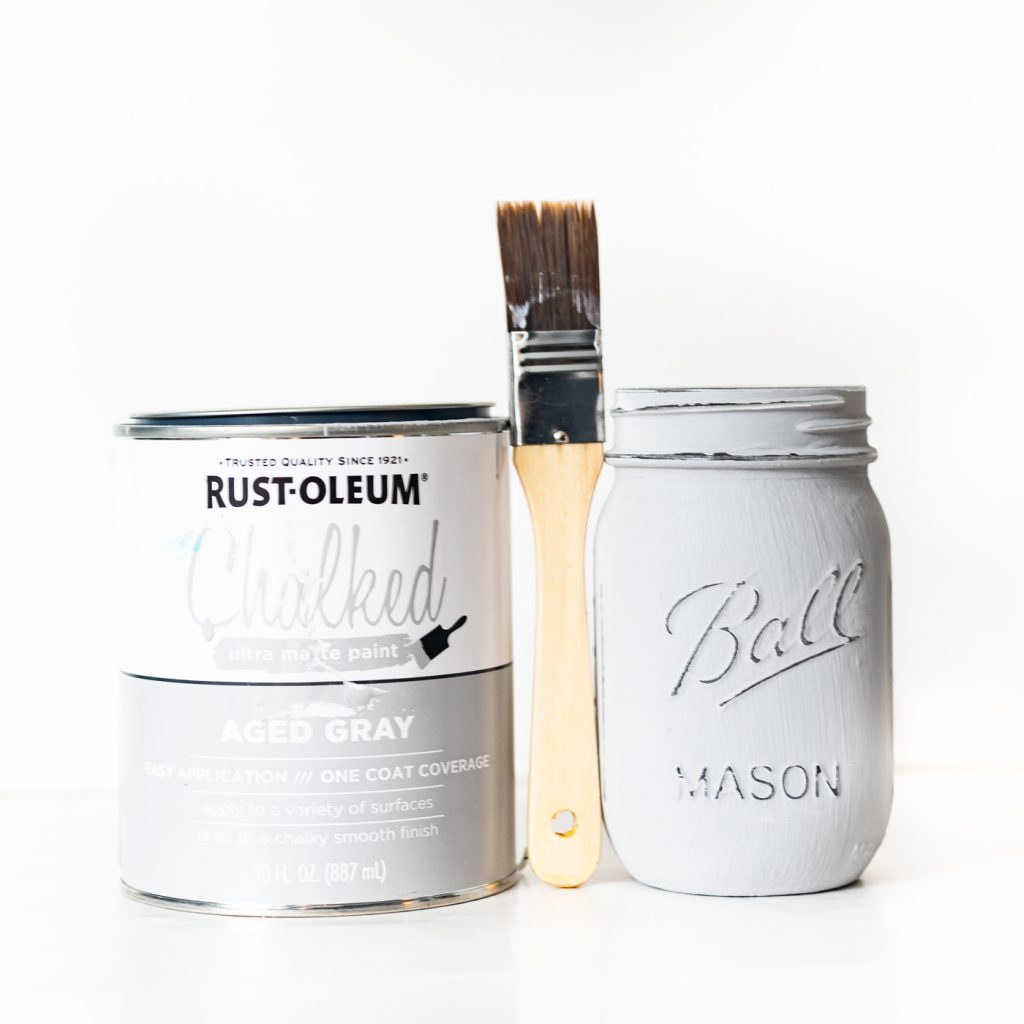 Start with two coats of Aged Gray Rust-Oleum Chalked Paint. Let dry thoroughly between coats (I tend to give them overnight, but chalk paint dries quickly so if in a rush you can add the second coat in a few hours).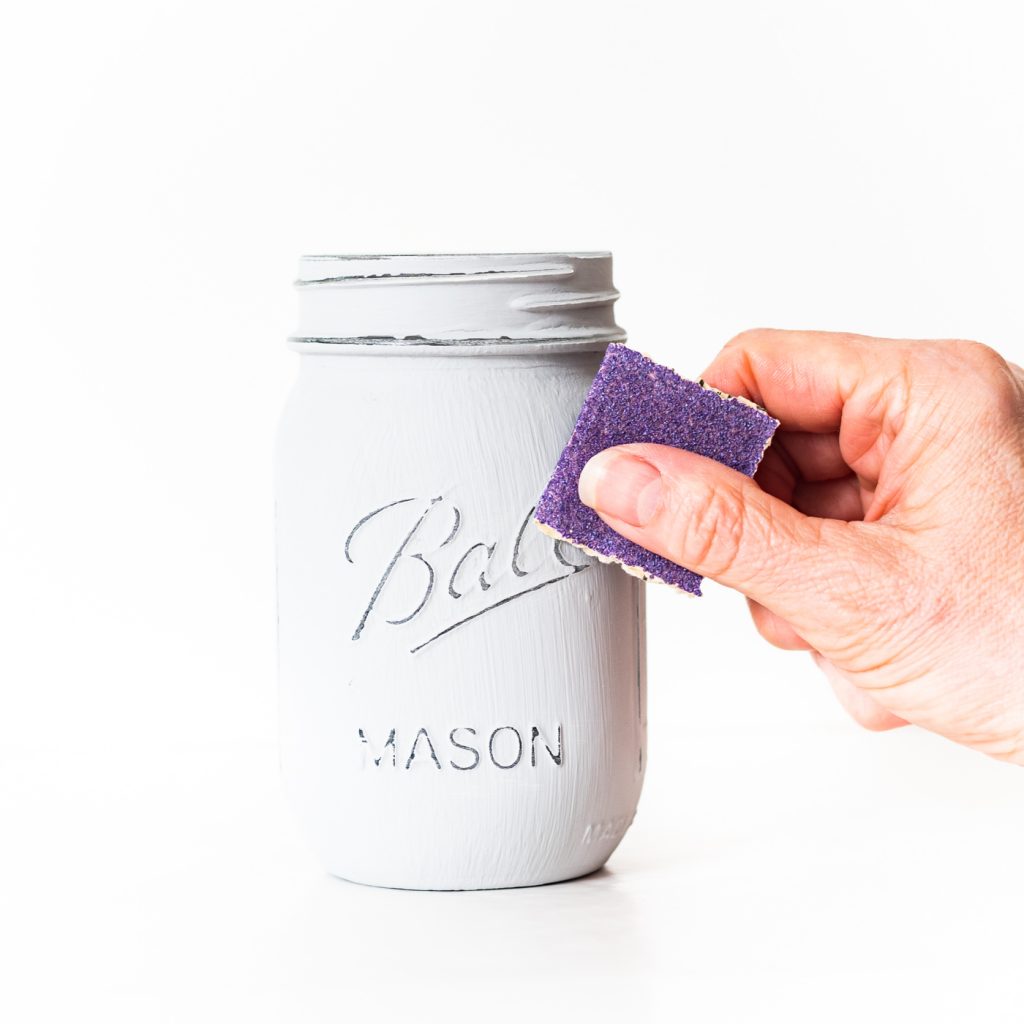 Once dry, use 80 grit sandpaper on raised lettering, numbers, areas to distress.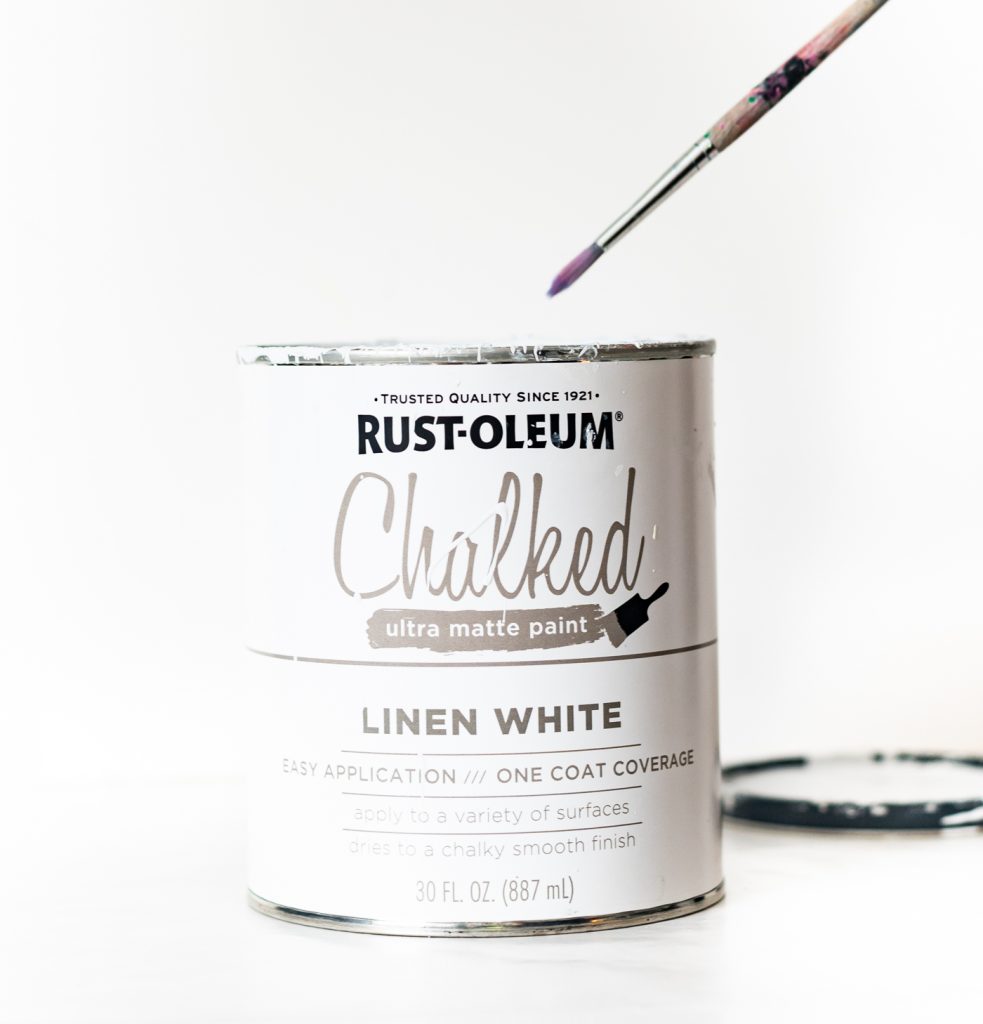 Use Linen White Rust-Oleum Chalked paint to add poppies using a medium tipped brush.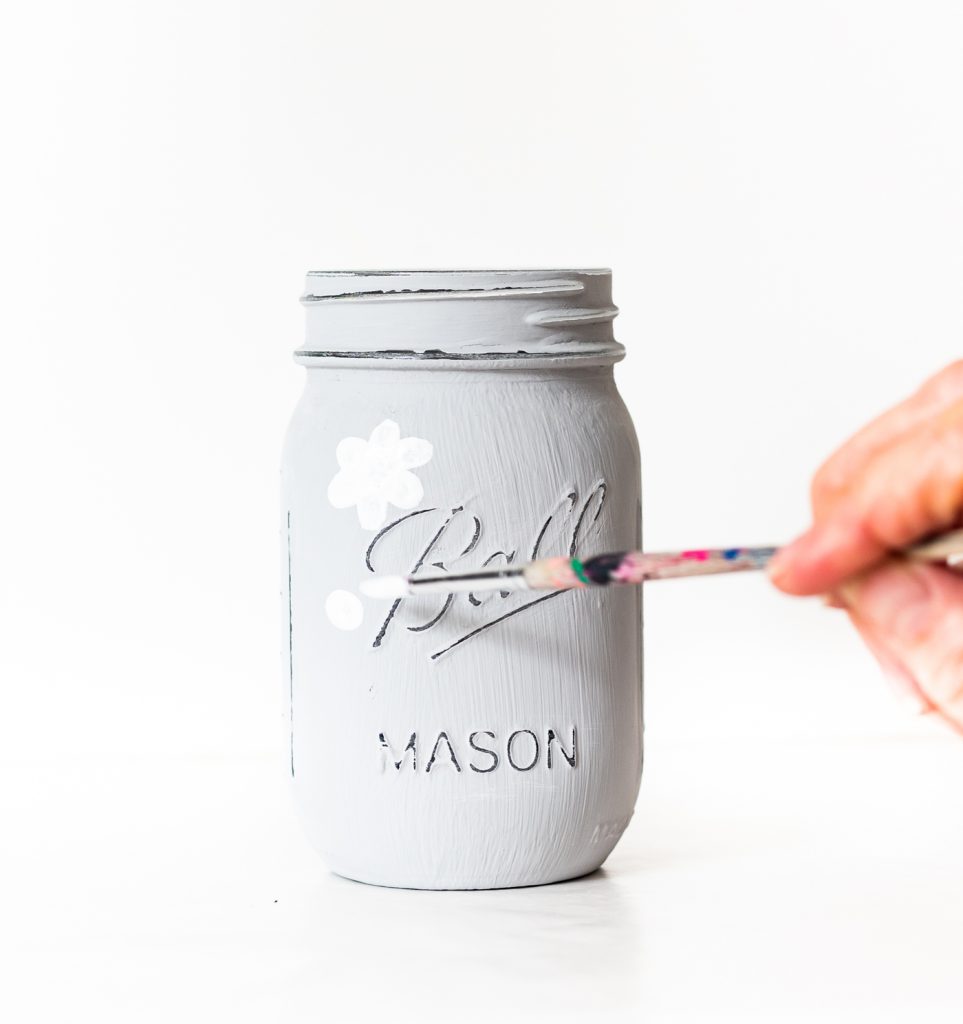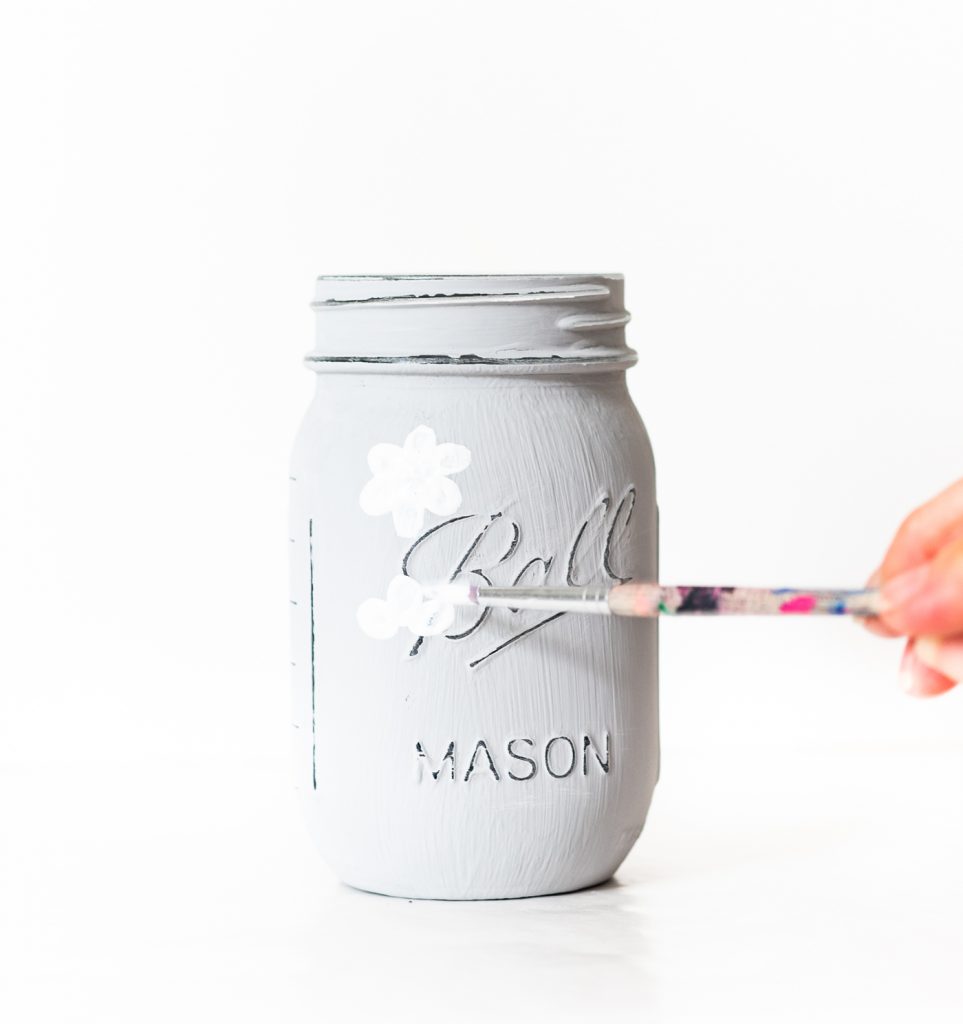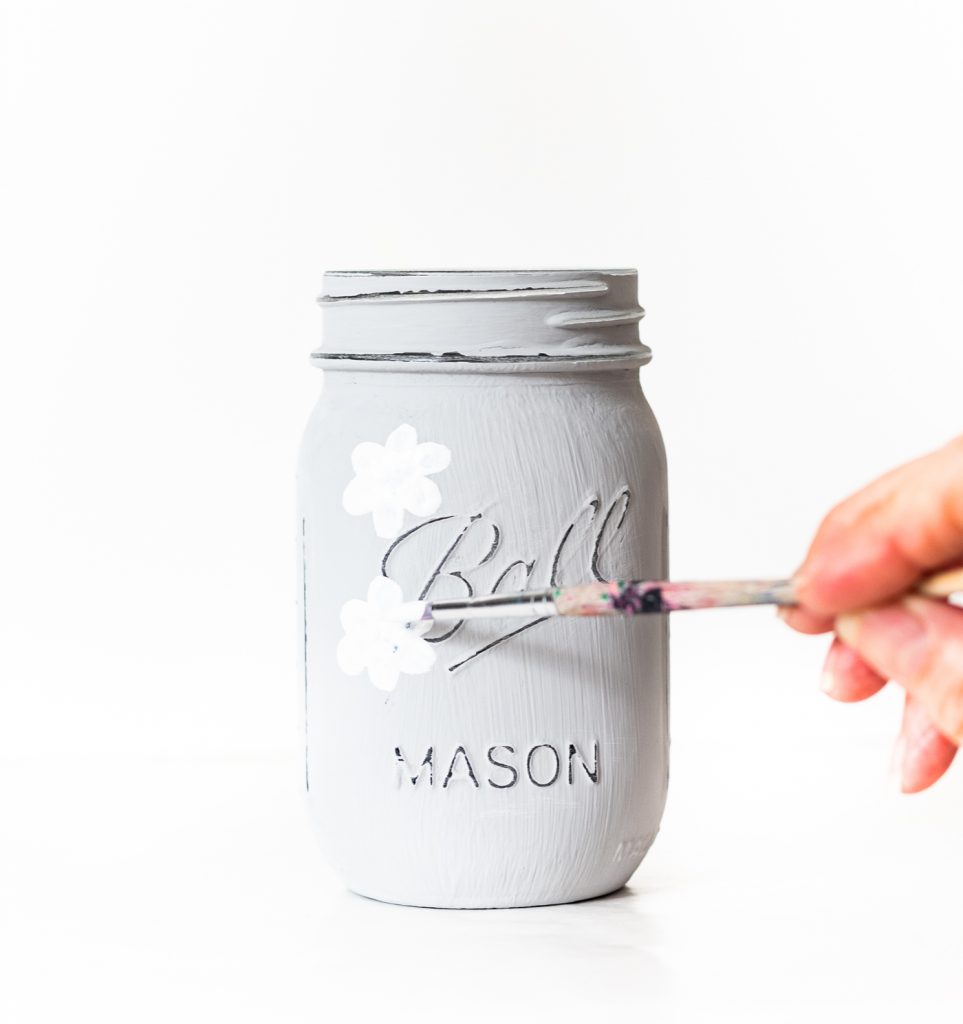 Use paint brush to create six connected dots to form the base of the poppy.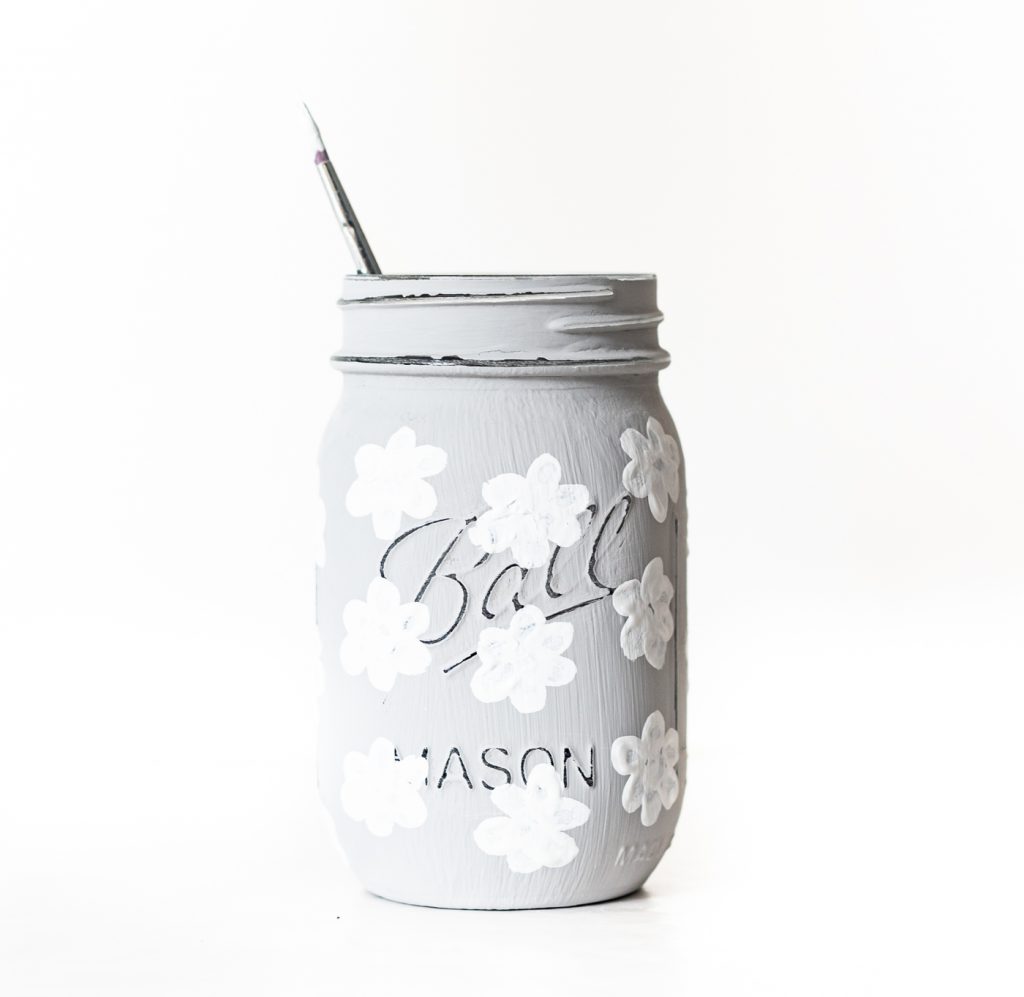 Let dry before proceeding to next step.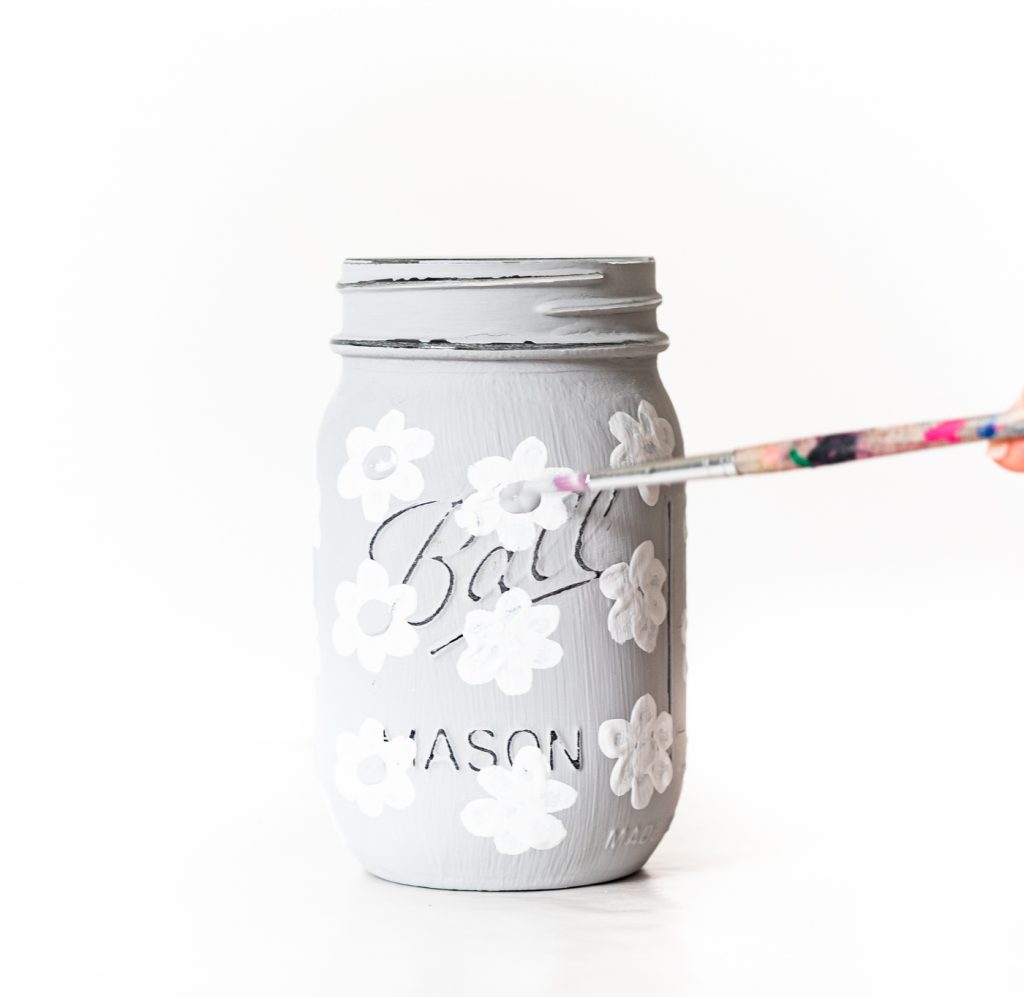 Using Aged Gray Rust-Oleum Chalked paint and your medium tipped brush, add dots to the middle of the poppies.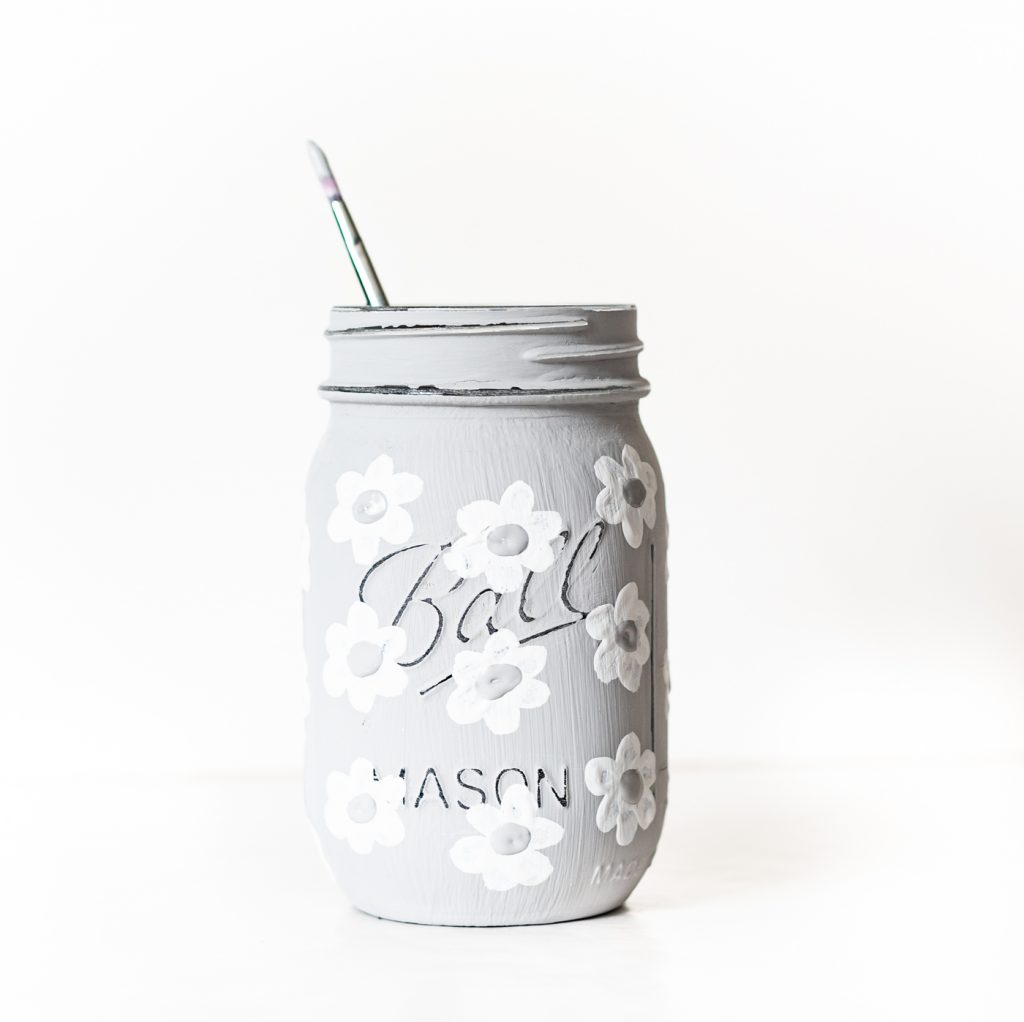 Let dry before proceeding to next step.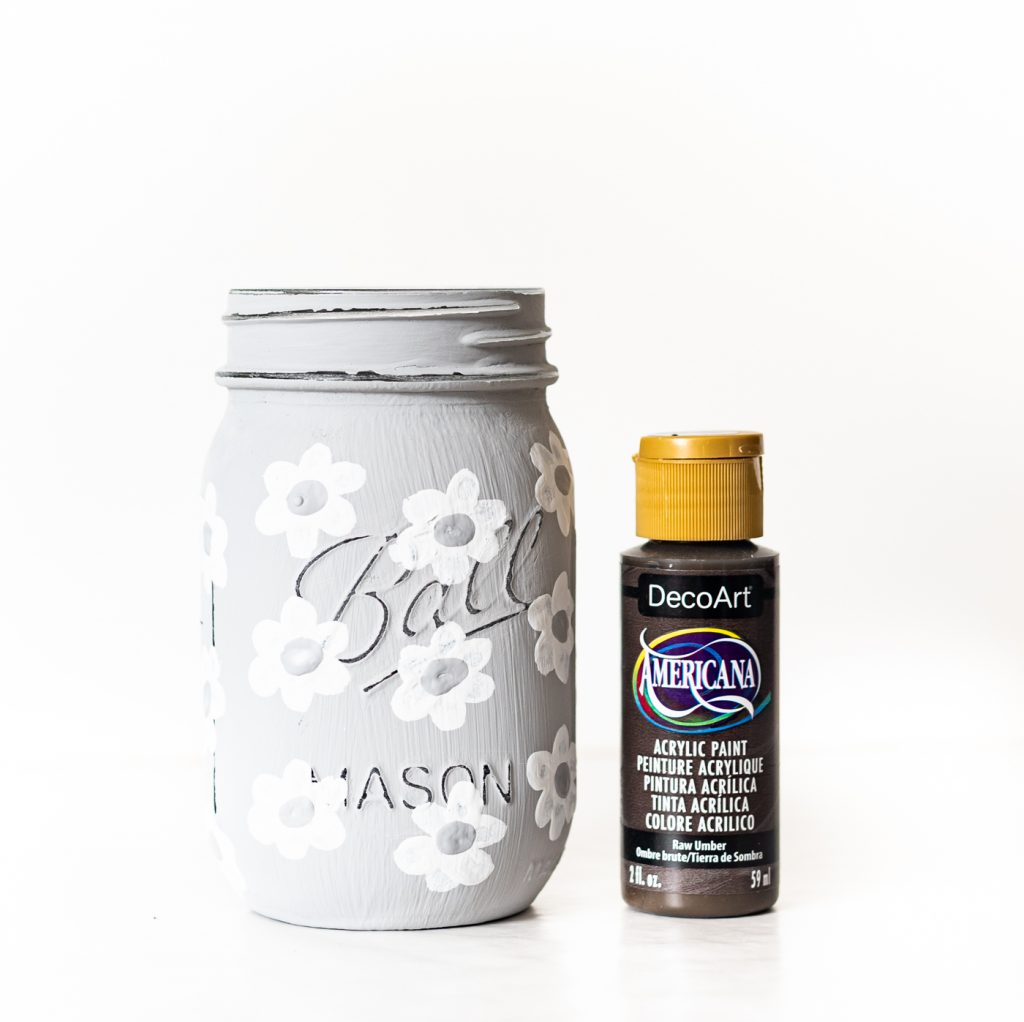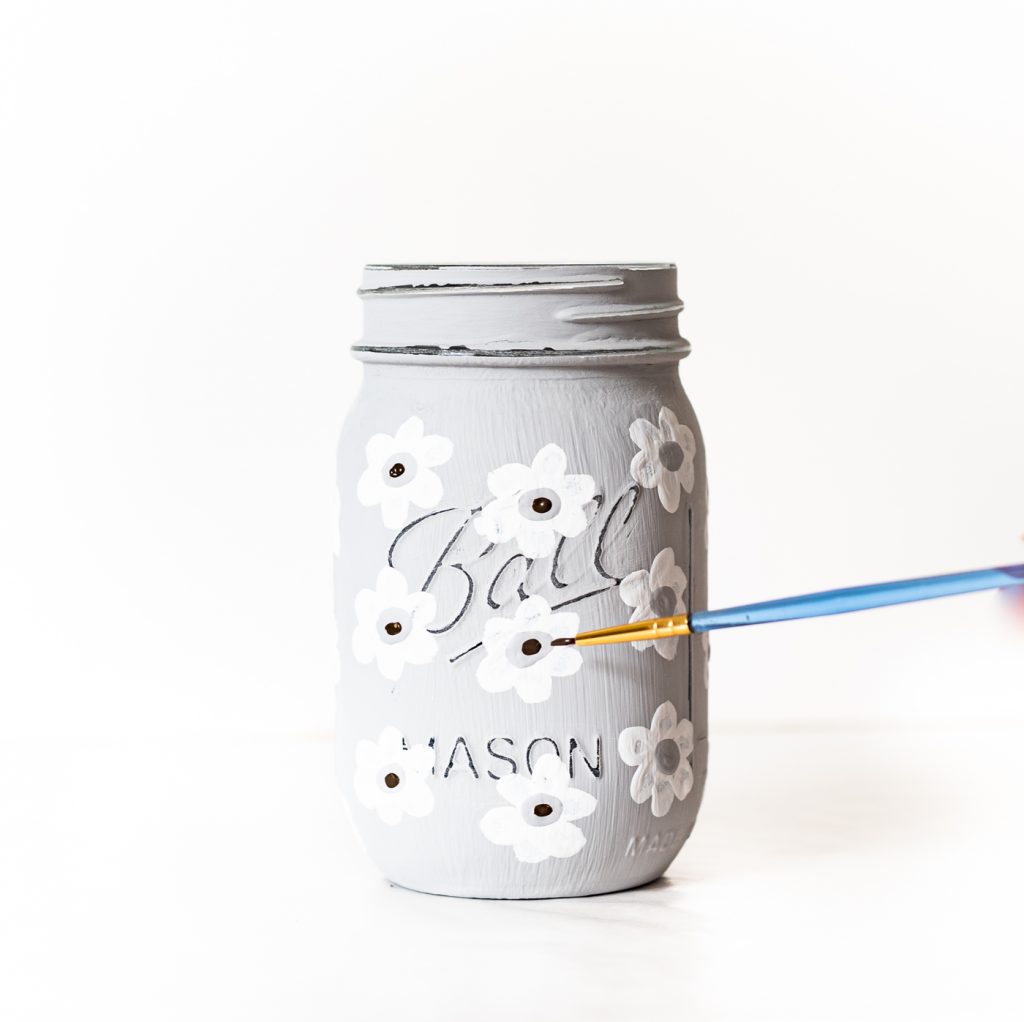 Using Raw Umber Americana acrylic paint and a fine tipped brush, ad dots to the middle of the poppies, like so.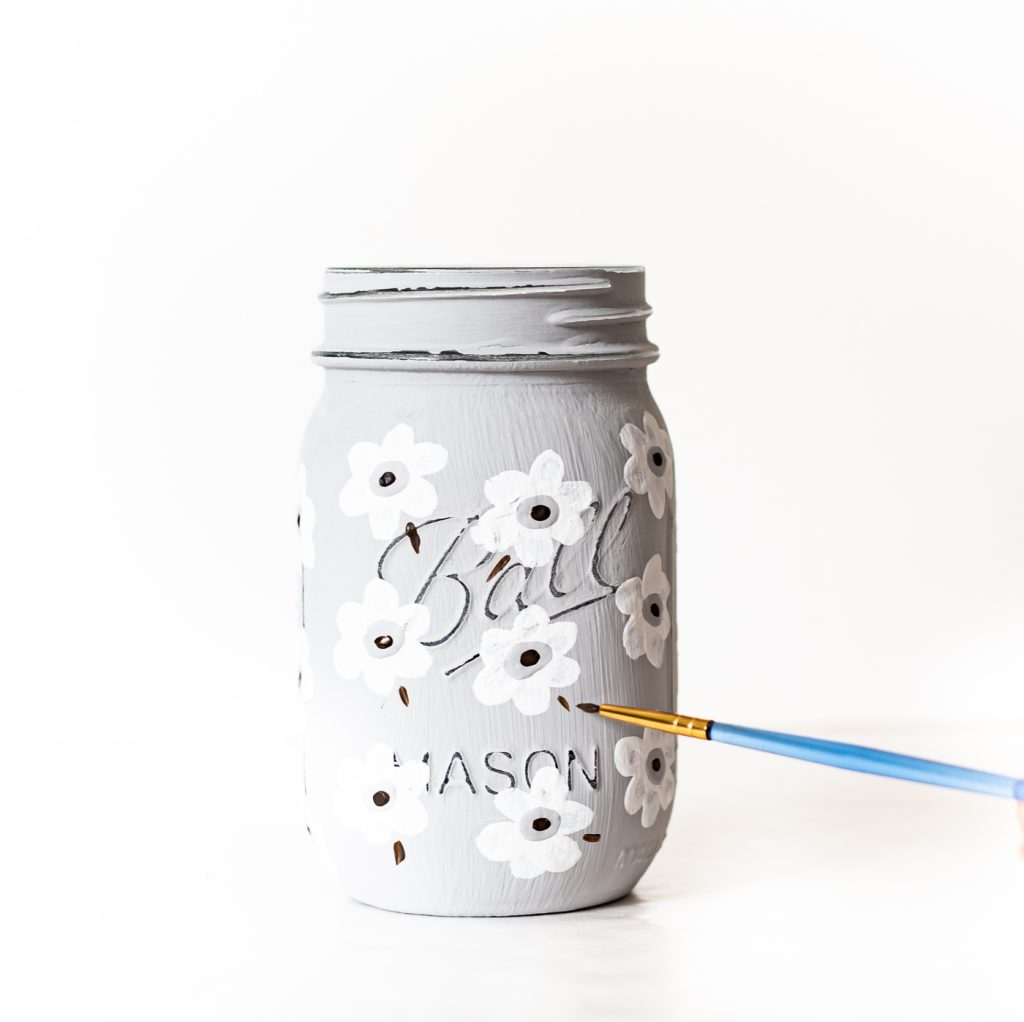 Using the same Raw Umber acrylic paint and fine tipped paint brush, add small stems to each poppy, like so.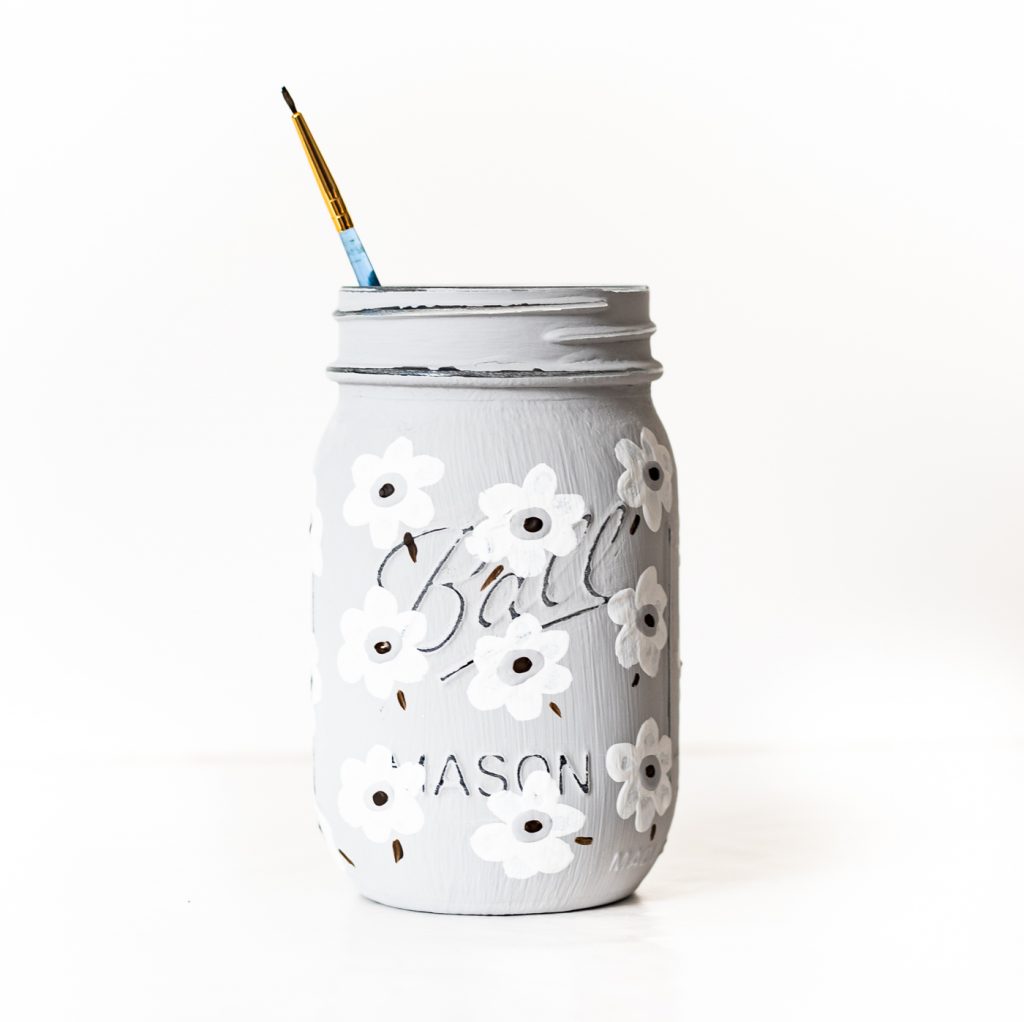 Let dry completely before proceeding to next step (I typically give this an overnight dry before sealing with a clear coat – see below).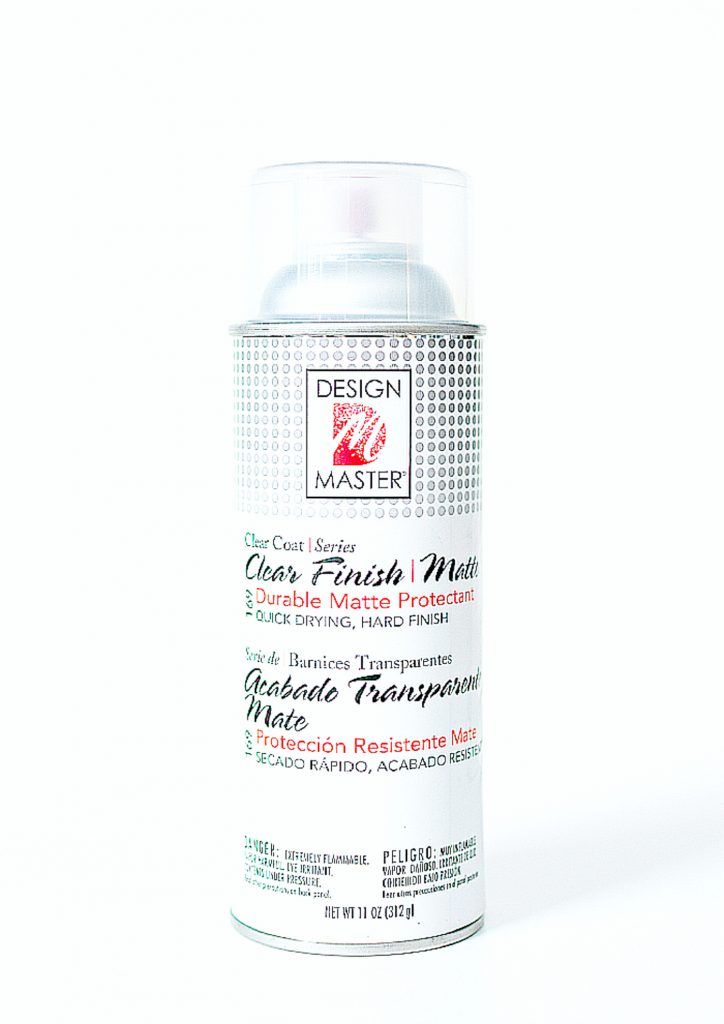 Finish with a coat of clear finish matte spray (this is my go to brand that doesn't cause the white paint to yellow).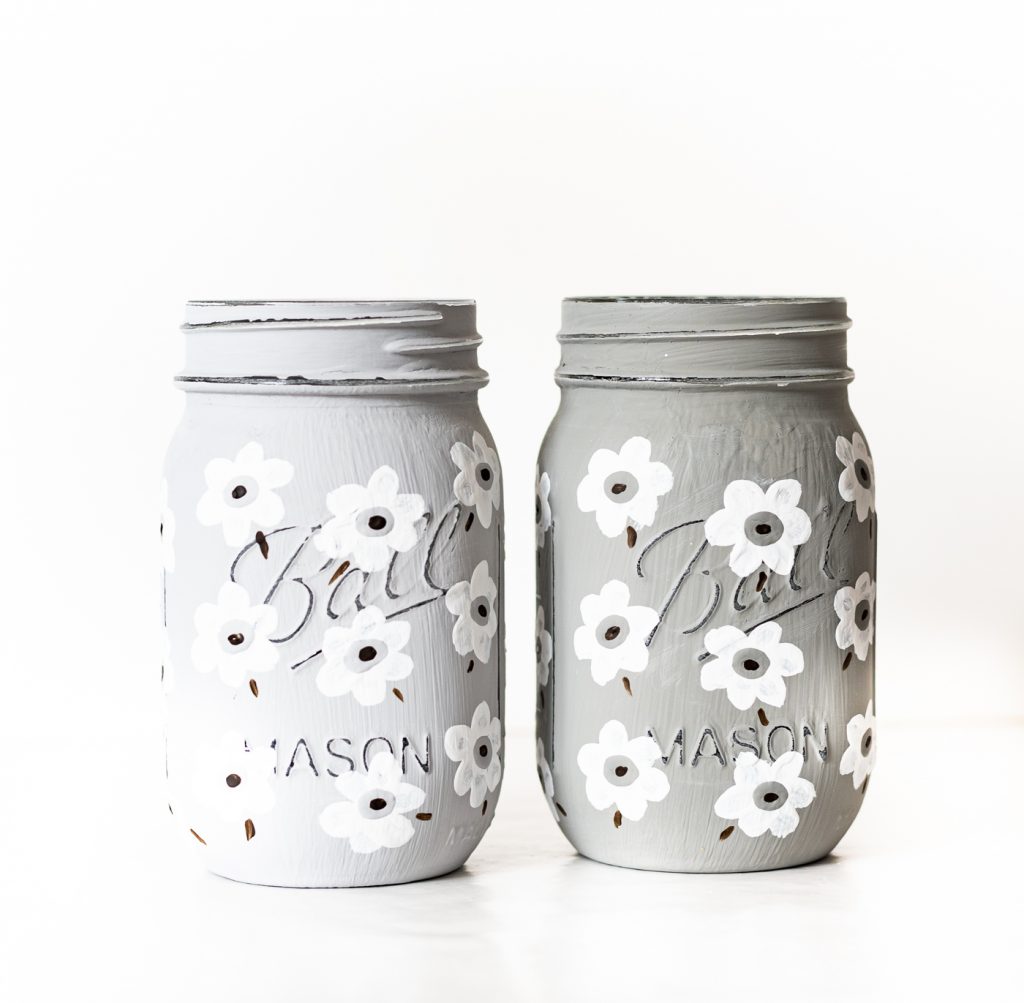 I also made a second jar using Rust-Oleum Country Gray Chalked Paint (which I refer to as greige)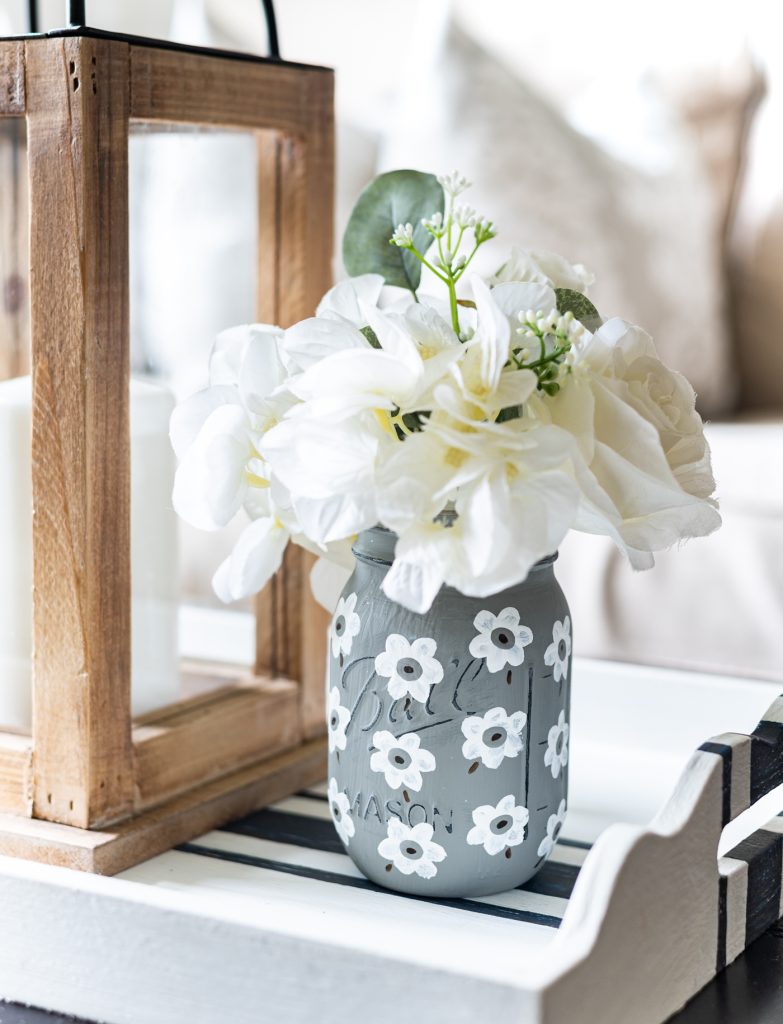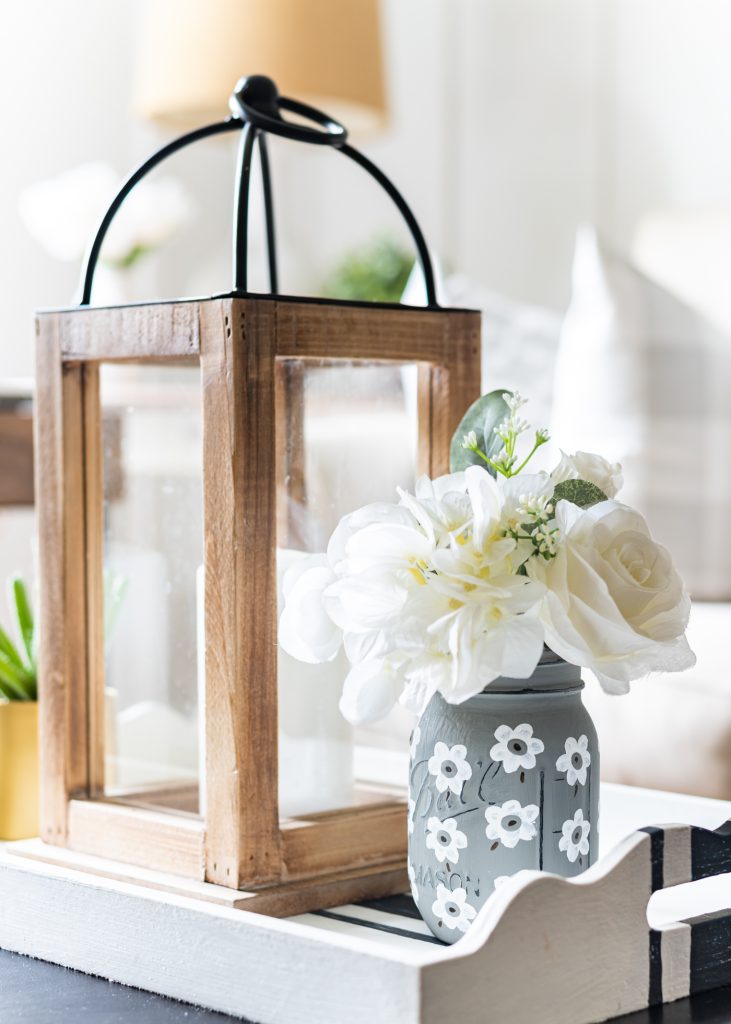 And I made a third jar with a white base and gray and greige painted poppies …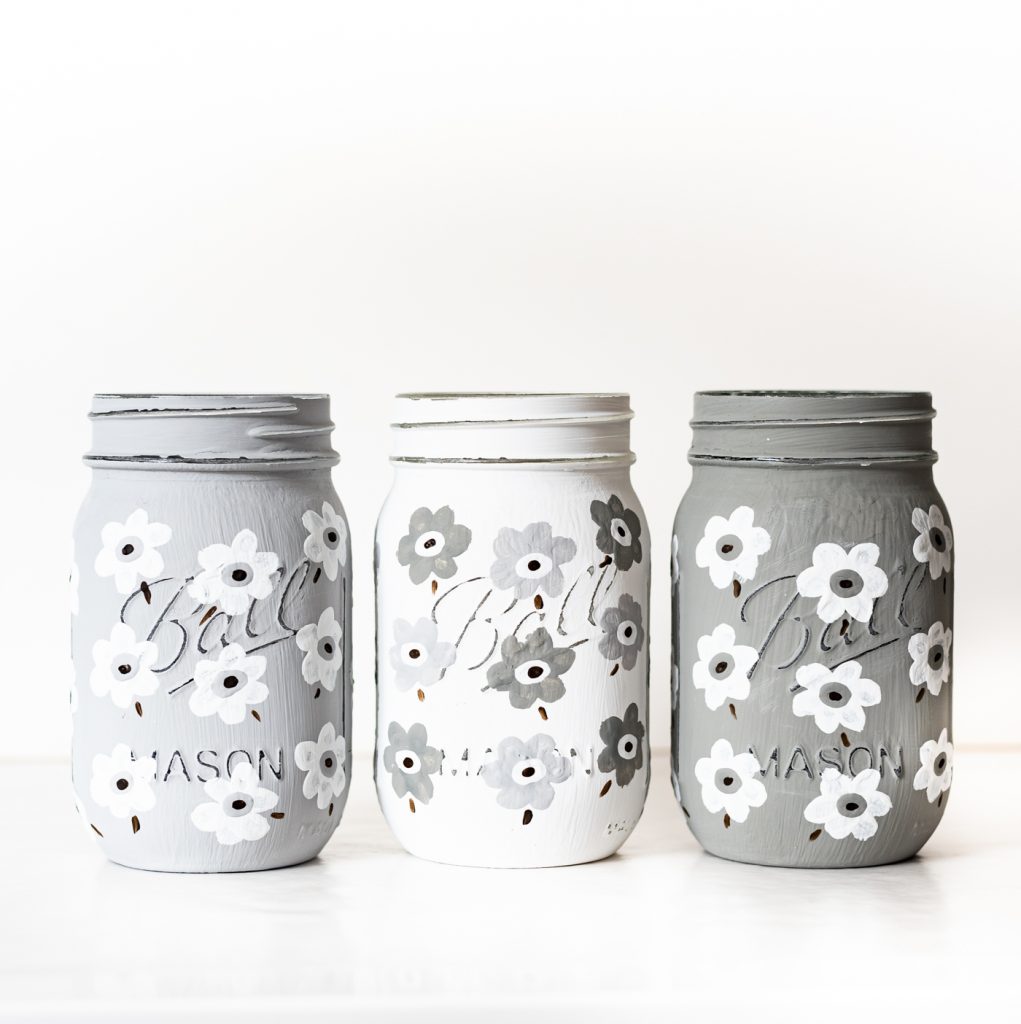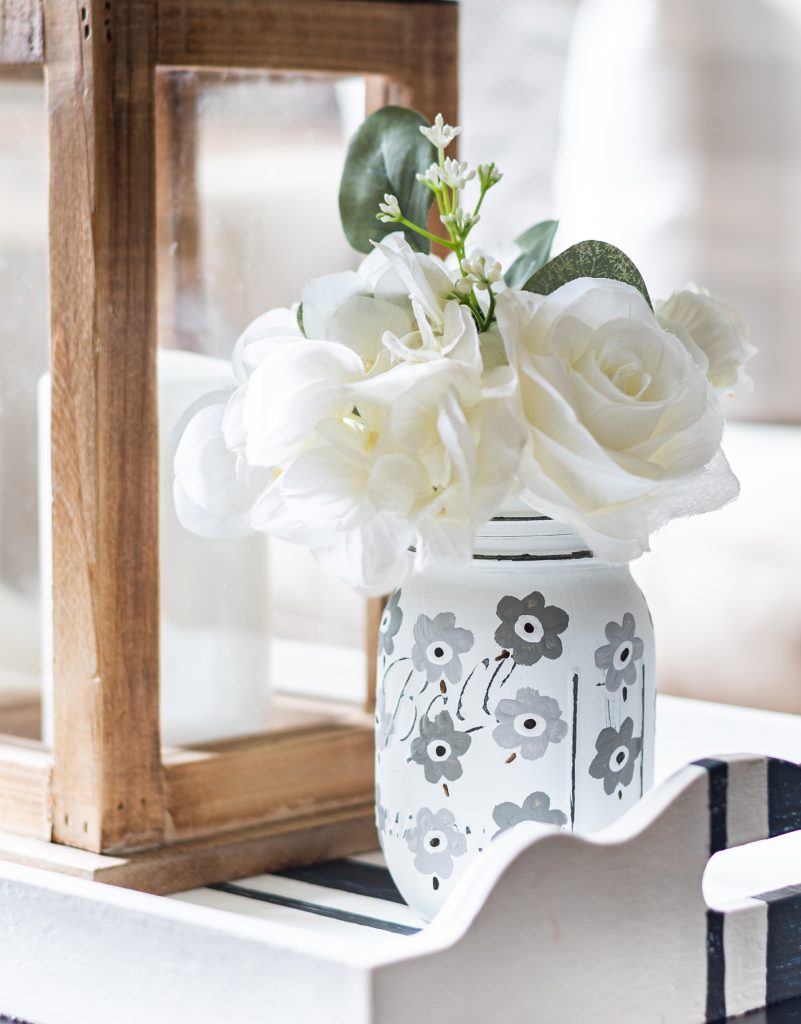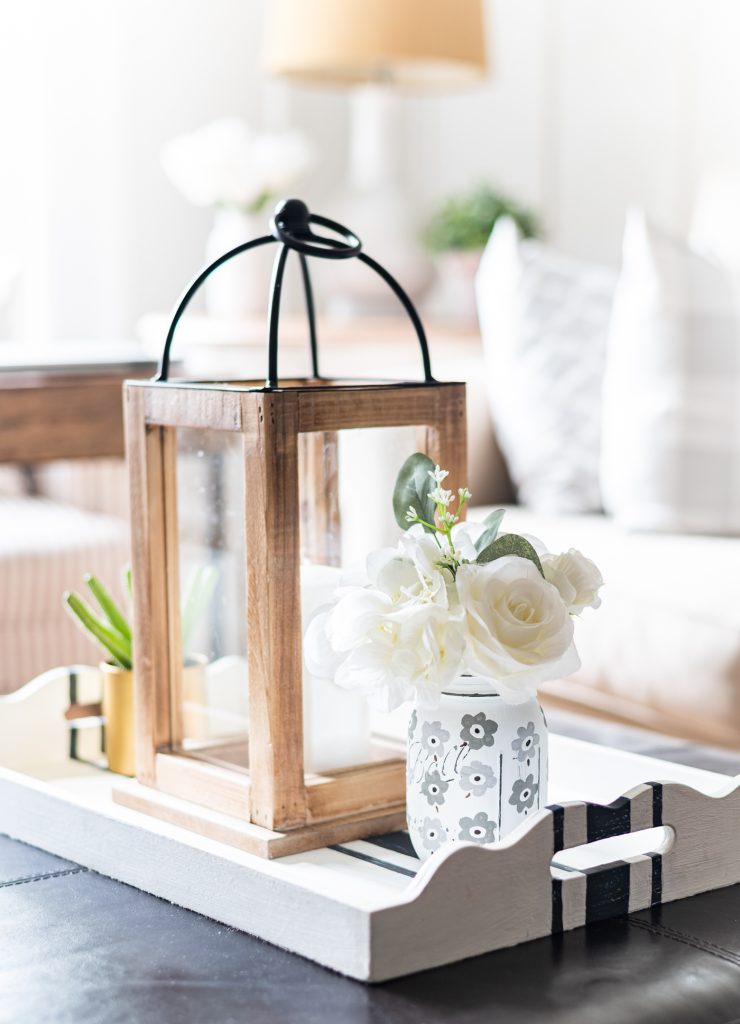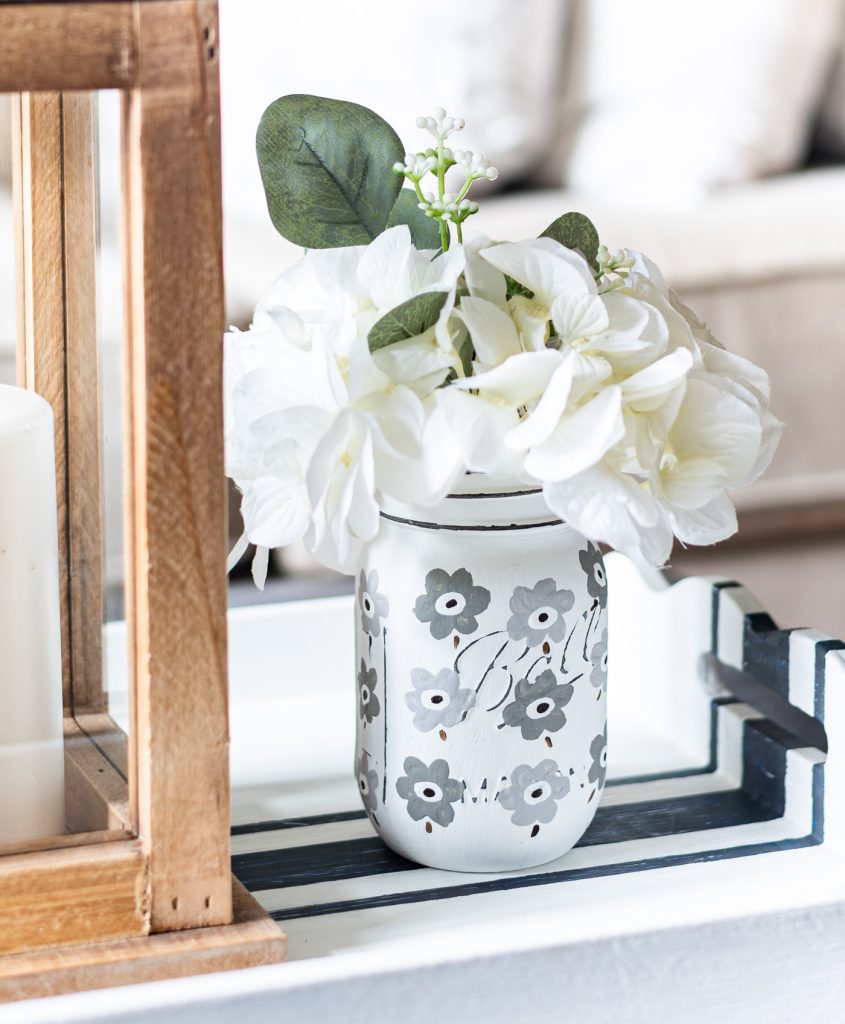 Pin It!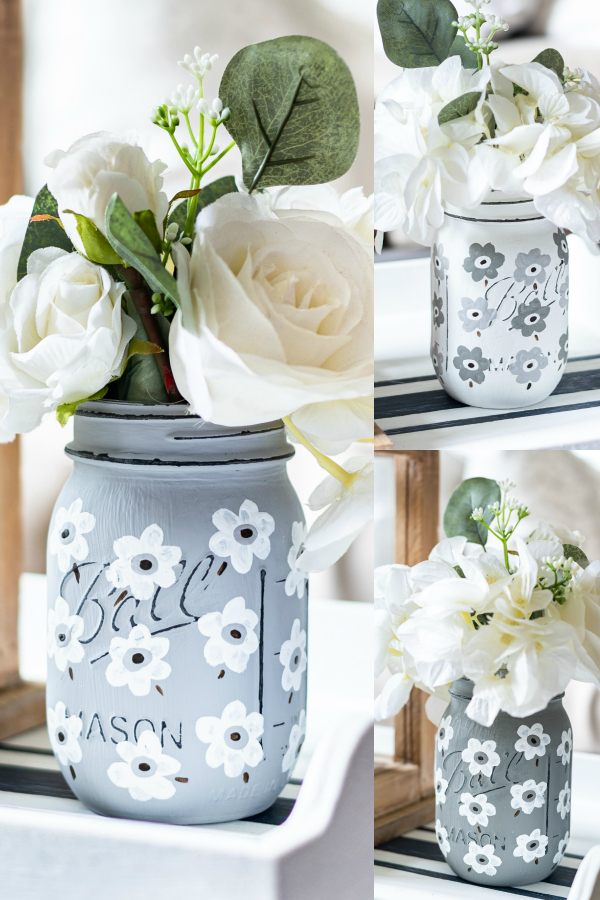 You Might Also Like:
You can find all my mason jar projects at this link …